ESPN's College GameDay is heading to James Madison University this week for the weekly Saturday morning college football show.
When the network looks for a celebrity picker to make predictions on this week's slate of college football matchups, they should look no further than Megan Good.
JMU's senior ace pitcher is the face of the softball program right now, especially after head coach Mickey Dean departed for Auburn in September. Dean left behind one of the top softball programs in the country and arguably one of the best pitcher's in the country.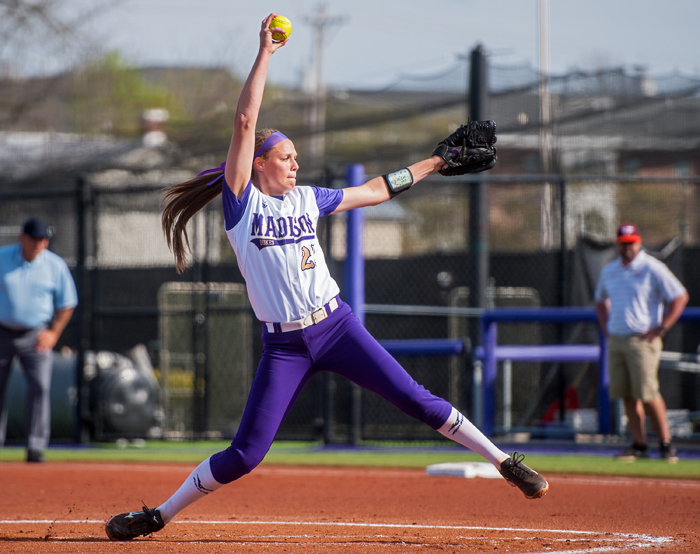 Photo: JMU Athletics
Good won or was nominated for several awards following the 2017 NCAA softball season, including DI national player of the year -- rightfully so with this stat line last season:
​0.63 ERA

38-3 record

271 strikeouts

23 complete games

14 shutouts

Most impressive is how Good's ERA has improved each year of her career. She went from 1.05 as a freshman to 0.94 as a sophomore to 0.63 as a junior.
Today, Good has three years of amazing softball under her belt, plenty of individual accomplishments, and even a trading card in Sports Illustrated Kids. But what she really wants is the big team prize: a trip to OKC for the Women's College World Series.
[tweet url="https://twitter.com/JMUSoftball/status/872928723728773120" hide_media="0" hide_thread="1"]
[tweet url="https://twitter.com/SIKids/status/892783179026673664" hide_media="0" hide_thread="1"]
Does JMU Have The Juice To Make The WCWS?
Like a few other schools, James Madison had good reason to be upset about the 2017 NCAA Tournament seeding. The Dukes were a top-15 team throughout the year, played a very competitive schedule against Power Five schools, won those games, and won their conference going away.
Yet JMU was snubbed as a regional host team. They were sent to Texas to play Baylor, leading to two very tight games. JMU held a late lead in their first encounter, and then Baylor won 1-0 in the elimination game.
Suddenly, the season was over for Good and the Dukes.
Now the question is, what will it take for James Madison to punch their ticket to OKC?
[tweet url="https://twitter.com/JMUSoftball/status/866380439526813696" hide_media="0" hide_thread="1"]
Good Can Learn From Baylor Experience
What Good can take with her from the trip to Texas is a reminder of what championship-level execution looks like.
In that pivotal first matchup against Baylor, the Dukes held a 2-1 lead in the bottom of the sixth inning.
Good recorded the first two outs of the inning, inching JMU closer to a major advantage in the regionals. Then, a bunt single led to another single. With two runners on and clinging to a one-run lead, Good gave up a three-run home run that sealed the game for Baylor.
All of that happened with two outs.
Later in the regional, JMU had another chance against Baylor. However, the third inning tagged Good on this occasion. Back-to-back hits to start the inning and a wild pitch produced the only run of the game. JMU was no-hit by Baylor's Gia Rodini and the season ended in a 1-0 loss.
What seemed like a season destined for the WCWS ended in disappointment, especially for Good, whose pitching dominance was on display in virtually every game she played. How will she respond in her senior year with one final chance to make the WCWS?
[tweet url="https://twitter.com/JMUSoftball/status/875812748696985602" hide_media="0" hide_thread="1"]
Good Vows To Get Better
Before leaving for Auburn, coach Mickey Dean said he would build a team at any level of softball around Good.
"If I were starting a team today, whether it's a professional, collegiate, or Olympic team, the first player I'm going to choose is Megan Good," he said after the pitcher won player of the year. "There's no player out there right now that does the things that she does. Not one."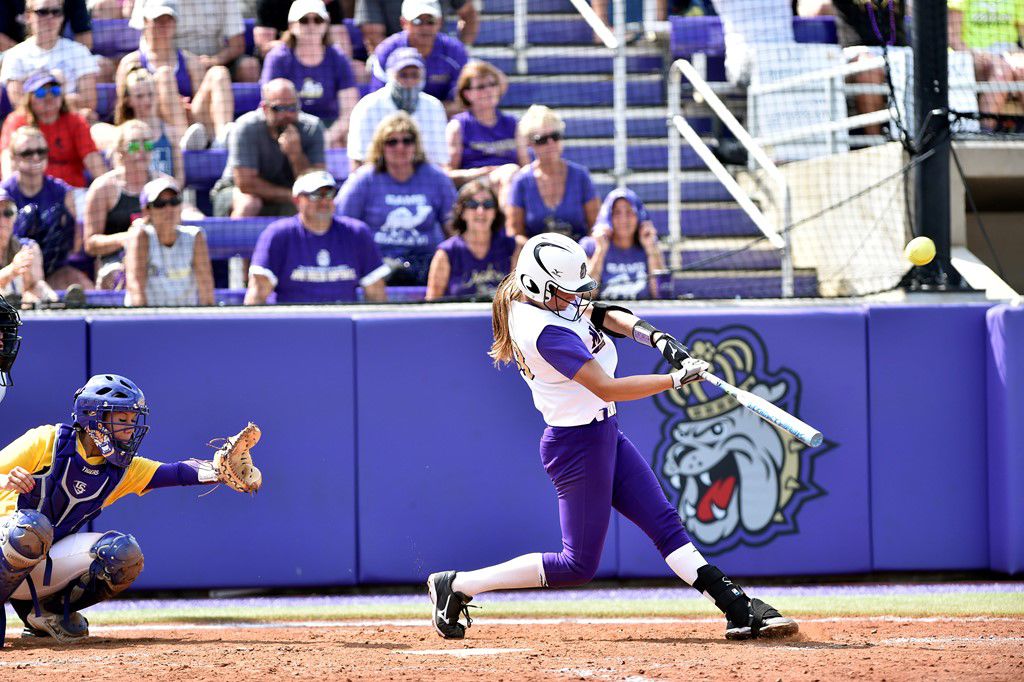 Photo: JMU Athletics
Good added her own comment that captures how she plans to improve as a senior: being the very best college softball pitcher with no argument.
In 2017, there was an argument from Minnesota ace Sara Groenewegen and Florida ace Kelly Barnhill, who both had amazing seasons and lower ERAs than Good. That did not go unnoticed.
"It's one of those things that pushes me to be better -- just to be up there as one of the better players in the nation," Good said. "It's challenging and I'm competitive, so I like that challenge."
[tweet url="https://twitter.com/TheBreezeJMU/status/874310505745326081" hide_media="0" hide_thread="1"]
Good has all of the individual accolades you could ask for in a college softball career. In her senior year, though, that competitive fire will be getting JMU to the WCWS.
It will be challenging with new head coach Loren LaPorte, who replaces Dean. But LaPorte has been with the program since 2013 as an assistant. She has worked with Good throughout her career, which should allow for nice continuity for the program.
Can Good, LaPorte, and the entire JMU team put together a complete season and get the team to OKC for the first time in program history? The 2018 season appears to be the time, place, and opportunity with Good leading the way for her team after learning from disappointment last season.