Baylor head softball coach Glenn Moore admits to enjoying the underdog role.
Watch Baylor LIVE on FloSoftball on May 11 at the Big 12 Championship
Although his team has been to seven straight NCAA Regionals, made three trips to the College World Series (2017, 2014 and 2011) and has averaged an impressive 43 wins a season, Moore says he still senses most college softball experts do not view Baylor as a national power.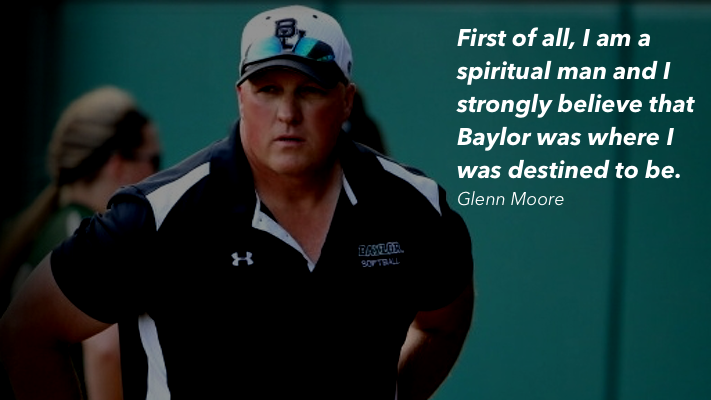 It's something he says hopes will not change.
"To be honest with you I've been riding that underdog train for a long time," Moore says with a laugh. "It's not like we are not a really good team and it's not like we haven't had our share of success in recent years, but it stills seems like maybe we don't always receive the attention a lot of the other top programs get. But I actually enjoy that role. I want our kids to play with a chip on their shoulder and always feel like they have something to prove. It's a formula that works really well for us."
But playing the underdog role may be a formula that Moore may have to change in the near future.
After an outstanding regular season in 2017, the No. 15 nationally seeded Lady Bears swept through their regional but were sent out to play second-seeded Arizona (51-7) -- a perennial power with eight national titles on their resume.
Baylor lost the first of the best of three series, before knotting it up with a 6-4 win in game two. In the third and decisive game, the Lady Bears overcame a 5-3 deficit by scoring three runs in the final inning for a 6-5 upset win to punch their ticket to Oklahoma City. It was Moore's 700th career win at Baylor.
Photo: Baylor Athletics

"Last year's team was a super scrappy, special group of players," Moore recalled. "But again, I think being big underdogs in that series helped us. Arizona is a great team that has great expectations to compete for a national championship every year. When you are underdogs and when you are playing on the road, all the pressure is on the other side."
Even with the win and the repeated successes of the last seven years, Moore says his team still has a long way to go before it can be considered a true national power that can compete for national championships.
"Being a small private school, we are not on a level playing field," Moor explains. "It has nothing to do with the support of our administration. We are fully funded and receive great support. Our facilities are as good as any in the country and our President and AD provide us with the all the resources we need. But there is an inherent disadvantage to being a private school and it presents a problem where there are no easy answers."
Moore explained that although Baylor administration allows him to award the NCAA limit of 12 softball scholarships, most colleges have 20-24 players on a team and often split a scholarship among more than one player. Although that is a common practice among almost all schools, Moore says it hurts depth at private schools.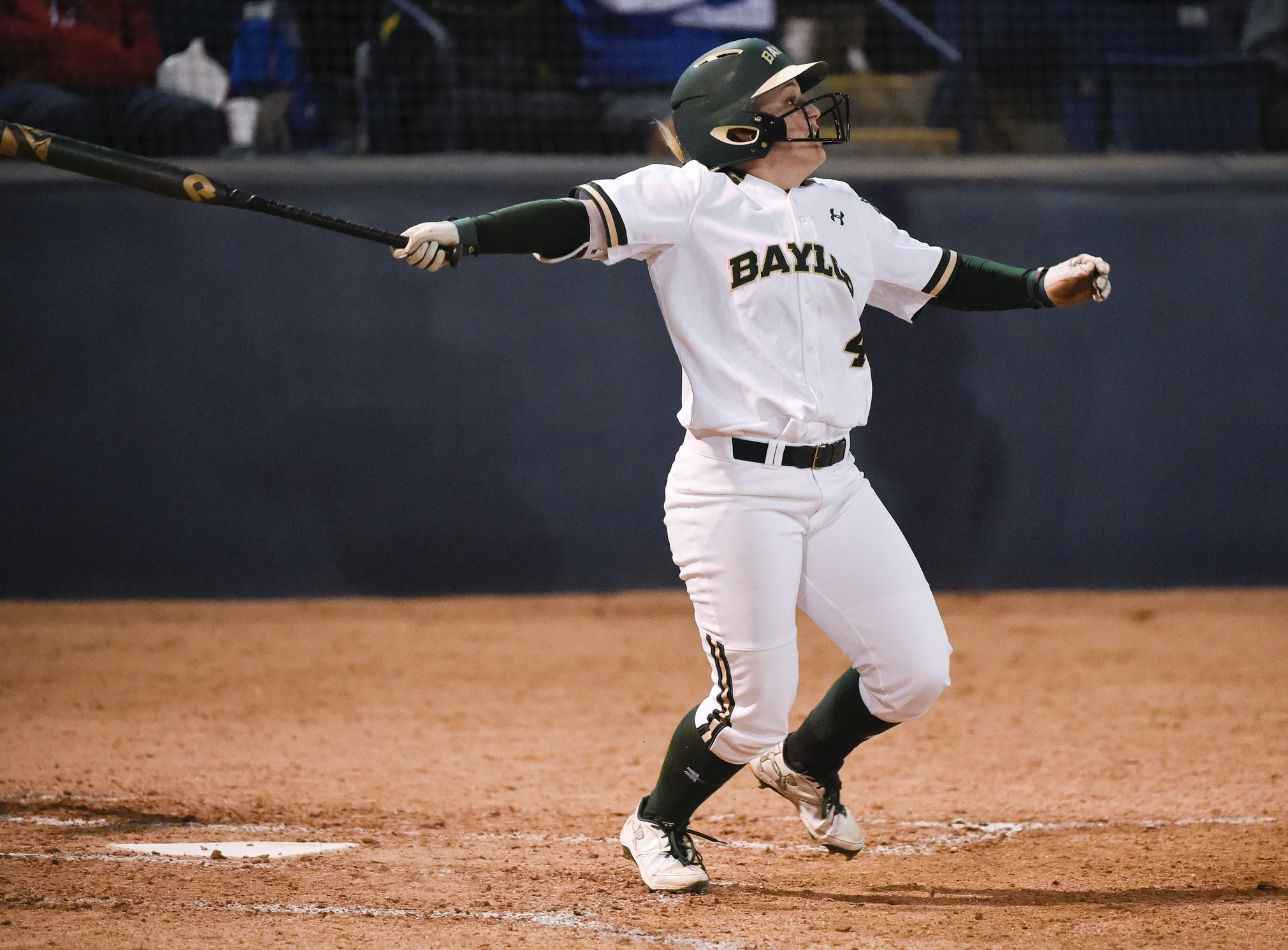 Photo: Kelvin Kuo/USA TODAY Sports
"At Baylor it costs about $62,000 a year to attend," Moore says. "Let's say you want to give a player a 70% scholarship. That means she needs to come up with about $18,000 on her own to play for us. If a public university costs $23,000 a year and you give the same 70% scholarship, it means the player only needs to come up with about $7000 on her own. All students are going to be concerned about the cost of their education and make choices accordingly. The cost of education certainly presents some unique challenges, especially when it comes to depth."
Because of this issue, it's a real testament to Moore and his staff that they are one of few private schools that are perennially ranked in the top 20 and are one of the few private schools that not only made it to a Women's College World Series, but have done so numerous times.
Moore, who previously served as head coach at both William Carey and LSU, is entering his 19th season at Baylor where he has compiled a 700-323 record. He notes that his success comes from part determination, part hard work and part being put in a fortunate situation.
"First of all, I am a spiritual man and I strongly believe that Baylor was where I was destined to be. I believe in the values and philosophy being taught here," Moore says of the Baptist sponsored school. "When we got here, we had a lot of work to do but I was also very fortunate that our administration wanted us to be successful. So often softball and well as many of the 'so-called' other non-revenue sports are paid lip service or treated like a nuisance. That was never the case here. When I interviewed for the position, the Baylor leadership promised full support and they delivered on those promises."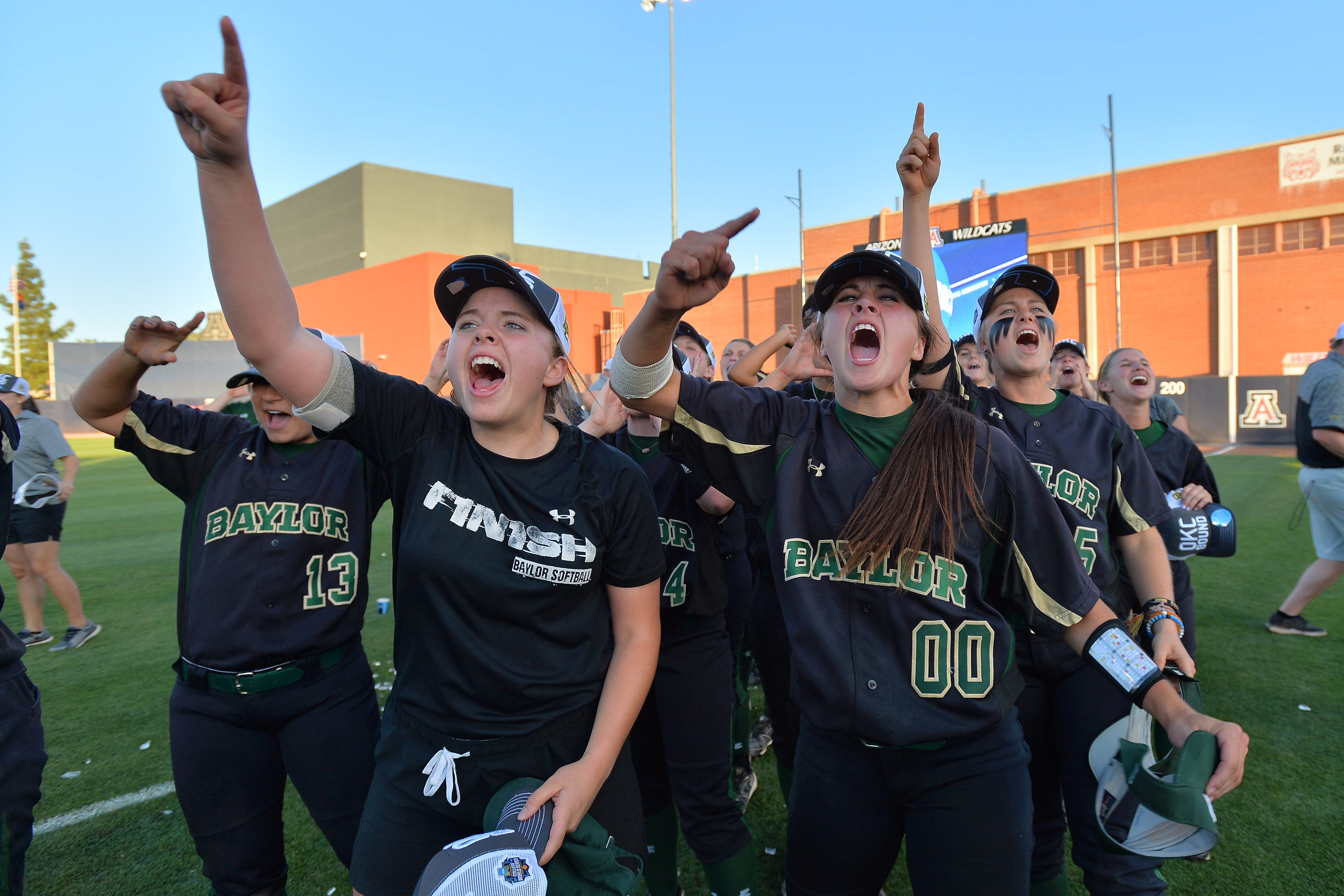 Moore added the popularity of college softball has also helped. "You can't sell a bad product to anyone," he says. "And right now the college game is in a pretty good place. Television ratings continue to rise and a lot of schools are expanding their stadiums because they need the seating. It's a great game and people really like watching it."
A former college football and baseball player, Moore says the transition to a softball coach came easily. "I grew up in Mississippi and softball was a family game and a community game. Recreational and church league games were a big deal. My dad was a pretty good pitcher of note, my mom played, and all my brothers played. I played football because I needed it to pay for college, but softball has always been my first love."
A world-class player in his right, Moore once played for Eddie Feigner's famed "King and his Court," softball team, where he toured the world showcasing his skills as a pitcher.
As for what lies ahead, Moore says he is anxious to see how his 2018 team develops. "We lost a lot of talented players to graduation, including our top hitter in Lindsey Cargill (.430) and top pitcher in Kelsee Selman (24-9, 1.86 ERA)," Moore said. "But we brought in some outstanding recruits and got a couple of transfers from the SEC. On paper, we look to be a better team on both offense and defense. It's all going to come down to finding what we do in the circle (pitching)."
One thing is for certain. If Baylor keeps finding their way back to Oklahoma City, it's going to be harder and harder for Moore to hang on to his underdog role.