Final 2018 Hot 100 Rankings: Players 50-41
Final 2018 Hot 100 Rankings: Players 50-41
FloSoftball final 2018 Hot 100 rankings: players 50-41
Nov 1, 2017
by Chez Sievers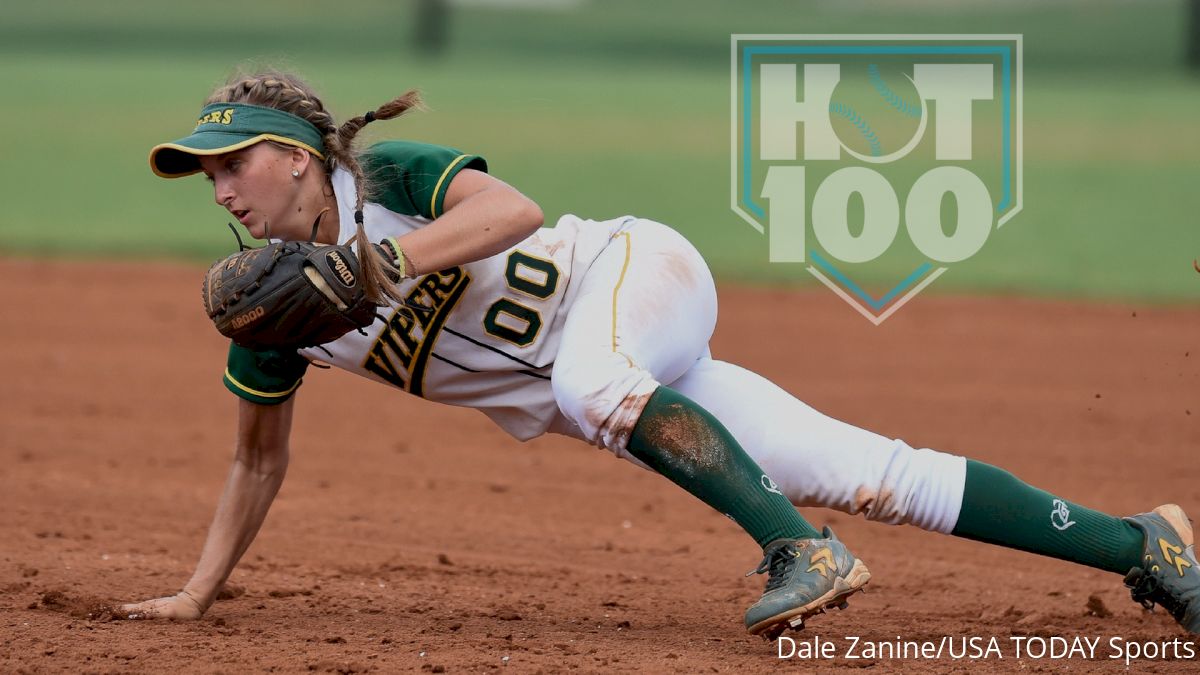 Unlock this article, live events, and more with a subscription!
Get Started
Already a subscriber? Log In
FloSoftball continues our look at the class of 2018 as we update the Hot 100 over the next two weeks, spotlighting 10 or more outstanding players each day on the way to the unveiling of the No. 1 player and the top 2018 recruiting classes on Tuesday, November 7.
This list is an updated version of our initial 2018 Hot 100 rankings, and 20 of the honorees will be new to the list after our last version published in December 2016.
After the top 100 is finalized, FloSoftball will shortly thereafter profile the No. 1 player and then list the "next in" classes comprising recruits Nos. 101-200, 201-300, 301-400, and 401-500!
FloSoftball has ranked the Hot 100 beginning with the 2014 class and has done every grad year since including 2015, '16, '17, '18, '19, '20, and '21. We've also updated most of those years several times.
These 2018 honorees were chosen based on input and feedback from college and club coaches as well as our own FloSoftball event and in-person observations. Criteria for choosing and ranking the players includes performances at the club and high school levels and projecting how they will play at the collegiate level.
50 | Lindsay Edwards, C/3B | Texas Glory (Louisiana Tech)
Nicknamed "Steady Eddie," Edwards is a doubles machine for Glory. She drives the ball gap to gap and is clutch in pressure situations. Edwards was named to the DFW FP All-Metroplex Team, District 6-6A Infielder of the Year, and was the 2016 6-6A Catcher of the Year. Her versatility and consistency adds huge value to the Glory and LaTech. Edwards can able to maneuver from catcher to third or to second base without skipping a beat.
49 | Amanda Beane, OF/SS | Gold Coast Hurricanes – Fisher (Florida)
A pure athlete, Beane is 5-foot-11 with skills that make her an excellent middle hitter in volleyball, a great rebounder in basketball, and she even skateboards and surfs. For Fletcher High School, Beane led her team with a batting average of .487 and added 18 RBIs in 2017. Since she was 9 years old, Beane has wanted to be a Gator and that dream came true in December of 2014 when she verbally committed to Florida. From the Jacksonville area, Beane roams centerfield and has been compared to Kirsti Merritt. She is tall and lanky, hits well, and plays a great centerfield covers a lot of ground, reads ball well, and has an excellent arm.
48 | Larissa Cesena, OF | Explosion – Denio (Arkansas)
Cesena is King High School's record holder in the 300 meter hurdles and will be the Hogs go-to speedster in the 2018-19 season. Clocked at 2.7 seconds from home to first, the Explosion slapper is a five-tool player who will be a table setter in the SEC. She can bunt, slap, and hit for power from the left side. Cesena was recruited by a number of SEC and Pac-12 schools before committing to Arkansas. The 2018 summer should be a breakout summer for Cesena, who is recovering from a recent ankle injury.
47 | Savana Sikes, IF | Atlanta Vipers – Vallery (Georgia)
Sikes grew up around softball as she had two older sisters play at Georgia and Kennesaw State, and since an early age always wanted to play in the SEC. Living only 90 minutes from the Auburn campus, she committed to the Tigers at age 14 after having more than 50 colleges pursue her but late in the process switched to the Bulldogs. An excellent technical hitter who can drive the ball to all fields, she is a savvy player with excellent work ethic who has been all-state twice and all-region all three years of high school at Chapel Hill (Douglasville, GA) which she helped reach the final 16 in the Class AAAA playoffs this fall. A solid all-around athlete, Sikes was a three-sport county champion in track, basketball, and softball in middle school and this year, she was the Douglas County golf champion.
46 | Odalys Cordova, SS | East Cobb Bullets – Schnute (Florida)
Cordova has been a force on the softball scene since her 7th grade year when she helped lead her high school team to the 2A state title game and earned first-team all-state honors, which she repeated as a junior this past spring at the 9A level for Timber Creek (Orlando, FL) High. The shortstop is a defensive standout, able to go deep into the hole and make the difficult throws because of her strong arm and quick release. Cordova has an advanced softball IQ and was identified early by colleges as a high-ceiling prospect before she committed to the Gators in December of 2015. She has also played for the Puerto Rican junior national team.
45 | Jordyn Rudd, C/3B | Indiana Magic Gold (Northwestern)
Rudd was a FloSoftball second-team All-American and an all-state selection for her Center Grove (Greenwood, IN) High team as she hit .667 with an on-base percentage of .722 and had 58 RBIs and 15 home runs in just 30 games. She's already the career home run leader for her high school with a year left to play. Rudd has played all six years of travel ball with the Magic organization and has led her team to runner-up finishes at the Triple Crown Nationals and the Boulder IDT with high finishes at PGF Nationals and the USA Softball J.O. Cup as well. She is a multi-position talent who shines behind the plate and at the corners. Her rare combination of speed and power for her positions makes her a threat at the plate and also on the bases.
44 | Danielle Williams, P/UT | Sorcerer Gold (Northwestern)
Williams suffered a knee injury earlier this fall, but looks to be healthy for the start of 2018 and, when on her game, she's a top-20 talent. As one college coach said, "I'd rather have a healthy Danielle Williams than almost any pitcher in this class." She was a first-team FloSoftball All-American in 2017 after she went 17-1 with a 0.34 ERA with 17 complete games, nine shutouts, and three no-hitters and compiled 231 Ks in 122 innings. For her career, she's an impressive 55-6 with a 0.58 ERA and as good as she is as a dominating pitcher, she's equally skilled as an outfielder and is a high .400-range hitter. Williams is advanced in her knowledge of the game as her parents, Mike and Jenny, coach in the Sorcerer organization and her sister, Krista, who was a senior this year at Northwestern, where Williams will play next fall.
43 | Karly Heath, P/OF | Georgia Impact – Lewis (South Carolina)
Heath is a versatile, lengthy lefty who shines in the box, in the circle, and in the outfield. Heath has great home run power but also runs about a 2.7 home to first. This past summer with Georgia Impact she hit over .450 blasting 15 HRs over the fence. Last season with North Augusta High School, Heath hit .506 with 11 HRs, and swiped 17 bases on 19 attempts. In the circle, she throws in the mid-60s with a knee-buckling drop and changeup and posted a 14-1 record with 145 Ks and a microscopic 0.35 ERA. Her strong arm and foot speed translates well into the outfield where she is able to cover a lot of ground and get the ball in quickly. Get excited Gamecocks, you can put this athlete anywhere!
42 | Logan Caymol, P | East Cobb Bullets – Caymol (Tennessee)
Caymol is a 6-2 right-handed pitcher who can spin the ball as well as anyone in the country. Predominantly a rise, drop, and curve hurler, the FloSoftball All-American and Tennessee commit shines brightest against top level opponents. In the last three seasons, Caymol has helped her club team to first-, second-, and seventh-place finishes at two of the top summer tournaments, PGF and IDT. At Buford High School, Caymol is in the midst of pitching her team to their fourth consecutive state championship game and has achieved nearly every accolade possible at the prep level including first-team all-state, GADC and GHSA state, region, and county player of the year. Her championship experience will be more than welcomed in Knoxville.
41 | Lindsey Gilbert, OF | DeMarini Aces (Baylor)
Gilbert, or "Lou," is a true triple threat at the plate who believes in the art of the bunt but will also keep a defense honest with her ability to place a slap into open territory and drive the ball into the gaps. Last season with the DeMarini Aces, Gilbert hit .423 with an on-base percentage of .506 and swiped 87 bases! As a junior at Staley High School, Gilbert was a Class 4 all-state selection and just finished up her senior season leading her team to a third place finish batting .671 with 21 stolen bases. Gilbert's desire to one day enter into the medical profession is one of the reasons she chose Baylor to play out her collegiate softball career.