Final 2018 Hot 100 Rankings: Players 40-31
Final 2018 Hot 100 Rankings: Players 40-31
FloSoftball's final 2018 Hot 100 rankings players 40-31 feature Birmingham Thunderbolts, Explosion, and So Cal Athletics stars.
Nov 2, 2017
by Chez Sievers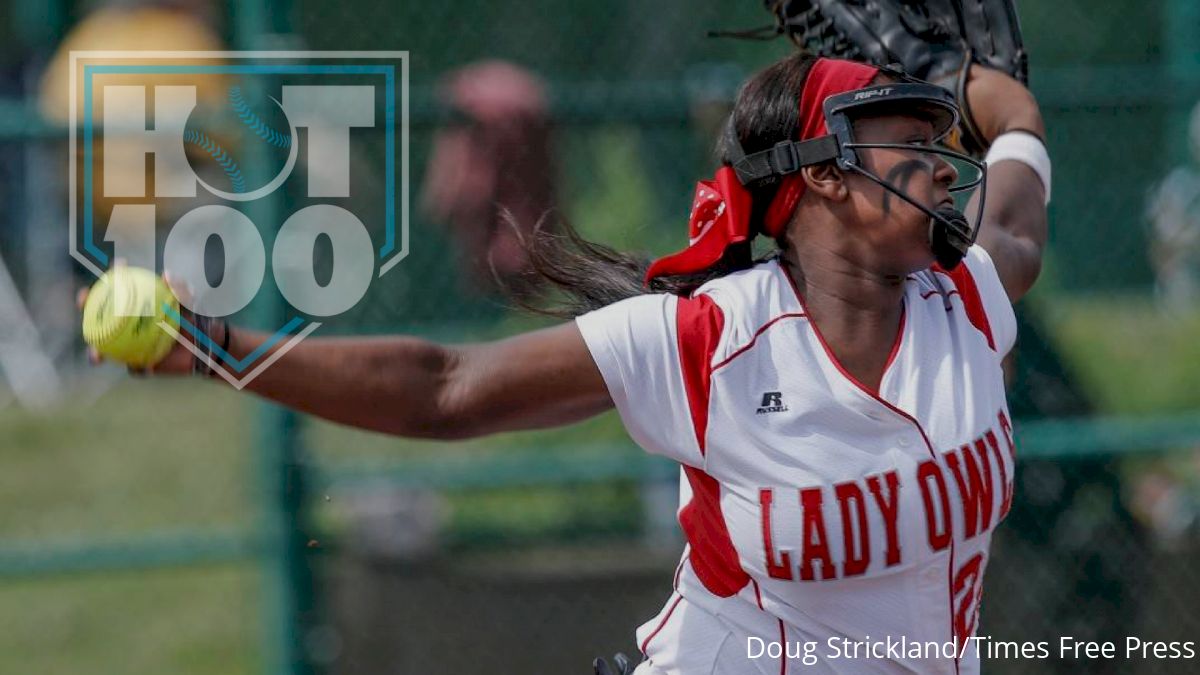 Unlock this article, live events, and more with a subscription!
Get Started
Already a subscriber? Log In
FloSoftball continues our look at the class of 2018 as we update the Hot 100 over the next two weeks, spotlighting 10 or more outstanding players each day on the way to the unveiling of the No. 1 player and the top 2018 recruiting classes on Tuesday, November 7.
This list is an updated version of our initial 2018 Hot 100 rankings, and 20 of the honorees will be new to the list after our last version published in December 2016.
After the top 100 is finalized, FloSoftball will shortly thereafter profile the No. 1 player and then list the "next in" classes comprising recruits Nos. 101-200, 201-300, 301-400, and 401-500!
FloSoftball has ranked the Hot 100 beginning with the 2014 class and has done every grad year since including 2015, '16, '17, '18, '19, '20, and '21. We've also updated most of those years several times.
These 2018 honorees were chosen based on input and feedback from college and club coaches as well as our own FloSoftball event and in-person observations. Criteria for choosing and ranking the players includes performances at the club and high school levels and projecting how they will play at the collegiate level.
40 | Kelly Flynn, MIF/OF | AZ Suncats (UCLA)
Flynn is a very versatile and aggressive athlete whose passion for the game is evident each time she takes the field. She'll go all-out on every play in the outfield and infield often times making the difficult play look routine. The UCLA commit has an extremely smooth swing at the plate and quick hands that allow her to get the barrel through the zone on inside pitches better than most. During her junior year at Arcadia High School, Flynn posted an incredible line — in 24 games she batted .608 with an on-base percentage of .637, 48 hits 46 RBIs, and 48 runs scored earning her first-team division 5 all-state for the second consecutive year.
39 | Kayla Boseman, P | Birmingham Thunderbolts (Mississippi State)
Boseman is an athlete who can change the game on both sides of the field with her effective pitching performances in the circle and power-hitting abilities at the plate. During her junior season at Ooltewah High School, Boseman hit 465 with 9 HRs and 39 RBIs while posting a 15-6 record in the circle with 184 strikeouts. Going into her senior year, Boseman has already set school records with 42 career home runs and 193 RBIs while upping the career strikeout record to 586. The Mississippi State commit has earned several honors including all-district and all-state.
38 | Emily Klingaman, IF/OF | East Cobb Bullets – Schnute (Stanford)
Klingaman is a five-tool talent from the left side with a smooth touch on her slaps, 2.7 speed down the line, but also the ability to swing away with power. A true utility player, Klingaman played five different positions against the best competition in the country last summer with her club team. During her junior year at Madison high school, Klingaman hit .543 with an on-base percentage of .652 leading her team to their first-ever Virginia 6A state championship. The Stanford commit was named first-team all-conference, first-team all-region, first-team all state, and an NFCA All-American.
37 | Taylor Greene, C/UT | So Cal Athletics – Richardson (Arkansas)
Greene is a dynamic catcher and utility infielder who can play several positions well because of her smooth hands and cannon of an arm. Greene continues to get stronger in the box with her great power potential and ability to hit for high average. During her junior year at Cambridge High School, the Arkansas commit led her team to a 6A state championship while hitting .475 with 12 home runs and earning 6A player of the year honors. This fall, Greene led her team back to the region 7 5A championship game. The Georgia native travels to Southern California frequently to compete with Bruce Richardson and the So Cal Athletics.
36 | Aspyn Godwin, C/UT | Jersey Intensity (Auburn)
Dubbed one of the best power hitters in Alabama, Godwin is the perfect fit for Auburn going into the 2018-19 season, as senior catcher Courtney Shea graduates. Godwin led 6A state in home runs, recording 41 going into her senior year. Those 41 home runs came at the expense of her father, Jimmy Godwin who promised $20 for every home run she hit in high school and club. Godwin is said to have made over $1,000. She also made all-state, super all-state, and MaxPreps second-team catcher. "I visited Alabama and LSU, but Auburn has my heart," she said. "They have had it since I was little," Godwin told Alabama High School Sports.
35 | Kassidy Krupit, P/3B/IF | East Cobb Bullets – Schnute (Delaware)
Krupit is one of the most feared 2018 hitters in the country, moving up two spots from last year. She is a versatile power hitter who bats cleanup and is equipped with an excellent glove as an infielder. But she's your typical infielder who can smash — she is also a pitcher who competes at a high level. Krupit has elevated her game over the last year and it showed both at the club and high school levels. She is a three-time Georgia all-state honoree and was the region player of the year and county pitcher of the year after leading her team to its first-ever 7A state championship appearance. Krupit was also named a first-team FloSoftball All-American. Last season for Greg Schnute's Bullets team, she batted over .500 with 15 home runs. Despite heavy SEC and other Power Five interest, the Georgia junior committed to Delaware in part because of the school's outstanding physical therapy program.
34 | Jessica Ross, P/1B | Explosion – Denio (Ohio State)
Placing fifth at IDT Boulder and 13th at 18U PGF Premier Nationals, Ross is one of the most battle-tested pitchers in So Cal. Not overpowering, Ross is crafty and precise with her pitches which has become a nuisance for most hitters. She accumulated 508 career strikeouts for Calabasas High with a 2.10 ERA. Ross will be a key contributor in the circle for the Buckeyes.
33 | Kasey Simpson, MIF | Texas Glory (Iowa State)
Simpson has really elevated her game and had a huge year in 2017 as she led her Keller (TX) High team to a second-straight 6A state title and earned first-team all-state honors as she hit .467 with 48 RBIs and 10 home runs while playing a strong shortstop. Other honors included being named the Dallas Morning News Offensive Player of the Year and the district 3-5A offensive MVP. Said one coach, "Kasey has grown beyond belief." She anchored the Glory squad last year batting in the three-hole most of the year and physically has a strong arm and great range in the field. At the plate, she hits to all fields and has the power to drive the ball to the fence and over it.
32 | Madison Huskey, OF/C | Corona Angels (Washington)
Huskey was named as a FloSoftball second-team All-American and a CalHi Sports first-team all-state pick after leading her Gahr (Cerritos, CA) team to a 26-1 record, as she batted .549 with 50 hits in only 26 games with 53 RBIs and 16 home runs. She also compiled a stellar .559 on-base percentage, a 1.263 slugging average, and an OPS of 1.823 as the So Cal standout only struck out three times in 93 plate appearances. Versatile and advanced in her physical skills, Huskey runs well and has a gun for an arm that serves her well whether she lines up in the outfield or behind the plate. She was key for the 14U Angels team that won a PGF Nationals title three years and she batted in the three spot for Marty Tyson's team.
31 | Grace Green, 3B/P | Batbusters – Gomes (Oklahoma)
Green earned CalHi Sports first-team all-state honors (medium schools) as a multi-purpose player as she's one of the top two-way threats in the nation. As a junior for her Oakdale (CA) High team, she batted .458 while going 7-2 with a 0.81 ERA and limited opponents to a .172 batting average. The soon-to-be Sooner signee showed her great athleticism at an OnDeck Camp four years ago when she shined in the testing drills, showcasing her great quickness, arm strength, and bat speed. She hits for a high average and with power and in the circle can throw in the mid-60s with a drop, screw, and rise. Growing up on a farm in the Modesto area, Oakdale goes by the slogan "Cowboy Capital of the World" and that fits Green as her father, Daniel, won three rodeo titles and qualified for the National Finals Rodeo 10 times in his illustrious career.