Nike Signs 'The Packaged Deal' To A 3-Year Contract
Nike Signs 'The Packaged Deal' To A 3-Year Contract
Nike signs The Packaged Deal to a 3-Year apparel contract.
Dec 20, 2017
by Chez Sievers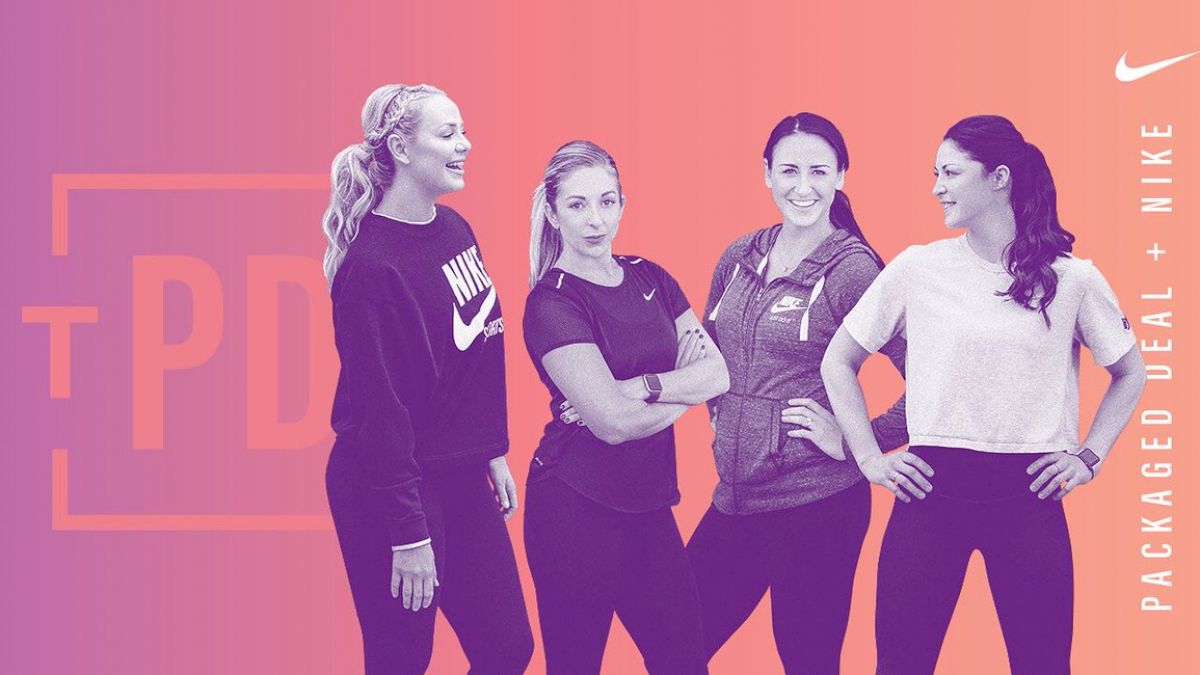 All the hard work, frequent flyer miles, and redefining softball clinics has paid off quite handsomely for the four women known as "The Packaged Deal."
Just four short years since forming, the quartet can sit back and enjoy the holiday season, basking in the glow of the recent announcement that they have signed a three-year apparel and footwear deal with Nike.
"Nike is going to create a softball brand, and we are going to be the leaders in that — and that's the most exciting thing, not just us, but for the generations to come," said Jen Schroeder Buchan, former UCLA catcher from 2004 to 2008. "It's not just us and the people who are playing now."
Each of The Packaged Deal team members adds a unique discipline to the popular clinics. Jen handles the catching duties; Katie Schroeder Schmitt, former Bruin and younger sister to Jen, is the hitting expert; former Aggie and Big 12 Player of the Year Amanda Scarborough teaches pitching, while former University of Washington national champ Morgan Stuart dishes on all things defense.
"I think it's like anything that's really big — I didn't want to get over-excited about it until it really finally got done," said Amanda, who splits her time with The Packaged Deal while also serving as an ESPN softball commentator. "It just seemed so surreal when we finally announced it. I had so much pride and was so pumped. I remember my first pair of Nike shoes and how I felt putting them on. We didn't have a lot of money back then, and my parents bought me my first pair when I was really young. It was truly the exact same feeling as when we announced we had signed with Nike."
The Austin, Texas, resident Amanda added: "You think of growth and innovation and creativity; it's those three things that we strive to do on a daily basis. From starting out four years ago to right now, every single time we are together that is such a big part of what we do every day."
Surreal. It's the same word former two-time UCLA All-American Katie Schroeder Schmitt and mother of 18-month-old Madden used when describing the big announcement.
"It was a humbling feeling and a very special moment for our team," Katie said.
Morgan called the Nike deal a milestone for the company and a validation to each individual member of the team.
"Seeing that swoosh and what it represents, it kind of told us we were making an impact and a difference for the sport of softball," she said. "This is for all the young girls who are coming up in the sport. To have a brand like Nike invest in softball is amazing. It's not just about The Packaged Deal. It's such a huge step for the sport."
Raising The Bar
The Packaged Deal was in talks with several other apparel companies.
"We were really close to signing with one of them," Jen said. "But then Nike came in and asked that we wait and give them a little more time, and we did. And our missions just aligned so deeply: that they want to grow softball and that's what we want to do.
"Do I believe our clinic is the No.1 clinic to train girls in the country? Without a doubt I do. I've been around so many clinics. In our clinic, you are going to get all of us — the raw form of us and what we think it takes to succeed at the highest level from a mental, from an emotional and from a physical standpoint. There's nothing like it in softball. You just won't find it."
Amanda said that in just four short years, The Packaged Deal has been able to reinvent the clinic experience.
"It's fast-paced and there's no wasting time," she said. "It's very organic and there's no set structure."
Morgan said The Packaged Deal's approach to clinics won't change with the Nike deal in place.
"Of course you'll see Nike apparel for sale," she said. "Nike's goal is to provide the best for the athlete. They are using us as the consultant and asking: 'What does the softball athlete want to wear to and from games? What does her apparel look like? How does her footwear she wears to and from games and at school embody what a softball athlete looks and feels like?' We are going to be able to communicate back to Nike and give them intel on what they're saying about Nike gear. Hopefully, that will get communicated up the ladder so that we can make Nike softball as authentic as possible."
The Packaged Deal's four-and-a-half-hour clinics are intense, with each event lasting an hour and 15 minutes. The foursome will often fly to one location for an event Friday night, then hit the road and drive to the nearby clinic.
Most player ages range from 10 to 12, but their clinics also attract players anywhere from 8 to 18 years old at both recreation and travel ball levels.
Life On The Road
The Packaged Deal completed upwards to 50 events in 2017. Admittedly, life on road can be dizzying at times for these women.
"I'm not going to say I love all the travel," said Morgan, who helped the Huskies win the 2009 NCAA Women's College World Series. "I would definitely rather be at home for 20 of those 50. But I'm so fortunate our business is so successful."
Like Orange County resident Jen, Morgan also resides in the OC in Anaheim Hills. She had assistant coaching stints with Loyola Marymount and UC Riverside and currently does personal softball coaching when not on the road. She said it seems that everywhere The Packaged Deal does a clinic, one of the four inevitably knows someone who lives nearby.
"They say: 'You have to go to this steakhouse. or let's go to the Golden Gate Bridge,'" Morgan said. "Once we land we are going directly to the facility and then grabbing a quick meal and back to the airport. People are starting to get it that there's no extra time."
Katie described life on the road as one big adventure.
"We meet up in the closest airport to the city of the event and then navigate in that random city to make it to a clinic, then we will drive anywhere from three to five hours to get to the next city by the next morning or fly there," Katie said. "The toughest part is dealing with changing time zones. It's pretty crazy and we will rarely get more than four hours of sleep a night when we are on the road."
Jen came up with a plan to prevent the four from having to attend each and every clinic. The Packaged Deal now fills "roster spots" with former collegiate stars currently playing for their national team or professionally. Accomplished players such as Delaney Spaulding, Bailey Landry, Sara Groenewegen, Nicole Schroeder, Ashley Burkhardt, and Kylie Reed comprise the current winter season roster.
Jen is excited to see what the futures holds for The Packaged Deal. She talks about launching a new website in the coming weeks and a marketing and branding plan that doesn't focus on the faces of the four, but of the young girls who are the future of the sport.
"We are teaching life lessons described as softball training," she said. "But more than that we are teaching that hustling is important, being on time is important, looking people in the eye is important. We are teaching them how to shake hands. We are teaching them to thrive in the real world, and that's what we are all about," Jen said.
"It's not about us; it's about these girls and that's why The Packaged Deal has been able to thrive."
---
The Packaged Deal Upcoming Events
For more information or to register for one of these events, go to: https://www.packageddeal.com/calendar/
Jan. 5 at 5 p.m. Boston, Mass.
Jan. 6 at 11:30 a.m., Albany, N.Y.
Jan. 7 at 10 a.m., Hartford, Conn.
Jan. 20 at 9:30 a.m., Salt Lake City, Utah
Jan. 21 at 9:30 a.m., Castle Rock, Colo.
Jan. 26 at 5 p.m., Washington D.C.
Jan. 27 at 5 p.m., Youngstown, Ohio
Feb. 2 at 5 p.m., Fort Worth, Texas
Feb. 3 at 11:30 a.m., New Orleans, La.
Feb. 17 at 11:30 a.m., Indianapolis, Ind.
Feb. 18 at 9:30 a.m. Fort Wayne, Ind.
Personal Websites and Social Media for The Packaged Deal members:
Jen Schroeder: www.jenschrocatching.com;
Twitter and Instagram: @jen_schro
Amanda Scarborough: www.Amanda9.com
Twitter: @ascarborough
Instagram: @ AmandaScarborough
Morgan Stuart: www.morgan-stuart.com
Twitter and Instagram: @morganstuart18
Katie Schroeder:
Twitter and Instagram: @KTSchro
---
Written by Steve Pratt