2019 Hot 100 Rankings: Players 70-61
2019 Hot 100 Rankings: Players 70-61
2019 Hot 100 Rankings: Players 70-61 who come from Arizona, California (2), Florida, Georgia, Illinois, Oregon, Rhode Island, Tennessee and Texas.
Jan 11, 2018
by Chez Sievers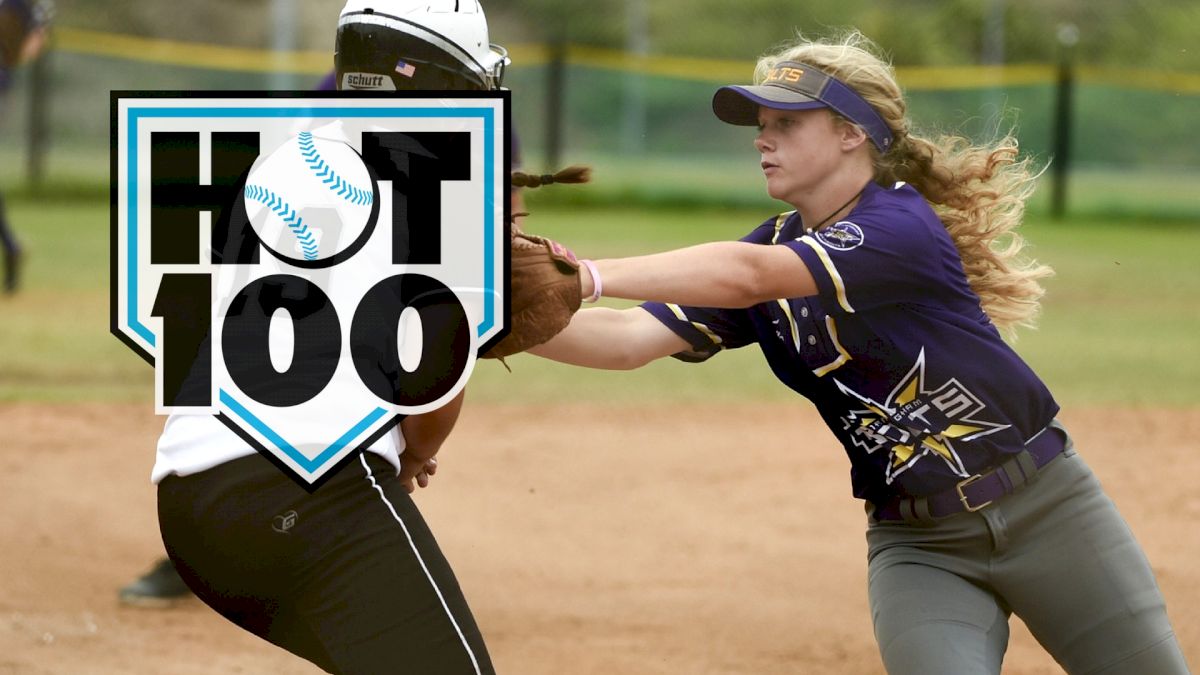 Unlock this article, live events, and more with a subscription!
Get Started
Already a subscriber? Log In
FloSoftball continues our look at the class of 2019 as we update the Hot 100 for the current juniors. We're spotlighting 10 each day on the countdown from 100 to No. 1 and this version will see as many as 25 new player additions.
We'll announce the top 10 of the class on Friday, January 19, and shortly after will profile the No. 1 player.
These 2019 honorees were chosen based on input and feedback from college and club coaches as well as our own FloSoftball event and in-person observations.
Criteria for choosing and ranking the players includes performances at the club and high school levels and projecting how they will play at the collegiate level.
Today we feature players No. 70 to 61 who come from Arizona, California (2), Florida, Georgia, Illinois, Oregon, Rhode Island, Tennessee and Texas.
70 | Karsen Ochs P/1B | Firecrackers—Brashear (South Carolina)
Coaches use the word "passionate" to describe this 5-foot-6 righty power pitcher from Georgia who will do anything to improve her game, including traveling from the Peach State to play with Sean Brashear's Firecrackers team based in Southern California. With six movement pitches crossing the plate at mid-60 speeds, Ochs has become a hard-to-hit pitcher combining those strengths with excellent control and location. Proof of this are seen in her strikeout totals: she racked up 181 Ks in 138 innings as a sophomore playing for her First Presbyterian Day (Macon, GA) High team this past fall. Ochs has been verballed to South Carolina since she was 13 and should be an early contributor to the Gamecocks squad.
69 | Miranda Johnson 2B/3B | So Cal Athletics—Richardson (Notre Dame)
Jonson is an outstanding athlete with the speed and range to play the outfield complimented by footwork and hands that make versatile enough to play infield. A stealth weapon for Bruce Richardson's So Cal A's juggernaut — which hasn't finished lower than fifth in any of the eight PGF 18U National Championships — Johnson has been holding down second base for her club team while playing shortstop for her Santa Margarita Catholic (Rancho Santa Margarita, CA) High team, where she produced a batting average of .517 in 2017. An easy-going player with blazing speed, she can slap or hit for power from the left side and had a strong fall including a .555 batting average at the Diamond 9 Sun Class Fall in Orlando, Florida, and a .563 hitting mark at the Surf City Start Up Tournament in Huntington Beach, California. "MJ" had offers from SEC, ACC, and Big East programs before verbally committing to the Irish in 2016.
68 | Vanessa Oatley P | Georgia Impact—Lewis (Penn State)
A dominant pitcher on the East Coast softball scene since she started playing 12U ball, Oatley continues to improve and has been praised by scouts and coaches as "the real deal" and "exceptional at hitting spots." During the fall season, the junior at Chariho (Wood River Junction, RI) High, shut down some of the top club teams in the nation and in several events pitched shutouts. A solid lefty with mid-60s velocity, Oatley has command of a curve, screw, drop and change. She committed to Penn State the fall of her 8th grade year, and recently moved to the Georgia Impact-Lewis team with her sights set on securing several PGF wins.
67 | Audrey LeClair IF | Firecrackers—AZ (Michigan)
A lefty slapper with excellent speed, LeClair swiped 40 bases in 17 games for her Phoenix Country Day (Paradise Valley, AZ) High team last season while posting a remarkable .735 batting average. An accomplished multi-sport athlete, LeClair was the 2017 Section IV Conference Player of the Year for softball and was named to the basketball first-team all-conference as well. Coaches like how the future Wolverine plays third with an aggressive mentality as she fearlessly holds down the hot corner for Firecrackers AZ thanks to her tremendous overhand speed and quick transfer to pick off lefty slappers. LeClair has the speed and range to play in the grass or on the clay and is expected to make an early impact in Ann Arbor.
66 | Caitlyn McCrary 3B | Birmingham Thunderbolts—Dorsett/Weekly (Tennessee)
McCrary is a strong defensive player who can play any position in the infield. Batting third for the Bolts, she is a dangerous run-producer thanks to her great discipline in the box. Quick enough to defend the short game, McCrary is a strong presence at third for the Bolts and at the plate posted a .439 average last fall with six home runs. Playing for Siegel (Murfreesboro, TN) High, she compiled a .615 batting average and a .647 on-base percentage as a sophomore after helping lead her high school team to a Class 3A championship as a freshman. After receiving interest from Alabama, Auburn, and Mississippi State, McCrary became the first verbal in Tennessee's strong 2019 class when she committed in 2015 as an 8th grader.
65 | Kaia LoPreste C | Tampa Mustangs – TJ (Florida State)
LoPreste is an outstanding receiver with soft hands and a quick snap. She is very mature with quiet movement behind the plate and handles her pitchers well. The Florida junior has an excellent catcher's build with a low center of gravity and many feel she is one of the top 2019 all-around catchers in the country. LoPreste helped lead the top five-ranked Mustangs team to a third-place finish at the DeMarini Invitational over the summer and also helped T.J. Goelz's squad to a 27-3 record this Fall, batting .387 with seven home runs and 28 RBIs. She was the team MVP the last two years at Riverview (FL) High and this past season batted .510 as a sophomore with only two errors behind the plate in 28 games, garnering her first-team all-state recognition. LoPreste committed to the Seminoles in September of 2016.
64 | Madison Hirsch IF/UT | Texas Glory – Shelton (Kansas)
Hirsch was a Second-Team FloSoftball All-American in 2017 playing next to the No. 1-ranked player in the 2020 Hot 100, Jayda Coleman, and helped The Colony (TX) High to a state title as she batted .560 with 51 hits, 65 RBIs, and 15 home runs with a stellar 1.877 OPS. Hirsch is small at 5-3, but can play any position other than pitcher and is as competitive of a player as you'll find in the nation. One coach said, "She is just crazy good on offense and defense, this kid is off the charts capability-wise." Nicknamed "Coco," she also earned a truckload of season-ending honors including 5A all-state, Dallas/Ft. Worth Fastpitch All-MetroPlex Player of the Year, and District 14-5A Offensive Player of the Year. A switch-hitter with an efficient swing, the Texan had strong offers from programs in the Big 12 and SEC before choosing the Jayhawks.
63 | Ariel Carlson IF/P | Beverly Bandits (Oregon)
Carlson is following in the footsteps of current University of Oregon freshman Lauren Burke in that both left the Northwest to play for the PGF championship-winning Bandits organization and both will end up playing together again in two years in their hometown of Eugene. Burke was the state player of the year and Carlson earned first-team 5A all-state honors as both led Marist (Eugene, OR) High to a state title. As a sophomore, Carlson batted .547 with 58 hits, 16 home runs, and 72 RBIs as the key run producer for the Class 5A title winners. A power-hitting machine with a smooth, efficient swing, she has a strong arm on defense and can even pitch reaching 60-plus mph on the radar. A no-brainer to stay home and play for Oregon, Carlson committed over two years ago to Mike White and staff.
62 | Valerie Pero C/3B | Athletics - Mercado/Smith (Oregon State)
Pero is a strong catcher who hits with power and has a solid arm, throwing out 10 base runners in the fall for the A's while hitting .390. She has a 1.7 pop time and is experienced playing for title-winning club teams including her 2015 PGF 14U National Championship ring captured when she was with the OC Batbusters-Campbell powerhouse squad. From the San Diego area, the Del Norte High standout hit .384 as a sophomore with 10 home runs and 31 RBIs in 33 games. Pero recently joined Dave Mercado's organization and has fit in nicely with a team loaded with talent and is considered one of the favorites to win PGF Nationals this summer. Nicknamed "Val," the SoCal standout backstop committed to the Beavers in December of 2016.
61 | Cassie Lindmark C | Illinois Chill (Kentucky)
Lindmark is considered by many scouts as one of the most fundamentally sound defensive catchers in her age group. She is skilled at framing and blocking with high energy behind the plate and also works well with her pitchers — including several drop ball hurlers — giving her coaches the confidence to call any pitch at any time knowing their backstop will keep the ball in front of her. At 5-10, Lindmark is a run-generating power hitter who squares up well on the ball and drives mistake pitches hard into the gaps. Lindmark hit .414 with 27 RBIs for her Marist (Chicago, IL) High team that went 25-8 in 2017. She earned Class 4A 2nd Team All-State honors and was an all-conference selection out of the East Suburban Catholic Conference. Lindmark committed to the Wildcats in February of 2016 over multiple Big Ten offers.