2019 Hot 100 Rankings: Players 60-51
2019 Hot 100 Rankings: Players 60-51
2019 Hot 100 Rankings: Players 60 to 51 who come from California (4), North Carolina, Oklahoma (3), Tennessee and Washington.
Jan 12, 2018
by Allie Martinez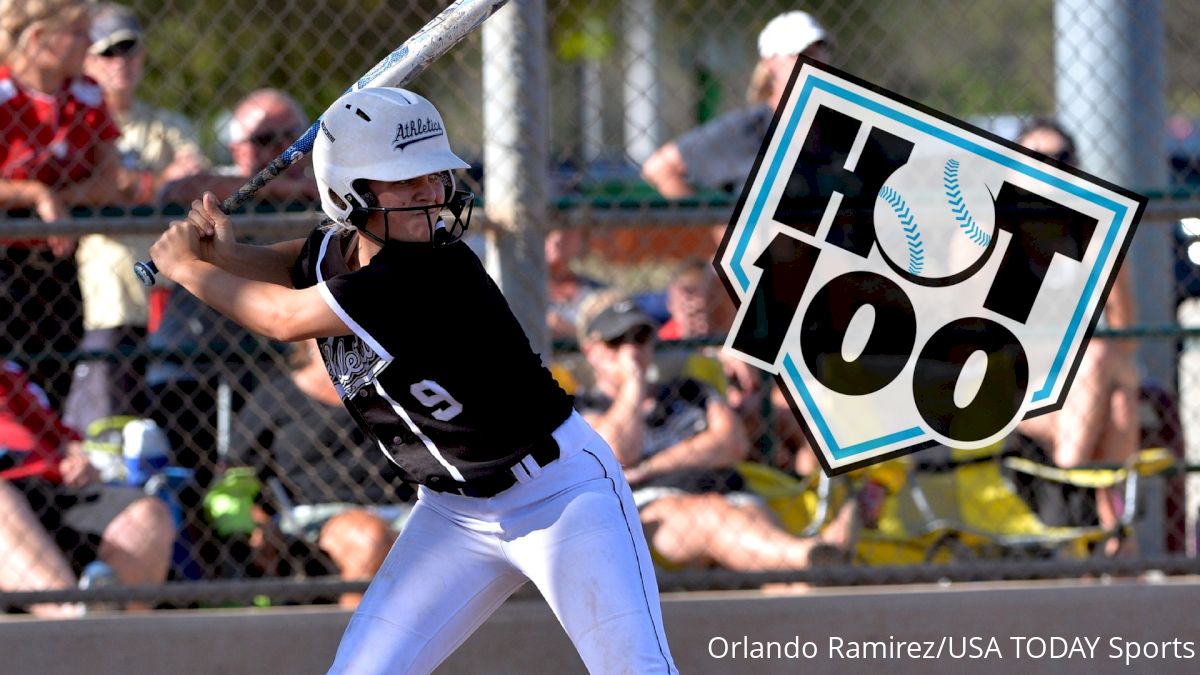 Unlock this article, live events, and more with a subscription!
Get Started
Already a subscriber? Log In
FloSoftball continues our look at the class of 2019 as we update the Hot 100 for the current juniors. We're spotlighting 10 each day on the countdown from 100 to No. 1 and this version will see as many as 25 new player additions.
We'll announce the top 10 of the class on Friday, January 19, and shortly after will profile the No. 1 player.
These 2019 honorees were chosen based on input and feedback from college and club coaches as well as our own FloSoftball event and in-person observations.
Criteria for choosing and ranking the players includes performances at the club and high school levels and projecting how they will play at the collegiate level.
Today we feature players No. 60 to 51 who come from California (4), North Carolina, Oklahoma (3), Tennessee and Washington.
60 | Sydney Steele MIF | So Cal Athletics – Richardson (Stanford)
Steele is following in the Pac-12 footsteps of her older sister, Haley, an All-American at ASU, but the younger sibling will head to Stanford after originally committing to Auburn. Like her big sister, the San Diego-area product is a strong hitting infielder and led her Poway (CA) High team with 40 RBIs on her way to Palomar League Player of the Year and first-team All-CIF San Diego Section honors. Steele moved from second base to shortstop and is a defensive asset wherever she plays. Another standout from Bruce Richardson's So Cal As 18U team, Steele has solid fundamentals combined with a strong work make her a leader on and off the field. Still growing and improving, the current junior should be a quick contributor to the burgeoning Stanford program under the new guidance of head coach Jessica Allister, who led Minnesota to an in-season No. 1 ranking last year.
59 | Rylie Boone OF/P | Texas Glory (Oklahoma)
Boone is a five-tool player who does it all on the field as a true lefty who even pitches and with high 50s speed and a good change, but it's her all-around athleticism that has drawn comparisons to the play of former Florida All-American outfielder Kelsey Stewart when she was at the same age. Boone has top-level speed and explosiveness and uses her quickness to play small ball and slap to get on base, but she has pop in her bat too. As a junior playing the high school season this past fall for Owasso (OK) High, she batted .532 with eight home runs, 30 RBIs, and 27 extra-base hits. Equally impressive, she only struck out once all season. A Class 6A first-team all-state selection, she is a prototypical center fielder who covers a ton of ground and has a gun for an arm. She committed to the home-state Sooners in September of 2015 over many other Power Five school offers.
58 | Madison Jacobus OF/MIF | Firecrackers – Rico (Utah)
Jacobus is a multi-dimensional lefty who is a triple threat player offensively with great defensive skills as well. One coach said, "She's not the loudest on the field, but makes it up with the rest of her game… she's silent but violent." Jacobus, who goes by "Madi," had a huge sophomore season for Bishop Montgomery (Torrance, CA) High as she batted .571 with seven triples, a .654 on-base percentage, and a 1.606 OPS. Her versatility and skill set has drawn comparisons to Olympic Gold medalist Lovie Jung. Jacobus also didn't make an error all season. A varsity soccer goalkeeper also, the SoCal junior has the softball tools to play anywhere in the outfield and infield and should be a candidate to play early in the Pac-12. She committed to Utah in June of 2016.
57 | Paige Smith 3B | Athletics – Mercado/Smith (Ole Miss)
Smith is a pure hitter who has power and bats in the middle of the lineup because she's the ultimate RBI machine and clutch batter. This fall she hit .417 for the Athletics with nine home runs and has been with coach Dave Mercado since she was nine years old, highlighted by a PGF 14U National Championship in 2016 and a 12U National Championship in 2014 when she won the title with a walk-off single in the bottom of the seventh inning. Smith also plays for one of the top high school programs in the country, Norco (CA) High and was a key cog for the Cougars which was No. 1 for most of the season in the FloSoftball FAB 50 before falling to Los Alamitos in the CIF Southern Section title game, although they still ended up 33-1 and ranked in the top five nationally. Smith hit .417 as a sophomore and is poised for a huge junior year this spring. She had major schools from the Big Ten, Pac-12, and SEC pursuing her before she committed to the Rebels in February of 2016.
56 | Mackenzie Donihoo SS | DeMarini Aces (Missouri)
Donihoo's strong 2017 season in club and high school ball propelled her into the Hot 100 as she led her Mustang (OK) High team to the state championship and during the summer she batted .449 with an on-base percentage of .529 and 20 steals and was third on Ryan Taylor's DeMarini Aces squad in RBIs and home runs. Donihoo has the speed at 2.7 home-to-first to leg out gap hits into extra bases as shown by her .421 high school batting average which included 15 doubles. On defense, she reads the ball well, isn't afraid to charge, has 65 mph overhand velocity and uses her command of the quick-release style to shut down the short game. The infielder was spotted by college coaches during her 8th-grade season and visited LSU and Florida along with her eventual choice, Missouri, and soon thereafter committed to Mizzou.
55 | Kiki Milloy OF/P | Beverly Bandits (Tennessee)
Milloy had a remarkable high school season as a sophomore, leading her Richmond (WA) High team to a Class 3A state championship and got hot when it counted, pitching the entire game in the title contest and scoring five runs in her team's 9-5 triumph. She also homered in each of the four tournament games including two in the final game. Milloy, whose first name is actually Kiara, is part of a tremendously accomplished family of athletes as her father, Lawyer Milloy, was a star defensive back in the NFL for 15 years after earning All-American honors at the University of Washington; her mother, Claudine, ran track for the Huskies and her sister, Amirah, is currently a junior at the Seattle-based Pac-12 school. The youngest softball player is a 6-foot center fielder/pitcher who can hit for average and power and covers a lot of ground with her long strides, play in in the outfield or out of the batter's box. She decided to leave the Northwest for club and college play and committed to the Vols in late 2016.
54 | Regan Weekly 2B/OF | Tennessee Fury—Perry/Weekly (Dartmouth)
A First-Team FloSoftball All-American for The King's Academy (Seymour, TN), Weekly came up big in the Tennessee state playoffs, hitting .600 and driving in eight runs and the 2017 season marked her third-straight year on the Tennessee Sports Writers Association All-State Softball team after she batted .656 and an outstanding .731 average with runners in scoring position. Defensively she was solid, too, as she made only three errors all season at second base. Her steady glove and consistent bat from the left make her a strong all-around player effective in the infield and outfield. Facing some of the top teams in the country, she batted .438 this fall in the club scene with seven home runs and 10 doubles. The granddaughter of Tennessee Vols head coach Ralph Weekly and daughter of long-time club coach Marc Weekly, the current junior is headed to Dartmouth, choosing the Ivy League after being recruited by ACC, SEC, and Big Ten schools. Weekly is a well-rounded player with the experience to help Dartmouth Head Coach Shannon Doepking on her quest to mold the Big Green into a dynasty.
53 | CJ Wright UT | Lady Lightning Gold (North Carolina State)
A true utility player who can strengthen her team no matter where she lines up, Wright is a dynamic and aggressive player who led her team to a top-five finish at the Colorado Fireworks tournament last summer and a top-three finish in the Canada Cup. A table-setter and solid scoring threat, she finds a way on and has the speed to steal on any pitch. No matter if she's behind the dish, in the middle infield, on a corner, or tracking fly balls down in the grass, coaches count on Wright to be a spark plug and keep the defense firing on all cylinders. On her way to North Carolina 4A all-state honors, she hit .545 in 21 games for her Apex (NC) High Team and scored 32 times. That school is just 15 minutes from the school that Wright has chosen for her college experience, adding her to the incoming class of 2019 for the Wolfpack.
52 | Macy McAdoo P | Oklahoma Athletics (Oklahoma)
McAdoo is a righty hurler who is tough to hit as she has a mid-60s velocity with movement to spare. She exploded on the mound and onto the recruiting scene in 2016 and picked up offers from almost every program who saw her pitch. McAdoo has led her Tuttle (OK) High team to two consecutive 4A state titles and picking up 596 strikeouts along the way. In 2017, she recorded 303 Ks and allowing only 27 earned runs in 195 innings for a 0.97 ERA. Sooner fans are thrilled that she's chosen to stay close to home — OU is only 30 minutes from her high school — as she committed to Patty Gasso in November of 2016. Says one coach of McAdoo: "I can see why Patty recruited Macy, she's not a lefty, but she's very hard to hit. Macy will quickly become a pitcher well-known on the DI Big 12 college scene."
51 | Candace Yingling IF | Explosion – Denio (Cal-Berkeley)
Yingling is the prototype first baseman as she has size at 5-10, is strong, has a high softball IQ, and is exceptionally skilled at playing her position, especially at coming up with anything thrown her way — high, low or bounced in the dirt. She's a power hitter who hits for a high average and can bat anywhere in the middle of the lineup. Yingling moves well and understands the game, knowing how to be a step or two ahead of the play in anticipating where to be. She became a nationally coveted recruit two years ago when she earned MaxPreps Freshman All-American honors after batting .522 with 10 home runs for Vista Murrieta (CA) High. Academically oriented, she had Ivy League schools like Harvard, Penn, Princeton, and Dartmouth after her as well as top programs in the ACC and Pac-12 before she committed to go up the Pacific Coast and play for the Bears in July of 2016.