Why I Decommitted: Grace Marsalo's Struggle With The Early Verbal
Why I Decommitted: Grace Marsalo's Struggle With The Early Verbal
Grace Marsalo, ranked No. 84 in the 2019 Hot 100, shares her account of dealing with the pressure of verbally committing to a school early.
Jan 19, 2018
by Chez Sievers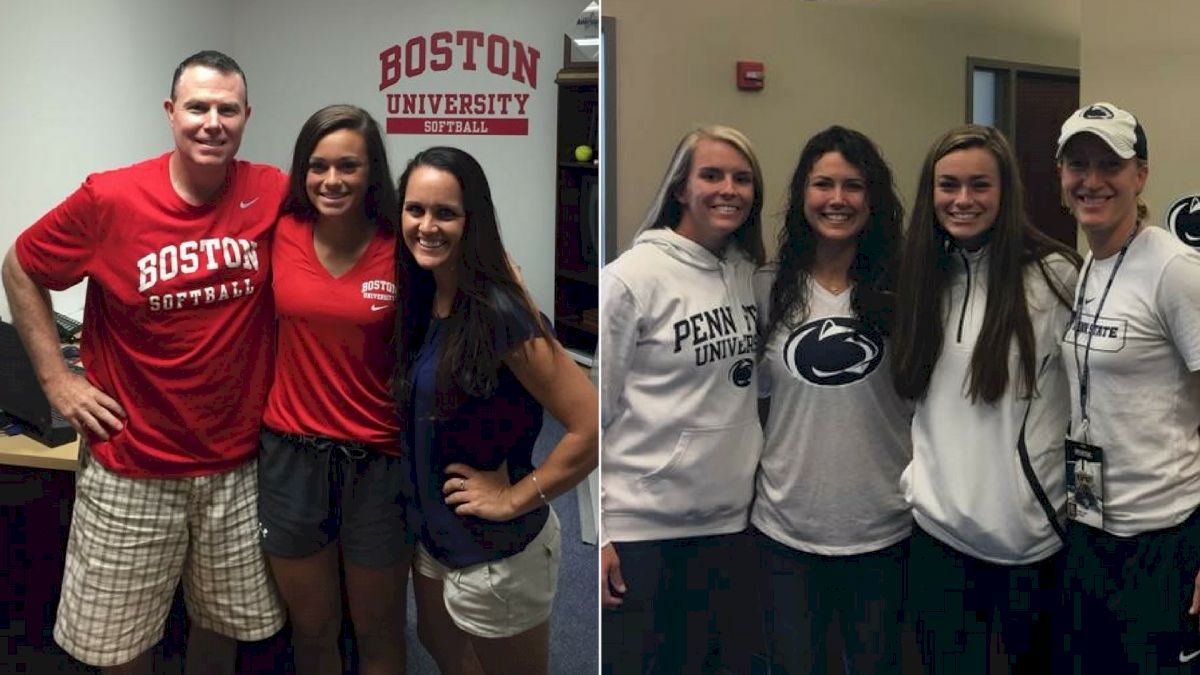 Grace Marsalo, ranked No. 84 in the 2019 Hot 100, shares her account of dealing with the pressure of verbally committing to a school early in her college recruitment.
---
I started playing softball when I was 8 years old. I played for fun at Plowville, PA, the local rec-ball team near my house. I always used to go to my high school games, and I always wanted to be just like those players. They were my role models.
I started pitching lessons with the high school coach at the time, Jeff Cellucci. He told me and my parents I was going to be something special and to get me onto a travel team.
My parents were confused. I remember my dad asking what a travel team was. I joined a club team called "Pegasus." We weren't good, but it was the beginning. The next year my dad, who also fell in love with the sport, put together a travel program called the "PA Strikers." The team consisted of about 13 girls from around my area. We all had tremendous potential to be a special group of athletes.
After the first year, no one thought we had a chance to be good or had the potential to play Division I college softball. As the years went on, we continued to grow as athletes. We worked hard day in and day out. And because of our hard work, great coaching, and dedication to the sport we love, we became something special. As we grew up, coaches started to watch us. I could not even believe it. We started attending camps and participating in showcases. The recruiting process for us was fast and furious.
A Quick Commitment
For me, the recruiting process arrived very early and unexpectedly. My team was playing in a showcase in Newtown, PA. It was a Saturday morning and Boston University was there to watch me. The coach loved my attitude and how I played the game.
Within the next 24 hours, we received a call from our recruiting coach that BU wanted me to come for a visit. Here I am, 13 years old finding myself on my way to Boston, MA, for an unofficial visit to Boston University. I had never heard much about the school before this opportunity, but my dad explained what an amazing academic school it was and how great of a city Boston is to attend college.
We arrived outside of BU coach Ashley Waters' office around 9:30 AM. Coach Waters and her assistant, coach Bill McDonald, made their way out the door of the building. With millions of feelings going on in my little body, I shook both of their hands with excitement.
Coach Waters is one of the nicest people I have ever met. I fell in love with her immediately! I also thought I fell in love with the school. After the first day of the visit, my dad and I got back in his truck and headed for the hotel. He described how amazing this opportunity is because not many people get to attend Boston University on a scholarship. That was the moment when the pressure began to build. The next day I received an offer, and I accepted it thinking I had made a great decision.
Unexpected Pressure
Being committed to a college at such an early age was not the easiest of thing for a young teenager. There were stipulations and requirements academically to attend BU. I had to receive a 1200 on my SAT. I am very strong student in school because I work hard. I carried a 4.0 GPA. Coach Waters asked that question: "Are you a good student?" Of course, I said "yes" because I was.
However, standardized tests have never come easily to me. After taking the SAT my first time as a sophomore I began to stress. My score was not even close to where it needed to be. I started tutoring twice a week. I had so much pressure on myself.
I took the test again about three months later and didn't score much higher. The pressure began to build up and time seemed to be speeding up. I began to think to myself, "Maybe BU isn't the best place for me," or "Maybe I am not a BU student."
I kept all these thoughts to myself and the stress became unbearable. I took the SAT for the third time and again my score was not close at all. That is when doubt and more questions began to pile up. Did I even want to go far away from home? Was Boston University a good fit? The stress began to make me wonder if I even wanted to play softball anymore.
Haunted by these thoughts that kept building up in my mind, I decided I had to tell someone. One day on the way to my aunt's house (who was also tutoring me), I told my mom. She began to cry — I think because she was proud of me for being mature enough to see the light. This struggle was hard on my entire family. My mom was working and driving me to my aunt's house 2-3 times a week for tutoring who lives one hour away.
I explained to her that the stress was too much to handle and I needed to look at other schools. I felt like a complete failure. We had a family talk about my options and after much stress and many tears, I came to the decision that I wanted to decommit.
A New Direction
I felt like I was letting so many people down. How was I going to tell one of my best friend who is also committed to BU? How were my teammates going to react? Coach Waters? Coach Mac? I cried for long periods of time feeling like such a failure.
Thankfully Coach Waters, my parents, and all my peers supported me. That phone call was the most stressful thing I had to do. Coach Waters was amazing and she completely understood. She offered such encouraging and thoughtful words provided much-needed relief.
To this day, Coach Waters still checks in with me. She is one of my biggest fans and I am so thankful for her kindness and love during that difficult time. I hope to always be friends with her.
After I decommitted, it seemed like the stress was building all over again. Where did I want to go? What school would be a good fit for me?
I went on visits to Delaware and Hofstra, but I had my mind set on one school, Penn State. After attending a camp at PSU, the Nittany Lions coaching staff showed interest in me. I knew this was where I wanted to go to school. They brought me in on a visit September 9. I was super excited for this opportunity.
My parents had me go in and talk to Penn State coach Amanda Lehotek alone. I sat down in Coach Lehotek office full of excitement. I don't think I stopped smiling once. I got an offer and there was no hesitation. I walked out of her office full of joy and I told my parents I was going to be a Nittany Lion. The tears automatically started rolling. What a journey!
Advice To Remember
This experience has taught me so many lessons. Mostly, 13 is way too young to make a life decision that remains four years away. Life changes quickly between ages 13-17. Those years are important growing and molding years. It is almost impossible to make that decision when you are 13 years old.
My advice to the young girls going through the recruiting process is do not make the decision unless it feels 100 percent it is right for you. Check out all your options, and don't commit too early.
Boston University is an amazing school with awesome coaches and great opportunities, yet it was not for me when I turned 16.
Take your time. Don't put yourself through all the stress. The right school is out there, and you will find each other!