Unlock this article, live events, and more with a subscription!
Get Started
Already a subscriber? Log In
FloSoftball finishes our look at the class of 2019's top recruits as we wrap up the Hot 100 for the current junior class.
We spotlighted 10 each day on the countdown from 100 to No. 1 and are now announcing the top 10 standouts today.
These 2019 honorees were chosen based on input and feedback from college and club coaches as well as our own FloSoftball event and in-person observations.
The criteria for choosing and ranking the players include performances at the club and high school levels and projecting how they will play at the collegiate level.

Today, we feature players Nos. 10 to 1, who hail from Arizona, California (4), Florida (2), Georgia, Kansas, and Wisconsin.
See 2019 Hot 100 Rankings 100-1
10 | Maya Brady SS/OF | OC Batbusters—Stith (UCLA)
Brady is a great talent who had a standout summer offensively and defensively and can do it all on the field. At 5-foot-10, she is a gifted athlete who runs well, has speed and power, and can play any position defensively. Said one coach of her, "Maya could be one of the top two or three players in her class by next year. She's still maturing and refining her talent because it comes so naturally to her. She's raw and unpredictable, and makes plays others can't." Offensively, the junior at Westlake Village (CA) Oaks Christian can hit any type of pitch and bats for a high average and hits a lot of home runs. For her prep team as a sophomore, she batted .402 with a .490 on-base percentage last spring.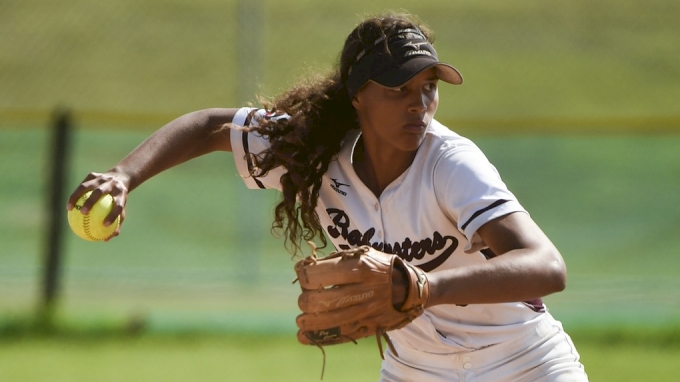 At PGF Nationals, she went 8 for 16 (.500) and led the Batbusters in hits, RBIs (5), and steals (3) in four games. Much has been written about her being the niece of New England Patriots quarterback Tom Brady, but less known is that her mother, Maureen, was an All-American softball player at Fresno State and a member of the USA junior national team in 1991, so Maya is wired to be a standout on the fastpitch field. With Bri Perez and Taylon Snow making the junior national team last year, it allowed Brady to step up and realize her great potential. However, the talented lefty still has a lot of room to get even better. Said a top club about her, "Her best softball is ahead of her. She's a leader and has a huge upside because there's nothing she can't do."
9 | Callie Turner P | East Cobb Bullets—Schnute (Tennessee)
Turner is known for disrupting timing and can be seen as a hitter's nightmare: This Tennessee commit's curveball is incredibly tough to hit, her drop ball disappears from the zone, and her changeup leaves batters stunned. Slide a serious rise into that lineup and it's easy to see how Turner led her Land O'Lakes (FL) team to a state championship in 6A play. It was the first-ever title for the school, in a county that hadn't seen a state winner in any class of softball since 1992. To win that title, the Gators had to best American Heritage in the final — a team that was there for the eighth straight year. Trailing 1-0 in the sixth inning, Turner's bat brought a timely hit to start a rally that would ultimately grant Land O'Lakes the lead, which she then protected from the circle. Turner's stats are staggering, with a high school career ERA of 0.27. Last season, she threw 132 innings, faced 486 batters, and amassed 249 strikeouts while giving up only 41 hits and 38 walks and four earned runs — all season. Her performance earned her pitcher of the year and first-team all-state honors. At 6-foot, this lefty is formidable and keeps finding ways to improve — garnering interest from top programs across the nation, including Oklahoma, Florida State, Ole Miss, Stanford, and more, but Turner is the future for the Weeklys at Tennessee. Orange is a consistent color for her. She wears it for the Gators, will don it for Tennessee, and wears it for club ball when she suits up for East Cobb Bullets-Schnute. Her teammate Lexi Kilfoyl spent most of her summer with the USA junior national team, moving Turner into a workhorse role. She shouldered that burden with her high-60s talent, leading the Bullets to a third-place finish at JO Cup and Triple Crown Nationals and fifth at IDT.
8 | Alyssa Garcia C/IF | Firecrackers—Rico (UCLA)
Garcia is a big, strong, lefty-hitting catcher who played for the A's-Mercado team the last few years and showed why she's considered one of the most dangerous sluggers in her class. In the summer of 2016, she helped the A's to the PGF 14U national title as she batted .579 with three home runs and 11 RBIs in 10 games, including a monster shot over the right field wall that drew "oohs" from the crowd. This year, she hit .450, which was third on the talent-laden A's team, and led the squad in RBIs. She batted over .400 in Colorado as the team won the 16U Power Pool at the Sparkler Tournament. Despite being hampered by a knee injury that lingered through PGF Nationals, she still managed to hit a home run and drive in six RBIs in seven games. She also had a strong high school season last spring for one of the top programs in the country, Chula Vista (CA) Mater Dei, as she led the team with a .505 average, six home runs, and 31 RBIs with a 1.383 OPS in 31 games. She was named the Metro-Mesa League Player of the Year and also earned first- team All-San Diego Section along with two future Bruins, Seneca Curo (OF, 2019) and Megan Faraimo (P/1B, 2018). Garcia is not only considered "probably the best hitter in her class," according to one college coach, but she's also strong on defense, as she can play behind the plate or anywhere in the infield. The feared young hitter, who moved to Tony Rico's 18U team in September, blew up during the 2015 club season when she hit over .700 at TC/USA Nationals at Reno and batted .500 at PGF Nationals, which drew the attention of top 25 programs everywhere. In the end, she decided Westwood, CA, would be her future home when she committed to UCLA in October 2015.
7 | Macy Simmons C/UT | Firecrackers—Rico (Auburn)
Simmons has always had the physical tools to be a franchise catcher — including a gun for an arm and power at the plate — and she's elevated her game over the last year to be one of the top players in the nation at any position. Simmons is outstanding at pitch-framing and blocking, and she shuts down the running game of the opposition. But where she's made a big leap in improvement is in learning how to management pitchers. Said one top coach, "Macy is great in stressful moments and in knowing what to say to pitchers when it needs to be said." She led the Firecrackers in home runs and RBIs during the fall and winter seasons and had multiple home runs in most tournaments she played over the last year.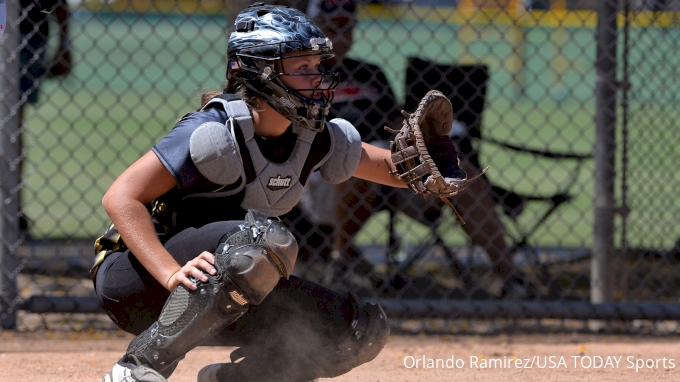 The Arizona junior was also selected for the So Cal All-Stars team that played against Team USA and Team Mexico last summer. In two games playing against women years older than her, Simmons had a .500 on-base percentage. At the high school level, she was a first-team FloSoftball All-American at Chandler (AZ) Hamilton. She led her team to a repeated Class 6A state title and No. 20 finish in the national rankings as she batted .419 with eight home runs and 49 hits. She also called her own pitches the entire season.
6 | Ciara Briggs OF | So Cal Athletics—Richardson (LSU)
Briggs is the premier outfielder in the 2019 class and most scouts who watch her believe she'll be a star in college, as her skills translate perfectly to the next level. Legendary club coach Doug Meyers, who coached he on the A's team and himself has won multiple national championships, says of Briggs, "She can win a game in so many different ways. Defensively as a center fielder she reads the ball better than any other outfielder since Laura Berg. I've only told a couple of players in my life they would be Olympians, one being Caitlin Lowe and the other Jennie Finch… Ciara Briggs is the third!" That's very high praise indeed, but what makes Briggs so worthy of it is her ability to take great angles and make diving plays in getting to balls others would let bounce in front of them.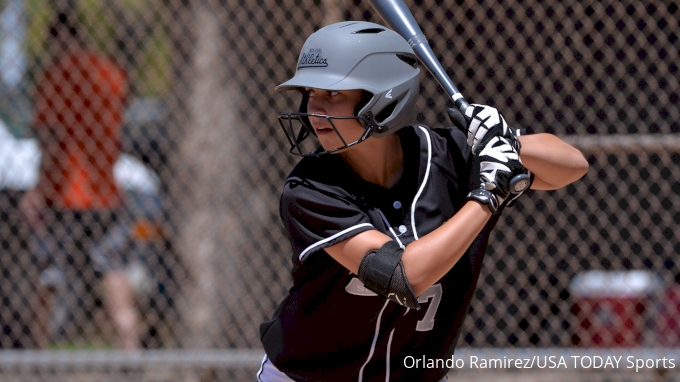 With the stick, she is a multi-dimensional lefty who laps, bunts, and hits for power. She also uses her great speed to run the bases exceptionally well. Briggs has a very high softball IQ after growing up with parents, Ken and Roseann, who have been longtime coaches. She's led her Orange (CA) Lutheran team deep into the playoffs, earned All-CIF and all-state honors, and was the Freshman of the Year. A's head coach Bruce Richardson, who has won four PGF National Championships at 18U and never finished lower than fifth, says of his star junior, "I think she's the most instinctive player in the whole class. She's one of the best outfielders I've ever had."
5 | Sydney Supple P/1B | Beverly Bandits (Northwestern)
Supple wills her team to victory and brings intensity to every game she plays. You won't find any player in the nation with more passion than this Northwestern commit. She was named a first-team FloSoftball All-American and the Wisconsin Gatorade Player of the Year to go along with her first-team all-state, all-district, and conference (and her conference's player of the year) honors. She led Oshkosh (WI) North to a 21-1 record, as she compiled a 15-1 mark with 10 shutouts, a no-hitter, and a perfect game. She also hit .522 with 5 home runs.
Supple carried that momentum to the travel season with the Bandits 16U team, which won the Boulder IDT and took third at PGF Nationals after losing to a fellow Bandits squad (which won the title) by one run in ITB. During the week at PGF, the tall pitcher had only allowed three runs in 34 innings in bracket play leading up to the semifinal loss. This fall, although still 16U eligible, Supple made a seamless jump to Bill Conroy's 18U Bandits team and finished with a 7-1 record with a pair of home runs and a second-place finish at the PGF Shootout. What also makes Supple a franchise player or even an All-American player is her work ethic. She has a drive that only few can match and combined with her physical skills, including a great eye at the plate and the ability to throw mid-60s with complementary pitches such as a rise, drop, and change. Supple has a big heart, love for the sport, a solid glove, footwork at first base, the bat to hit for average, power in the middle of the lineup, and a knack for come up clutch in big situations. Combined together, this makes her the top two-way pitcher/position player in her class. You could definitely say that she has it all.
4 | Julia Cottrill C | Georgia Impact—Lewis (Florida)
Cottrill is a gifted hitter who is recognized for her power at the plate, which makes her a serious offensive threat. One top 25 coach remarked that she "hits like a full-grown woman — it's crazy." She's been consistently challenged, playing on high-level club teams since the eighth grade. She was named to the All-Tulsa World First Team after posting a .519 average with .628 on-base percentage for her Stillwater (OK) team with 16 home runs — from the leadoff spot. Her high school coach, Karie Linsenmeyer, wanted Cottrill to get up to bat as many times as possible and anticipated that she would draw intentional walks from pitchers — a strategy that paid off in a bases-loaded situation in regional play. In an article originally published in the Stillwater News Press, the coach said, "You could definitely tell the girl could hit. You could definitely tell the girl could throw. Those things popped out at you right away. But also, you could see that she's mentally a high-level softball player. It's hard to explain, but I had the opportunity to play at a high level and she has that certain demeanor or attitude you need to carry you out onto the field. She hasn't fully grasped it yet and probably doesn't even know, but it's something I can definitely see."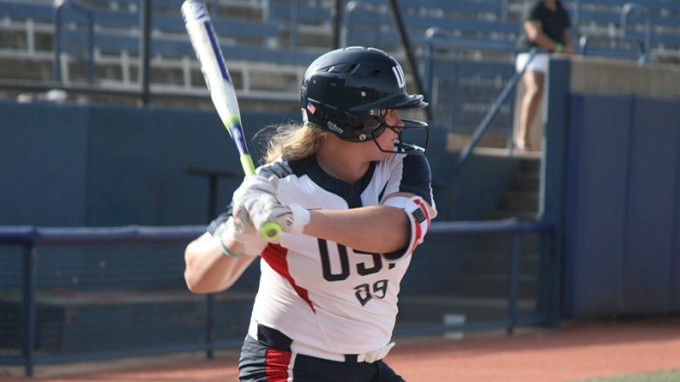 That presence and leadership, along with the soft but deadly quick hands, earned Cottrill a spot on the USA junior national team. She went yard off of several elite pitchers during the USA team tryouts in Clearwater, FL, securing her spot on the roster. This promising young catcher also has a strong arm and can throw lasers to every base. Cottrill took her time through the recruiting process and felt no pressure to commit early. When she did find her home, she found an unforgettable way to do it. Cottrill had Florida infielder Taylor Schwartz write on a softball, "I want to be a Gator for the love of the game," because the unflappable offensive beast found that her hands were shaking too badly to write it herself. Then, Cottrill handed the ball to her future coach, Tim Walton, who's amassing a lethal 2019 class based on his commits on this list. He has a serious offensive weapon with Cottrill as he pursues his WCWS quest.
3 | Kinzie Hansen C | OC Batbusters—Stith (Oklahoma)
Hansen has been the No. 1 player in the 2019 class in the first two editions of the Hot 100. She drops a bit not because her skills have diminished but simply because of a knee injury which has kept her out for most of the fall. A new addition to Mike Stith's Batbuster team, Hansen joins a stable of already established catchers in Terra McGowan (2018, Arizona State), Colleen Sullivan (2018, UCLA), and Sharlize Palacios (2019, Arizona). Hansen accepted her new role of sharing innings behind the plate while rotating in at first base to get experience at other positions. At 6-foot-1, she has caught practically every inning of every game at the prep and club level, which included winning a PGF 14U national title in 2016. Hansen also helped Dave Mercado's team take second place at PGF 16U Nationals last summer, where she led her talent-rich squad with a .421 average and an on-base percentage of .500 with five RBIs in seven total games. When healthy, Hansen is a game-changer at whatever position she plays and has all the tools defensively and offensively. She was a first-team FloSoftball All-American as a sophomore at Norco (CA) after batting .470 with 11 doubles and 43 RBIs.
Following that freshman campaign, she batted .426 with seven home runs, 18 walks, a .525 on-base percentage, and a team-high 37 RBIs to earn CalHi Sports Freshman of the Year and MaxPreps Underclass All-American honors. Perhaps the most impressive thing about the So Cal junior is how she's held up the past two years while being ranked as the No. 1 player in the 2019 class and having everyone gunning for her. She has more than risen to the challenge because of her great physical abilities. The rare five-tool catcher's fiery competitiveness and mental toughness make her one of the best prospects of any age class. Hansen has hung with the greats of the game — including women's national team member Aubree Munro — and she's also went through Jen Schroeder's The Packaged Deal workouts. Hansen has shown she's already in that rarefied air. When she gets back to full health and has another year under her belt, look for her to once again be battling for the top spot in the class of 2019 Hot 100 rankings.
2 | Kelley Lynch P | Georgia Impact—Lewis (Auburn)
Lynch is forging her name into the softball world, after being compared to another famous "Kelly" who came from the Peach State. It's a compliment when you're called "Kelly 2.0," as the first version, Kelly Barnhill — who also came up through the East Cobb Bullet program like Lynch did before recently moving to the Impact organization — has set the Florida Gators' school record for ERA at 0.57 and was the USA Softball National Collegiate Player of the Year, espnW Softball Player of the Year, and ESPY winner for Best Female College Athlete. Lynch is up to the challenge as she too is an elite hurler with "electric movement" according to one coach. Throwing a curve, a screw, and a changeup, Lynch led her Bullets to the top of the standings everywhere in the club ball world: first at Boulder IDT, fourth at USA Softball's JO Cup, fifth at Triple Crown Nationals, and seventh at PGF. A threat at the plate, she batted .400 with a home run at PGF Nationals last summer, leading her team with seven RBIs.
For her Sharpsburg (GA) East Coweta team, she shared circle time with senior lefty Rachel Vaughn and together led their team to the school's first-ever 7A state championship. Lynch posted a 0.45 ERA with 193 strikeouts for the season while posting a .440 batting average. When not in the circle, she started at shortstop and slugged 10 balls out of the yard and brought in 50 RBIs. In the circle, she's never allowed a run in regular-season play for the Lady Indians, who finished with a perfect 36-0 season. Lynch has been collecting titles herself already including player of the year for the GHSA. While Lynch is an inspiration to many, she draws inspiration from her late father, who lost his battle with cancer in March 2012, and her mom, who's had to fill the role of both parents since then. Her father was her favorite coach and biggest fan; she dedicates her play to him, continuing their special bond through the game they both loved. He's the source of the best advice given to her: "Always be a leader and never a follower." Her poise and calmness are kept in clutch situations. She's no stranger to tough situations and stays poised under pressure, inspiring her teammates to follow suit. Lynch was pursued by heavy SEC interest and chose Auburn in 2015.
1 | Alexis Kilfoyl P/1B | East Cobb Bullets—Schnute (Alabama)
Kilfoyl brings a presence to the infield when she steps into the circle and has established herself as one of the nation's most dominant pitchers. Selected to the USA junior national team last year, she was the youngest player at the try out — and the youngest ever selected to Team USA. She was clocked at 68 mph consistently last fall and commands a devastating arsenal of pitches. The most lethal could be her outstanding drop ball, which some feel is the best in the nation. She joined Greg Schnute's 18U Bullets team as a ninth-grader and led the squad to a 18U JO Cup Championship. One top coach said of her signature pitch, "It's an SEC-caliber drop right now… she's an outstanding pitcher and fits a niche for the USA junior national team to match up well against international competition." Kilfoyl is skilled at keeping hitters off balance and is extremely effective at coaxing grounders and recording strikeouts. A varsity starter since the seventh grade, Kilfoyl attends Land O'Lakes (FL) Academy at the Lakes, which is a small private school that has a student body of just over 400 from kindergarten to 12th grade. Head coach Diane Stephenson, who led the Indiana University softball team for 16 years, was the school's first All-American in softball and first woman to attend college on an athletic scholarship as a player. Stephenson told the Tampa Bay Times: "She (Alexis) is special… has great speed and movement on her pitches (and) can be overpowering." Beyond her pitching prowess, Kilfoyl is a leader and likable teammate.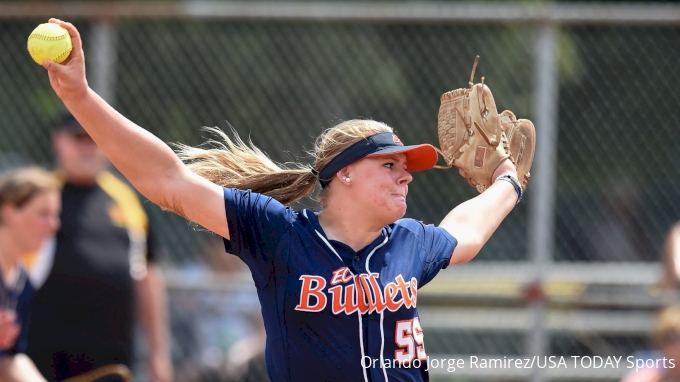 Last season at Academy at the Lakes, the only available catcher was in the seventh grade, but Kilfoyl adopted a mentoring role for the youngster, who developed under her encouragement and was able to handle the high-velocity stuff coming across the plate all season. Scouts like how Kilfoyl is a grounded player and stays icy cool under pressure. She netted 201 strikeouts in 115 innings while compiling a 0.85 ERA for the Wildcats. She batted .517 with five home runs, leading her team to a district championship and state quarterfinal finish. Loaded with talent, the team is poised to make a run at a state title this season. Kilfoyl is stronger than ever this year and is a multi-sport athlete who plays volleyball and basketball for the school. Kilfoyl currently leads the basketball team in almost every statistical category, including in points scored with 77. In volleyball, she's a menace at the net with blocks, using her stature to her advantage. In 273 sets played over her varsity career, she has 171 aces, 255 total blocks, and 544 kills. With phenomenal stats in three sports, her club and prep softball teams are expecting great things from this junior standout, who has been a first-team all-state selection for the past several years as well as the 2017 Regional Player of the Year and Pitcher of the Year. Exploding off the mound and onto the recruiting scene in 2015, she committed to the Crimson Tide before throwing her first freshman pitch amid attention from top programs across the country.