Next In 2019 Hot 100: Players 101-200
Next In 2019 Hot 100: Players 101-200
FloSoftball releases their 2019 class rankings 101 to 200.
Feb 6, 2018
by Chez Sievers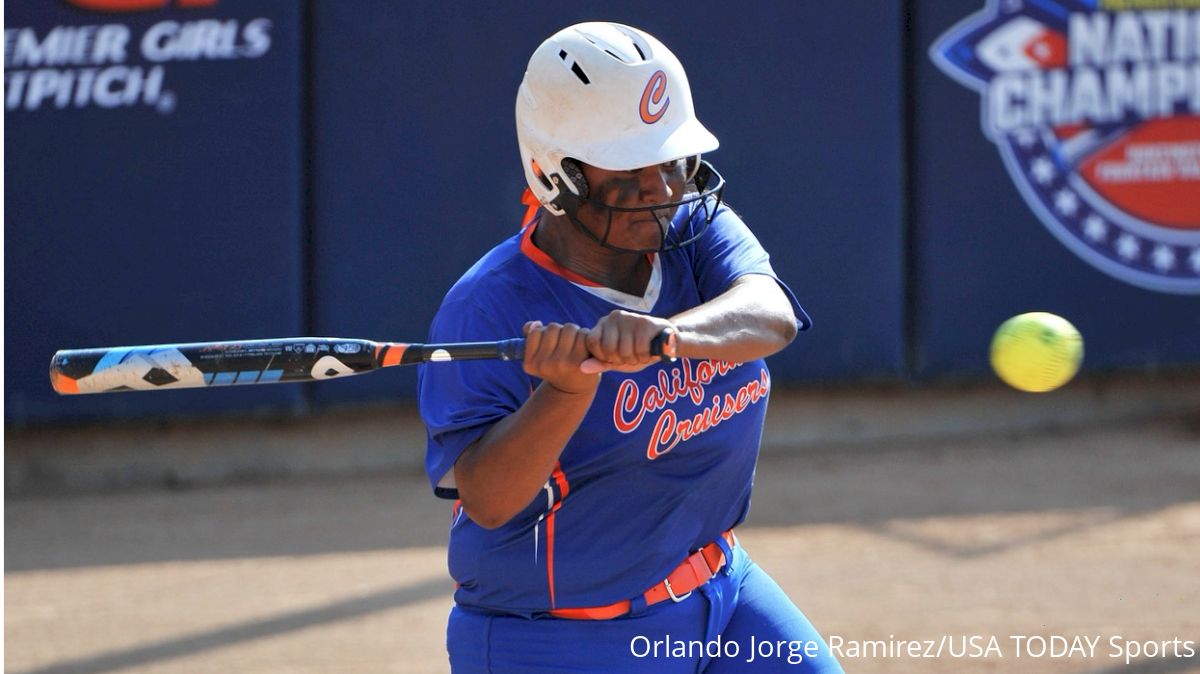 Unlock this article, live events, and more with a subscription!
Get Started
Already a subscriber? Log In
After releasing the third iteration of the 2019 Hot 100, we continue our rankings from Nos. 101 to 200. Expect to see some of these names in the final 2019 Hot 100 starting in October.
| | | | | | |
| --- | --- | --- | --- | --- | --- |
| Rank | First | Last | Pos | Club Team | University |
| 101 | Huntyr | Ava | 1B | California Cruisers | BYU |
| 102 | Amanda | Desario | OF | Texas Glory - Shelton | Texas Tech |
| 103 | Sona | Halajian | P | Cal Nuggets | Cal-Berkeley |
| 104 | Jordan | Fabian | C/3B | Georgia Impact - Lewis | South Carolina |
| 105 | Jordan | Weber | P | Select Fastpitch | Missouri |
| 106 | Elysabeth | Porter | MIF/OF | Batbusters Gomes | uncommitted |
| 107 | D'Asha | Saiki | MIF | OC Batbusters - Stith | Cal-Berkeley |
| 108 | Sydnee | Huff | SS | Corona Angels | Stanford |
| 109 | Brylie | St. Clair | OF | Birmingham Thunderbolts | Mississippi State |
| 110 | Jaiden | Fields | 1B/OF | Georgia Impact - Lewis | Georgia |
| 111 | Alana | Vawter | P/UT | Texas Bombers Gold | Texas |
| 112 | Sophia | Medellin | 3B | So Cal Choppers - Fausett | Stanford |
| 113 | Emily | Hott | 2B/OF | Oklahoma Athletics | Baylor |
| 114 | Nia | Carter | OF | Corona Angels | Louisville |
| 115 | Morgan | DeBord | SS/OF | Beverly Bandits | Loyola Marymount |
| 116 | Chloe | Cobb | P/1B | Texas Bombers Gold | Texas Tech |
| 117 | Gabby | Baylog | P/UT | Team NC - Baylog | Coastal Carolina |
| 118 | Logan | Hulon | P | Texas Bombers Gold | Houston |
| 119 | Caroline | Davis | 1B | East Cobb Bullets - Caldwell | Georgia Tech |
| 120 | Joley | Mitchell | C | Texas Glory - Akdins/Ratliff | Missouri |
| 121 | Maci | Cunconan | OF | DeMarini Aces | Oklahoma State |
| 122 | Megan | Delgadillo | OF | Firecrackers - Brashear | BYU |
| 123 | Madisyn | Davis | P | Jacksonville Storm - Davis | Central Florida |
| 124 | Taylor | Pack | C/3B | Corona Angels | Ohio State |
| 125 | Matalasi | Faapito | P/UT | Athletics - Mercado/Smith | New Mexico State |
| 126 | Brooke | Sudduth | P | Tennessee Crusaders | Tennessee Chattanooga |
| 127 | Autumn | Bennett | MIF | So Cal Athletics - Richardson | Boise State |
| 128 | Ashley | Blessin | P | Florida Impact - Feldman | Marshall |
| 129 | Brinaya | Bailey | 1B/OF | Atlanta Vipers - Laukka | Syracuse |
| 130 | Lexi | Campbell | P | Firecrackers - Rico | Stanford |
| 131 | Abigail | Knight | OF/IF | Lady Lightning | Virginia Tech |
| 132 | Mary Beth | Feldman | P | Florida Impact | Utah |
| 133 | Mattison | Boyd | P | Texas Glory - Shelton | Oklahoma State |
| 134 | Mikaila | Fox | MIF | Louisiana Bombers | Virginia |
| 135 | Taylor | Edwards | P | Texas Bombers Gold | LSU |
| 136 | Katie | Goldberg | MIF | Georgia Impact - Lewis | Virginia |
| 137 | Kaylee | Hewitt | P | Gametime Stars | Oregon |
| 138 | Madisyn | Kennedy | SS | Jersey Intensity | Mississippi State |
| 139 | Shelby | Maier | P | Athletics - Mercado/Smith | Georgia |
| 140 | Kendall | Jennings | SS | So Cal Choppers - Fausett | Oklahoma State |
| 141 | Anna | Hazlewood | P/1B | Huntsville Sparks | Tennessee |
| 142 | Savannah | Brown | P | Lady Lightning | Syracuse |
| 143 | Alia | Logoleo | UT/P | TN Fury Platinum | uncommitted |
| 144 | Jenna | Khantzian | P | Rock Gold - Waye | Virginia Tech |
| 145 | Jessica | Balich | OF/MIF | Beverly Bandits | Charleston Southern |
| 146 | Desiree | Lewis | SS | Lady Lightning | Mississippi State |
| 147 | Tessa | Magnanimo | P | Corona Angels | Wisconsin |
| 148 | Ivana | Perez | OF | So Cal Athletics - Briggs | Oregon State |
| 149 | Carlee | McCondichie | MIF/OF | Birmingham Thunderbolts | Auburn |
| 150 | Halle | Morris | P | AZ Desert Thunder | Utah |
| 151 | Angelina | Bebek | SS/3B | Firecrackers - Brashear | Army |
| 152 | Sloan | Gayan | P | Beverly Bandits | Kentucky |
| 153 | Kaitlyn | Morrison | SS | Ohio Outlaws | Penn State |
| 154 | Morgan | Murphy | P | Orion Hunter Teal | Virginia |
| 155 | Leanne | Matthews | SS | Lady Lightning | Syracuse |
| 156 | Jade | Sinness | OF | Florida Impact -Watson | Troy |
| 157 | Sara | Mosley | SS/P | Georgia Impact - Stewart | Georgia |
| 158 | Brooke | Nelson | P | NW Bullets Gold | Washington |
| 159 | Emily | Tinkham | 1B | So Cal Choppers - Fausett | Ohio State |
| 160 | Autumn | Oehlstrom | 1B/OF | Ohio Outlaws | Kentucky |
| 161 | Deijah | Pangilinan | OF | Nor Cal Firecrackers | Oregon |
| 162 | Kathryn | Rex | C/1B | Michigan Finesse 16U | Penn State |
| 163 | Sara | Olson | OF | So Cal Choppers - Ziese | Long Beach State |
| 164 | Lexi | Poole | OF | Jersey Intensity | uncommitted |
| 165 | Grace | Robertson | 3B/2B | Birmingham Thunderbolts-Dorsett/Burt | Samford |
| 166 | Brittni | Rufus | MIF/OF | Texas Glory - Shelton | Louisiana-Lafeyette |
| 167 | Delaney | Rummell | SS/3B | Illinois Chill | Illinois |
| 168 | Julia | Scardina | C | Sorcerers - Williams | North Carolina State |
| 169 | Celeste | Soliz | C | East Cobb Bullets - Caymol | Arizona State |
| 170 | Haley | Morgan | IF/C | Texas Glory - Shelton | Tulsa |
| 171 | Kinley | Stewart | OF/1B | Georgia Impact - Stewart | Georgia Tech |
| 172 | Sophie | Wools | C/3B | Lady Lightning | East Carolina |
| 173 | Brianna | Stubbs | OF/UT | GA Power DeMarini Gold | North Carolina |
| 174 | Giselle | Tapia | 2B/OF | Corona Angels | Duke |
| 175 | Ashlyn | Anderson | OF/IF | DeMarini Aces | Maryland |
| 176 | Shelby | Macias | P | So Cal Athletics - Richardson | Oregon State |
| 177 | Abby | Jones | MIF | Texas Threat Gold | Tulsa |
| 178 | Lindsey | Warick | C/3B | Rhode Island Thunder | Hofstra |
| 179 | Madison | Perry | OF/IF | East Cobb Bullets - Schnute | Kennesaw State |
| 180 | Camryn | Middlebrook | MIF | Texas Blaze | Stephen F. Austin |
| 181 | Tegan | Cortelletti | IF/OF | Ohio Lasers Green | Indiana |
| 182 | Haleigh | Harper | SS | KC Peppers - Wallace | Kansas |
| 183 | Megan | Schumacher | P | Birmingham Thunderbolts | Hofstra |
| 184 | Lexi | Berg | P | So Cal Athletics | Georgia |
| 185 | Bailee | Richardson | 3B/UT | East Cobb Bullets - Caldwell | Georgia State |
| 186 | Abby | Sciara | MIF | Top Gun Academy | Missouri-Kansas City |
| 187 | Lindsay | Nelson | P | Newtown Rock Gold - Garvey | Drexel |
| 189 | Bradianne | Glover | OF | Sorcerers - Gabales | Arizona State |
| 190 | Lindsay | Hay | C | Jersey Intensity | Rutgers |
| 191 | Mia | Jenkins | C | East Cobb Bullets - Biele | Troy |
| 192 | Maci | Eck | OF | DeMarini Aces | Notre Dame |
| 193 | Kayla | Edwards | OF | Athletics - Mercado/Smith | Army |
| 194 | Raylee | Pogue | IF | Oklahoma Athletics | Oklahoma |
| 195 | Paxton | Grimes | 3B | TN Fury Platinum | Tennessee Tech |
| 196 | Molly | Troutman | P | Beverly Bandits | Ohio Univ. |
| 197 | Kendall | Peterson | 3B/OF | Illinois Chill | Northwestern |
| 198 | Kate | Rehberg | P | Nebraska Gold | Michigan |
| 199 | Delaney | Bowen | SS | Illinois Chill | Purdue |
| 200 | Alesia | Densby | SS/3B | Firecrackers - Brashear | Fresno State |