Next In 2019 Hot 100 Rankings: Players 201-300
Next In 2019 Hot 100 Rankings: Players 201-300
FloSoftball continues their 2019 Hot 100 rankings 201 to 300.
Feb 7, 2018
by Chez Sievers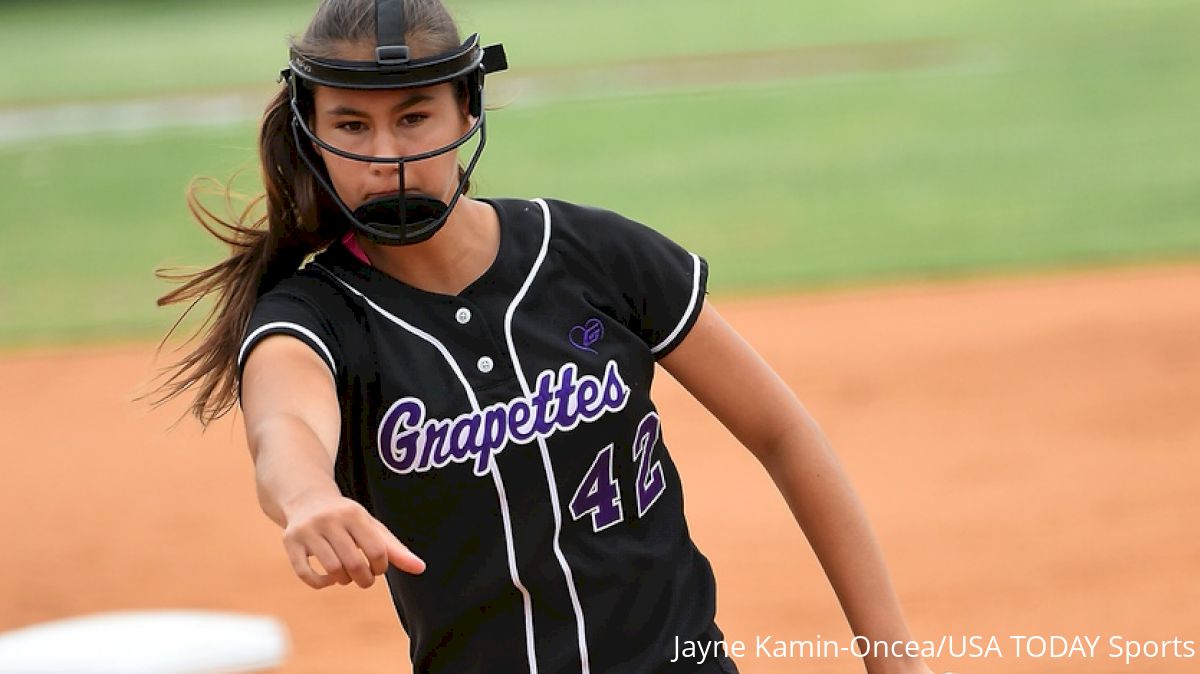 Unlock this article, live events, and more with a subscription!
Get Started
Already a subscriber? Log In
We dive deep into the next in 2019 Hot 100 with the 201-300 club. This list of talented athletes are sure to shake up the Hot 100.
| | | | | | |
| --- | --- | --- | --- | --- | --- |
| Rank | First | Last | Pos | Club Team | University |
| 201 | Alex | McManus | P | Jersey Intensity | Notre Dame |
| 202 | Kelsey | Hall | OF | LTG Lions | Oregon |
| 203 | Rylin | Hedgecock | OF/IF | Gainesville Gold - McFayden | Arkansas |
| 204 | Chelie | Senini | OF | Sorcerers - Gabales | Fresno State |
| 205 | Brianna | Enter | P/OF | Team North Florida | Florida State |
| 206 | Hannah | Kumiyama | 3B/P | East Cobb Bullets - Caymol | South Carolina |
| 207 | Aleia | Agbayani | 1B/OF | OC Batbusters - Lara | Cal-Berkeley |
| 208 | Miranda | Gallardo | SS | Firecrackers - Brashear | Illinois |
| 209 | Carley | Brown | P | Firecrackers - Brashear | BYU |
| 210 | Kennedy | Thomas | C/SS | Firecrackers North - Thomas | Cal-Berkeley |
| 211 | Anise | Alatorre | 3B | | Boston College |
| 212 | Chloe | Smith | 3B/2B | California Breeze | Villanova |
| 213 | Liana | Antonelli | IF | Rhode Island Thunder | James Madison |
| 214 | Kendall | Jean | 2B | Oklahoma Athletics | Oklahoma State |
| 215 | Kinsey | Kuhlmann | SS | Texas Blaze | Ole Miss |
| 216 | Karla | Hice | C | Huntsville Sparks | uncommitted |
| 217 | Hannah | Borden | C | Birmingham Thunderbolts-Dorsett/Burt | Southern Mississippi |
| 218 | Caraline | Woodall | OF | Texas Glory - Shelton | Indiana |
| 219 | Makenzie | Macfarlane | C/3B | Sorcerers - Gabales | Utah State |
| 220 | Auyona | Moore | 3B/IF | Impact Gold | Baylor |
| 221 | Estella | Bennett | OF | OC Batbusters - Lara | UCLA |
| 222 | Mazie | Macfarlane | OF/1B | Sorcerers - Gabales | Utah State |
| 223 | Presley | Leebrick | MIF/OF | Birmingham Thunderbolts | Belmont |
| 224 | Kate | Kobayashi | OF | DeMarini Aces | uncommitted |
| 225 | Morgan | Scivally | P | Beverly Bandits | Illinois |
| 226 | Emily | Riggs | 3B/SS | Team Pennsylvania | Pitt |
| 227 | Savannah | Woodard | SS/2B | Birmingham Thunderbolts | Alabama |
| 228 | Grace | Gaither | SS/OF | NW Bullets Gold | Oregon State |
| 229 | Kaley | Mudge | OF/1B | Hatters Gold | Florida State |
| 230 | Sarah | Schneider | C | So Cal Choppers - Fausett | Penn |
| 231 | Molly | Rainey | P/UT | Gametime Stars | Central Florida |
| 232 | Erica | Holt | OF | Corona Angels | Michigan State |
| 233 | Nicole | Hammoude | IF | AASA | Cal-Berkeley |
| 234 | Tatum | Hayes | OF/SS | California Grapettes | Indiana |
| 235 | Haley | Eubanks | C | East Cobb Bullets - Wright | Middle Tennessee State |
| 236 | Holly | Brehm | P | Ohio Outlaws | Ohio Univ. |
| 237 | Kyah | Keller-Smith | 1B/OF | TN Fury Platinum | Louisiana-Lafayette |
| 238 | Rylea | Smith | OF/UT | St. Louis Chaos | Kentucky |
| 239 | Jaden | Vickers | P | TN Fury Platinum | uncommitted |
| 240 | Linzie | Lafavor | C | Jacksonville Storm - Davis | Georgia Southern |
| 241 | Alana | Baraza | UT | Athletics - Mercado/Smith | Texas Tech |
| 242 | Ellie | Bailey | 3B/2B | Team Mizuno Impulse | South Carolina |
| 243 | Hailey | Gallegos | 3B/C | Firecrackers - Brashear/Thornburg | Texas A&M |
| 244 | Jenna | Servi | SS | CA Suncats | Louisville |
| 245 | Anslee | Finch | OF | East Cobb Bullets - Schnute | uncommitted |
| 246 | Shelby | Harpe | P/UT | East Cobb Bullets - Caldwell | Austin-Peay |
| 247 | Shelby | Sloan | OF | Birmingham Thunderbolts - Dorsett | South Alabama |
| 248 | Sydney | Stepp | P | Beverly Bandits | Bowling Green |
| 249 | Maggie | Finnegan | OF/2B | Illinois Chill | Penn State |
| 250 | Preslie | Hewitt | OF | Sorcerers - Gabales | Nevada |
| 251 | Caitlin | Mathes | SS/3B | Ohio Outlaws | Virginia Tech |
| 252 | Neely | Peterson | C | East Cobb Bullets - Schnute | Colorado State |
| 253 | Carlee Jo | Clark | P | Illinois Chill | Southern Illinois |
| 254 | Rachel | Baker | 2B/3B | East Cobb Bullets - Pointer | Mercer |
| 255 | Peyton | Darnell | C | Team NC - Baylog | USC Upstate |
| 256 | McKenna | Schmidt | P | Beverly Bandits | Loyola |
| 257 | Alyssa | Hernandez | MIF | Firecrackers - Brashear | Cal State Fullerton |
| 258 | Molly | Grube | P | Orion Hunter Teal | Virginia |
| 259 | Jordan | Dickerson | UT | Texas Glory - Shelton | Northwestern State |
| 260 | Olivia | Taylor | SS | Firecrackers HTX | Lamar |
| 261 | Macee | Barnes | SS | Tulsa Elite | Oklahoma State |
| 262 | Shayla | Thomas | 3B | Firecrackers - Brashear | Cal State Northridge |
| 263 | Kayman | Courtney | 3B | Texas Bombers Gold | Kansas |
| 264 | Kaia | Oliver | P | NW Bullets Gold | Syracuse |
| 265 | Sarah | Moats | MIF | Beverly Bandits | uncommitted |
| 266 | Paige | Rivas | UT | Team NC - Baylog | Coastal Carolina |
| 267 | Taja | Felder | P/1B | Sorcerers - Gabales | Louisville |
| 268 | Janessa | Jasso | P | California Grapettes | Iowa State |
| 269 | Kaitlyn | Clapper | C/1B | Illinois Chill | Purdue |
| 270 | Kyndall | Crawford | 1B/OF | Lady Lightning | Lipscomb |
| 271 | Aliyah | Prichett | P/U | Texas Blaze | Baylor |
| 272 | Hailey | Berglof | C/3B | Frost Falcons | uncommitted |
| 273 | Brianna | Aranzeta | IF/UT | Impact Gold | Texas Tech |
| 274 | Paulina | Johnson | P | Athletics - Mercado/Smith | Loyola Marymount |
| 275 | Megan | Ryono | SS/P | Firecrackers - Brashear | uncommitted |
| 276 | Courtney | Wyche | P | Wagner's Gold | Maryland |
| 277 | Kamryn | Caldwell | P/1B | Texas Blaze | Texas Tech |
| 278 | Alicyn | Grete | P/OF | Firecrackers FL | Army |
| 279 | Emmie | Farnam | OF | Illinois Chill | Northwestern |
| 280 | Courtney | Barnes | C | Gametime Stars | Houston |
| 281 | Gracie | Jarvis | MIF/OF | Oklahoma Athletics | Tulsa |
| 282 | Sydney | Nichols | UT | DeMarini Aces | uncommitted |
| 283 | Karlie | Charles | P/1B | Texas Glory - Shelton | Iowa State |
| 284 | Anna | Hunt | SS | Louisiana Voodoo | Memphis |
| 285 | Shelby | Downard | P | KC Peppers | uncommitted |
| 286 | Marissa | Burk | MIF | So Cal Athletics - Briggs | uncommitted |
| 287 | Madelyn | Bejarano | OF | AZ Suncats | Central Florida |
| 288 | Caitlin | Coker | 3B | PA Strikers | Boston Univ. |
| 289 | Kristen | Green | SS | Atlanta Vipers - Moore | Belmont |
| 290 | Avery | Drake | MIF/OF | Firecrackers DFW | uncommitted |
| 291 | Taryn | Freshwater | 1B | Wagner's/3n2 | South Florida |
| 292 | Jaycee | Cook | P | Texas Glory - Shelton | Alabama-Birmingham |
| 293 | Caleigh | Cross | 2B/SS | Team Mizuno Impulse | McNeese State |
| 294 | Analeigh | Coursey | MIF | TN Fury Platinum | uncommitted |
| 295 | Hailey | Bloom | OF | Easton Elite Speed | uncommitted |
| 296 | Sarah | Boquet | C | Birmingham Thunderbolts-Dorsett/Burt | Nicholls State |
| 297 | Kaylee | Erickson | SS/C | Firecrackers AZ | BYU |
| 298 | Ashton | Malone | P/OF | Georgia Impact - Gibson | uncommitted |
| 299 | Jaide | Rose | SS/C | Top Gun Academy | uncommitted |
| 300 | Madison | Carlock | OF/IF | Angels Fastpitch | Florida Atlantic |