Next In 2019 Hot 100 Rankings: Players 301-400
Next In 2019 Hot 100 Rankings: Players 301-400
FloSoftball releases the 2019 Hot 100 rankings 301 to 400.
Feb 8, 2018
by Chez Sievers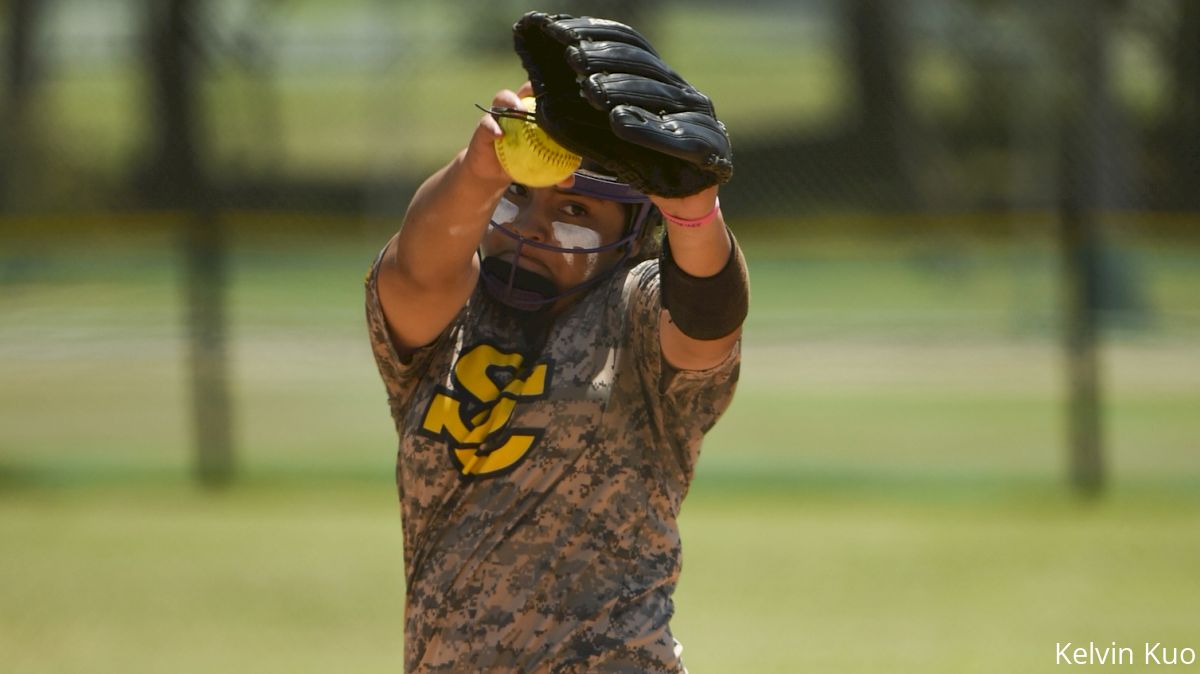 Unlock this article, live events, and more with a subscription!
Get Started
Already a subscriber? Log In
We continue our 2019 rankings into the 300s. Honestly, there are a number of sleepers in this group. Bella Rocco, Morgan Quinlan, Lexie Webb and more are projected to have a strong 2018 season. Expect the final 2019 Hot 100 to be very different.
| | | | | | |
| --- | --- | --- | --- | --- | --- |
| Rank | First | Last | Pos | Club Team | University |
| 301 | Blake | Craft | P/1B | Sorcerers - Gabales | Nevada |
| 302 | Kayman | Courtney | IF/OF | Texas Bombers Gold | Texas State |
| 303 | Bella | Rocco | 3B/1B | Corona Angels | Louisville |
| 304 | Morgan | Quilan | LHP | California Cruisers | Long Beach State |
| 305 | Juliana | Wilson | C | CA Suncats | Central Florida |
| 306 | Sydney | Kuma | UT | Central Cal Dirt Dogs | Georgia |
| 307 | Makenzie | Stiles | P | Ohio Outlaws | Pitt |
| 308 | Dominique | Monteon | 2B/OF | Cal Nuggets | North Carolina |
| 309 | Tori | Whillock | OF | Texas Bombers Gold | Texas |
| 310 | KP | Polamalu | 2B | Corona Angels | Nebraska |
| 311 | Nicolette | Ramirez | MIF | Texas Blaze | Lamar |
| 312 | Lexie | Webb | P | CA Suncats | South Alabama |
| 313 | Madison | Garay | P | Impact Gold | Houston |
| 314 | Emily | Ayers | C | Jacksonville Storm - Davis | USC Upstate |
| 315 | Deijah | Pangilinan | Catcher | Sorcerer | Oregon |
| 316 | Ariyana | Miranda | SS/C | LTG Lions | UC Santa Barbara |
| 317 | Chyanne | Ellett | P/1B | Texas Glory - Shelton | Texas-Arlington |
| 318 | Bailey | Urban | OF/2B | Nebraska Gold | Wichita State |
| 319 | Bailee | Leistl | OF/2B | Tampa Mustangs - TJ | South Florida |
| 320 | Grace | Prom | MIF | Hatters Gold | Florida State |
| 321 | Sarah | Ladd | P | Corona Angels | Michigan State |
| 322 | Ariel | Girardi | OF | Lady Gators - Jackson | uncommitted |
| 323 | Maddie | Katona | OF/IF | Birmingham Thunderbolts-Dorsett/Burt | Dartmouth |
| 324 | Paloma | Usquiano | SS | Athletics - Mercado | Arkansas |
| 325 | Trinity | Schlotterbeck | P/INF | Tri-State Thunder Gold | Maryland |
| 326 | Ashley | Blessin | P | Florida Impact | Jacksonville |
| 327 | Kianna | Jones | P | Delta Heat | uncommitted |
| 328 | Ally | Taylor | 1B | California Cruisers | Seton Hall |
| 329 | Sydney | Belvin | MIF | Texas Blaze | McNeese State |
| 330 | Abby | Knight | OF | Lady Lightning | Virginia Tech |
| 331 | Samantha | Parish | C | CA Suncats | UNLV |
| 332 | Lewa | Day | 3B/OF | Firecrackers North - Thomas | Sacramento State |
| 333 | Taylor | DeTinne | P | So Cal Athletics - Briggs | Boston College |
| 334 | Allison | Heffley | C/1B | Central Cal Dirt Dogs | Boise State |
| 335 | Madison | Rice | MIF | Williamsburg Starz Gold | Campbell |
| 336 | Kalena | Burns | 1B/3B | Corona Angels | Central Florida |
| 337 | Carissa | Orland | OF | Florida Storm | FAU |
| 338 | Katelyn | Dunckel | SS | Athletics Mercado | Colorado Christian |
| 339 | Hannah | Robinson | P/3B | Tennessee Fury | Ball State |
| 340 | Haley | Morse | C/3B | Team Mizuno Impulse | Corpus Christi |
| 341 | Taylor | DeDen | 3B | OC Batbusters - Lara | Delaware |
| 342 | Madelyn | Wright | P/1B | Impact Gold | Abilene Christian |
| 343 | Katie | Reeg | IF | DeMarini Aces | Dayton |
| 344 | Jada | Cody | OF/C | Corona Angels | DePaul |
| 345 | Addison | Jones | 2B/UT | NC Lady Tigers | Appalachian State |
| 346 | Payton | Lundberg | P | Wasco Diamonds | DePaul |
| 347 | Courtney | Baxter | OF | Nebraska Gold | uncommitted |
| 348 | Ally | Jones | C | Central Jersey Lightning | Fordham |
| 349 | Kira | Morgan | 3B/P | Georgia Impact - Stewart | Georgia Tech |
| 350 | Hannah | Campbell | SS | Jacksonville Storm | North Carolina State |
| 351 | Madi | Pierce | C | Texas Glory - Shelton | Harding |
| 352 | Emily | Buck | P | East Cobb Bullets - Caldwell | Georgia State |
| 353 | Erin | Carter | C | Michigan Finesse-Bressler | Iowa |
| 354 | Leah | Zatkiewicz | SS/OF | Florida Impact | Jacksonville |
| 355 | Megan | Fortner | 1B | Southern Force - Carroll | Jacksonville State |
| 356 | Autumn | Acord | OF | Ohio Outlaws | Kent State |
| 357 | Madelyn | Barnes | SS/C | Explosion-Flores | Lamar |
| 358 | Bailey | Wright | 3B/SS | Magic Softball | Louisiana-Monroe |
| 359 | Mackenzie | Griman | P/OF | Michiana Mystique | Butler |
| 360 | Payton | Jackson | OF | Texas Bombers Gold | Texas Tech |
| 361 | Brantly | Bonds | 1B/3B | Birmingham Thunderbolts-Dorsett/Burt | uncommitted |
| 362 | Taylor | Liguori | SS/C | Wagner's Gold | Maryland |
| 363 | Whitney | Tate | P/SS | 007's | McNeese State |
| 364 | Kate | Mangrello | C | Firecrackers - Brashear/Thornburg | UC Santa Barbara |
| 365 | Maycin | Brown | OF/SS | Carolina Elite | uncommitted |
| 366 | Jenae | Wash | SS | Jacksonville Storm | Michigan State |
| 367 | Kassidy | Wilcox | C | Birmingham Thunderbolts | South Alabama |
| 368 | Grace | Owens | P/1B | Universal Fastpitch | San Jose State |
| 369 | Megan | Forbes | C | Athletics - Mercado/Bustamonte | uncommitted |
| 370 | Mary | Sobataka | UT | Team NC - Baylog | Coastal Carolina |
| 371 | Leigha | Hill | P/UT | Williamsburg Starz Gold | Longwood |
| 372 | Brooke | Huitt | P | Top Gun Academy | Missouri State |
| 373 | Brooke | Andrews | | Nebraska Gold | Nebraska |
| 374 | Michelle | Leone | MIF | Wagner's 3n2 | Penn State |
| 375 | Emma | Nichols | P/UT | St. Louis Chaos | Iowa |
| 376 | Tina | Chavez | 1B | CA Suncats | Fresno State |
| 377 | Emily | Brown | OF | East Cobb Bullets - Biele | Georgia State |
| 378 | Justice | Salcido | UT | Athletics - Mercado/Smith | uncommitted |
| 379 | Taylor | Getman | C | Team North Florida | North Florida |
| 380 | Amber | Rodriguez | C | CA Suncats | Weber State |
| 381 | Katy | Burris | P | Impact Gold National | uncommitted |
| 382 | Hannah | Forehand | C | East Cobb Bullets - Caldwell | North Georgia |
| 383 | Kelly | Ryono | OF/1B | Firecrackers - Brashear | uncommitted |
| 384 | Abbey | Thomas | C | Panthers Fastpitch - Stevens | Florida Gulf Coast |
| 385 | Kristen | Kuhrt | C | Ohio Outlaws | Bucknell |
| 386 | Alexis | Ross | OF | Jacksonville Storm | Florida International |
| 387 | Carley | Gay | MIF/OF | Victory USA | uncommitted |
| 388 | Briza | Blanco | P | So Cal Choppers - Ziese | uncommitted |
| 389 | Sydnie | Sahhar | P | Arizona Hotshots | Grand Canyon |
| 390 | Saleen | Donohoe | SS/3B | Team Mizuno Impulse | North Texas |
| 391 | Lili | Bowen | UT | Team NC - Baylog | East Tennessee State |
| 392 | Riley | Ludlam | C/SS | Santa Fe Inferno | Kennesaw State |
| 393 | Kendal | Cook | SS | Conklin Raiders Gold | Hofstra |
| 394 | Gabi | Robles | 2B/OF | Illinois Chill | Illinois |
| 395 | Emma | McBride | MIF | Scrap Yard Dawgs | Texas-San Antonio |
| 396 | Abby | Swaney | P | Birmingham Thunderbolts | Samford |
| 397 | Hayden | Jenkins | SS | Tennessee Fury - Perry/Weekly | Toledo |
| 398 | Ashley | Schultz | C/3B | Beverly Bandits | Northwestern |
| 399 | Emily | Sappington | P | Lady Lightning | Charleston Southern |
| 400 | Cailey | Cochran | P | Arkansas Angels | Central Arkansas |