Tim Walton Agrees To 10-Year Extension With Florida
Tim Walton Agrees To 10-Year Extension With Florida
Jun 7, 2018
by Chez Sievers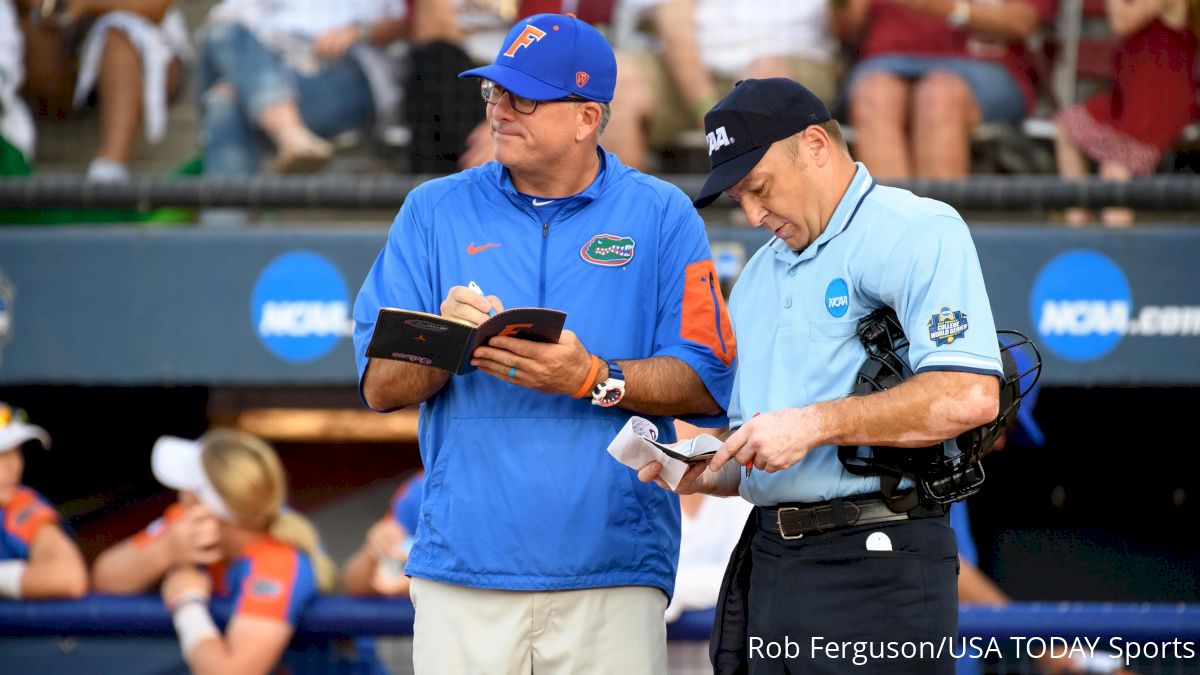 GAINESVILLE, Fla. – Athletic Director Scott Stricklin and the University Athletic Association announced Tuesday that Florida softball head coach Tim Walton and the Gators have agreed to a 10-year contract extension.
Walton, a two-time national championship coach, recently finished his 13th season at the helm of the softball program where he led the Gators to a 56-11 record along with their ninth Women's College World Series (WCWS) appearance. Since his arrival in 2006, no other program has reached the WCWS or the championship series more times than UF.
"We are so happy that Tim Walton is the head softball coach of the Florida Gators," Stricklin stated. "Anytime you have someone who does a phenomenal job you want them to know they are valued and appreciated, and that the commitment is going to be there for a long time. I think it's good for the University of Florida for Tim Walton to be our softball coach for as long as he wants to be."
"I was told before I came here that if you win at the University of Florida, it's the greatest place to live and work. In 13 years, we've demonstrated a track record here for competing for championships and treating our student-athletes and staff in a first-class manner, and now I'm being taken care for working my tail off and building this program the right way," Walton said. "This sends a message to every recruit, to our players, to our alumni, to my family — and a statement to the softball community, as well — that we are Gators and we are going to be Gators for a long, long time. We're thrilled to be here, thankful for the commitment, and ready to put our head down and keep on working."
Walton's overall body of work as a head coach, which includes three seasons at Wichita State, has led to an overall record of 845-213 (.799). He currently holds the highest winning percentage among active NCAA Division I softball coaches.
Since his arrival in 2006, Walton is the winningest coach in school history and boasts a record of 722-149 (.829). He has led the program to 10 50-win seasons, which translates to an average of 56 wins per year with the Orange & Blue.
During his tenure with the Gators, Walton has seen unprecedented success in the Southeastern Conference and at the national level.
The five-time SEC Coach of the Year has guided UF to seven of its eight SEC Regular Season Championships, which includes winning the title the last four consecutive seasons – a feat that's been accomplished only one other time in the league's history. He also has been at the helm during all four SEC Tournament Championships.
On the national stage, Walton led the Gators to national championships in 2014 and 2015. The back-to-back titles put the Gators into elite company with historic programs such as UCLA and Arizona, who at the time were the only two programs to have earned national titles in consecutive years.
His teams have also broken 363 Florida records, which includes NCAA single-season records for most wins (70) and walks (360).
Walton has mentored student-athletes to reach their full potential both competitively and academically. Under his guidance, the Gators lead the nation with 40 National Fastpitch Coaches Association (NFCA) All-American honors.
The program also touts a trio of Honda Sports Award winners, two USA Softball Collegiate Players of the Year, an NFCA Freshman of the Year, a pair of Google Cloud Academic All-Americans of the Year and a Senior CLASS Award winner.
The following is an impressive list of individual student-athlete accolades that's also been achieved under Walton:
3 WCWS Most Outstanding Players (Tied most since 2006)
23 WCWS All-Tournament Team Selections (Most since 2006)
63 NFCA All-Southeast Region Selections
2 SEC Female Athletes of the Year
5 SEC Pitcher of the Year honors (Tied most since 2006)
5 SEC Player of the Year honors (Tied most since 2006)
1 SEC Freshman of the Year
4 SEC Tournament Most Valuable Players (Most since 2006)
27 SEC Tournament All-Tournament Team Selections
59 All-SEC Team Honors (Most since 2006)
23 SEC All-Defensive Team Honors (Most since 2008)
29 SEC All-Freshmen Team Selections (Most since 2006)
108 SEC Academic Honor Roll Honors
17 Google Cloud Academic All-American Honors
26 Google Cloud Academic All-District Honors
Over the years, Walton has been instrumental in the development of 11 national team members. The Gators currently have representatives on U.S. Women's National Team (USWNT) and the Puerto Rican Women's National Team.
In 2015, Walton served as an assistant coach U.S. Women's Junior National Team that secured a World Baseball Softball Confederation World Championship.
Walton began his coaching career in 1999 as an assistant coach at the University of Oklahoma and remained there until he took his first head coaching position at Wichita State. From 2002 to 2005, he accumulated a record of 123-64 with the Shockers and a 2005 NCAA Tournament appearance with a school single-season record of 46-18.
---
Information provided courtesy of the University of Florida Athletics.