2019 USA Softball JO Cup
Rising Star: Why Mojo Slugger Aubrey Barnhart Stuck With Auburn
Rising Star: Why Mojo Slugger Aubrey Barnhart Stuck With Auburn
Why 2021 Hot 100 player Aubrey Barnhart decided to stay with Auburn after Clint Myers retired.
Jul 3, 2018
by Chez Sievers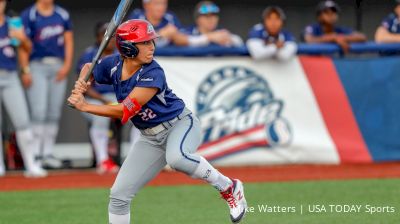 Unlock this article, live events, and more with a subscription!
Get Started
Already a subscriber? Log In
During the fall of 2016, Tennessee Mojo catcher/third baseman Aubrey Barnhart was excited to announce her verbal commitment to Auburn.
Making that decision was supposed to bring relief to her life and softball career but during the 2017 Auburn softball season, Barnhart's future as a Tiger became a source of stress.
In March 2017, AU assistant coach Corey Myers resigned. A month later, three players were arrested. And in August, Corey's father, Tigers head coach Clint Myers, announced his retirement shortly after agreeing to a contract extension through 2023. The saga continued for Auburn as allegations of abuse and sexual harassment were made public. The Tigers softball program seemed to be making headlines for all the wrong reasons.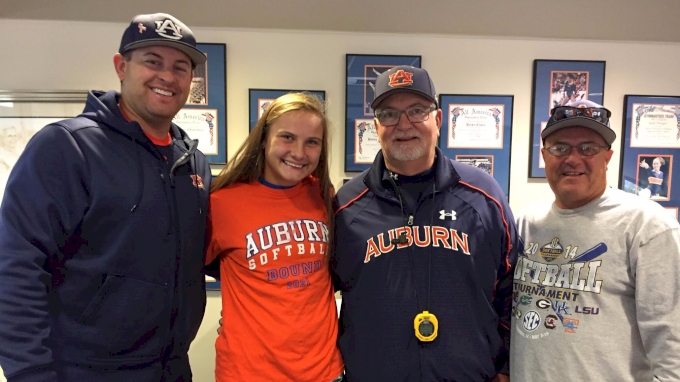 "It was very stressful," Barnhart told FloSoftball. "And for me, there was a lot of pressure. I had already made up my mind and the coaching change was very unexpected."
Barnhart had extensive discussions with her parents on what steps to take and they decided it would be best to see who Auburn would hire as its new coach.
The AU athletic department acted quickly, hiring acclaimed James Madison head coach Mickey Dean in early September. Before joining Auburn, Dean compiled a record of 237-56, nine conference titles, and seven NCAA tournament appearances.
"After meeting with Coach Dean and [assistant coach Annie Smith], I was confident that Auburn was still where I wanted to be," Barnhart said.
Auburn, AL, felt like home for Barnhart, who grew up in a town of fewer than 5,000 people in Pleasant View, TN.
"From the second I stepped on campus, I knew that's where I wanted to be," Barnhart said.
Now that her future with Auburn is secure, she's free to play softball without worry. The No. 4 Hot 100 recruit made a full recovery from her meniscal tear and is swinging the bat really well. Tennessee Mojo won the Champions Elite Showcase and placed third at the Tulsa Elite Invite.
Aubrey Barnhart
Club Team: Tennessee Mojo 2021
Position: Catcher/Third Base
High School: Goodpasture High School
Grad Year: 2021
Hometown: Pleasant View, TN
College: Auburn
Hot 100 Rank: No. 4
Quickfire
If you weren't playing softball, what would you be doing? Probably playing basketball.
Favorite snack: Toasted Cheez-Its
Dream Vacation: Bora Bora
Dream Car: White four-door Jeep with black rims
Dream Job: College head coach
Favorite Restaurant: Lambert's
Favorite Movie: "The Maze Runner"
Favorite Pump-Up Song: "Ball For Me" by Post Malone
If you could describe yourself in one word on the field and off the field, what would it be?
On the field: Focused
Off the field: Reliable
Do you have any routines or rituals? When I'm catching, I grab dirt before every pitch.
Who's one player that you wish you could meet? Jessie Warren
Favorite quote or mantra you live by: "Winning isn't everything, wanting to is."
---
Update: Barnhart changed her verbal commitment from Auburn to Alabama.