Impact Gold National Vaughn On The Rise
Impact Gold National Vaughn On The Rise
Jul 4, 2018
by Chez Sievers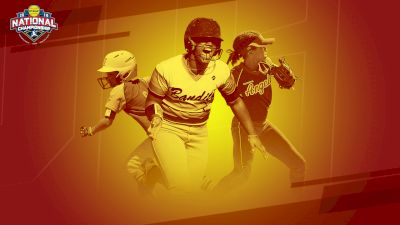 Acknowledged as a top 10 national program, Impact Gold National Vaughn set the tone for the summer opening with a Tulsa Elite Invite Championship. Coming together in the fall of 2017, Impact Gold National took the strongest players from two 12U Impact Gold teams to form one of the best 14U teams in Texas.
Where are you based? Where do your athletes come from (all locally, some out of state?)
The organization was established in 1986 we are based out of the Houston Area. Most of our players reside locally. Three of our pitchers are from a pretty good ways away. All of our families show a tremendous amount of commitment.
What was the purpose of creating the team (showcase players, win titles, develop skills, etc.)?
The team was put together not only to compete at the highest level and help the girls showcase their talent but also to continue their development as players. All of these girls had already demonstrated that they had the physical ability but we wanted to make sure that they continued to progress as players and individuals. My coaching staff and I constantly reinforce that hard work and individual accountability to be the best player and teammate that you can be will ultimately result in wins and scholarships.
What have been some of your successes in terms of winning or placing at events?
Last year as first-year team we finished Top 15 in the Sparkler Power Pool and Top 5 at the USA Elite Select World Fastpitch Championship. This fall we went undefeated at the Birmingham Thunderbolt Showcase and recently went 10-0 on the way to winning the Tulsa Elite Invite.
What makes the organization unique?
I feel like what makes our organization unique is the not only the longevity and the number of teams that represent the organization across the country but also our track record for producing high-level college players that go to their respective universities and contribute right away. We strive to mentally and physically prepare our players for the rigors of being a collegiate student-athlete.
What's your softball background and how did you get to the point of leading the team?
I'm just like most of the coaches out here. I fell in love with the game right along with my daughter. Coaching has shown me a lot about myself and the satisfaction of the process keeps me coming back. My daughter came up through the Impact organization and now she comes back and passes on her experience during the summer. My Sister-in-Law talked me into coaching almost 20 years ago and I just can't put it down.
How many teams are there in the organization overall?
We now have over 70 teams nationwide in the Impact Gold Organization.
Has there been a key moment or defining experience in the team's history?
Obviously winning the Tulsa Elite was big for us because winning is always motivational. I still would have to say that the way last season ended was the biggest reason these girls are so hungry this season. We had an awesome season for a first-year team but it didn't finish like we wanted it to and as a team, we have taken that setback and used it as motivation. We have 8 starters back from that team and you can see the maturity and confidence that they show in themselves and each other.
What is your primary focus or goal with this team?
Our goal this season hasn't changed. We are still looking to get better individually and collectively. We want to play great softball, compete for championships and have a great time doing it!!!!
What do you think are the strengths of the team?
The thing I love the most about our team is the versatility and the sincere love that the girls have for one another. On the field, we have two of the fastest players in this age group at the top of our line-up and several girls in the middle that can change the game with the long ball. We should be a tough team to defend. Defensively we have been really consistent. The core of the team has been together now for quite some time and our new additions have added a tremendous amount of value.
If there is one thing you would say that separates you from other club programs, what would it be?
If I had to say what sets us apart from other programs, it would be the pride and tradition that comes along with the Impact Gold name. I feel like our name is associated with producing some of the top players out of the State of Texas and we look forward to continuing to provide a place for great young ladies to become better individuals as well as ballplayers.
Meet Impact Gold National - Vaughn
Brianna "Bri" Ellis, 1B/3B | 2021 (Texas A&M)
Ellis is a player with the size and athleticism to hit home runs and steal the occasional base as well. She is a vocal player on and off the field that adds something special to the dugout. She hits with power to all fields and functions extremely well as a run producer. She is a solid first baseman that has the versatility to play 3B as well. As a freshman in High School, she hit double-digit home runs and was a greater Houston POY nominee. Ellis hit 7 home runs in 10 games at the 2018 Tulsa Elite Shootout.
Kaydeun "KoKo" Wooley, MIF/OF | 2021 (Texas A&M)
Wooley is an extremely athletic player with great foot speed. She is an aggressive baserunner with the ability to steal bases. She has the ability to bunt, slap for power or placement and can swing the bat as well. Equipped with a good arm, Wooley plays both middle infield positions and outfield. She is as good of a leadoff hitter as you will find in this age group. Hitting above .500 in every tournament, Wooley continued her hitting tear batting .621 in Tulsa.
Lauren Hatch, OF | 2021, (UCLA)
Hatch is the perfect two-hole hitter. Her speed changes the game at all times on offense and defense. Offensively, she is a leadoff hitter in the two-spot. She does a great job managing the slap/bunt game and has been an RBI producer as well. She plays all three spots in the outfield equally as well and is one of those players that make our team extremely difficult to defend.
Camryn "Cam" Carmouche, IF/OF | 2021
Carmouche is a player that does everything well. She has a very good arm and is a true utility player that is technically sound and equally good in the infield and the outfield. Carmouche has grown into a great third baseman and middle of the lineup hitter who hits for high average and power hitter. She consistently makes hard contact and has shown the ability to drive in runs. She brings an awesome combination of leadership and a team first mindset. Carmouche has been one of our team leaders since day one.
Olivia 'OJO" Johnson, C | 2021
Johnson is a player that has a great set of tools. She not only brings size and athleticism to the table but her attitude and toughness are exceptional for her age. Behind the plate, Johnson's technique and arm strength are equally as impressive. She is the kind of catcher that makes the pitchers around her better and is a game changer with baserunners on the bases. Offensively, she is a game-changing power hitter and RBI producer in the middle of our line-up. Johnson hit five home runs at the 2018 Tulsa Elite Shootout including two in the championship game.
Krystin Nelson, MIF | 2021
Nelson is another player with a really good set of all-around assets. She converted from third base to second over the past year and has become one of the top second basemen in the state. Her range and arm strength raised the bar in the infield. She has great foot speed and athleticism to play any middle position as well as the corners. She is a lefty power hitter that also hits for a high average. Nelson's toughness stands out and she is the type of player that finds a way to contribute at all times.
Presley Glende, P | 2021
Glende is one of top uncommitted 2021 pitchers in the country. A first team All-State selection in her freshman season, she has great velocity and movement on all of her pitches. Her upbeat and fiery personality makes her a natural leader in the circle and her teammates love playing behind her. She is definitely one of the girls that make our team go at all times.
Alison Cooper, P/1B | 2021
Cooper played with one of our strong 2nd year teams last year and has been huge for us this season. Her ability to spin the ball is special. The way she changes speeds and throws to all four quadrants has made her one of the most difficult pitchers to hit that we have. She has been the kid that we can work well in the starter or closer role with equal success.
Celeste Aguliar, OF | 2022
Aguilar has been our full-time starter in centerfielder since the inception of the team. She is a gap to gap defensive outfielder and at the plate, she is an extremely versatile slapper. She is an outfielder that Impact never have to worry about. She makes difficult plays look routine and sets the tone in the outfield. Aguilar is one of the youngest players but plays with a tremendous amount of poise.
Grace Sparks, P | 2022
Sparks came to Impact Gold in the fall and has been a great addition to the team. She is a great teammate and one of the girls that keeps the dugout light and fun. In the circle, she does a good job of getting ahead of hitters and keeping the other team off balance. Sparks is definitely going to be a big contributor this summer and she is quickly emerging as one of the top 2022 pitchers to really keep an eye on.
Brooke Lorenzo, MIF/OF | 2021
Lorenzo has been a fantastic addition to the team. She has all of the things that you look for in a great infielder. Her glove work is top notch and her arm is equally as good. She plays both middle infield positions at an equally high level. She has been stellar in the cleanup role and is already one of the girls that keep the team upbeat and having a blast. Lorenzo is the kind of player that makes any team better.
Kiren Diaz, UTL | 2022
Diaz has been a great addition to the team. She can play middle infield and outfield equally well. She has a strong arm and a lot of power for her size. She brings the ability to play small ball as well as hit for power. Defensively, she is the type of player that you can play anywhere at any time. She will be a big contributor for us all summer long.
Amber Thibodeaux, C | 2021
Thibodeaux is going to be a big part of our success this summer. Whether it's behind the plate or in the batter's box, she always seems to get it done. She is a lefty hitter that can slap and hit for power. Her foot speed makes her a very tough out and we can always count on her to play hard at all times. She is a fantastic teammate and one of the girls that fires up the team to get ready to play.
Jillian Gutierrez, OF | 2022
Gutierrez is one of our youngest players but brings a great attitude and work ethic to the team. She is a consistent right-handed hitter that can play in all three outfield spots as well. Gutierrez is the player that makes everyone around her better. Her effort is consistently at a high level and she continuously sets the bar for her teammates.
Lauren Adams, C/1B | 2021
Adams is our newest addition to the team and we are excited to have her. She is a power hitting catcher that has a great presence behind the plate. Her size and arm strength make her a prototypical catcher and her ability to make her pitchers look good has already been impressive.