Texas Glory-Shelton traveled to the PGF 18U Premier Nationals in Orange County, CA, this week fresh off the USA Elite Select WFC title earlier this month. Entering PGF as one of the top contenders, the Glory ran into Firecrackers-Brashear, who won the Triple Crown Power Pool Championship.
Cal State Fullerton-bound Danielle Martinez held Texas Glory's explosive lineup to four hits with four walks and three strikeouts and the defense played flawlessly to help her record the shutout in a 2-0 victory for the Firecrackers in the second round of the winner's bracket on Tuesday at Huntington Beach Sports Complex.
"I'm going to go home, eat some chicken, ice up," Martinez said, "and be here in the morning ready to go at it."
UC Riverside-bound Sami Demyon provided all the offense Martinez needed when she delivered a two-run single in the bottom of the fourth.
"I think we have a special group this year," Demyon said. "I think we're going to be hard to beat."
Long Beach State-bound Jacey Bourgeois' three-run bomb in the bottom of the sixth broke a 1-1 tie and helped the Firecrackers knock off the Irvine Sting 4-1 earlier in the day in the first round.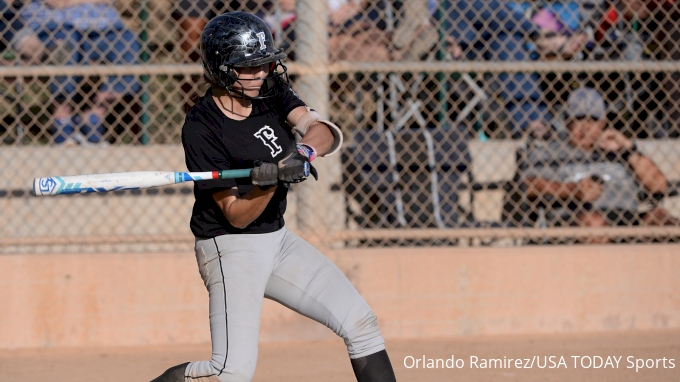 "We're always a team that never gives up no matter what's going on," Bourgeois said.
Firecrackers-Brashear faces Nor Cal Firecrackers-Sjolie in the third round on Wednesday at 10:15 AM PT.

In other winner's bracket games:
Beverly Bandits-Conroy 10, Lady Lightning Gold 5
James Madison-bound Hallie Hall went 3 for 4 with a double, a homer, three runs and three RBI and Northwestern commit Sydney Supple threw three scoreless innings of relief with two strikeouts to pick up the victory for the Bandits, the defending PGF 18U Premier national champions.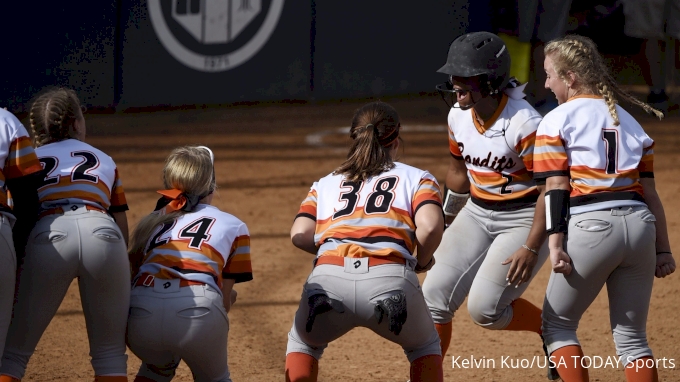 Oklahoma Athletics 4, South Dakota Renegades 1
Oklahoma State-bound Chyenne Factor went 2 for 4 with a homer and three RBIs to lead the Athletics.
NorCal Firecrackers-Sjolie 3, Virginia Legends-Johnston 2
Rachel Sjolie scored from third on an overthrow by the catcher to give the Firecrackers the lead in the top of the eighth and they got a double play in the bottom of the eighth to end the game. Karsen O'Rourke went 2 for 3 with an RBI to lead the Firecrackers on offense.
Sparks Softball 3, Texas Intensity 0
Jenna Towle started and pitched four scoreless innings, allowing one hit and striking out two and Michigan-bound Alex Storako threw three hitless innings of relief with five strikeouts to pick up the victory for the Sparks.
Georgia Impact-Lewis 9, Oro Valley Suncats 3
Michigan State-bound Charla Echols, who hit a solo homer in the Impact's 8-4 win over Texas Blaze-Bonola in the first round earlier in the day, went 2 for 4 with a homer, two runs, and three RBIs to lift the Impact over the Suncats.
South Carolina-bound Jordan Fabian went 2 for 2 with a double, a homer, and three RBIs. Florida commit Julia Cottrill, who homered in the first game, went 2 for 2 with a double and two RBIs. LSU-bound Savannah Stewart went 3 for 4 with a double and two runs, and Alabama-bound Skylar Wallace went 2 for 4 with two runs to provide the offensive surge for the Impact.
Athletics-Mercado/TO 4, Athletics-Mercado/Smith 2
Utah State-bound Lexi Orozco and San Jose State-bound Arianna Miranda homered and Notre Dame-bound Payton Tidd scattered eight hits, allowed one earned run and struck out nine to pick up the victory for Athletics-Mercado/TO.
Impact Gold-Jackson 7, OC Batbusters-Gomes 4
Texas A&M-bound Baylee Klingler went 3 for 5 with a double, two runs, and two RBIs. Texas A&M-bound Morgan Smith went 3 for 5. Illinois-bound Danielle Davis homered and Texas State-bound Samara Langway went 4 for 4 with a double and two RBI as Impact Gold outslugged the Batbusters.
Corona Angels-Tyson 6, Illinois Chill 0
UCLA-bound Megan Faraimo, the Gatorade National Player of the Year, and Washington-commit Sarah Willis combined on a no-hitter, Ohio State commit Taylor Pack belted a two-run homer, Washington-bound Madi Huskey went 2 for 2 with an RBI double, Louisville commit Nia Carter had an RBI single and UCLA commit Savannah Pola highlighted the defense at second base to power the Corona Angels.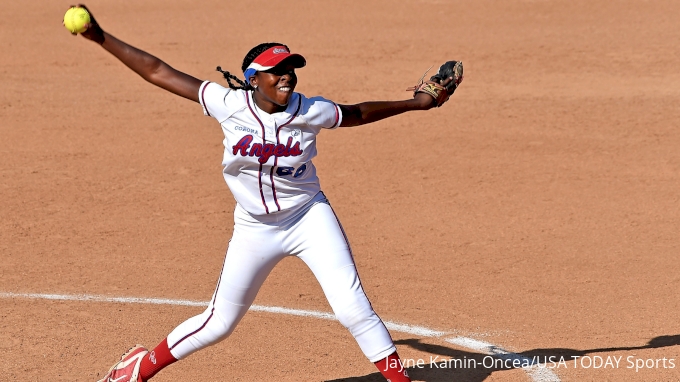 Northwest Bullets-Campos 4, So Cal Choppers-Fausett 0
Washington commit Brooke Nelson tossed a one-hitter with no walks and one strikeout to record the shutout for the Bullets.
Sorcerer-Williams 2, Santa Fe Inferno 1
Northwestern-bound Danielle Williams allowed three hits, one earned run, and three walks and struck out nine to pick up the win. Pittsburgh commit Hope Alley homered to lift Sorcerer over the Inferno.
"I mean, it's so much fun, the pressure and everything," Williams said. "I know my team has my back and that's awesome to have."
Michigan Finesse-Bressler 7, So Cal Breakers-Beddow 3
University of Miami Ohio-bound Julia Kennedy went 3 for 4 with two RBIs. Lehigh-bound Carley Barjaktarovich went 2 for 4 with two runs and Rutgers-bound Aleah Marra went 1 for 3 with a double and two runs for the Finesse.
So Cal Choppers-Ensey 3, Tennessee Fury Premier 1
Jersey Intensity-KOD 8, Texas Bombers 2
Alana Vanwater pitched a gem, Georgia commit Jayda Kearney ripped a two-run double, Notre Dame commit Karina Gaskins hit a three-run bomb, Georgia-bound Lacey Fincher hit a monster three-run homer and Michigan-bound Lexi Blair went 3 for 3 to propel the Intensity.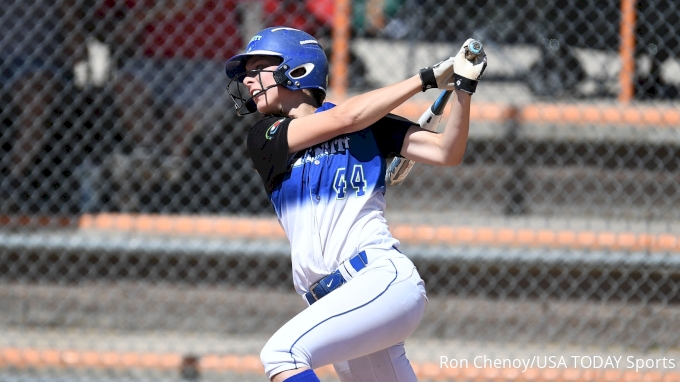 NOTE: OC Batbusters-Stith, So Cal Athletics-Richardson ,and East Cobb Bullets-Schnute, who all had first-round losses on Monday, stayed alive in the loser's bracket on Tuesday.
Follow Carlos Arias on Twitter @SoCalSidelines.
PGF NATIONALS 18U PREMIER SCOREBOARD
WINNER'S BRACKET A
FIRST ROUND
South Dakota Renegades 6, Newtown Rock 1
Firecrackers-Brashear 4, Irvine Sting 1
Georgia Impact-Lewis 8, Texas Blaze-Bonola 4
Athletics-Mercado/Smith 7, Arizona Athletics 0
SECOND ROUND
Beverly Bandits-Conroy 10, Lady Lightning Gold 5
Oklahoma Athletics 4, South Dakota Renegades 1
Firecrackers-Brashear 2, Texas Glory-Shelton 0
Nor Cal Firecrackers-Sjolie 3, Virginia Legends-Johnston 2
Sparks Softball 3, Texas Intensity 0
Georgia Impact-Lewis 9, Oro Valley Suncats 3
Athletics-Mercado/TO 4, Athletics-Mercado/Smith 2
Impact Gold-Jackson 7, Batbusters-Gomes 4
WINNER'S BRACKET B
FIRST ROUND
Santa Fe Inferno 4, So Cal Athletics-Marinakis 2
Michigan Finesse-Bressler 4, Rhode Island Thunder 3
So Cal Breakers 7, Louisville Sluggers 3
Nebraska Gold 11, Courage 9
East Cobb Bullets-Caymol 5, Impact Gold-Garcia 2
So Cal Choppers-Ensey 4, Salinas Storm 2
Jersey Intensity-KOD 3, Texas Intensity 1
Firecrackers AZ 9, Lil Rebels 8
So Cal Choppers-Fausett 6, So Cal Athletics-Briggs 1
Sorcerer 5, Wisconsin Lightning 0
Tennessee Fury Premier 5, Explosion-Denio/Jackson 1
Texas Bombers 4, Firecrackers-Rico/Weil 1
SECOND ROUND
Corona Angels-Tyson 6, Illinois Chill 0
Northwest Bullets-Campos 4, So Cal Choppers-Fausett 0
Sorcerer-Williams 2, Santa Fe Inferno 1
Michigan Finesse-Bressler 7, So Cal Breakers-Beddow 3
East Cobb Bullets-Caymol 4, Nebraska Gold 2
So Cal Choppers-Ensey 3, Tennesse Fury Premier 1
Jersey Intensity-KOD 8, Texas Bombers 2
Cal Cruisers-Sievers 8, Firecrackers AZ 3
LOSER'S BRACKET A
FIRST ROUND
Corona Angels-Howard 10, Northwest Bullets-Hollen 2
Team Mizuno Impulse 13, Nemesis Elite 3
Cal Cruisers-AE 5, OC Batbusters-Lara 4
East Cobb Bullets-Schnute 10, Washington Ladyhawks 2
SECOND ROUND
Cal Nuggets 2, Chicago Cheetahs 0
Corona Angels-Howard 7, Irvine Sting 2
Team Mizuno Impulse def. Newtown Rock
OC Batbusters-Stith 6, Texas Blaze-Slimp 0
Iowa Premier 9, AASA-Merrida 0
Arizona Athletics 5, Cal Crusiers-AE 1
East Cobb Bullets-Schnute def. Texas Blaze-Bonola
Sorcerer-Gabales vs. Indiana Magic
LOSER'S BRACKET B
FIRST ROUND
So Cal Athletics-Richardson 8, So Cal Athletics-Marinakis 0
Vienna Stars 8, Explosion-Jacobson 3
Texas Intensity 2, Birmingham Thunderbolts 1
Salinas Storm 8, PA Strikers 2