PGF 2018 Nationals 14U Premier
What To Watch For At PGF 14U Premier Nationals
What To Watch For At PGF 14U Premier Nationals
PGF 14U Premier is the most competitive 14U Nationals in the country and will feature the top teams for California to Florida.
Jul 30, 2018
by Carlos Arias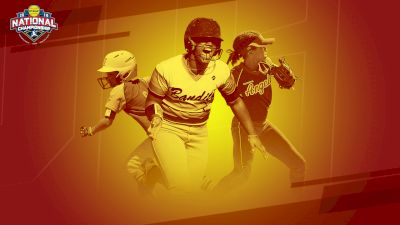 If you thought there is no clear-cut favorite at the PGF 14U Premier Nationals this week at the Huntington Beach Sports Complex, you might be mistaken.
The West
Athletics-Mercado coach Greg Borzilleri summed up his team's chances best.
"As we gear up for PGF this week, we are excited about our team's composition, athleticism and hard work," Borzilleri said. "This team has a puncher's chance of winning it all."
Nearly every team heading into PGF Nationals has a "puncher's chance" that's how good this division has gotten.
The Corona Angels have three teams that qualified for PGF and Marty Tyson's squad should be one of the top contenders. The Angels, who beat OC Batbusters-Campbell, 6-1, to win the Boulder IDT title, have a good balance of speed and power. The Angels have Maryland-committed Kendall Mangel, Jordin King and Kylie Magee in the circle and the offense is led by Tennessee-commit Lair Beautae, Korbe Otis, Angelina Allen, Savannah Adams and Marissa "Rabbit" Gonzalez.
"Nothing is guaranteed," Tyson said, "so hopefully we get some luck. Great teams here."
Mark Campbell's OC Batbusters is another team loaded with talent that looks like a top contender. The Batbusters need Olivia Gigante to be a leader in the circle and at the plate. Florida-committed shortstop Reagan Walsh leads the defense and is a big producer at the plate. Oklahoma-commit Jocelyn Erickson is having a huge summer for the Batbusters.
"This year's tournament, like always, is a tough field," Campbell said. "It's not always the most talented team that wins it, but rather the team that gets lucky and hits at the right time."
Gary Fausett's So Cal Choppers had a strong summer, including a trip to the semifinals at Boulder IDT. The Choppers lineup features lead-off hitter Desi Smith, centerfielder Rebecca Durazo, power-hitting Allison Ha, infielder/outfielder Rylee Pinedo, second baseman Nina Davis and third baseman Hope Lusk with Allie Enright handling the duties in the circle.
Athletics-Mercado qualified a pair of teams at PGF that could make some noise. David Mercado's team is built on pitching with three big arms --- Emily Leavitt, Cal State Fullerton-commit Sarah Haendiges and North Carolina State-commit Devyn Greer. The lineup is a mix of speed and power, led by pitcher/first baseman Alexis Guevara, second baseman/shortstop Angela Kay Ramos, and UCLA-committed corner Ramsey Suarez.
Borzilleri's Athletics-Mercado team is one of the top first-year 14U teams in the nation and features Florida-commit Kaila "Lefty" Pollard, Kentucky-commit Lauryn Borzilleri and Arkansas-commit Kiana "Kiki" Estrada.
"The team is stacked with hitters, defensive specialists, quality pitching, speed, and power," Borzilleri said. "This team has garnered attention on the recruiting front from Power Five schools from the first weekend we played in the fall of 2017. From top to bottom, our lineup is one of the toughest to face on a weekend-to-weekend basis."
The South
Texas Glory-Naudin has a talented group that should be a factor at PGF. The team is led by Oklahoma State-committed shortstop/utility Brianna Evans, Oklahoma State-committed center fielder/utility Haidyn Sokoloski and Northwestern-committed Lillian Vallimont.
"I think our style is definitely geared toward our power offense," Glory coach Montgomery Haygood said. "We have the ability to hit home runs two through nine, then add in one of the top lead-off hitters in the nation with Bri (Evans). (We have) lots of athletes and outstanding team chemistry. Very humble, confident and supremely athletic squad."
The Diamond Sports Hotshot fill the bill with two very competitive teams DS Hotshots - Falterman and DS Hotshots - Nelson. Both are scrappy and relentless with dominant arms in the circle with SJ Geurin (2022, Oklahoma) and Erna Carlin (2021, Texas Tech). Adding to the dominant pitching, what makes the Hotshots so fierce is their ability to swing the bag and play stellar defense.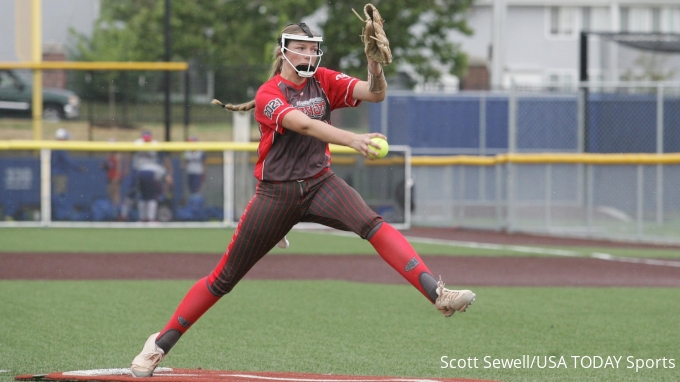 Georgia Impact-Lewis won the PGF 18U Premier national title this past week and Georgia Impact-Fisher looks like it could be a big-time contender at 14U. The team features South Carolina-committed shortstop/third baseman Brionna "Juice" Condon, Liberty-committed catcher/first baseman Alana Crenshaw, Georgia commits pitcher/first baseman Kirsten Fleet, second baseman/center fielder Jaydyn "Shorty" Goodwin and pitcher/first baseman Emma Langston, Florida-committed utility Layla Lamar, LSU-committed left fielder/third baseman Jadyn Laneaux, Syracuse-committed center fielder/second baseman Taylor Malvin, South Carolina-committed OF Caydra Parker and Florida-committed Mia Williams.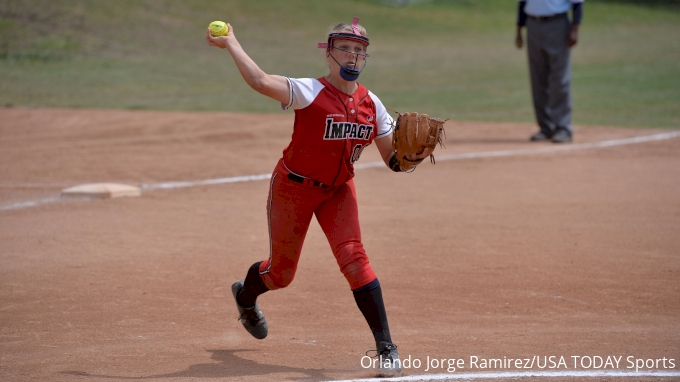 The Birmingham Thunderbolts hold down the south with multiple teams traveling to PGF. Lowell Barron's Birmingham Thunderbolts feature Duke-committed pitcher/utility Kennedy Barron, Ole Miss-committed shortstop/center fielder Lauren Bevis, Clemson-committed shortstop/center fielder Grace Hiller, Mississippi State-committed catcher/utility Riley Hull and Louisiana Lafayette-committed catcher/utility MacKenzie White. Ted Flannery's Birmingham Thunderbolts is led by Auburn-committed pitcher Emmah Rolfe, Florida-committed catcher/shortstop Samantha Roe, and LSU-committed pitcher Audrey Johnson.
The Midwest
The Beverly Bandits have a number of squads at the PGF Nationals in the 14U Premier Division, but Beverly Bandits-Harkness might be their best hope with Florida-committed pitcher Keagan Rothrock, Auburn-committed first baseman/catcher Millie Roberts and Auburn-committed third baseman/center fielder Taylor Pannell.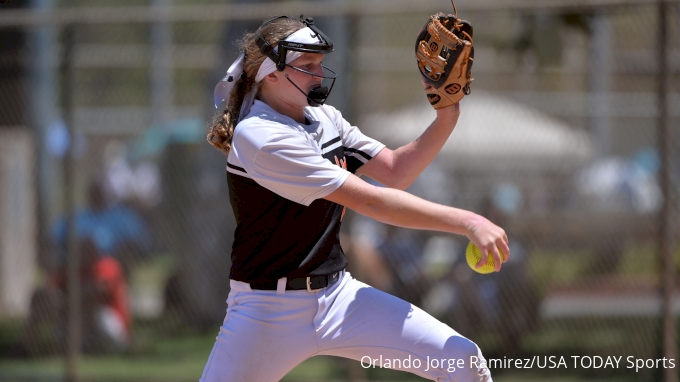 The Illinois Chill could play a role at PGF Nationals with Anna Wischnowski leading the way in the circle. Wischnowski was clocked at 64 mph at the recent OnDeck Jamboree in Chicago.
"Like many young teams we are playing our best softball at the end of the summer," Chill coach Gerry Quinn said. "We have a blend of ages on our team (with) 2021s, 2022s and 2023s. Although the team has not gotten a lot of huge wins this summer, they have played a super tough schedule and I am hopeful that with a good draw a top 20 finish is possible."
[polldaddy]=10068591
2018 PGF NATIONAL CHAMPIONSHIP SCHEDULE
14U Platinum championship at Deanna Manning Stadium in Irvine, CA, Saturday, Aug. 4, 9:30 AM (streamed live on FloSoftball)
16U Platinum championship at Deanna Manning Stadium in Irvine, CA, Saturday, Aug. 4, 12 PM (streamed live on FloSoftball)
14U Premier championship at Deanna Manning Stadium in Irvine, CA, Saturday, Aug. 4, at 3 PM (streamed live on FloSoftball and tape delayed on Fox Sports West Prime Ticket and Comcast)
16U Premier championship at Deanna Manning Stadium in Irvine, CA, Saturday, Aug. 4, at 5:30 PM (streamed live on FloSoftball and tape delayed on Fox Sports West Prime Ticket and Comcast)
PGF NATIONALS CHAMPIONSHIP LINEAGE
2018
PGF HIGH SCHOOL ALL-AMERICAN GAME: West def. East, 4-2
18U PREMIER: Georgia Impact-Lewis def. OC Batbusters-Stith, 6-4
12U PREMIER: Tennessee Mojo-Danley def. Diamond Sports Hotshots-Jones, 1-0
10U PREMIER: Impact Gold National-Smith def. Beverly Bandits-Trackwell, 7-3
18U PLATINUM: Firecrackers North-Thomas, USA Athletics Gold, 7-0
12U PLATINUM: Cal Cruisers-Caouette def. OC Batbusters-Garcia, 5-4
2017
PGF HIGH SCHOOL ALL-AMERICAN GAME: East def. West, 7-4
18U PREMIER: Beverly Bandits-Conroy def. Corona Angels-Tyson, 2-0
18U PLATINUM: Salinas Storm-Heen def. Batbusters-Gomes/Clark, 5-4
16U PREMIER: Beverly Bandits-Ketelhut def. Athletics-Mercado/Smith, 10-1
16U PLATINUM: Firecrackers UT-Rollin def. Birmingham Thunderbolts 01, 7-4
14U PREMIER: Texas Dirt Divas def. OC Batbusters-Campbell 03, 4-3
14U PLATINUM: Firecrackers-Brashear/Oakes def. Birmingham Thunderbolts 2003, 8-1
12U PREMIER: Diamond Sports Hotshots Gold def. Georgia Impact-Langston, 5-1
10U PREMIER: Fury 2024 def. Birmingham Thunderbolts 06, 12-5
2016
PGF HIGH SCHOOL ALL-AMERICAN GAME: West def. East, 2-0
18U PREMIER: Firecrackers-Rico def. California Cruisers-Sievers, 2-0
18U PLATINUM: Iowa Premier def. USA Athletics Gold, 2-0
16U PREMIER: Beverly Bandits-Conroy def. South Dakota Renegades, 3-2
16U PLATINUM: Firecrackers-Brashear def. Midwest Speed, 3-2
14U PREMIER: So Cal Athletics-Mercado/Smith def. Corona Angels-Tyson, 6-0
14U PLATINUM: Grapettes-Guevara def. Birmingham Thunderbolts-Dorsett, 2-0
12U PREMIER: Texas Sudden Impact def. Texas Impact Gold-Esparza, 6-1
10U PREMIER: Tennessee Mojo 2023 def. Intensity South TX, 11-3
2015
18U PREMIER: OC Batbusters-Stith/Haning def. So Cal Athletics-Richardson, 7-0
18U PLATINUM: Firecrackers-Pasco def. Iowa Premier Gold, 3-2
16U PREMIER: Tampa Mustangs-TJ def. Beverly Bandits/Team DeMarini, 1-0
16U PLATINUM: Sparks Premier def. KC Peppers-Clinton, 5-3
14U PREMIER: OC Batbusters-Campbell def. Georgia Impact-Lewis, 7-4
14U PLATINUM: Cal Nuggets Gold def. Nor Cal Dirt Dogs-Ybarra, 6-4
12U PREMIER: OC Batbusters-Mascarenas def. So Cal Choppers 02-Gibson, 2-1
10U PREMIER: Diamond Sports Hotshots Gold def. Texas Chaos, 8-5
2014
18U PREMIER: OC Batbusters-Stith/Haning def. Corona Angels-Tyson, 3-0
18U PLATINUM: OC Batbusters-Briggs def. Illinois Stars, 5-0
16U PREMIER: So Cal Athletics-Myers/McNee def. Beverly Bandits-Tyrrell, 2-1
16U PLATINUM: California Cruisers-Evans def. OC Batbusters-Alvarez, 11-3
14U PREMIER: Corona Angels-Tyson def. So Cal Athletics-Quarles, 7-1
14U PLATINUM: Courage-Weaver def. Cal Cruisers-Sievers, 9-1
12U PREMIER: So Cal Athletics-Mercado def. DirecTV Genies, 4-3
2013
18U PREMIER: So Cal Athletics-Richardson def. Team Mizuno-Stith, 3-2
18U PLATINUM: Strike Force-Guerra def. Central California Dirt Dogs, 10-0
16U PREMIER: Beverly Bandits-Tyrrell def. OC Batbusters-Myers, 2-0
14U PREMIER: Team Mizuno-Campbell def. OC Batbusters-McNee, 5-4
12U PREMIER: So Cal Athletics-Tidd/Ornelas def. AZ Suncats, 9-0
2012
18U PREMIER: So Cal Athletics-Richardson def. Worth Firecrackers, 5-4
16U PREMIER: Team Mizuno-Stith def. Corona Angels-Knighten, 5-1
14U PREMIER: Atlanta Vipers def. So Cal Athletics-Marinacci, 3-2
12U PREMIER: Firecrackers-Quarles def. Firecrackers-Roman, 8-2
2011
18U PREMIER: So Cal Athletics-Richardson def. Worth Firecrackers, 8-7
16U PREMIER: Firecrackers-Blanco def. Texas Glory-Naudin, 5-0