PGF 2018 Nationals 14U Premier
PGF 14U Premier Nationals Opening Day Of Play
PGF 14U Premier Nationals Opening Day Of Play
PGF 14U Premier Nationals opening day of play recap has Corona Angels Tyson looking like the early favorites.
Aug 1, 2018
by Carlos Arias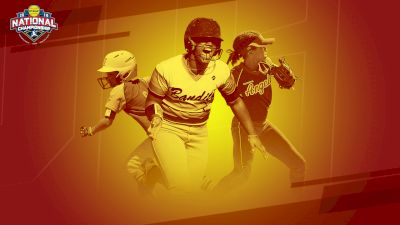 Marty Tyson's Corona Angels reached the Final Four of the PGF 18U Premier National last week and his 14U Premier squad looks like a team that could contend for a title, especially the way Maryland-committed 2021 right-hander Kendall Mangel and 2022 Arizona State-committed right-hander Kylee Magee were pitching on Tuesday at Huntington Beach Sports Complex.
Mangel and Magee combined on a four-hit shutout. Mangel started and worked five innings, allowing three hits, one walk and striking out two to record the victory.
ASU-commit @magee_kylee and @kmangel8 talk about Corona Angels-Tyson 5-0 win over NorCal Firecrackers #PGFNationals #14UPremier pic.twitter.com/c4zxhJRd1D

— So Cal Sidelines (@SoCalSidelines) August 1, 2018
"It feels great, going into bracket play and starting off with a win," said Mangel, who led Chino Hills High to a semifinal finish in CIF-SS Division I as a freshman. "It feels good. We have a lot of confidence as a team. We just have to keep playing together as a team and a keep on going."
Magee allowed one hit, no walks and struck out five in two innings to nail down the save.
"It's just my job to have my pitcher's back," Magee said. "If she's pitching a lot out here this week, it's just my job to close it out for her."
In other Winner's Bracket games:
South Dakota Renegades 6, American Freedom 0
Emilee Boyer, an uncommitted 2022 right-hander, tossed a three-hit shutout with four walks and five strikeouts to lead the Renegades to a first-round victory over American Freedom. Boyer allowed four hits, one earned run, eight walks and struck out nine in a 6-1 win over Beverly Bandits-Allen in a play-in game earlier in the day.
Emilee Boyer tossed a 3-hit shutout with 4 BBs and 5 Ks to help @SDRenegades2003 beat American Freedom 6-0 #PGFNationals #14UPremier pic.twitter.com/pUNPwQIH2V

— So Cal Sidelines (@SoCalSidelines) August 1, 2018
"I just think my team's coming out very competitive," Boyer said, "and we're getting off to a good start. (We're) just starting off with some hits and getting some scoring early in the game and feeling fine."
Texas Blaze Futures 7, Firecrackers-Brashear/Thornburg 4
The Blaze, who are coached by Tammie Davis, held on for a victory over the Firecrackers after building a big lead thanks in part to Seleyna Daniel, a 2021 Mississippi State-committed centerfielder, who went 2 for 3 with two runs scored and made a dazzling defensive play in the outfield.
Mississippi State-commit Saleyna Daniel went 2 for 3 with 2 runs and made a spectacular diving catch in left-center field to end the game in Texas Blaze Futures 7-4 win over Firecreackers-Brashear/Lutterloh #PGFNationals #14UPremier pic.twitter.com/9uBCGmCqh6

— So Cal Sidelines (@SoCalSidelines) August 1, 2018
"We just have to play relaxed and that's what we did," Daniel said.
The Blaze got out to an early 7-2 lead, but the Firecrackers loaded up the bases and scored two runs in the final inning before Daniel made a spectacular diving catch in left-center field to end the game, robbing the Firecrackers of an extra-base hit with two runners on.
"It helps a lot," Daniel said of the team's big lead. "I've been struggling a little bit. It was hit really hard, but I gotta help the team and there you go. We just gotta keep doing this. Don't settle for less, don't take any team easily and play like we do."
California Suncats 3, Birmingham Thunderbolts-Flannery 1
Bella Calvo, a 2021 uncommitted right-hander, allowed four hits, one run and K'd nine to lead the Suncats, who are affiliated with the Arizona Suncats, past the Bolts for one fo the biggest victories of the day, "I had a lot of teammates backing me up," Calvo said, "Taryn (Kern) with a great clutch hit and I had a great catcher that was holding me down the entire game."
Bella Calvo pitched a four-hitter with 9 Ks to lead the California Suncats to a 3-1 win over Birmingham Thunderbolts #PGFNationals #14UPremier pic.twitter.com/OdNOPYWlnX

— So Cal Sidelines (@SoCalSidelines) July 31, 2018
OC Batbusters-Campbell 8, Tennessee Fury 1
Kaylah Nelson went 3 for 4 with a homer and three RBI to propel the Batbusters in the winner's bracket.
Sorcerer-Schroll 2, OC Batbusters-Stith 1
Hailey Painter had a two-run double in the bottom of the first and Sorcerer held on to beat the Batbusters.
Impact Gold National-Vaughn 8, Firecrackers-Lutterloh/King 2
Camryn Carmouche went 3 for 4 with a double and three RBI and Olivia Johnson homered to lift Impact Gold.
Ohana Tigers-Quarles/Sanchez 8, Texas Bombers 0
Grace Rivera belted a two-run shot to lead the Tigers.
Iowa Premier 3, California Breeze-Fernald 1
Josie Marron drove in Haley Downe with a fielder's choice in the top of the eighth and Iowa held on for the win.
OC Batbusters-Stith 2, Explosion-Flores 0
Presley Hosick pitched a two-hitter with no walks and three strikeouts to lift the Batbusters.
Athletics-Mercado/Greg 5, Cal Nuggets 3
Kiki Estrada had a two-run double and Zoe Karam delivered a three-run bomb in the bottom of the sixth as the Athletics rallied from a three-run deficit to beat the Nuggets.
Corona Angels-Perez 0, So Cal Athletics-Berouty 0
Gie Imogen and Skylar Limon drove in two runs apiece for the Angels.
East Cobb Bullets-Mayfield 11, OC Batbusters-Shockey 10
Louisiana Lafayette-commit Raven Thompson drove in three runs, including the walk-off to give the Bullets the win.
PGF NATIONALS SCOREBOARD
14U PREMIER
WINNER'S BRACKET A
PLAY-IN GAMES
DeMarini Aces 3, Texas Glory 2
South Dakota Renegades 6, Beverly Bandits-Allen 1
Birmingham Thunderbolts '03 10, Firecrackers-Brashear/Oaks 4
Explosion-Flores 6, Washington Ladyhawks 0
Athletics-Mercado/Greg 6, East Cobb Bullets-Biele 5
Athletics-Mercado 12, Corona Angels '03 0
FIRST ROUND
Sorcerer 12, Midwest Speed 2
Impact Gold National-Vaughn 8, Firecrackers-Lutterloh/King 2
Southeast Intensity-KOD 6, DeMarini Aces 2
Ohana Tigers-Quarles/Sanchez 8, Texas Bombers 0
Irvine Sting 3, Carolina Cardinals 2
South Dakota Renegades 6, American Freedom 0
Birmingham Thunderbolts '03-Barron 7, San Jose Lady Sharks 1
Iowa Premier 3, California Breeze-Fernald 1
California Suncats 3, Birmingham Thunderbolts-Flannery 1
OC Batbusters-Stith 2, Explosion-Flores 0
Athletics-Mercado/Greg 5, Cal Nuggets 3
Corona Angels-Tyson 5, NorCal Firecrackers-Baisdon 0
Firecrackers-Brashear/Lopez 7, PA Chaos 2
Athletics-Mercado 9, Lady Lightning Gold 4
OC Batbusters-Campbell 8, Tennessee Fury 1
WINNER'S BRACKET B
PLAY-IN GAMES
Beverly Bandits-Helbling 7, So Cal Athletics-Marinakis 1
Beverly Bandits-Harkness 5, Vienna Stars 3
Diamond Sports Hotshots-Nelson 3, Central Cal Dirtdogs-Pickering 1
Georgia Impact-Fisher 11, Arizona Suncats '04 0
Illinois Chill 11, Ohio Outlaws 4
PA Strikers 6, Atlanta Vipers 1
FIRST ROUND
West Bay Warriors 6, Texas Travelers 4
Corona Angels-Perez 7, So Cal Athletics-Berouty 0
Beverly Bandits-Helbling 7, Tennessee Mojo '21 2
Diamond Sports Hotshots-Falterman 10, Beverly Bandits DeMarini-Woodward 1
So Cal Choppers-Fausett 7, Team Mizuno Impulse 0
Beverly Bandits-Harkness 6, OC Tigers 1
Diamond Sports Hotshots-Nelson 2, LTG Lions 1
Texas Blaze Futures 7, Firecrackers-Brashear/Thornburg 4
California Breeze-Birch 2, New Lenox Lightning 1
Georgia Impact-Fisher 2, Georgia Impact-Gusaeff 1
Illinois Chill 6, Gainesville Gold 2
Texas Blaze-Bonola 2, Firecrackers SD Brashear 1
Oklahoma Athletics 10, Texas Blaze-Rodriguez 0
PA Strikers 6, Panthers Gold 0
Mizuno Storm-Mathis 10, Firecrackers-Brashear/Allan 0
East Cobb Bullets-Mayfield 11, OC Batbusters-Shockey 10
16U PREMIER
WINNER'S BRACKET A
PLAY-IN GAMES
Texas Bombers Gold-Jones 9, Texas Rapid Fire 5
Texas Blaze-White 14, NW Bullets 0
Impact Gold-Jazz 5, Sorcerer 2
Finesse 5, Lady Magic 0
Easton Preps 8, Tennessee Fury '02 7
Beverly Bandits-Carver 8, Impact Gold-HTX 5
FIRST ROUND
Beverly Bandits-Tyrrell 10, Ohana Tigers-Robbie 0
Aces-Ashley 9, Firecrackers-Brashear 5
Texas Bombers Gold-Jones 4, Suncats 2
Lakewood Firecrackers-Hagberg 6, Yard Sharks 0
Athletics-Mercado 6, Blue Wave 5
Tennessee Fury Platinum 2, Texas Blaze-White 1
Impact Gold-Jazz 8, Sparks Premier 0
Corona Angels-Slye 6, The Bat Company 2
Illinois Chill 2, Ohio Hawks 0
Impact Gold-DFW 6, Finesse 5
Easton Preps 8, Texas Glory 6
Lady Lightning Gold 4, So Cal Athletics-Berouty 2
OC Batbusters-Lara/Portesi 6, Colorado Angels 5
Beverly Bandits-Carver 3, Georgia Impact Premier 2
Texas Blaze-Bonola 7, Texas Dirt Divas 0
The Factory 3, Bats Academy 1
WINNER'S BRACKET B
PLAY-IN GAMES
So Cal Athletics-McNee 10, Firecrackers Utah 1
Banshee 2, Ohana Tigers-Quarles 0
Athletics-Mercado/Quinn 7, San Jose Sting 5
Carolina Elite 7, West Bay Warriors 5
So Cal Athletics-Briggs 5, Explosion-Flores 0
Firecrackers-TJ 8, Gametime Stars 0
FIRST ROUND
Birmingham Thunderbolts-Dorsett 3, Beverly Bandits-Dorsey 0
Tampa Mustangs-TJ 7, Gainesville Gold 4
So Cal Athletics-McNee 13, Beverly Bandits-Moran 4
East Cobb Bullets-Caldwell 1, Washington Ladyhawks 0
Cal Nuggets 3, So Cal Choppers 2
Prospects Gold 8, Banshee 1
LTG Lions 4, Athletics-Mercado/Quinn 3
Premier Fastpitch 11, AASA 2
Diamond Sports Hotshots 5, Jersey Intensity 0
DeMarini Aces 8, Carolina Elite 0
Sparks Elite 10, So Cal Athletics-Briggs 0
Universal Fastpitch 4, Midwest Speed 3
GA Firecrackers 9, Indiana Magic 1
Firecrackers-TJ 9, Texas Bombers Gold-Moreno 2
Birmingham Thunderbolts '02 6, Iowa Premier 2
California Breeze 3, Corona Angels-Howard 0