Create a free account to unlock this article!
Get Started
Already a subscriber? Log In
By MICHAEL J. MARTINEZ
---
Tampa Mustangs-Walford won the PGF 16U Platinum national championship, defeating Breakers-Labs/ Blue, 5-2, on Saturday at Deanna Manning Stadium in Irvine.
The undefeated teams from the 16U Platinum brackets traded blows in the first inning, showing signs of a potential shootout. But after the first inning, Mustangs pitcher Kaitlyn Felton put up a string of zeros and her offense built her a lead to ride home to the title.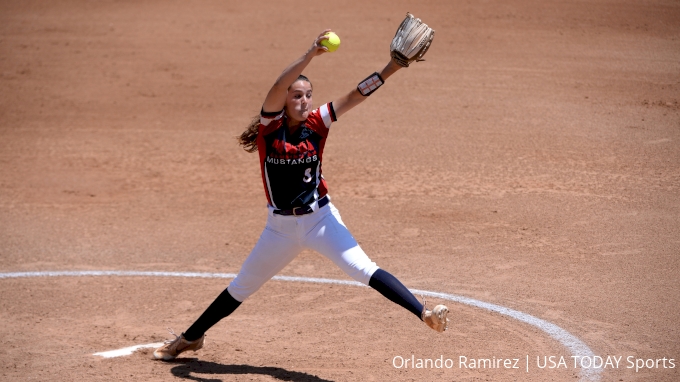 "Kaitlyn, she's a workhorse," Mustangs coach Paul Walford said. "She's tough as nails. She's had a solid week, a great performance not just today."
About the only thing that threatened Felton in the later innings was a sharp one-bounce comebacker that she took off the cheek in the sixth inning.
"The first thing we noticed was a smile on her face," Walford said about Felton when they checked for injury. "And she was fine, a little bit of blood. She spit it out and we kept on going."
"I'm good," Felton said. "It didn't hurt."
In their PGF Qualifier earlier this summer, the Mustangs, from Hudson, FL, just missed making this week's Premier bracket, instead of landing in the Platinum field. With their Platinum championship this week, the Mustangs' young 16U team will return next summer with a spot on the Premier side.
"We came in here with a positive attitude (this week)," Walford said. "I told the girls we're good enough to go deep into the tournament and come all the way to the end if we really dug deep. One of the sayings we had this week was, 'Don't let anyone dent your armor.' (Our opponents) tried to crack it, we just wouldn't let them. It was a tough week."
The Mustangs' offense was balanced with seven of nine starters notching a hit. Katie Bright and catcher Giulia Desiderio were the only players with two hits and all five runs were driven in by different players.
In the first inning, Brooke Blankenship worked a walk and was driven home on a two-out hit from Maddie Droz for a 1-0 Mustangs' lead.
In the bottom of the first, the Breakers answered on a lead-off single from Arizona-commit Paige Dimler and a loud one-out home run by Alyssa Vilke to grab a 2-1 lead.
As things turned out, that was the extent of the Breakers' offense. Felton settled into string six zeros to the finish, allowing just four more hits.
For a couple of frames, Felton and Breakers' starter Staci Chambers traded big outs and quick innings. Felton's defense got her a 5-4-3 double play in the second inning.
Chambers was ringing up strikeouts at a solid clip, with four of her eight total coming in the first three innings. Chambers worked herself into and out of big trouble in the third, walking the bases full with one out before striking out clean-up hitter Maddie Droz and popping out Destiny DeHoyos to keep the Breakers ahead.
The Mustangs' offense got it rolling in the fourth, recapturing the lead on RBI singles by Marina Rao and Maddie Gallagher.
"I knew I just had to hit the ball hard and (Rao) was going to score no matter what," Gallagher said of her go-ahead knock. "We were getting that run. That was us."
Kaylee Hull's two-out triple had the Breakers threatening to tie in the third inning, but Felton induced a pop-up to get out of it still ahead, 3-2.
Krystina Hartley and Desiderio chipped in with RBIs in the fifth and sixth innings, respectively, to provide the final margin of 5-2.
"I'm very happy we won," Rao said. "We battled all season long to get to this spot."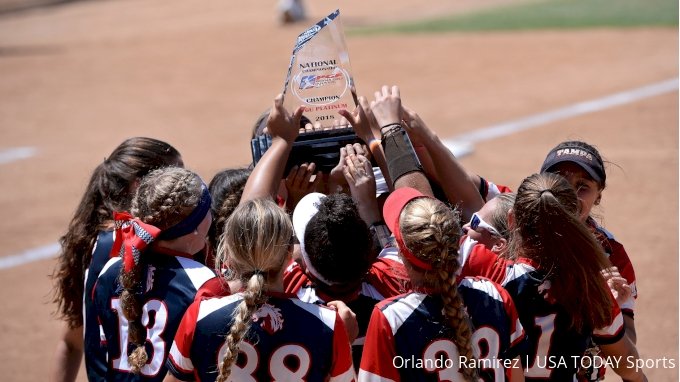 It was the second PGF championship for the Tampa Mustangs organization. The Mustangs lost in the play-in game in 2015, then won 12 consecutive games to claim the PGF 16U Premier national championship in 2015.
"It was crazy going 10-0 (counting pool play and the bracket) in such a crazy tournament," Gallagher said of this year's Mustangs. "It was just a really great feeling winning."
PGF 2018 NATIONAL CHAMPIONSHIPS
16U PREMIER: Birmingham Thunderbolts-Dorsett 4, Athletics-Mercado 1
14U PREMIER: Corona Angels-Tyson 9, Sorcerer-Schroll 2
16U PLATINUM: Tampa Mustangs-Walford 5, Breakers-Labs/Blue 2
14U PLATINUM: Northwest Bullets-Rice 7, OC Batbusters-Garcia 1
Follow Mike Martinez on Twitter @SoCalSidelines.