2021 Hot 100 Rankings Players 80-71
2021 Hot 100 Rankings Players 80-71
FloSoftball 2021 Hot 100 Rankings players 80-71 come from Explosion, Tulsa Elite, Athletics Mercado and more.
Sep 6, 2018
by Chez Sievers
Unlock this article, live events, and more with a subscription!
Get Started
Already a subscriber? Log In
This year's 2021 Hot 100 experienced quite a shakeup from last year with new players beating out some of last year's prospects. Hundreds of you submitted player info that made the selection process incredibly difficult.
On this list, you will find speedsters, sluggers, slingers, and some of the most versatile athletes in the country.
How do we select the Hot 100?
Weeks of research, phone calls, emails, stat analyses, and data analyses are endured to come up with this list of the top prospects. We look closely at the individual's performance in the last year and also team performance. AthPro360 assists FloSoftball in gathering data-driven measurements to provide more objectivity in the selection process.
Over the next three weeks, we will unveil 10 honorees per day ending with Top 10 per position:
Week 1
Mon. Sept. 3: 2021 Hot 100 Players 100-91
Tue. Sept. 4: 2021 Hot 100 Players 90-81
Wed. Sept. 5: 2021 Hot 100 Players 80-71
Thu. Sept. 6: 2021 Hot 100 Players 70-61
Fri. Sept. 7: 2021 Hot 100 Players 60-51
Week 2
Mon. Sept. 10: 2021 Hot 100 Players 50-41
Tue. Sept. 11: 2021 Hot 100 Players 40-31
Wed. Sept. 12: 2021 Hot 100 Players 30-21
Thu. Sept. 13: 2021 Hot 100 Players 20-11
Fri. Sept. 14: 2021 Hot 100 Players 10-1
Week 3
Tue. Sept 18: Next In 101-200
Tue. Sept. 18: 2021 Top 10 Pitchers
Wed. Sept. 19: 2021 Top 10 Catchers
Thu. Sept. 20: 2021 Top 10 Infielders
Fri. Sept. 21: 2021 Top 10 Outfielders
---
80 | Brooke Hilliard, MIF | Explosion Hilliard
Refined with exceptional range at shortstop, Hilliard makes difficult plays look routine. She held the leadoff spot for Explosion by showcasing her ability to slap and hit for power. This summer she batted .400 with a .550 on-base percentage. Her style of play is drawing comparisons to UCLA grad Kylee Perez.
79 | Drew Riddle, P/3B | Tulsa Elite (Tulsa)
Riddle has been a catalyst on the Elite 14U Prospects team, one of the top squads in its age division, and has been competing and winning against 16U and even 18U talent for the last year or two. She's a big home run threat from the left side and started getting a lot of Power Five conference attention for her ability to crush the ball in showcases last fall. As well as being a promising hitter and corner infield prospect, Riddle is also getting attention as an upcoming pitcher who consistently throws in the upper 50s and is one of the fastest-rising prospects in Jeff Filali's Tulsa Elite organization. Said one scout, "Her versatility and ability to play at a high level in the circle and at the plate will make her one of the top prospects to watch this summer at key events like Top Gun, Boulder, USA Elite Select, and PGF Nationals." Lefty with lots of HR power, righty pitcher and solid 3B.
78 | Kayla Chavez, 3B | Athletics Mercado/Greg
Chavez was the starting third baseman top 10 finishing Mark Campbell's OC Batbusters. She hit .450 this summer tallying 10 home runs. She switches over to Athletics Mercado/Greg's 5th finishing squad that moved up to 16U. Chavez possesses big game experiences playing in the PGF Championship with the Choppers 02 team in 12U and helped win multiple tournaments with Batbusters Campbell. At third, she can anticipate where the ball will be hit and reacts with above-average quickness and a strong arm to round her out. She is a 4.0 student attending Chino Hills High School that made it to the CIF Semi-finals.
T77 | Jayme Scheck, P/OF | Iowa Premier
Iowa Premier's ace Jayme Scheck is crafty and precise in her pitch delivery. No doubt, she's one of the top arms in the 2021 class finishing top 10 at PGF Premier Nationals, 3rd at WFC, top 25 at the Triple Crown Sparkler, 5th at Tulsa Elite Invite. Iowa's best pitcher in the 2021 class is attracting lots of attention from Power Five schools judging by her performance in every tournament. What separates Scheck from the rest is her tenacity and efficiency in the circle.
T77 | Abby Dunning, P/OF | Illinois Chill (Dartmouth)
Dunning is a solid pitcher/hitter who batted .455 with a .538 on-base percentage but is also a force in the circle. She was one of the aces on Gerry Quinn's 16U team. Not the tallest on the team, Dunning reaches pitch speeds in the mid-60s. Big Ten schools were hot on her trail but decided Dartmouth was the right fit for her future.
76 | Kendall Klochack, P | Jersey Intensity Premier KOD
Another southpaw flying under the radar is Kendall Klochack who has been under the watchful eyes of coaches in the Big Ten and ACC. She mixes her curve, screw and rise on various planes and can buckle the knees with her change. Expect to see her rank and stats drastically improve in the next year.
75 | Larissa Ortiz, C/UT | Beverly Bandits Premier - Carver (Wisconsin)
When coaches talk about Larissa Ortiz, she is described as one of the most dangerous hitters on the Bandits roster. At Romeoville high school, she hit .392 with 24 RBI in 27 games. Ortiz recorded 7 doubles, 10 home runs with a .462 on-base percentage.
74 | Emma Minghini, P/UT | Fury Platinum (Penn State)
Minghini is about to embark on a monster year. On her opening day of high school play, Minghini doubled and smashed two home runs for Gordon Lee High School. Extremely versatile from the circle to the field, she will be a huge part in the success of Fury Platinum this upcoming season.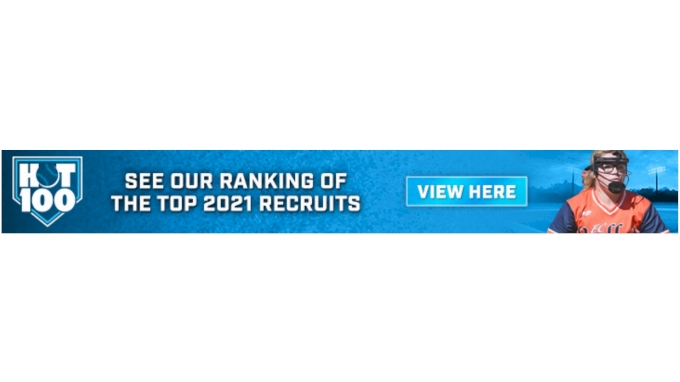 73 | Ashlyn Wachtendorf, OF/MIF | Centex Buzz Gold (Baylor)
Centex Buzz Gold took home the USFA Championship and Baylor-commit Wachtendorf was a huge component to their offense. She held a .519 batting average with a .678 on-base percentage. Not only a force in the box, she posed a major threat on the bases swiping 31 stolen bases and touched home plate 32 times. Centex Buzz finished in the top 10 at the USA Nationals and placed 3rd at the Texas Gold Cup. High School ball was no different. She was named High School District Newcomer of the Year and 1st Team All-District. One Big 12 coach said, "No one will outwork that kid, she's a true leader on the field."
72 | Cayden Baker, SS/OF | Tennessee Mojo
Baker's style of play is electric and extremely versatile. She can move from the infield to outfield seamlessly and one of the most exciting players to watch on the field. Coach Brooks said, "She brings a very high motor and plays hard every play." Her style of play led to a second high school state championship for Powell High School. Baker led the state in stolen bases with over 50 and added 20 more stolen bases last summer.
T71 | Savannah Adams, 1B/OF | Corona Angels (Boise State)
Adams had a big summer with the Corona Angels winning the PGF 14U Premier National Championship. During bracket play, the Angels faced notoriously talented Batbusters Campbell. The Boise State-commit changed the outcome of the game stretching the lead for a 4-1 victory. Adams possesses a sweet swing and is as clutch as they come.
T71 | Kacie Hoffman, OF/1B | DeMarini Aces
A true power from the left side, Hoffman has reached exit speeds in the high 70s to low 80s. She hit .455 on the year with a .503 on-base percentage. Hoffman blasted 9 home runs that were good for third on the team packing a 1.250 OPS. Expect for Hoffman to find a place in the Power Five September 1 next year. She has tremendous upside and has been battle tested at the top tournaments.
---
How To Nominate a Player:
Only coaches can submit player nominations.
Nominate HERE
Where do you think she ranks in her class? Why?
If you have any questions regarding the Hot 100 please email chez.sievers@flosports.tv