2021 Hot 100 Rankings Players 30-21
2021 Hot 100 Rankings Players 30-21
FloSoftball releases 2021 Hot 100 Rankings Players 30 To 21 from Firecrackers, Impact Gold, Atlanta Vipers and more.
Sep 14, 2018
by Chez Sievers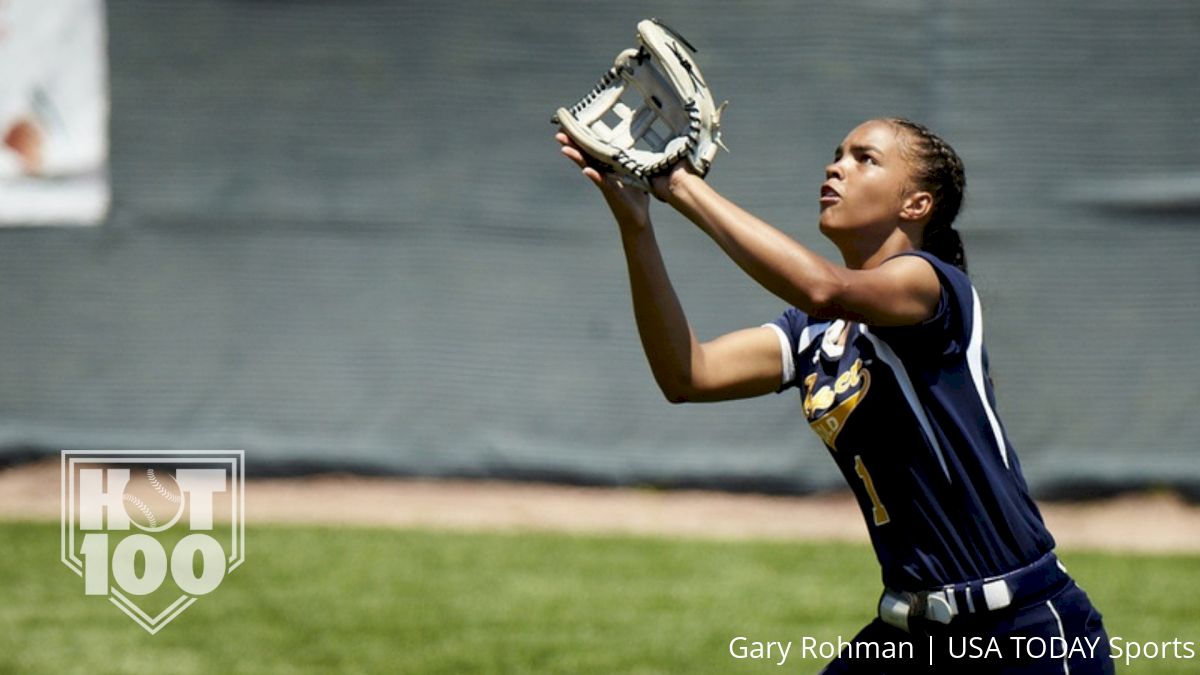 Unlock this article, live events, and more with a subscription!
Get Started
Already a subscriber? Log In
This year's 2021 Hot 100 experienced quite a shakeup from last year with new players beating out some of last year's prospects. Hundreds of you submitted player info that made the selection process incredibly difficult.
On this list, you will find speedsters, sluggers, slingers, and some of the most versatile athletes in the country.
How do we select the Hot 100?
Weeks of research, phone calls, emails, stat analyses, and data analyses are endured to come up with this list of the top prospects. We look closely at the individual's performance in the last year and also team performance. AthPro360 assists FloSoftball in gathering data-driven measurements to provide more objectivity in the selection process.
Over the next three weeks, we will unveil 10 honorees per day ending with Top 10 per position:
Week 1
Mon. Sept. 3: 2021 Hot 100 Players 100-91
Tue. Sept. 4: 2021 Hot 100 Players 90-81
Wed. Sept. 5: 2021 Hot 100 Players 80-71
Week 2
Mon. Sept. 10: 2021 Hot 100 Players 70-51
Tue. Sept. 11: 2021 Hot 100 Players 50-31
Wed. Sept. 12: 2021 Hot 100 Players 30-21
Thu. Sept. 13: 2021 Hot 100 Players 20-11
Fri. Sept. 14: 2021 Hot 100 Players 10-1
Week 3
Tue. Sept 18: Next In 101-200
Tue. Sept. 18: 2021 Top 10 Pitchers
Wed. Sept. 19: 2021 Top 10 Catchers
Thu. Sept. 20: 2021 Top 10 Infielders
Fri. Sept. 21: 2021 Top 10 Outfielders
---
30 | Grace Keene, 3B/1B | So Cal Choppers - Fausett (Tennessee)
Gracie Keene is an undeniable force at the plate. The 6-foot corner hits for high average, RBI, home runs, doubles, and triples. Coach Gary and Dean Fausett described Keene as a workhorse, "She's got an old school work ethic. She's in the facility every day." Keene helps So Cal Choppers - Ziese to an 8th place finish at Triple Crown Nationals and a 13th place finish at PGF 16U Premier Nationals. Before committing to Tennessee, Keene had a number of Power Five schools on her trail.
T29 | Olivia Underwood, C | EC Bullets - Biele/Heath
"Big O" Underwood is one of the elite defensive catchers in the 2021 class. With a 1.64 pop time and an incredible softball IQ, she caught the attention of top universities from Power Five schools with her presence behind the plate and ability to gun down runners. She receives well and picks up secondary plays naturally. Underwood brings excitement to the game as a playmaker behind the dish and destroys the ball at the plate. As a freshman at Sequoyah High School Olivia batted .490 with 10 home runs and 44 RBIs earning All-State Honors. Her efforts behind the plate helped EC Bullets - Biele to a 2nd place finish at Triple Crown Nationals and a 7th place finish at PGF 14U Premier Nationals. and As a multi-sport athlete, Underwood is also involved in basketball, cheerleading, and gymnastics. She is being heavily pursued by SEC, ACC, Big 12 and Big Ten schools.
T29 | Lyndie Rae Davis, C/3B | Atlanta Vipers - Trowell (Georgia)
Imagine if Alyssa Dicarlo hit from the left side with the same amount of power and terror she elicits with every swing. That's Lyndi Rae Davis. Davis steps in the box at 5-foot-11 and is a ball wrecking machine. In 2018, Davis crushed the ball at Calhoun High School batting .494 with 11 doubles, 8 home runs, and 49 RBI in 35 games played. The lefty power hitter is unstoppable at the plate leading Calhoun to a Class AAA State Championship and was named Class AAA Player of the Year as a freshman. Defensively, Davis is solid with a 1.8 pop time. Before committing to Georgia, Davis visited at least five SEC schools and a couple of ACC schools.
28 | Kendall Mangel, P | Corona Angels - Slye (Maryland)
Maryland-commit Kendall Mangel broke Chino Hills single-season record for wins, threw three straight shutouts in her postseason debut to lead Chino Hills to the CIF-Southern Section Division I semifinals. Mangel took a no-hitter into the seventh inning of the semifinal matchup with Gahr and eventually gave up her first postseason run in the eighth inning of the 1-0 loss that ended a streak of 29 straight postseason scoreless innings. She was 27-3 with a 1.25 ERA and 10 shutouts. Mangel struck out 113 batters in 195.2 innings. She made the All-tournament Team at all three tournaments Chino Hills competed, which included the MVP honor at the Redlands Tournaments. After leading the Huskies to an undefeated campaign in the Baseline League, she also received the Co-League MVP honors and MaxPreps National Freshman of the Year. Following her freshman season, Mangel went on to win the PGF 14U Premier National Championship.
T27 | Rose Roach, MIF/OF | Beverly Bandits
If you're looking for the player who brings energy, passion, intensity, and enthusiasm every day, Rose Roach is your girl. She makes things happen. On offense, she's a sparkplug at the top of the order who hits for power, power slap, and uses her small ball game effectively. Playing high school with sister Hailey, the two hold down the left side and big run producers for Kaneland. Named to the All-Area Team, Roach was one of three freshmen named. She batted .398 with 6 home runs, 10 doubles, 4 triples, 19 stolen bases, and 26 RBI in the leadoff spot. Roach was one of the 2021 favorites up the middle for Power Five programs.
T27 | Spencer Prigge, IF | Firecrackers AZ (Arkansas)
Spencer Prigge is going to be a name you want to remember. The 6-foot lefty from Scottsdale, Arizona has one of the sweetest and most violent swings you'll see in the 2021 class. For Horizon High School, Prigge hit .603 with 31 RBI, 8 doubles, 4 triples, and 11 home runs in 26 games played. She joins Randy Kaye's Firecrackers AZ that finished 9th at Triple Crown Nationals, 5th at Colorado Fireworks, and 25th at PGF 18U Premier Nationals.
T27 | Brooke Blankenship, SS | Tampa Mustangs - Maguire (Florida State)
Blankenship was named 2A Florida Player of the Year as a Freshman, Academic All-State, FACA All-State First Team, All Tampa Bay First Team Infield, and NFCA All-American 2nd Team by hitting .487 with 20 RBI and 6 home runs. Blankenship is one of the premier shortstops in the country who can throw from every arm slot and her ability to make unbelievable plays. 2018 marked a strong year for Blankenship as she took home Academy of the Lakes' first State title and a PGF 16U Platinum Championship with Tampa Mustangs - Walford. She trains alongside Kenzie Maguire (South Carolina) who is from her hometown and her style is very much the same as hers. Blankenship was the first player in the 2021 class to verbal to FSU in March of her eighth-grade year, after multiple offers from SEC, PAC-12 schools, and interest from many others. Brooke was a competitive gymnast prior to switching to softball and uses her athletic ability to take hits away frequently. She's is a leader on and off the field and a bit of a brainiac winning the County Science Fair for two consecutive years.
26 | Annabelle Widra, P/MIF | Birmingham Thunderbolts 02
Pitcher, switch-hitter, shortstop, speedster, beast. Anabelle Widra is all of those things. Named All-Metro Player of the Year, MVP, 1st Team All-Super State, 2nd Team All-American, Widra held a 1.985 ERA with 294 strikeouts while holding a .453 batting average with 29 RBI, 2 home runs, and 38 stolen bases. Offensively, she mostly slaps but can switch to the right side and hit for power. On the mound, she throws in the 62-62 mph range averaging 10.8 strikeouts per 7 innings in club and set a Spain Park single-season record tossing 10 shutouts and a no-hitter. On the bases, she runs a 2.6 from home to first and racks up the stolen bases. When she's not pitching she plays short with serious range and game savvy. Widra picked Oklahoma State over Michigan and several SEC schools.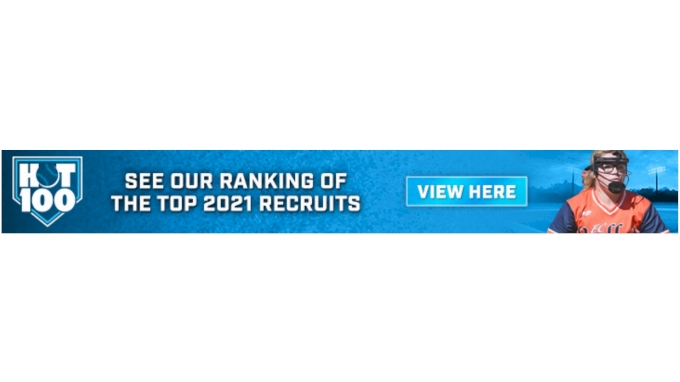 T25 | Brianna Peck, MIF/P | PA Strikers (Drexel)
Peck is a 5-foot-10 middle shortstop/pitcher who has the natural athletic ability and softball instincts to play any position on the field and do it better than most. She helped PA Strikers to a 5th place finish at TC/USA Nationals batting .583 and pitched in 7 of the 9 games played. At PGF, she hit .424 with over half of her hits being for extra-base hits resulting in the team taking a 4th place finish at PGF Premier Nationals. Peck ended the summer season with 8 home runs, 18 extra base hits, and a .433 batting average. In addition to her offense, Peck's defensive play at shortstop raised some eyebrows to supporters who followed her play. She's is an amazingly long and lean athlete who catches the eye of all who watch her play and wish they got to her before she verballed to Drexel University.
T25 | Korbe Otis, P/UT | Corona Angels - Slye (Louisville)
Otis was on fire in 2018. The softball/track star set the school record in the 100-yard dash (12.50) and was named Freshman Athlete of the Year and 1st Team All-State at Columbine High School. She hit .603 with 26 RBI, 13 doubles while tossing 129 innings with 153 strikeouts. This summer Otis batted third (.550 BA) helping Corona Angels - Tyson to a PGF 14U Premier National Championship, IDT Boulder Championship, and Champions Cup Title (16U). Otis is versatile and dynamic on the field.
T24 | Rachel Allen, C/3B | Firecrackers - TJ (Notre Dame)
Firecrackers TJ power hitting catcher Rachel Allen is one of the most feared hitters in the country clubbing 10 home runs with 4 doubles and 29 RBIs in 21 games played for Palos Verdes High School. Her freshman numbers garnered her Daily Breeze First Team All-Area accolades. Allen is also a stud behind the plate. Her transfer is smooth and her release is quick on her throwdowns from her knees.
T24 | Jayla Castro, C/OF | California Breeze - Birch (UCLA)
UCLA-bound Castro is another prolific hitter with enough home run power to change the outcome of the game with one swing. Offensively she was a hitting machine last season with 7 home runs, 45 RBIs with a .415 against batting average some of the toughest competition around. One of the top defensive catchers in her grad year, she has a cannon for an arm and tremendous athleticism behind the plate. She has an Aaliyah Jordan build with a solid arm behind the plate.
T23 | Angelina Allen, 1B | Corona Angels - Slye (Iowa State)
Allen is an RBI machine. The lefty slugger batted .550 during PGF and .653 during high school. At Woodcrest, Allen roped in 41 RBI in 24 games with 12 doubles, 3 triples, and 7 home runs. He on-base percentage was .708 with a slugging percentage of 1.173 and an OPS of 1.881. The Iowa State-commit was a game changer on offense for the Corona Angels who took 1st place at PGF 14U Premier Nationals and IDT Boulder.
T23 | Paige Sinick, IF | Corona Angels - Slye (Oregon)
When Sinicki tore her ACL in November 2017 after playing flag football, she missed her high school season and many wondered how she would recover from such a serious injury. Cleared for practice the day after her birthday, Sinicki went through highs and lows preparing for PGF Nationals. Coach Marty Tyson was cautious getting Sinicki back onto the field and into the lineup and thought it would be safe to work her in at third base. With virtually no experience at third, Sinicki embraced the position like a champ and even took a line drive off her face and reentered the game to hit a game winner. At PGF, Sinicki led the Corona Angels in home runs and RBIs. The mental toughness and ability to handle adversity are the intangible elements of the game that Sinicki brings to a championship team.
T22 | Krystina Hartley, IF/OF | Tampa Mustangs - Maguire (Florida State)
Hartley is a natural. Her instincts and game sense are comparable to Jessie Warren. A gifted hitter that generates great bat speed, she's a .400 who hits for extra-base hits but also has the ability to steal bases. Coaches stop every time they see this kid take a hack. She has a sweetest and most violent swing. Part of the Mustangs' almost impenetrable left side defense, she plays third for the Mustangs and shortstop in high school. Hartley has a strong arm and intense focus on the field. She verballed to FSU in the fall of 2017 as a freshman. During high school, she was named 3A State Player of the Year and helped her team, Admiral Farragut Academy to their first State Championship.
T22 | Mya Holmes, OF | Impact Gold Jazz (LSU)
6-foot Impact Gold outfielder Mya Holmes is without a doubt one of the best to roam the outfield in the 2021 class. Holmes has a knack for tracking down deep fly balls and hosing out runners at home with a 71 mph overhand throw. On offense, she's a .421 hitter with 35 RBI, 5 home runs and 17 stolen base. Holmes hits for power to all fields and has a ton of upside going into next season.
21 | Mia Scott, 3B | Aces Express Futures (Texas A&M)
Scott is explosive on the field. The 5-tool player from Angleton, Texas was All-State batting .566 with 43 RBI, 11 doubles, 5 triples, and 6 home runs in 38 games. She plays with a motor that won't quit and won't slow down. From third base, she covers a ton of ground sharing the field with Hot 100 shortstop Demi Elder. Named All-District and TGCA All-State, Scott's future is bright.