Unlock this article, live events, and more with a subscription!
Get Started
Already a subscriber? Log In
This year's 2021 Hot 100 experienced quite a shakeup from last year with new players beating out some of last year's prospects. Hundreds of you submitted player info that made the selection process incredibly difficult.
On this list, you will find speedsters, sluggers, slingers, and some of the most versatile athletes in the country.
We are finally down to the top 10 players in the 2021 class and they can ball. Stay tuned for the Next In: 101-200 group, top 10 pitchers, catchers, infielders, outfielders, and utility players.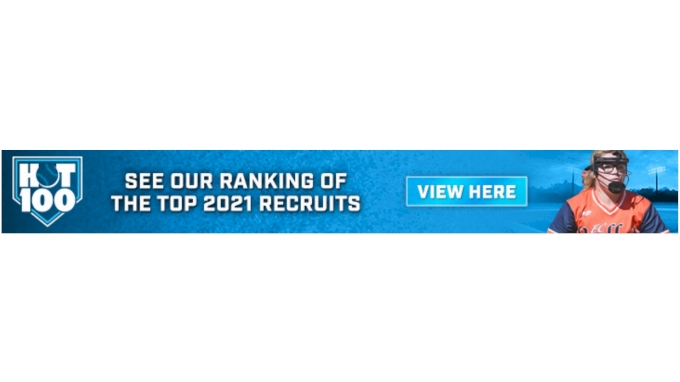 T10 | Kaydeun "Koko" Wooley, MIF/OF | Impact Gold National - Vaughn (Texas A&M)
"Koko" Wooley had an outstanding summer with Impact Gold National - Vaughn that placed 1st at the Tulsa Elite Invite and top 10 at the Colorado Sparkler. In the last year, Wooley's performance at shortstop and on offense impressed many onlookers. On defense, her footspeed paired with precise defensive angles opened up her range and playmaking abilities. Her arm strength allows her to transition from middle to the outfield with ease. As the leadoff hitter, Wooley was extremely dynamic utilizing her bunt, soft slap, power slap, and stand-in to keep the defense on their toes. In every tournament, Wooley batted over .500 with multiple stolen bases under her belt. Impact Gold National - Vaughn won the Tulsa Elite Invite finished 9th at the Colorado Sparkler.
T10 | Brianna Evans, MIF/OF | Texas Glory - Naudin (Oklahoma State)
Did you know that Brianna Evans is a softball stud, track star, weightlifter, and band soloist? At Red Oak High School, Evans was named Athlete of the Year, District Newcomer of the Year, Offensive Player of the Year, and 1st Team All-District. Last year, we questioned whether Evans could play shortstop at the DI level and she convinced us and many others that she's more than capable. She's got the speed, the range, and the arm to get the job done up the middle or in the outfield. Batting from the left side, Evans can bunt, slap, or hit away. Once she's on the bases, Evans' speed poses a major threat to steal, create chaos, and score runs. Her performance over the summer is instrumental in guiding Texas Glory Naudin to a runner-up finish at the Tulsa Elite Invite and 1st place finish at the North Texas Shootout. Before committing to Oklahoma State, Evans was being recruited heavily by SEC and Big 12 schools.
9 | JaNaiya Thomas, 3B | Impact Gold - Jazz (Houston)
Thomas is a Texas favorite for most coaches. She brings energy and excitement to every game. A complete player that can run, hit for average, hit for power, Thomas is one of the elite third baseman's in the country. Over the summer, she batted .576 BA with 20 RBI, 4 home runs, 30 stolen bases, and a ridiculous .703 on-base percentage.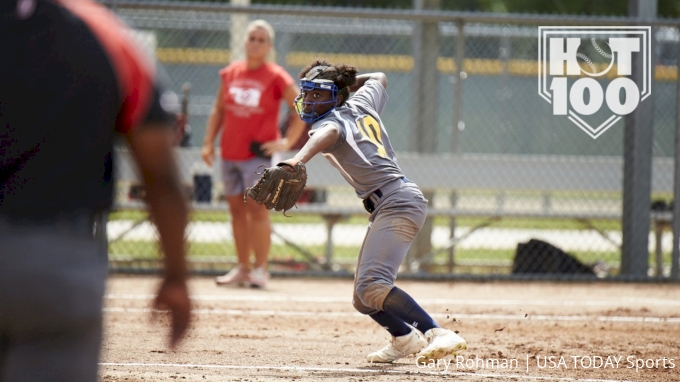 During high school ball, Thomas hit .510 BA with 33 RBI, 7 doubles, 5 home runs, 18 stolen bases, and only 3 strikeouts in 104 at-bats. Combining her quickness and ability to anticipate where the ball will be hit, it's tough for hitters to get a ball past Thomas. Her reactions are uncanny. Many Power Five schools were recruiting Thomas but her heart was in Houston.
8 | Reagan Walsh, SS | OC Batbusters - Stith (Florida)
Walsh is a bonafide, power-hitting shortstop that recently moved up from Mark Campbell's Batbusters to Mike Stith's Batbusters. During high school, Walsh drove in 43 RBI in 28 games with 14 doubles and 12 home runs for extra-base hits. She also held a .552 batting average with a .614 on-base percentage and 1.763 OPS. Her size, her bat, and her play on defense are what attracted top 25 programs to her games. Walsh was named 1st Team All-CIF for South Torrance High School. During the summer, she helped Batbusters Campbell to a top 10 finish at PGF, 2nd place finish at IDT Boulder and top 10 at WFC. Expect the Batbusters-Stith to be in the hunt for a PGF Premier title in 2019.
7 | Tatum Clopton, P | DeMarini Aces (Oklahoma State)
Oklahoma State-commit, Clopton climbed up the rankings as one of the best pitchers in the nation after a very successful summer beating top-ranked teams and winning the state title for Free State High School. Not afraid to show emotion on the mound, Clopton deals her swing and miss pitches with confidence. Her pitch deception lies in her ability to throw the ball in the zone breaking plane vertically or horizontally. Clopton's pitching chops were passed down from her mother, Sarah (Workman) Clopton who was the ace at Kansas leading the staff in strikeouts, shutouts in the 90s. She was also named team MVP and All-Big 12 First Team. Clopton's maturity on the mound is evident gathering from a recent interview after the state title, "There was a point in the game where I told myself I need to focus. I knew I was tired," Clopton said. "Every pitch is going to take something out of you, and you need to make sure it's the best pitch you can make." During PGF Nationals, she threw 35 innings with 68 strikeouts with a .589 ERA. When she suits up for OSU, she will be ready.
6 | Aubrey Barnhart, C/3B | Tennessee Mojo (Auburn)
As one of the feared hitters in the country, lefty power hitter Barnhart was lights out this spring/summer combining for 17 home runs, 30 doubles, and a .462 batting average. Barnhart takes her hacks and usually takes it deep.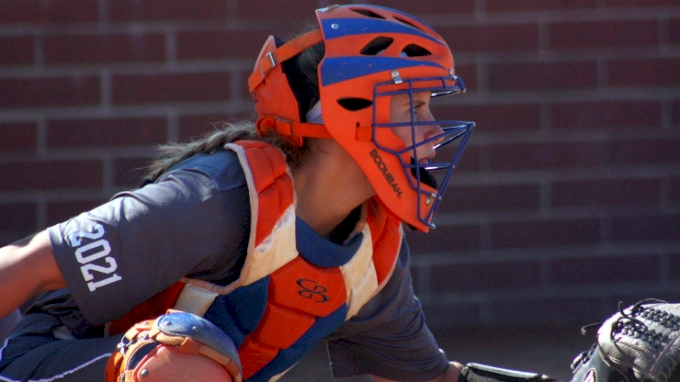 The Auburn-commit is versatile on the infield and can play third base or catch for Tennessee Mojo. Her performance on the field helped Mojo to a top 20 finish at PGF 14U Premier Nationals, 3rd place at World Fastpitch Championship, top 20 at Colorado Sparkler, and 3rd at the Tulsa Elite Invite.
5 | Rylee Holtorf, IF | Mizuno Storm - Mathis/Holtorf (Washington)
Holtorf's freshman year performance reinforced why she's one of the top recruits in the country. At Sandra Day O'Connor High School, Holtorf played third base next to 2018 hot 100 Grace Lyons who played short and hit right behind her in the line up hitting fourth. Holtorf hit well over .500 with 12 doubles, 5 triples, 9 home runs, and over 40 RBIs.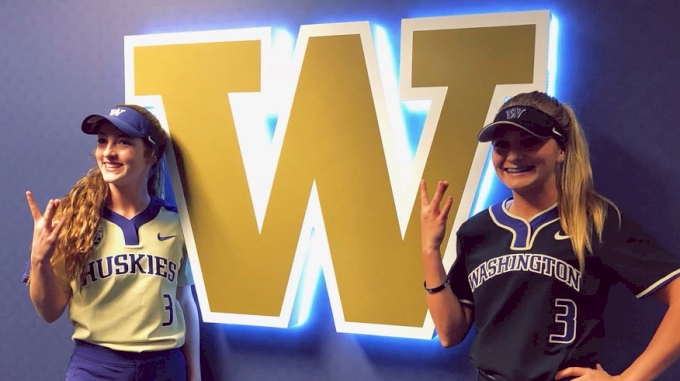 She was named to the MaxPreps Freshman All-American Team as well as 2nd team NFCA All-American and a 1st team NFCA All- region. Holtorf also led Mizuno Storm to a 3rd place at PGF 14U Premier Nationals and a 1st place finish at the Colorado Sparkler. This summer she hit 9 home runs, two of them were grand slams, and one of the grand slams was a walk-off in a PGF bracket game. On the field, she truly sets herself apart by her level of play. An amazing leader who is humble, Holtorf makes the players and coaches around her better.
4 | Quincee Lilio, UT | Athletics Mercado/Smith
"Q" is the quintessential utility player who can play every position on the field with precision. She jumped to the 18U Athletics Mercado team maturing and adapting to the level of play around her. By amping up her strength training, Lilio saw all of her power numbers go up in home runs, doubles, and triples.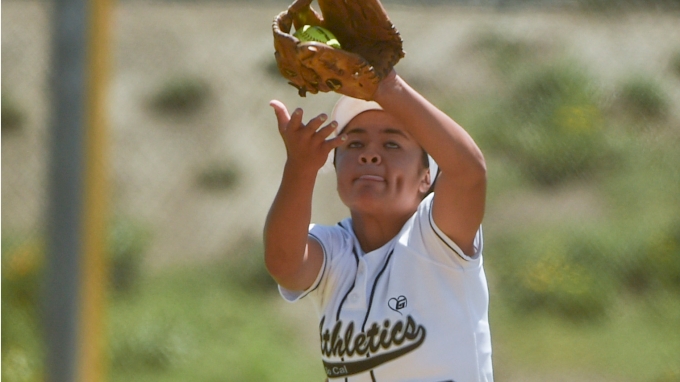 She's driving the ball farther with her power slap and stand-ins. As the starting shortstop for Great Oak High School, she batted .455 with 10 doubles, 3 triples and turned it up in CIF playoffs batting .545. She was named to the All-League following the season. Lilio has been playing up her entire softball career and has the IQ and ability to play under pressure under wraps.
3 | Lexie Delbrey, P | EC Bullets - Biele/Heath
There's a reason why SEC schools are showing up to Lexie Delbrey's high school games this fall. She is quite possibly the next big ace to come out of the 2021 class. The 5-foot-8 flamethrower put together an incredible freshman season finishing the year with a 0.85 ERA, 206 strikeouts and an opponents batting average of .115.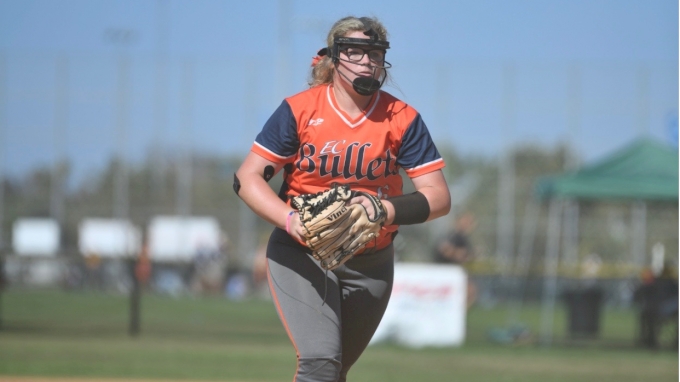 Consistently throwing between 64-68 mph in games and has been clocked at 70 already. When you stand behind the backstop to watch her throw, the ball has tremendous late break. At PGF, Delbrey pitched 31 innings with 69 strikeouts. How do you like that strikeout ratio?
2 | Lair Beautae, SS | Corona Angels - Slye (Tennesee)
One opposing club coach described Beautae as an "Incredible top-tier athlete." She finished the summer in the best way possible by winning the PGF 14U Premier National Championship. In the seven games she played at PGF, the Corona Angels were undefeated beating top-ranked opponents Batbusters-Campbell, Athletics Mercado/Greg, and Sorcerer - Schroll. Beaute also stole 16 bases in those seven games batting well over .600.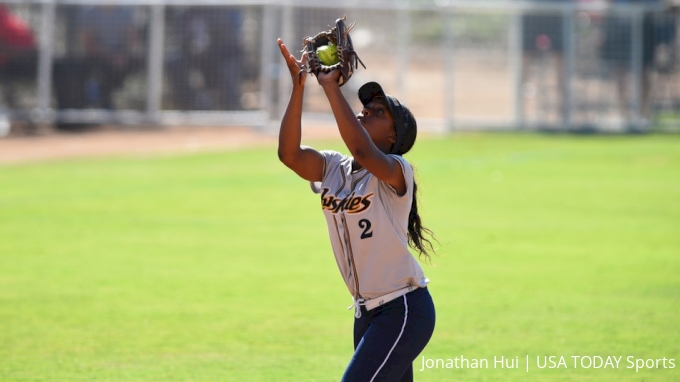 High school play was not different. She went on to have a monster season at JW North High School hitting .643 with 13 doubles, 5 triples, 5 home runs, and 33 stolen bases. Beautae led her team to their first CIF-Southern Section final game. The sky is the limit for Beautae who possesses all the tools to become a future All-American at Tennessee.
1 | Kinsey Fiedler, SS | DeMarini Aces (Missouri)
The #1 2021 Hot 100 recruit almost chose a career in dance or soccer over softball but decided to give softball a try. The shortstop from Lee's Summit, Missouri burst on the scene as former Mizzou Coach Ehren Earleywine's most prized recruit. Playing behind Hot 100 pitcher Mac Morgan, Fiedler caught the attention of many onlooking college coaches who watched 16U team. She swings lefty hitting .534 while blasting 16 home runs and was listed as the leading RBI producer for the DeMarini Aces. As impressive as her numbers are offensively she truly shines at shortstop.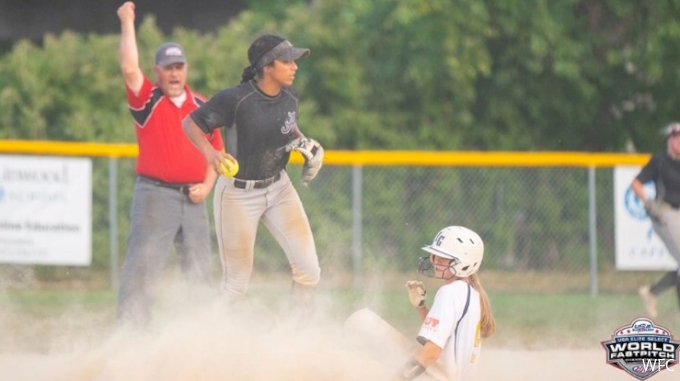 Her ability to read the ball off the bat and use her athleticism to get to the ball are unrivaled. Several high-level programs said she could step in and make an impact for them immediately. Fiedler's leadership qualities and willingness to learn challenge her game make her possibilities endless. "She is just an unbelievable athlete. She has got things you can't teach as far as size, speed, and strength," Aces coach Ryan Taylor said. "A lot of times you get players with one of those tools, but she is gifted with all of them. I have coached All-Americans before, but she is the best athlete overall that I've had." Her overall game helped the Aces to a 5th place finish at PGF 16U Premier, 5th at World Fastpitch Championship, and 2nd at the Tulsa Elite Invite.