By Hailey Hudson @haileyh412
Imagine a young wide-eyed Meghan Beaubien holding her Cat Osterman glove—it's purple with Osterman's name branded on the side. Osterman, arguably one of the greatest pitchers to ever pitch was the tall legendary lefty from the University of Texas who won two Olympic medals and set numerous NCAA pitching records. She unknowingly inspired a little lefty from Newport, Michigan that would one day become Big Ten Pitcher of the Year and Freshman of the Year.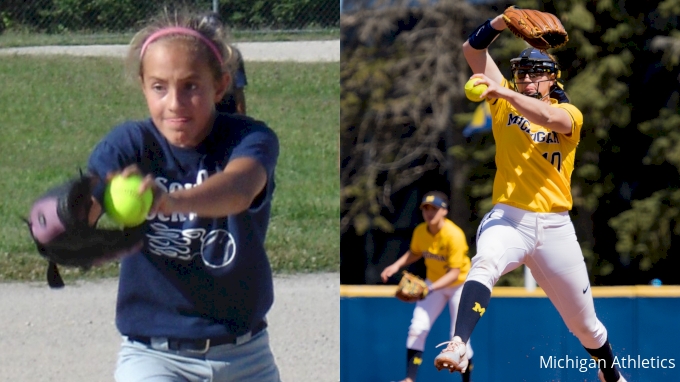 As a kid, Beaubien already knew that one day she wanted to be "really really really good, just like Cat."
The now-sophomore at the University of Michigan, Beaubien is known for her deceptive changeup. She's been perfecting it for several years—it was the second pitch she ever learned.
"Throughout middle school, I kind of messed around with a few different ways of throwing it and never really got it to click," she said. But when Beaubien was in eighth grade, she began working with Nikki Cortis, a former Michigan softball pitcher. "She simplified it for me," Beaubien said. "I really started to throw it well then."
Pressure
By high school, her changeup was ready—but her freshman season ended up being a struggle.
"I committed [to Michigan] in December of my freshman year, so I was already committed by the time I started playing for my high school. I had a lot of trouble," she said. "I felt a lot of pressure to be really, really, really good in high school because everyone knew I was already committed to Michigan, so I think I put a lot of unnecessary pressure on myself to throw perfect games all the time and strike everyone out, which isn't realistic."
Beaubien struggled mentally early in her high school season but finally found the key. Instead of obsessing about what other people thought of her games, she looked inward.
"I wasn't pitching to make other people in the area happy. I was just making myself better for Michigan"
Beaubien went on to win the 16U PGF Premier National Championship and was named 2017 Michigan Gatorade Player of the Year.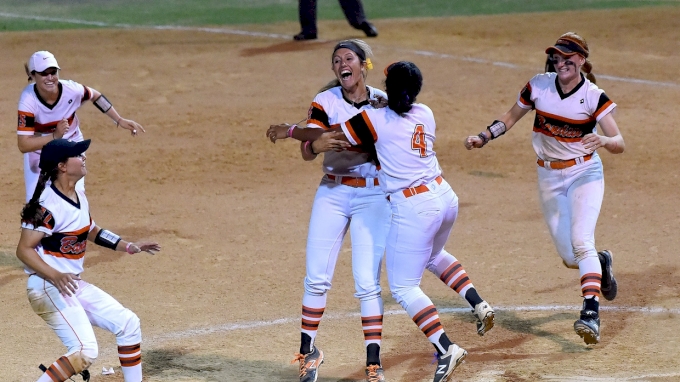 Before she knew it, she was on campus at the University of Michigan. For some players, the transition from high school or club ball to college can be a struggle.
Level Up
"It's different—you know, everything is different when you get to college. The pace of the game, the level of the players you're playing against," Beaubien explained. But she didn't seem too fazed by her new life at Michigan. The one thing she didn't expect was how organized everything was.
"Everything runs so smoothly and practices are smooth, they're efficient," she said. "It's just a really well-run system and I feel like that kind of structure was definitely new for me."
At the beginning of Beaubien's freshman year, assistant coach Jen Brundage thought Beaubien was capable of being a great pitcher right away, but she tried not to rush things. "With freshmen, you never know for sure how they'll handle the big stage until they're out there," Brundage said.
But the structure and efficient practices worked. Beaubien handled the big stage just fine. During her freshman year, she recorded 33 wins (leading the nation) and was named both the Big Ten Pitcher of the Year and the Big Ten Freshman of the Year.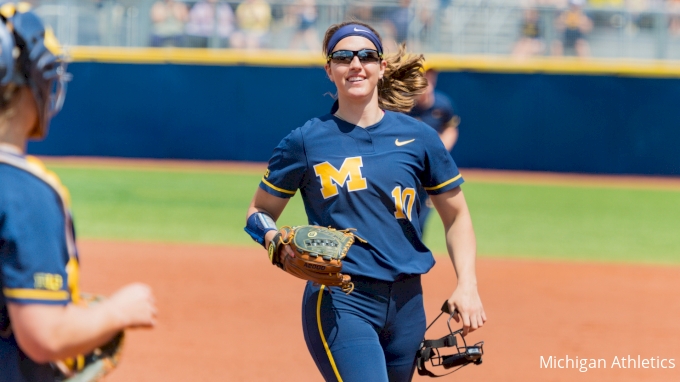 Going into her sophomore year, it could be easy for Beaubien to fall prey to the same pressure she felt in high school—the expectation to be "really really really good." But so far, that hasn't happened. Beaubien's high school struggles allowed her to hone her mental game, and now she's prepared.
"I think it just depends on what you focus on mentally," she says. "You can choose to focus on, oh my gosh, I had a good year and I need to do it again. But I think I have my mind in a good place—I'm just working on things that I want to get better at."
"If I put in this work, I don't need to put a ton of pressure on myself to have a super successful year. If I put in this work, it'll work out. I just gotta do what I do every day."
"Like with most sophomores, we have seen a lot of growth in [Beaubien's] maturity since her freshman year," Brundage added. "She understands what it takes to play at this level and how to slow the game down when she needs to."
What You Didn't Know
Mentally, Beaubien is focusing on staying in a good place. She makes time for things she enjoys—like bingeing The Office on Netflix and eating chocolate peanut butter ice cream.
"I'm a big fan of peanut butter," she laughed.
And the coaching staff at Michigan is a huge part of the reason she's so relaxed and feels well prepared for the upcoming year. Beaubien can't say enough about her experience so far playing for Hutch, Bonnie, and Brundage.
"The staff is just amazing. They make me better every day," she said. "Hutch is just genuinely an amazing person to be around. I work with Jen a lot, for pitching, and she's fantastic. She's very creative with her workouts and she finds new ways to challenge me."
When asked about the best advice Hutch has given her in the past year, Beaubien had a quick answer. Before a big game against Ohio State, the team was amped up, but Hutch reminded Beaubien that ultimately this was just another Big Ten game.
Hutch's Words of Wisdom
"I think it's easy to make softball games, or certain events coming up in your life, bigger than they actually are in the long run," Beaubien said. "So [Hutch] talks a lot about being present and not letting unnecessary pressure get to you—just taking a step back and understanding the big picture. She has a lot of wisdom that not only applies to softball but also applies to your whole life."
Hutch is an intense coach, and she's made Beaubien better. But there's a side of Michigan's head coach that most people don't see.
"This is funny: she likes to try out modern dance moves. It's really entertaining," Beaubien laughed. "I don't think a lot of people who watch games or follow Michigan softball ever really see that side. She always has this, like, not scary—well, maybe scary—just this really intense look on her face. But she can be very funny."
Beaubien herself is the same way. There's a hidden side of her that some Michigan fans might not know about.
"While Meghan is a fierce competitor on the field, she's incredibly kind and humble off the field," Brundage added.
Michigan fans are excited to see Beaubien back in the circle this year, and Beaubien is excited to get there. She's working hard every day to get to where she needs to be.
"Meghan understands that as a team, we fell short of our goals last year, so if anything, she is more motivated than ever to do her part to improve and help this team reach our goals," Brundage said.
And if she does that, both Beaubien and Michigan will be really really really good.