2019 14U PGF Premier Nationals
Tennessee Mojo 2023 Are All About The Kids
Tennessee Mojo 2023 Are All About The Kids
Michael Danley shares how Tennessee Mojo 2023 came to be and where they plan to go in the future.
Oct 17, 2018
by Chez Sievers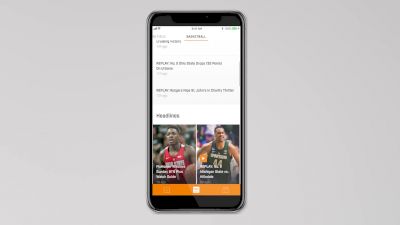 Michael Danley took over the Tennessee Mojo in the fall of 2015 and have won a PGF 10U & 12U National Championship and a USAES WFC title.
Based out of Cookeville, Tennessee, their players come from all over the country from Tennessee, Florida, Oklahoma, Georgia, Ohio, and Texas.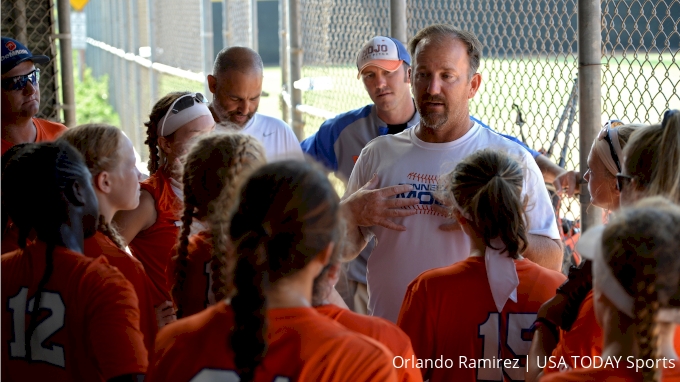 What was the purpose of creating the team (showcase players, win titles, develop skills, etc.)?
We wanted to get the best quality of athletes together on one team with a common goal to be the best player they can be. Putting the kids first is our priority and as an organization. We want to compete at the highest level whether it is at a showcase, a tournament, or chasing a National Championship.
What makes the organization unique?
We don't practice together as a team or maybe once if we get together before a tournament, which didn't happen this past year. The girls know what is expected of them and what they have to do to be successful for us. I believe it is a great lesson in growing as a player because once they're in college, parents are not there to hold their hands to work or be able to take them to practice for work. I believe we are getting them prepared to compete at the highest level and will know how to work once there.
What's your softball background and how did you get to the point of leading the team?
I played baseball through college and then three years in a professional independent baseball league. Softball was introduced when I had nothing but daughters. We started in rec and I coached as most dads do. As my kids skill level improved, we started looking for more options to challenge them. My youngest fell in love with the game and we kept looking for more challenging programs out there. Brooks Cherry talked me into coaching the Mojo 2023 team in 2015 and have been loving it ever since. There are now 12 teams in the organization.
I believe it's the big picture. We have played all over the country trying to challenge our girls against the best teams in the country. We have played from California to North Carolina and many states in between and I believe that's where the success comes from.
What is your primary focus or goal with this team?
I try to teach them the game within the game. Everyone has hitting, pitching, and fielding coaches. So, I want them to be mentally tough. Understanding why we do things, instead of doing it just because we say so. My goal as a coach is to lead them in a positive way. Love the game, have fun, and enjoy what you do.
If there is one thing you would say that separates you from other club programs, what would it be?
We are kids first. We don't threaten them with playing time. We don't box them in a position. We don't restrict them from playing pick up games with other teams. We believe, if you like it better somewhere else that's where you need to be. I have had kids leave to go somewhere else, maybe for location, money, job, or just another team. I have no ill will because of that. I made a call to a coach for a young lady that played for me a few years ago that doesn't anymore. She got an opportunity to go to a school because of that call. There is no need to be bitter.
I heard a call between Brooks and one of his girls where she was going to another team. It was sincere and he wished her the best and if it doesn't work out give me a call to see what we can do. We want the kids to be successful regardless of where they play.
Jami Cherry (Brooks wife) took what we are doing in the softball world and she has started a Mojo volleyball travel team that is in its second year. They are growing in teams and numbers and already competing with some of the best teams around.
Meet Tennessee Mojo 2023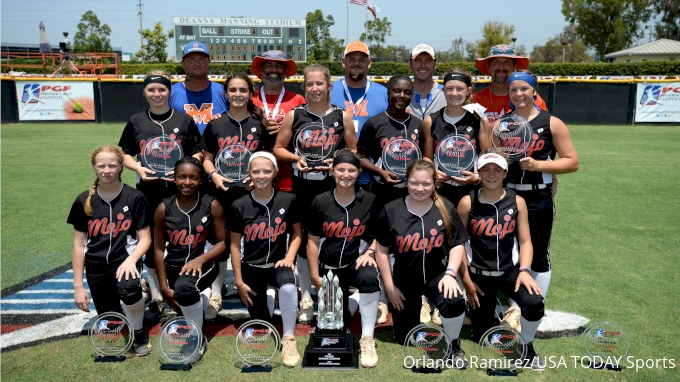 #00 | Karissa Fiegener, C | 2023
Karissa comes from Oklahoma and this will be the first season with Mojo. She will be a defensive force behind the plate that will help control the running game. She also swings the bat very well and will likely fill a role in the middle of our lineup.
#1 | Makayla Huddleston, P\1B | 2023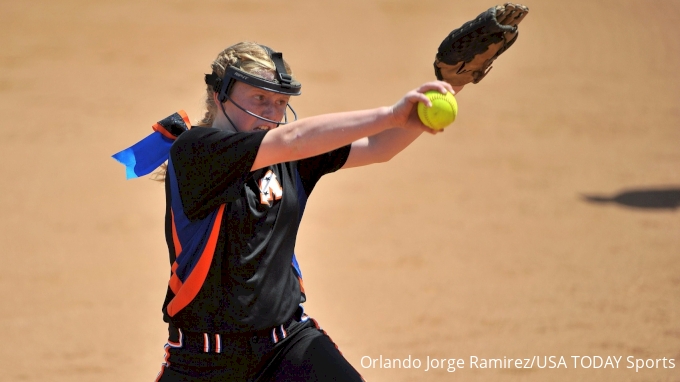 Mack has been a pivotal part of the team from the rubber over the last three years as she was the winning pitcher in 2016 PGF National Championship game. She pitches with control and throws in the upper 50s. She possesses one of the best changeups in her class. Over the last three years, she has worked extremely hard on her hitting and now she has been batting fourth and playing a very good first base when not on the rubber.
#2 | Blair Cherry, C\UT | 2023
Blair is that kid that has that wherever you need me put me in coach mentality. She has played catcher, first, third, outfield and I think she would pitch if we needed her to. Her knowledge of the game is amazing and above average. She will bring depth behind the plate and wherever she is needed. Blair hits with a purpose and knows the situation to move runners or get the bunt down.
#3 | Jace Jackson, 2B\SS | 2023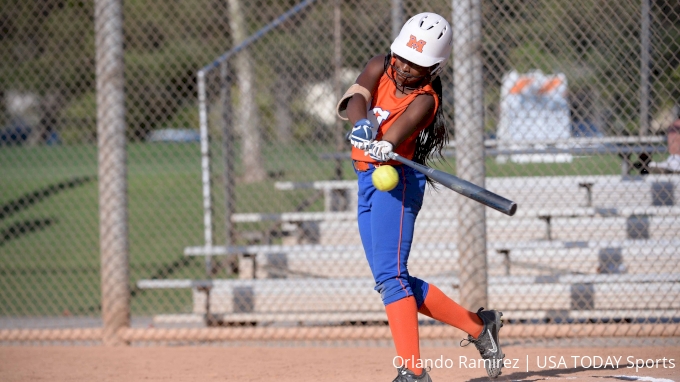 Jace plays second base with incredible range from behind first to up the middle. She runs a sub 3.0 to 1st from the left side and will hit in the leadoff spot to get the offense going. From a power slap to laying the bunt down, she finds a way to get on base.
#4 | Kiley Strott, C\UT | 2023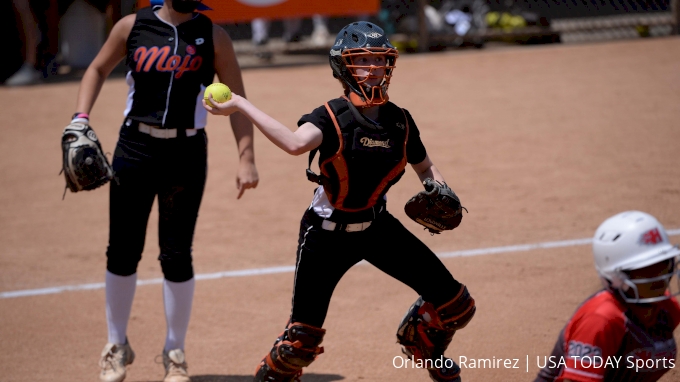 Kiley will take the role of catcher or outfielder. She has become a force behind the plate whether it's blocking the ball or throwing runners out attempting to steal. She worked on her swing during the offseason to shorten it up and it's paying off. Expect her to hit for power in the middle of the order.
#11 | Ashtyn Danley, P\OF | 2023 (Florida State)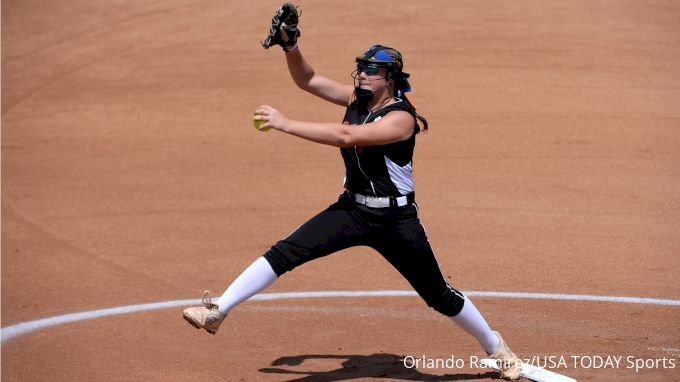 Ashtyn brings power from the mound and the plate. She will have a huge roll toeing the rubber throwing in the 60 mph range with a very good changeup. She was the winning pitcher in the 2018 PGF National Championship game. When not pitching, she will roam in the outfield and play some first base. Ashstyn will hit in the two or three hole on the team and has some power to hit the long ball.
#12 | Delacia Deleslin, OF | 2023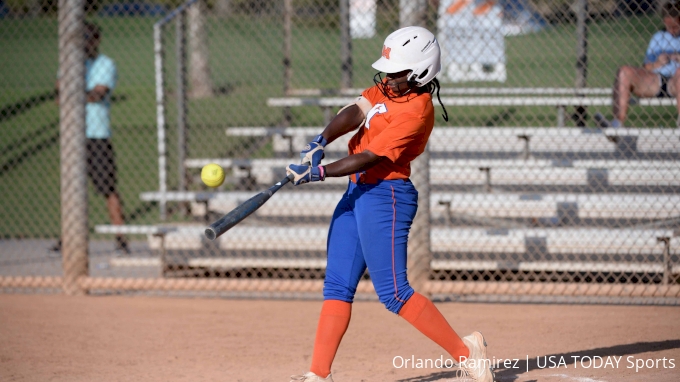 Lacia is an up and coming force in the lineup. Switching from the right side to the left because of her speed has proven to be a great move. She runs a sub 3 to first base, but also has great hands and hits with power from the left. In the outfield, she is improving on running down the fly ball in the outfield. As one of the top hitters on the team last season, expect her to continue to thrive on offense.
#15 | Kaitlyn Sailor, 3B | 2023
Kaitlyn has learned a new position moving from shortstop to play third base. She worked her tail off and it has been proven to be a great move. Her defense has been solid and has only scratched the surface of her potential. She swings the bat well and will be a solid bat in the middle of the order.
#21 | Ana Roman, OF | 2025
Ana is the only 06 on team, but brings so much talent to the field. One of the best arms for her age, she plays the outfield very well and can throw runners out trying to take an extra base. She swings the bat very well and will hit in the two hole. Age is just a number and expecting big things from her this year.
#22 | Brenlee Gonzales, P\OF | 2023
Brenlee comes to Mojo for the first time this fall. She will help bring depth to our already strong staff. Throwing from the left side throwing in the upper 50s, she will be ready to throw in the big games. When not pitching, she will play in the outfield and swing the bat from the left side.
#26 | Rose Davis, SS | 2023
Rose is a solid shortstop with a great glove and very good arm to throw runners out from deep in the hole as she proved in the PGF game. She will hit in the middle of the order but don't let her size fool you. She's known for hitting deep shots to the outfield. Rose is a beast and will fill a big role in the infield and on offense.
#27 | Emilee Hawkes, C\OF | 2023
Emilee will work behind the plate and will work harder than any other kid on the team. Her work ethic will bring success this year. She hits with power from the right side and will do her job hitting behind the runners to score or to just move them over. Emilee can definitely hit the long ball if pitchers aren't careful.