Unlock this article, live events, and more with a subscription!
Get Started
Already a subscriber? Log In
By Hailey Hudson @haileyh412
---
From Sioux Falls, South Dakota, Grace Glanzer rocked the club softball world when she hurled the South Dakota Renegades to the PGF 16U Premier Championship game.
At the time Glanzer was the only player verbally committed on the Renegades. The unranked Renegades were set to face the No. 2 ranked Beverly Bandits loaded with verbal commits to Michigan, Oregon, Northwestern and more.
Unfazed by the David and Goliath matchup, Glanzer had all the confidence in the world upsetting the No. 1 ranked Birmingham Thunderbolts the semifinals. She held the Bandits to three runs but eventually that was enough to secure a championship for the orange and black.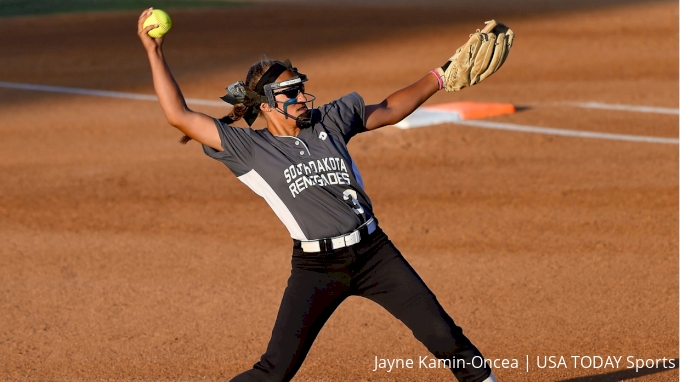 Her ability to give is Glanzer's greatest strength. Giving her time, effort, and dedication to softball and to her teammates is what makes her so special. Her drive to overcome the odds and change the narrative of South Dakota softball is a gift to the future softball players of the Mount Rushmore state.
A pitcher and third baseman, Glanzer is the top player to come out of her state. She's a spin pitcher with a solid work ethic and an even better mental game, saying she's good at "going out and getting it." Glanzer also works hard to be a leader on the field, both verbally and by example.
And if Glanzer isn't at the field for herself, she's there for somebody else. She's a pitching coach for a younger Renegades team, and she loves it; it's another way she can lead by example. "My coach thought I'd be good at it," she said. "It was kind of rough at first, but I loved it."
South Dakota State will be Glanzer's home after she graduates high school in 2019. "I'm super excited to go," she says. She was one of the most highly recruited girls in the state, and she settled on South Dakota State primarily because of the coaching staff. "They've had some new coaching staff within the recent years, and I loved [them] from the beginning."
Glanzer's state has shaped her as a player and a person—younger players in South Dakota look up to Glanzer, holding her as a role model. And now she's looking forward to continuing her career at South Dakota State, unique story and all. Glanzer's dominant pitching, strong work ethic, and leadership skills are setting her up for success.
"I want to be playing at the best level there is," Glanzer says.
And she is.
Grace Glanzer
Position: Pitcher/Third Base
Club team: South Dakota Renegades
High school: Roosevelt
State: South Dakota
Grad year: 2019
College: South Dakota State
When and how did you start playing softball?
I had a family friend who was in this program called the Diamonds, and she was a role model to me. I always played because it was a thing your parents usually put you into when you're young, but I really got started when I joined the Diamonds because of her.
Who was your favorite softball player to watch when you were little?
As I got older, I started watching the World Series and Super Regionals. I wanted to be like them, I wanted to be on TV, I wanted to be playing at the best level there is. So it wasn't one single player, but just seeing all the colleges on TV made me want to be at that level.
You didn't play high school softball until this year. Why not? How was the experience different from club ball?
Usually, in the fall our Renegades team would go play tournaments since our school doesn't allow both at the same time. I chose to go with travel ball. Then last year, since we lost a bunch of the college girls, we really didn't have anything to do so we decided to play for our senior year. It's a little different from practices and games, but it's always a good thing to see different coaching and play with new people. The competition has actually gotten so much better with school ball from what I remember watching years ago; all the teams were pretty level competition wise, so that was fun.
Lots of people say you're a great leader on the field—is that something that comes naturally to you, or something you've had to work at?
When we were younger, our coach had us do leadership training. Leadership by example came naturally to me. But verbally leading, that was a little bit of a struggle for me—and still is, in fact. Trying to get my message across by motivating and not putting people down is the hardest part.
Talk about your development as a pitcher. What do you feel your strengths are?
When I started on Renegades, I was pretty even with a bunch of pitchers. The hitting got better as we got older, obviously, and that's made me better. I was able to pitch against some of my own teammates, who are some of the best hitters I've seen, and that makes me get better—so I've got to give credit to them. For my strengths, I'd say physically I'm more of a spin pitcher. I don't rely on my speed as much, which can be a good thing. Mentally, I have good strengths with knowing what I have to do. I'm very determined to get the results that I want. But I do have weaknesses as well. I'm very hard on myself. It's hard as a pitcher. There's so much pressure on you, even though it might not be your fault all the time—there are good hitters, they're going to hit off you. That pressure sometimes gets too much for me, so I need to find a way to get that under control.
How did you start coaching?
My coach asked me a couple of years ago if I would be interested in coaching in the summer. I tried last year and I loved it. It was a new experience so it was kind of a rough year at first, but it came naturally in a way. I've been giving pitching lessons for three or four years now, so now I'm a pitching coach for the smaller Renegades, and that's fun.
A lot of players in South Dakota look up to you—how does that make you feel?
It makes me feel famous, in a way. But I don't really like that feeling; it's just so much pressure. During club softball, it was like, is she the player that we thought? There are other players that are just as good.
What are a few favorite memories from club ball?
Definitely PGF Nationals in 2016, when we got runner-up. That, and we took a lot of van rides. A lot of memories weren't necessarily softball-related; they were more with the team.
Do you have any superstitions or rituals on the field?
I always have to re-tuck everything in, redo my hair, pull up my socks all the way, re-tie my shoes. I'm that type of person.
Describe yourself on the field in one word, and off the field in one word.
I'm quite opposite on and off the field. On the field, I'm very composed, and then off the field, I'm pretty outgoing.
What's a challenge you've had in your softball career, and how did you overcome it?
My size. I'm only about 5'3", so it's hard. Obviously height and size matter with sports; you can hit farther, you can hit harder, you can throw harder. I have to find ways to use my full body in order to pitch the ball as hard as other people do. My coach has really focused on my snap, and that's something I can control. Like I said, I'm more of a spin pitcher; I don't rely on my speed. So even though I'm smaller than some pitchers, I'm able to use other types of pitching.
What's the best piece of advice anyone has ever given you?
My coach has made me into the player and person I am today. Through this program, he's taught me a lot of different life lessons. But my favorite quote—he always said it when we were younger, and I still hear it now—"they never said it would be easy, they just said it would be worth it." He would say that over and over again. Some of us were at practice four to five days a week, in the heat, in humidity. I was there from eight to three. And that's a long time, but we knew that's what it took to be able to compete at the level we want to.
What made you decide to commit to South Dakota State?
A lot of things! Mainly the coaches; I loved the coaches from the beginning. Their coaches are just so invested in the program and knowledgeable about what they're talking about. The atmosphere of the town and campus, it's a good distance from home for me, and the program has gotten so much better within the last couple of years.
Looking ahead to college softball, what are you most excited about?
Definitely the girls. I'm super excited to make new friendships and play with new people.
After softball and school, what do you see yourself doing?
I originally thought I wanted to be a surgeon, but I don't know. Recently I've kind of steered away from that, and part of me wants to be a college coach now. I'm not too sure, but I have time.
Favorite meal? Favorite Halloween candy?
That's a tough one. Probably tacos and Reese's peanut butter cups.