Next In 2019 Hot 100 Rankings 101-200
Next In 2019 Hot 100 Rankings 101-200
These next 100 players can easily make the 2019 Hot 100. Stacked with Championships, here are the 101-200 rankings.
Nov 28, 2018
by Chez Sievers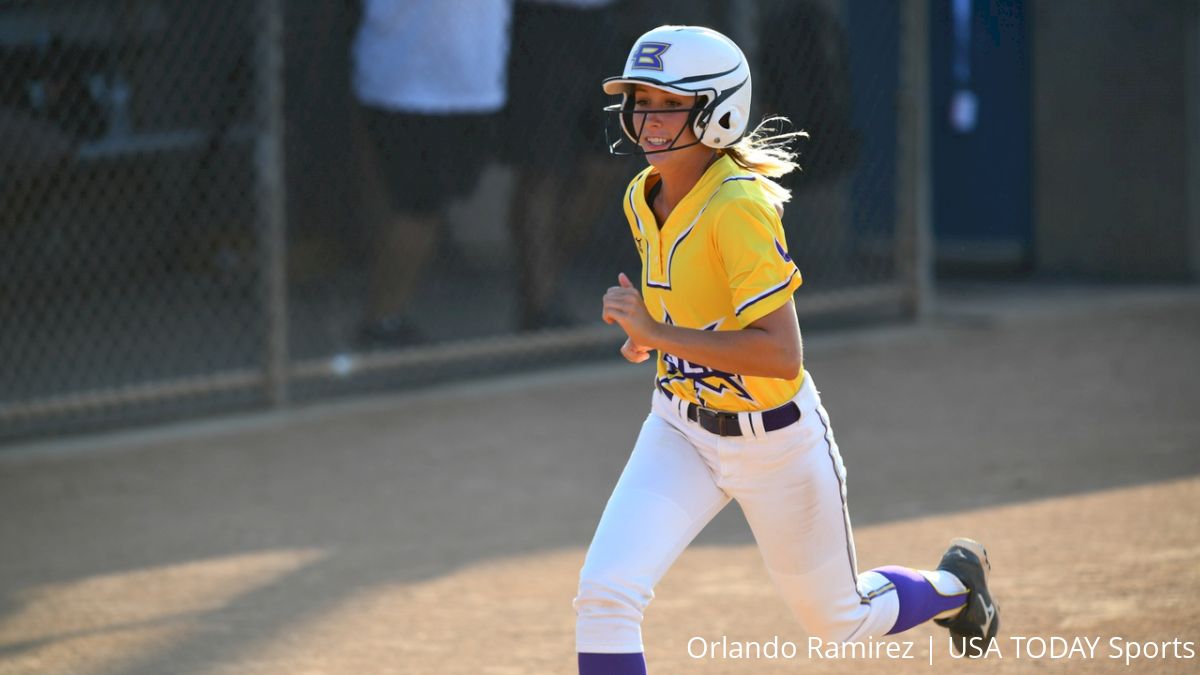 Unlock this article, live events, and more with a subscription!
Get Started
Already a subscriber? Log In
These next 100 athletes could easily climb up into the Hot 100 and that's why we're recognizing their talent in the 101-200 rankings.
From PGF titles to High School State titles, these athletes are going to be impact players at the Division I level.
| | | | | | |
| --- | --- | --- | --- | --- | --- |
| Rank | First Name | Last Name | Pos | Club | University |
| 101 | Carlee | McCondichie | MIF/OF | Birmingham Thunderbolts | Auburn |
| 102 | Janessa | Jasso | P | OC Batbusters - Clark | Iowa State |
| 103 | Elana | Ornelas | SS | Indiana Magic Gold | Louisville |
| 104 | Alesia | Denby | IF | Firecrackers - Brashear | Fresno State |
| 105 | KK | Dismukes | P | Georgia Elite | Auburn |
| 106 | Hope | Alley | IF | Sorcerer - Old Skool | Pitt |
| 107 | Jaelyn | Operana | OF/P | Firecrackers - Brashear | Tennessee |
| 108 | Gracie | Huff | CF | Batts | Northwestern |
| 109 | Bella | Rocco | 3B/1B | Corona Angels | Boise State |
| 110 | Laura | Bishop | P/1B | GA Power DeMarini Gold | Georgia |
| 111 | Brylie | St. Clair | OF | Birmingham Thunderbolts | Mississippi State |
| 112 | Taylor | Fawcett | OF | Firecrackers AZ | Louisiana |
| 113 | Madisyn | Davis | P | Jacksonville Storm - Davis | Central Florida |
| 113 | Morgan | Murphy | P | Orion Hunter Teal | Virginia |
| 114 | Tianna | Williams | 2B/SS | AZ Bombers Gold - Velasco | Fresno State |
| 115 | Brianna | Aranzeta | IF/UT | Impact Gold | Texas Tech |
| 116 | Brooke | Sudduth | P | Frost Falcons | Tennessee Chattanooga |
| 117 | Kate | Rehberg | P | Nebraska Gold | Michigan |
| 118 | Aquana | Brownlee | SS/2B | AL Sparks Elite-Stewart | Mississippi State |
| 119 | Lindsey | Garcia | SS/OF | Gold Coast Hurricanes | Auburn |
| 120 | Tiare | LaPorte | C | Batbusters - Lara | Hawaii |
| 121 | Bradianne | Glover | OF | Sorcerer - Gabales | Arizona State |
| 122 | Sloan | Gayan | P | Beverly Bandits | Kentucky |
| 123 | Cait | Calland | C | Texas Bombers Gold | LSU |
| 124 | Lindsay | Poulos | P | So Cal Choppers - Fausett | Villanova |
| 125 | AJ | Alatorre | 3B | Cal Cruisers | Boston College |
| 126 | Baylee | Goddard | 3B | Jacksonville Storm - Davis | Florida |
| 127 | Karla | Hice | C | Huntsville Sparks | Alabama |
| 128 | Neely | Peterson | C | EC Bullets - Schnute | Colorado State |
| 129 | Kayla | Edwards | OF | Athletics Mercado/Smith | West Point |
| 130 | Alia | Logoleo | OF | TN Fury Platinum 19/20 | Clemson |
| 131 | Bailey | Urban | IF/OF | Nebraska Gold | Wichita State |
| 132 | Madison | Garay | P | Impact Gold | Louisiana |
| 133 | Star | Ferguson | C | Impact Gold | Texas A&M |
| 134 | Maddie | Boyd | P | Texas Glory | Oklahoma State |
| 135 | Bryn | Thomas | C | Gainesville Gold McFadyen | Florida |
| 136 | Haleigh | Harper | MIF | KC Peppers - Wallace | Kansas |
| 137 | Sona | Halajian | P | Cal Nuggets | Cal-Berkeley |
| 138 | Anna | Fox | SS/OF | Alabama Sparks Elite | Tennessee |
| 139 | Brianna | Enter | P/OF | Team North Florida | Florida State |
| 140 | Julia | Scardina | C/1B | Sorcerer - Old Skool | Utah |
| 141 | Raylee | Pogue | C/IF | Texas Glory | Oklahoma |
| 142 | Victoria | Abrams | P/MIF | Marucci Patriots | LSU |
| 143 | Chelie | Senini | OF | Sorcerer - Gabales | Fresno State |
| 144 | Kenley | Hawk | P | Lady Lightning Gold - Hannigan | Mississippi State |
| 145 | Hope | Banales | 2B/OF | AZ Desert Thunder | New Mexico State |
| 146 | Desiree | Lewis | SS/3B | Lady Lightning | Mississippi State |
| 147 | Alanna | Thiede | P | OC Batbusters - Stith | Oklahoma |
| 148 | Samantha | Bean | IF/C | Team Mizuno Impulse | Alabama-Birmingham |
| 149 | Matalasi | Faapito | P | Athletics Mercado/Smith | New Mexico State |
| 150 | Madisyn | Kennedy | SS | Birmingham Thunderbolts | Mississippi State |
| 151 | Kyah | Keller-Smith | 1B | Tennessee Fury Platinum | Clemson |
| 152 | Makenna | Nelson | MIF/OF | Lil Saints Gold | Northwestern |
| 153 | Ivory | Jones | 3B/1B | Firecrackers - Sewell | Duke |
| 154 | Gabi | Carra | MIF | Beverly Bandits | Wisconsin |
| 155 | Jaycee | Cook | P | Texas Glory | Alabama-Birmingham |
| 156 | Lexi | Berg | P | So Cal Athletics - Richardson | Georgia |
| 157 | Kathryn | Rex | C/1B | Michigan Finesse 16U | Penn State |
| 158 | Tegan | Cortelletti | 2B/OF | Beverly Bandits - Dorsey | Ohio State |
| 159 | Felise | Collins | IF/OF | East Cobb Bullets - Schnute | Duke |
| 160 | Alex | McManus | P | Intensity KOD | Notre Dame |
| 161 | D'Asha | Saki | MIF | OC Batbusters - Stith | Cal-Berkeley |
| 162 | Karina | Faasisila | P | California Breeze | San Diego State |
| 163 | Kelci | Hill | OF | Athletics Mercado/Tidd | Middle Tennessee State |
| 164 | Madeline | Vejvoda | SS | Nebraska Gold | Creighton |
| 165 | Kaley | Mudge | OF/1B | Hatters Gold | Florida State |
| 166 | Jetta | Nannen | P/3B | Colorado Angels | Hawaii |
| 166 | Hope | Straight | P/1B | Beverly Bandits | Ohio State |
| 167 | Rylea | Smith | OF/UT | St. Louis Chaos | Kentucky |
| 167 | Jordan | Van Hook | OF | Bownet - Menifee | Arizona State |
| 168 | Kaylee | Erickson | C/SS | Firecrackers AZ | BYU |
| 169 | Haley | Morgan | UT | Texas Glory | Tulsa |
| 170 | Atalia | Quenga | SS/3B | CA Suncats | UNLV |
| 171 | Ashley | Whitley | SS/3B | Georgia Force - Rubio | Virginia Tech |
| 172 | Shelby | Frutoz | P | California Grapettes | Long Beach State |
| 173 | Emily | Tinkham | 1B | So Cal Choppers - Fausett | Ohio State |
| 174 | Jordan | Fields | 1B/UT | Georgia Impact | Georgia |
| 174 | Huntyr | Ava | 1B | Cal Cruisers | BYU |
| 175 | Hannah | Kumiyama | 3B/P | East Cobb Bullets Gold - Caymol | South Carolina |
| 176 | Abby | McKeowen | P | Scrap Yard Internationals | Texas-Arlington |
| 177 | Aleia | Agbayani | 1B/OF | OC Batbusters | Cal-Berkeley |
| 178 | Caroline | Davis | 1B | EC Bullets - Schnute | Georgia Tech |
| 179 | Sarah | Ladd | P | Firecrackers Rico/Weil | Michigan State |
| 180 | Kaitlyn | Morrison | SS | Ohio Outlaws | Penn State |
| 181 | Savannah | Woodard | SS/2B | Birmingham Thunderbolts | Alabama |
| 182 | Sydney | Hebert | CI | Scrap Yard Internationals | Louisiana |
| 183 | Farrah | Steffany | P/UT | OC Batbusters - Stith | |
| 184 | Anna Kate | Hazlewood | P/1B | Huntsville Sparks | Tennessee |
| 185 | Victoria | Sebastian | P/1B | Batbusters - Fry | Villanova |
| 186 | Jenna | Servi | IF | Corona Angels | Louisville |
| 187 | Nia | Carter | IF | Corona Angels | Iowa |
| 188 | Amanda | Desario | OF | Texas Glory | Texas Tech |
| 188 | Emmie | Farnam | OF | Illinois Chill | Northwestern |
| 189 | Columbia | Holeman | CF | Impact Gold MS-Holeman | Indiana |
| 190 | Mary Beth | Feldman | P | Florida Impact | Utah |
| 191 | Tessa | Magnanimo | P | Corona Angels | Wisconsin |
| 192 | Brittni | Rufus | MIF/OF | Texas Glory | Louisiana |
| 193 | Abby | Sciara | MIF/OF | Top Gun Academy | Missouri-Kansas City |
| 194 | Delaney | Rummell | SS/3B | Illinois Chill | Illinois |
| 195 | Camryn | McLemore | SS | Impact Gold MS-Holeman | South Alabama |
| 196 | Maia | Engelkes | IF | South Dakota Renegades | Auburn |
| 197 | Taylor | Bachmeyer | P/1B | Texas Blaze | Ole Miss |
| 197 | Jordan | Weber | P | Select Fastpitch | Missouri |
| 198 | Celeste | Soliz | C/OF | East Cobb Bullets Gold - Caymol | Arizona State |
| 198 | Kaitlyn | Clapper | C/1B | Illinois Chill | Indiana |
| 199 | Madison | Perry | SS/3B | EC Bullets - Schnute | Kennesaw State |
| 199 | Rachel | Sabourin | SS/OF | Colorado Angels | Hawaii |
| 199 | Caraline | Woodall | OF | Texas Glory | Indiana |
| 200 | Gabi | Robles | 2B/OF | Illinois Chill | Illinois |