2019 16U PGF Premier Nationals
Millie Roberts Power At The Plate On Display At Auburn Camp
Millie Roberts Power At The Plate On Display At Auburn Camp
No. 14 recruit 2022 Auburn-commit Millie Roberts' power was on display at the Auburn Winter Camp among other commits.
Jan 10, 2019
by Philip Belfield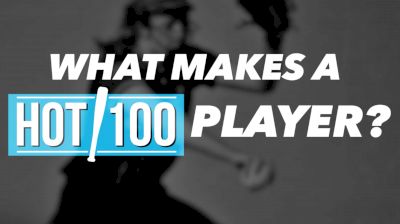 As many college softball programs around the country are wrapping up their winter camp opportunities, we recognized there was no shortage of talent at the recent Mickey Dean Softball Camp, in Auburn, Alabama.
There was an abundance of FloSoftball's Hot 100 players present. 2021s, (#5) Aubrey Barnhardt, (#24) Jessie Blaine put on a hitting show, while 2022 (#10) Taylor Pannell and 2021 (#72) Cayden Baker flashed consistent glove work. Speedsters, 2021, (#43) Abbey Smith and (2022), (#88) Kaylyn Belfield blazed the base paths in the home to home competition, while 2020 (#9) Maddie Penta and 2021 (#127) Keri Munn looked imposing during the pitching sessions. Oh, and how about Penta in the base running session? Lookout, she is an elite pitcher that can fly on the bases as well.
But, it was 2022, (#14) Millie Roberts from the Beverly Bandits that had everyone at Jane B. Moore stadium talking. Roberts hit numerous home runs over the safety net in left-center along with one monster shot off the top of the Auburn softball scoreboard. But it was the sheer number of home runs that easily left the park that is 220 feet in centerfield with a 12-foot wall all the way around. Robert's power was on full display from the hitting session that included front toss but she was also hitting home runs easily off a standing tee from home plate. We caught up with talented third baseman/catcher after the camp to learn a little more about her, where her power comes from and what is ahead for her over the next year.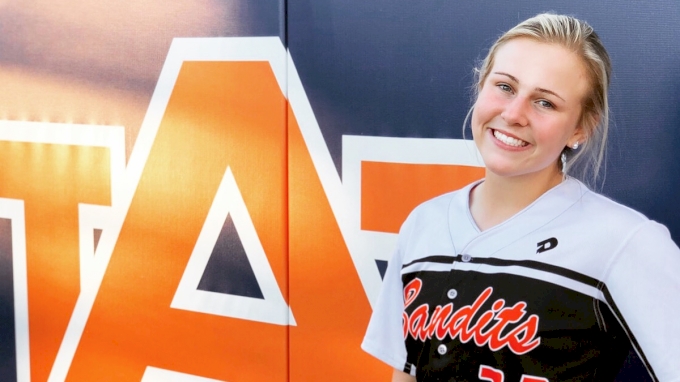 At what point did you know Auburn was the place for you?
I committed to Auburn on January 9th, 2018 as an 8th grader.
It has always been my dream to play ball at Auburn. I knew that Auburn was the place for me when I came to the winter camp in 2017. I fell in love with the campus, the coaching staff, and the overall environment of the program.
Who is your hitting coach and tell us about your practice time?
My current hitting coach is Shannon Peyton. Recently, we have been working on my pitch selection and critiquing the little things in my swing. Currently, I am playing basketball for my high school. But during the spring, summer, and fall I have hitting lessons once a week and catching lessons once a week. Outside of hitting lessons, I hit four or five days a week. I work out every day. I lift twice a week. I am always doing something to improve my game.
Are there any players you try to emulate or pattern your game after?
I like to watch the big hitters. Some of my favorites are Jocelyn Alo, Amanda Lorenz, and Lauren Chamberlain. They are all such powerful hitters. One of my goals, when I get to college, is to hit as good as or better than them.
What are your goals for the upcoming high school and summer club ball season?
I attend Daviess County High School in Owensboro, Kentucky. In Kentucky, I am eligible to play varsity softball as a 7th grader. So I dressed for varsity in 7th grade and last year, as an 8th grader, I was the starting catcher. I batted 3rd in the lineup and hit 10 home runs. John Biggs, the head coach, is very supportive of my softball aspirations. My goal is to start chipping away at the Kentucky home run records. I also want to go to the state tournament at one point.
I've recently joined the Beverly Bandits Futures Premier Allen 16u. This is the first time that I am playing up with girls a year older than me. My goal for this season is to contribute to my team as best I can, all while preparing for my career at Auburn University.
Keep an eye on Millie Roberts as she chases the Kentucky state record of 75 career home runs and 23 in a season set by Kaylee Tow from Madisonville, Kentucky. Tow, earned second-team All-American honors last season at the University of Alabama while hitting 11 home runs.