2019 18U PGF Premier Nationals
Rising Star: Karina Gaskins Tabbed Future Notre Dame Slugger
Rising Star: Karina Gaskins Tabbed Future Notre Dame Slugger
Karina Gaskins continues to impress at the plate will be a future slugger for Notre Dame.
Jan 15, 2019
by Todd Grasley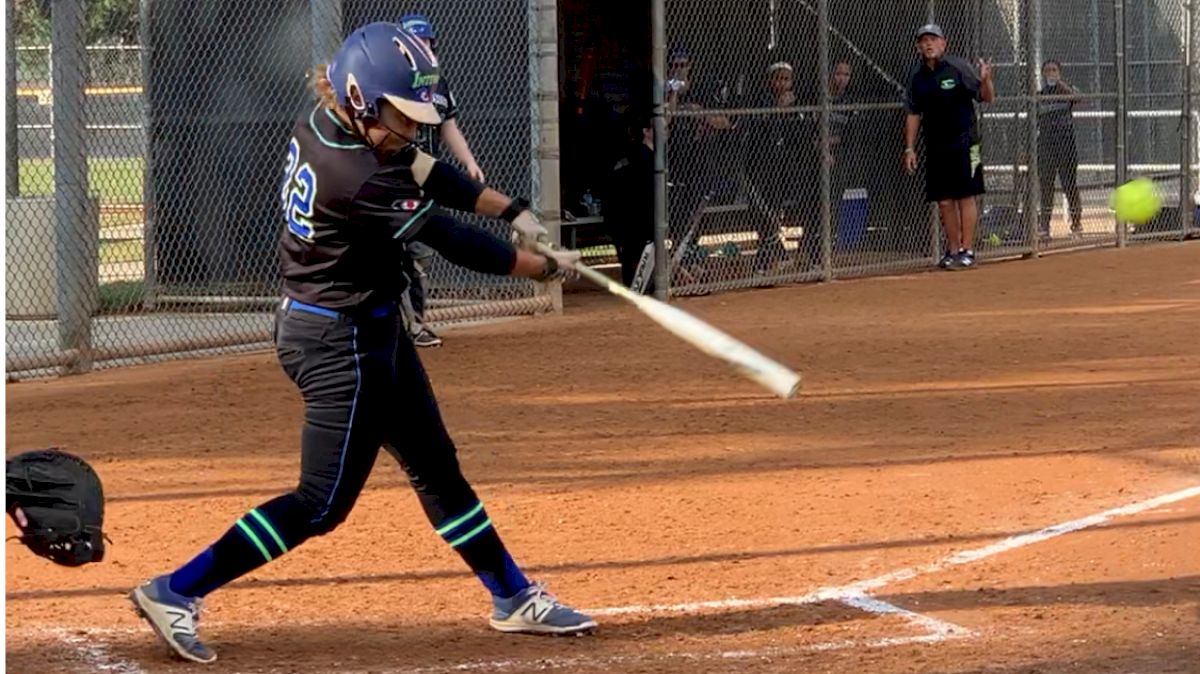 Karina Gaskins can recall crushing softballs as young as nine years old. That's when she met her hitting coach Kathy Hrycyna, a former division one softball player, who has been helping her improve her swing ever since. Fast forward, nearly a decade later and the same story hasn't changed.
As a high school sophomore for Donovan Catholic in New Jersey, she dawned a .602 batting average with 50 hits, 45 runs, 67 RBI's, 10 doubles, 18 home runs, and 14 walks.
"She started with our program on our 14U national team," said her travel ball coach Kevin O'Donnell of the Jersey Intensity. "My first impression was that she's a STUD. She had such an athlete build and power. Her launch angle, bat speed, and exit speed have contributed to her success."
The Road Back
Gaskin's road to success wasn't without obstacles. At the beginning of her high school career and her freshman season, the softball standout tore two ligaments in her ankle. While practicing indoors, she stepped on a plastic home plate, it slid out from under her, while her ankle twisted with all her weight tumbling down on it. She ended up having surgery to repair the damage a week after the injury.
"The road back from any injury is a tough one," she explained. "After surgery, I was in a hard cast and had crutches for a month. I got the cast off I started physical therapy right away. I was able to get back to playing two weeks after while still doing physical therapy. The injury definitely did give me more fire."
The competitor in her wanted to show the softball world that she was just as good after the injury as she was before.
"She set a goal to be back on the field by a certain date," O'Donnell added. "With the continuous physical therapy sessions and passion for the sport, Karina conquered that goal! Her motivation to get back on the field was also energized by watching her teammates play. She wanted to be apart of the game."
Luck of the Irish
While most colleges would jump on board the recruiting train for Gaskin's services after her sophomore season, the process started as a middle schooler for her. When she first came to the Intensity program as a seventh-grader she had offers from Alabama, Georgia, South Carolina, and Notre Dame. In the end, she chose Coach Deanna Gumpf's Fighting Irish squad.
"I chose Notre Dame because I wanted a place that offered me an amazing education and athletic experience," she said. "I've always believed in 4 for 40. You go to college for 4 years and it sets you up for the next 40 years. Notre Dame felt like the best choice for me and I absolutely fell in love with the school, coaches, and atmosphere."
The South Bend school will not only be getting a physical presence in the middle of their lineup but also a corner defender who has played just about every position in the sport. O'Donnell notes that the program is getting a game changer in Gaskins.
"They are getting a high academic student-athlete that is passionate for the game and wants to win a National Championship," he told us. "She's a winner both on and off the field.