What better way to kick off the 2019 season than at the Titan Classic in Fullerton, Calif. February 7-10 LIVE on FloSoftball.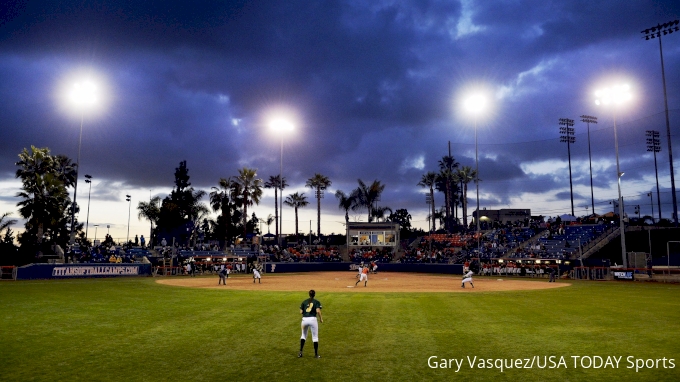 Every year Cal State Fullerton hosts the top preseason tournaments from February through March and the Titan Classic welcomes teams from six different conferences.
What To Watch For
Cal State Fullerton | 2018 Record (35-25)
The Titans of Fullerton are likely to continue their Big West winning streak after capturing three consecutive Big West titles under the guidance of Coach Kelly Ford. Fullerton returns First Team Big West All-Conference Team starters Deshea Hill, Zoe Richard, and Ari Williams. In the bullpen, Second Team Big West All-Conference battery Sophie Frost, Trish Parks, and catcher Julia Valenzuela also return. Coach Ford adds 10 new freshmen on the field that includes two new pitchers Mia Marinakis and Dani Martinez.
Northwestern | 2018 Record (38-19)
The Wildcats are poised for a stellar 2019 season. Returning First Team All-Big Ten players Morgan Nelson and power hitting second baseman Rachel Lewis. Last season, Lewis tallied 64 RBIs with 16 doubles and 17 homers. Nelson added 50 RBIs for the Wildcats with 13 home runs and 11 doubles. Coach Kate Drohan is excited about the freshman class of eight with 2018 Hot 100 standouts Danielle Williams, Nikki Cuchran, Jordyn Rudd, and Skyler Shellmyer. Expect Northwestern to be strong in the circle and well-balanced on offense. Watch Inside Game Day with Northwestern
Louisville | 2018 Record (33-20)
Holly Aprile makes her debut as the Cardinals head coach leaving Pitt after 10 years and finishing the season with ACC Coach of the Year honors. Last season, she led the Panthers to the ACC Coastal Division Title. Changing divisions, Aprile is tasked with building up the Louisville program around key returners Megan Hensley, Sidney Melton, Maddy Newman, and Caitlyn Ferguson.
Loyola Marymount | 2018 Record (34-24-1)
The Lions ended the 2018 season on a high note winning the NISC Championship over UC Riverside. Coach Sami Strinz is expecting another stellar season returning ace Hannah Bandimere and assembling the deepest pitching staff in the West Coast Conference. With six pitchers in the bullpen, the Lions have a chance to make a run at the WCC conference title. On offense, expect Molly Grumbo, Delanie Wisz, and Andrea Gonzalez to set and clear the table.
Idaho State | 2018 Record (13-34)
Coach Candi Letts enters her third season as the Bengals coach after finishing 7th in the Big Sky Conference. Expect Mackenzie Van Sickle to swipe a few bases posting a team-high 14 stolen bases last season. They'll lean on returner Emma Bordenkecher to do more of the heavy lifting on offense.
Pacific | 2018 Record (20-27)
Now in his 27th year as head coach of the Tigers, Brian Kolze is primed to take on the 2019 season. Returning All-WCC players Talli Shepherd, Hailey Reed, and Samantha Young, the Tigers are hoping to climb up the West Coast Conference standings. The Tigers add five newcomers including speedsters Natalie Horton and Carly Lucchetti. Expect Madison Kahwaty and Jessica Mabrey to work their way into the lineup.
Utah State | 2018 Record (18-34)
The Aggies debut one of their strongest freshmen class to date with seven true freshmen and one redshirt. This freshmen class brings solid defense, a balanced offensive attack, and two pitchers to the circle, Kapri Toone and Chloe Nightingale. Last season, sophomore pitcher Delaney Hull held the lowest ERA last season tossing 134.1 innings with a 2.66 ERA and will look to Alissa Noble and Stephanie Reed for support on the mound. Key returners include Leah Molina who swiped 23 bases, Riley Plogger and Bailee Trapp.