Create a free account to unlock this article!
Get Started
Already a subscriber? Log In
By Scott Schultz | Twitter | Instagram | Facebook
Now that we've turned the calendar to February, it's time to turn our attention to the spring softball tournament season. The newly refurbished Nancy Almaraz Stadium will serve as host for the first event on this year's docket, the 2019 Puerto Vallarta College Challenge, Feb. 7-10 and Feb. 14-16. This year's field boasts an impressive mix of Power Five softball programs along with a mix of mid-major standouts.
Let's take a look at the teams that will head south of the border next week, and be sure to watch your favorites play on FloSoftball. See Schedule
Washington (52-10, 15-8 PAC 12)
The Huskies are coming off back-to-back Women's College World Series appearances — the third time in program history they've done so. With the return of junior Sis Bates, senior Taran Alvelo, and sophomore Gabbie Plain, head coach Heather Tarr fields the only team in the nation to have three active All-Americans back on their lineup card.
Alvelo was 23-5 with a 1.30 ERA and 242 strikeouts in 188 innings in the circle, while Plain posted an equally-impressive 22-5 record, 1.01 ERA and 181 strikeouts in 166.1 innings. Bates was a first-team All-American and PAC-12 defensive player of the year, hitting .389 last year.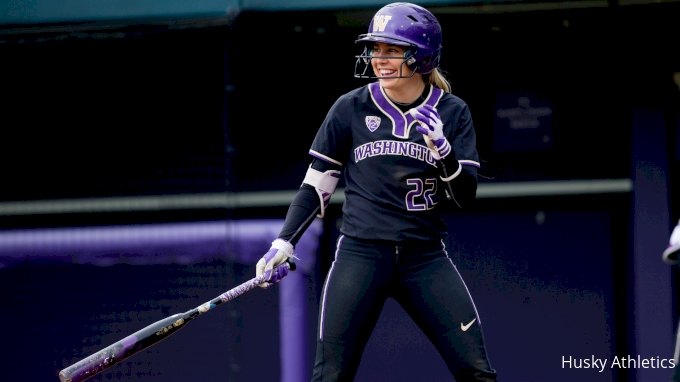 Adding to last year's successful mix, the 2017 Pac-12 RBI leader Morganne Flores returns from injury and will be back in the lineup.
Tarr enters her 15th season at the helm of the Washington bench with the Huskies ranked No. 3 in the USA Today/NFCA Preseason Coaches Top 25 Poll.
Baylor (38-18; 12-6 Big 12)
Baylor head coach Glenn Moore has over 850 wins in his 18 seasons and has led the Bears to seven straight NCAA Regional Final games and four Women's College World Series appearances. Tabbed as the No. 18 team in the USA Today/NFCA Top 25 Preseason Coaches Poll, BU will start its 2019 campaign ranked in the preseason top 25 for the eighth-straight season and the 13th time in program history
Moore returns senior Kyla Walker and her .433 batting average to the lineup this season, along with a pitching staff led by senior Gia Rodoni, who posted a 23-12 record last season with 268 strikeouts.
BYU (37-22; 13-1 WCC)
BYU enters the 2019 campaign as the five-time defending West Coast Conference champion and on the heels of their 14th consecutive NCAA Tournament appearance. The Cougars are led 2018 WCC Player of the Year junior outfielder Rylee Jensen and senior Libby Sugg — the three-time all-conference catcher finished last season ranked seventh nationally with 67 RBIs and was named to the Top 50 USA Softball Collegiate Player of the Year Watchlist in 2018 and 2019.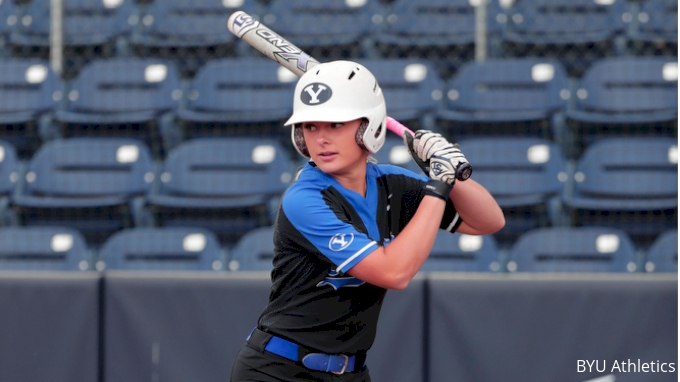 Head coach Gordon Eakin, in his 17th year at BYU, also returns the 2018 Freshman of the Year in sophomore Bridget Fleenner. Rounding out BYU's preseason picks are pitchers Autumn Moffitt and 2018 WCC Co-Pitcher of the Year Kerisa Viramontes.
Liberty (49-14; 18-3 Big South)
The Lady Flames return eight all-conference players from last year's 49-14 team. The 2018 squad set numerous program records including most victories in a season after sweeping through the Big South Softball Championship and winning its first two games at the NCAA Columbia Regional to reach the Final for the first time in program history.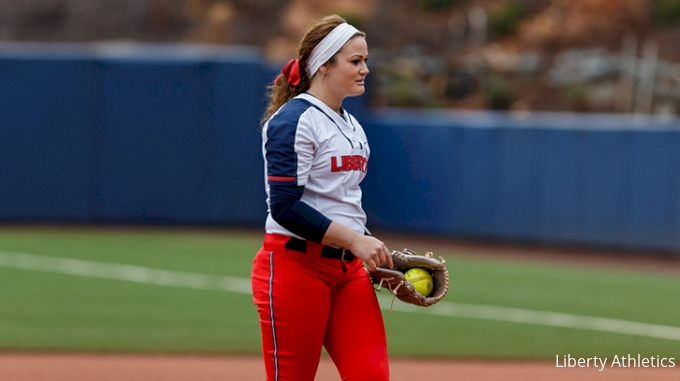 Liberty, in its first season in the Atlantic Sun Conference, was voted the favorite to win the ASUN title in the ASUN Preseason Softball Poll under head coach Dot Richardson. Additionally, Liberty junior Autumn Bishop was tabbed ASUN Preseason Player of the Year and senior Julia DiMartino was named ASUN Preseason Pitcher of the Year. DiMartino was 29-8 last year with a 1.72 ERA and 230 strikeouts in 240.2 innings pitched.
South Carolina (49-17; 15-9 SEC)
The Gamecocks are coming off a 49-17 season, finishing third in the Southeastern Conference and reaching their second-ever super regional. With 13 returners on the bench from last season, South Carolina tied for the No. 9 spot in the USA Today/NFCA Preseason Coaches Poll.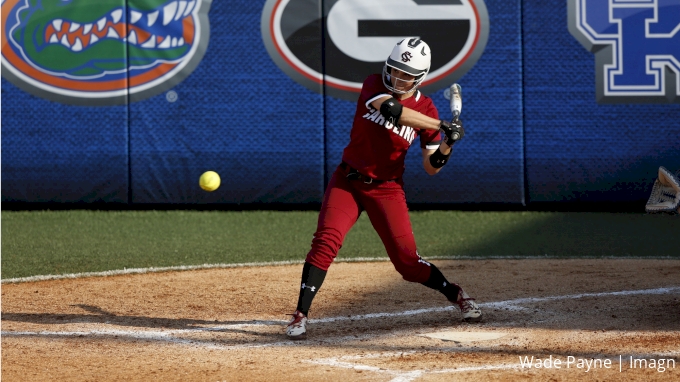 Mackenzie Boesel represents the Gamecocks on the Pre-Season ALL-SEC squad. Boesel hit .373 in 24 conference games last season for the fifth-best mark in the SEC. She was named to the 2018 All-SEC Second Team after posting the seventh-best slugging percentage, fourth-most runs, third-most hits and most doubles in conference play.
Duke (29-17; 13-11 ACC)
After finishing the program's inaugural year with a 29-27 record, the Blue Devils were selected to finish sixth in the Atlantic Coast Conference in 2019. With a 13-11 mark in ACC play last season, they earned the seventh seed in the 2018 ACC Tournament.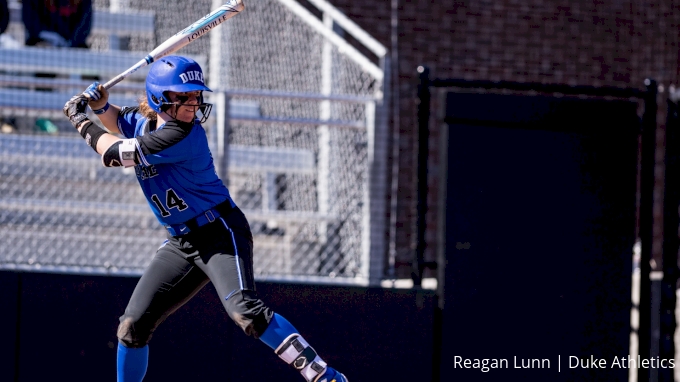 Junior Raine Wilson was named to the Preseason All-ACC Team after finishing her 2018 campaign as one of the top players in the league at the plate and leading the Blue Devils in nine different categories. In the circle, head coach Marissa Young has some options as well, as sophomore Amelia Wiercioch had a sub-2.00 ERA and won 11 games in the 2018 campaign and pitcher Peyton St. George came through with eight wins and an ERA of 1.79 last season.
Notre Dame (34-23; 13-10 ACC)
Notre Dame returns all but one starter in 2019 after competing in the NCAA Championship for the 20th straight season — and 23rd in program history — last year. Sophomore pitcher Alexis Holloway, senior outfielder Ali Wester, sophomore outfielder Abby Sweet and senior infielder Melissa Rochford lead the Notre Dame returners in 2019.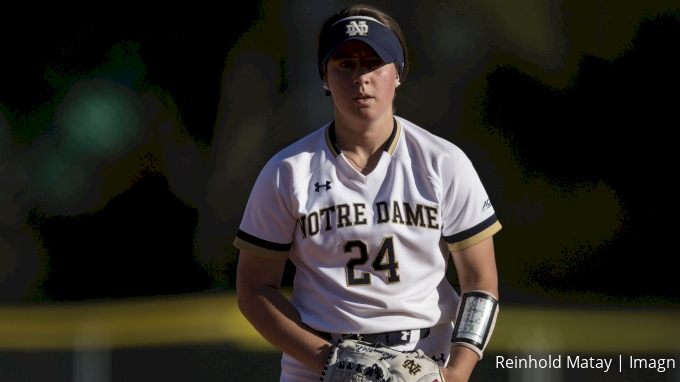 Sweet was one of 15 league players voted to the inaugural Preseason All-ACC Softball Team by conference head coaches, while the Irish were tabbed to finish second in the predicted order of finish also tabulated by the 12-member ACC coaching contingent.
Sweet posted a sensational freshman outing for the Irish in 2018, starting all 57 games in center field on her way to being named to the NFCA Mid-Atlantic All-Region Third Team. She ranked second on the Irish roster with a .333 batting average and 57 hits, holding the final top spots with 13 doubles, 15 stolen bases, a .420 on-base percentage and 38 runs scored. Sweet also established a single-season Notre Dame record after being hit by a pitch 22 times over the course of the year.
Arkansas (42-17; 12-12 SEC)
Coming off their first-ever Super Regional appearance, the Razorbacks will look to sophomore hurler Mary Haff to lead from the circle. A finalist for the NFCA Freshman of the Year last season, Haff went 29-7 last season, with a 1.51 ERA and 249 strikeouts.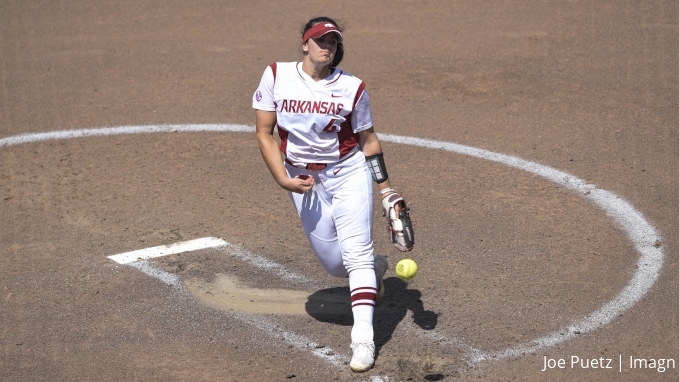 Teammate Hannah McEwen is also coming off a stellar premier after posting a .339 average at the plate with 12 home runs and 45 RBIs.
Entering her fourth year at the helm of the Arkansas bench, head coach Courtney Deifel has the Razorbacks ranked 11th by FloSoftball and 12th in the ESPN/USA Softball preseason Top-25 — the highest ranking in program history.
Mississippi State (38-23; 7-17 SEC)
For the first time since 2001, Mississippi State enters the season with a preseason ranking having been tabbed 24th in the nation in the NFCA Coaches Poll. Sophomore catcher Mia Davidson set a program record with 19 home runs during her freshman season and has been named to the Top 50 List for the 2019 USA Softball Collegiate Player of the Year. The reigning SEC Freshman of the Year, Davidson finished last season ranked in the top 15 among all SEC hitters in seven offensive categories.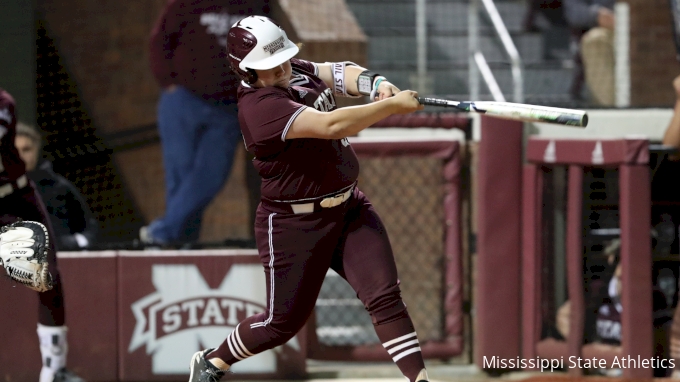 The Bulldogs return 16 letter winners from the 2018 squad for head coach Vann Studeman, with plenty of offense in the lineup. Senior outfielder Kat Moore hit at a .344 clip last season, and teammate Emily Heimberger hit .332 and swiped 17 bases. average to the offense.
Rounding out the field and certainly worth watching are North Dakota State, Central Florida, Sacramento State, Southern Illinois, and Northern Colorado.
Keep an eye on North Dakota State (34-19; 10-3), as The Bison have become the premier team in the Summit League, winning nine of the past 10 league tournaments. Senior hurler KK Leddy is strong from the circle and teammates Zoe Stavrou and Vanessa Anderson each provide plenty of pop from the plate.
UCF (34-22; 12-9) sophomore Alea White brings a 2.34 ERA and her 175 strikeouts back to the circle for the Knights, and along with Denali Schappacher and Cassady Brewer — last season's two leading hitters — UCF first-year coach Cindy Bell and Knight fans should have reason to be excited about 2019.
Coming off its first appearance in the NCAA postseason since 2008, Sacramento State (31-20; 14-7) is led by junior Suzy Brookshire and her 18-home run, 51-RBI season. The Hornets snagged their first-ever Big Sky Conference title and will be looking to 2019 to make some noise.
Southern Illinois (31-22; 12-12) ace Brianna Jones returns for her senior season in the Saluki circle after posting a 26-8 record last season for coach Kerri Blaylock. Blaylock enters her 18th season at the helm of the Saluki bench having won more than 650 games.
First-year head coach Ben Garcia takes over the reins at Northern Colorado (28-28; 8-9) after the Bears tied their program-best total for wins in their 2018 campaign. Garcia welcomes back nine players from last season, including all-Big Sky first team third baseman Jordyn Wiatrak who hit .333 in her junior season and drove in 29 runs. Also returning is senior pitcher Valeria Vial, who finished last season with an 18-12 record, including the program's first 7-inning no-hitter against Seton Hall.