By Chris Girandola
---
For many teams, Diamond 9's Citrus Blossom Invitational will be an opportunity to escape the snow for beautiful sunshine in Orlando, Florida.
February 15-17 UMass, Villanova, and Saint Joseph's will take the field for the first time this season. See Schedule
UMass
The University of Massachusetts softball team begins its 2019 campaign with high expectations after finishing last spring as the Atlantic 10 Conference regular season champions and an impressive 35-14 overall record. The Minutemen, who went a perfect 21-0 during league play, was picked first in the Atlantic 10 Preseason Poll as voted on by the league's coaches.
Head coach Kristi Stefanoni, who was named the 2018 Atlantic 10 Coach of the Year, said the return of eight positional starters should help this year's version overcome a heartbreaking loss suffered in the conference championship game. "That was gut-wrenching," Stefanoni said. "I felt bad for everyone involved, the players, the coaches, the fans, everyone.
After a month or two to reflect on it, we came together and discussed what we could learn from it, in terms of pressure situations, handling the big games, how to approach big games. We talked about how we are going to react and prepare differently. We talked to them about viewing these three-day tournaments in a similar fashion as the conference tournaments, how to approach each situation, inning by inning, game by game, leading to championship Sunday."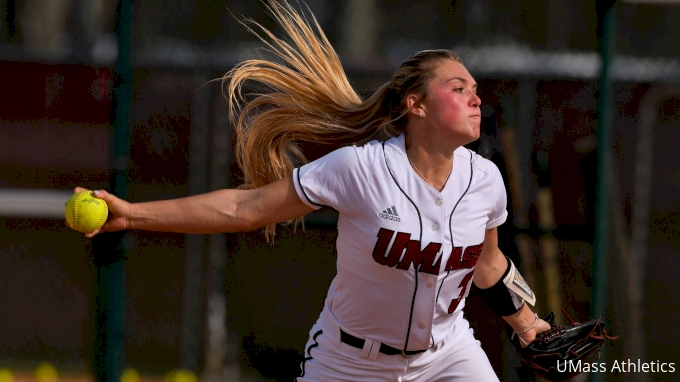 The Minutewomen return five Atlantic 10 First-Team All-Conference selections, including Pitcher of the Year Kiara Oliver, who finished her freshman season with a perfect 11-0 mark in league play with a 0.77 ERA on her way to leading the A-10 in wins (18) and strikeouts (173). Fellow first-team selections in seniors Melissa Garcia, Kaitlyn Stavinoha and Erin Stacevicz along with second-team pick Kaycee Carbone return to lead a UMass offense that outscored league opponents 146-34 during the regular season.
Offensively in 2018, UMass posted a .317 team batting average while scoring 290 runs, an increase of 102 from the 2017 season. The Minutewomen finished the year with the fourth-best on-base percentage in the nation at .410 and 11th in team batting average nationally.
Stetson (0-2)
The Hatters return eight position starters and three pitchers from last year's squad that went 26-25 and finished sixth in the ASUN Conference. Stetson returns its entire starting infield of Ashly Smith, Molly McLaughlin, Lizzie Shubert, and Danielle Diaz. CatchersBlake Crews and Devin Lewis also return, giving the Hatters a lot of experience on the clay. "Having the experience that we do this year is a welcome situation," Stetson head coach Frank Griffin said.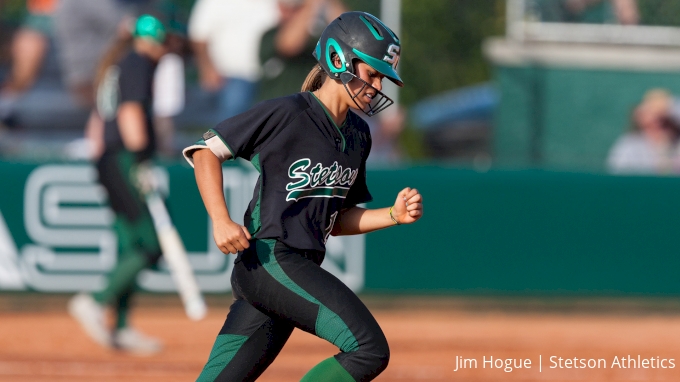 Seniors Ashly Smith and Tori Perkins will look to lead the team in 2019. Smith earned second-team all-conference honors last season after batting .385 with four home runs and 33 RBI. Perkins led the way in the circle, posting a 16-14 record and a 2.90 ERA. The Hatters also had four ASUN All-Freshman team performers, including Lizzie Shubert and Devin Lewis who combined to hit 14 home runs. The addition of juniors Riley Russell and Liz Jackson should add quite a bit of speed to the lineup.
The Hatters have a four-deep pitching staff as Tori Perkins and Curstin Taylor begin their fourth season with the program. Jaime Tino, another ASUN all-freshman team performer, returns for year two and freshman Canaan Burnett will make her collegiate debut.
Mizzou (3-2)
A new era in Missouri Softball begins this season as Larissa Anderson takes over as the 10th head coach of the tradition-rich Tiger program. Mizzou Softball kept its remarkable postseason streak intact last season, as the Tigers made it to their 12th consecutive NCAA Regional going 2-2 in the Norman Regional before being bounced out of the tournament by then-No. 4 Oklahoma. Following a 30-29 season, the Tigers return only 18 members from last year's squad.
Anderson spent four illustrious seasons at Hofstra, compiling 130-73-1 (.640) record with a pair of NCAA Tournament appearances, two Colonial Athletic Association (CAA) titles and four winning seasons. Anderson will lean heavily on senior Kolby Romaine, a second-team All-SEC selection, junior Cayla Kessinger, also a second-team All-SEC selection and sophomore Brooke Wilmes, an SEC All-Freshman team selection, to help guide the mix of older and younger players. Romaine, one of just four seniors on the squad, broke out during her junior season, resetting single-season career-highs in hits (43), home runs (6), RBI (25) and slugging percentage (.496).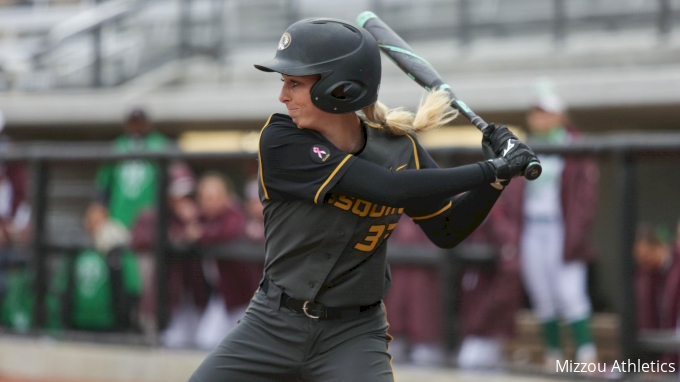 Kessinger also had a breakout 2018 campaign, as the Saugus High School product became just one of 13 Tigers all-time to receive First-Team NFCA Southeast All-Region honors. She attained that distinction courtesy of her single-season career-highs in average (.312), hits (49), runs scored (29), doubles (10), home runs (10), RBI (20), stolen bases (7), on-base percentage (.390) and slugging percentage (.580).
Mizzou is also expecting Kendyll Bailey, a redshirt freshman, back after she missed most of 2018 following an injury. She was rated the No. 11 overall recruit in FloSoftball's final Class of 2017 "Hot 100" players. The class of '18 for the Tigers includes the MVP of the PGF High School All-American game, Jazmyn Rollin, who should provide Anderson another strong offensive option. Headlining the transfer group is sophomore infielder Kimberly Wert, who followed Anderson from Hofstra to Columbia, Mo.
Troy (3-2)
Troy enters the 2019 campaign with a lot of promise following last season's historic run in the Sun Belt Conference Tournament. The Trojans won four games before falling to the eventual champion Texas State in a nine-inning slugfest in the semifinals. Fifth-year head coach Beth Mullins looks to an experienced team picked to finish third in the Sun Belt Conference Preseason Coaches Poll, with six seniors and eight returning starters from a year ago in which the Trojans finished with a 34-26 overall record. "I think we have put together a solid pre-season schedule to challenge our players and prepare us for when we get into Sun Belt play," Mullins said. " We are going to play in three away tournaments, and that will prepare us for when we go on the road in conference play."
The Trojans had an impressive fall with wins over reigning national champion Florida State and Mississippi State. After hosting a tournament featuring in-state rival Alabama, Maryland, and Murray State in the Troy University Tournament, the Trojans will compete in the Citrus Classic in Orlando (Feb. 15-17), the Auburn Tournament (Feb. 23-25), and the USF Tournament in Tampa (Mar. 1-3). In each of these tournaments, Troy will square off against at least one SEC opponent.
Last year, the Trojans won all five of their games in the Citrus Classic, outscoring their opponents 30-6. The 2018 Sun Belt Freshman of the Year and first team all-conference selection, Annie Willis, returns to the circle for Troy. The Trojans welcome 2018 Gatorade Alabama Player of the Year Leanna Johnson to the pitching staff, in addition to returning seniors Peyton Glover and Claire Graves.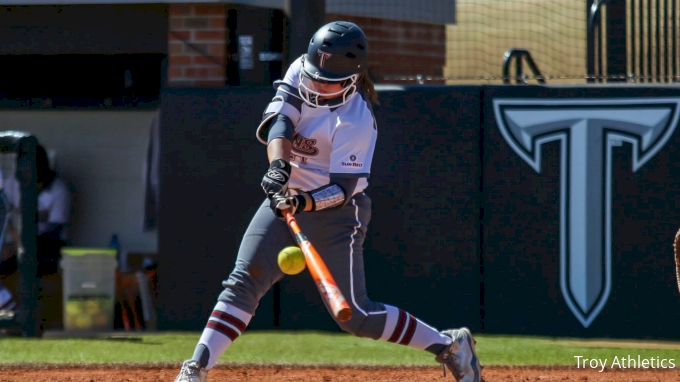 Katie Webb, a Preseason All-Sun Belt selection, leads the offensive efforts for Troy. Last season, Webb posted the highest batting average on the team with a .349 mark and led the team in RBIs with 38.
Kansas (0-5)
Kansas softball starts a new era in 2019 with head coach Jennifer McFalls at the helm. The Jayhawks will face McFalls' former squad Texas April 26-28 in their final 2019 home series. McFalls spent eight years with the Longhorns as an assistant coach and helped lead Texas to eight appearances in the NCAA Tournament (2011-18).
With Kansas, McFalls will have the task of replacing Andie Formby and Sarah Miller, who started a combined 46 of 52 games for the Jayhawks in 2018. Brynn Minor and Tarin Travieso return for the Jayhawks inside the circle and will be added by transfers Hannah Todd and Kirsten Pruett.
Minor brings the most experience for the Jayhawks in 2019, appearing in 22 games with five starts last season. The senior tallied a 4-4 record while adding two saves. Travieso pitched in 14 games with one start in 2018 and finished with a 2-1 record in 39.2 innings of work.
The Jayhawks return five position starters from its 2018 squad but will be forced to replace the efforts of Jessie Roane, Erin McGinley and Harli Ridling at the plate. The trio started all 52 games last season and maintained the top three batting averages for KU. Brittany Jackson, Sam Dellinger, Shelby Gayre and Travieso all started 40 or more games last season with Jackson starting all 52 in center field. Travieso was named a 2019 All-Big 12 Freshman Team selection for her performance last season.
Iowa (1-3)
The University of Iowa softball team looks to return to its winning ways in 2019 with the addition of head coach Renee Gillispie. Gillispie returns to her home state after 18 seasons at UCF where she compiled a record of 625-403-1 (.608), winning five conference titles, and advancing to seven NCAA Regionals. She is joined by assistant coaches Trena Prater and Rick Dillinger.
Prater, a 2002 first-team All-American at LSU, joins the Iowa program after one season at UCF and was formerly the head coach at Buffalo and Hampton. Dillinger comes to Iowa City after 42 years as an Iowa high school softball coach, leading three different teams to state championships and winning 13 conference titles. Dillinger coached Gillispie at Danville Community school from 1976-79.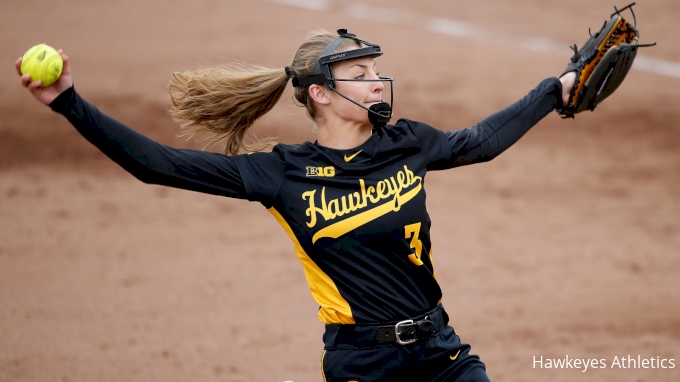 On the field, the Hawkeyes return 2018 All-Big Ten pitcher junior Allison Doocy. Doocy finished last season with a 1.81 ERA, striking out 205 batters in 197.2 innings. She is joined by the reigning 2018 Junior College Player of the Year junior DoniRae Mayhew. Mayhew joined the Hawkeyes after two seasons at Kirkwood Community College in Cedar Rapids, Iowa. Mayhew hit .446 with a nation-leading 30 home runs and 90 RBIs. Aralee Bogar enters her sophomore season as Iowa's best returning bat. Bogar hit .277 in 53 games with a team-high four triples. On base, Bogar was the only player in the Big Ten to record a perfect stealing percentage, going 23-for-23. (min. 20 attempts).
Bethune-Cookman (1-4)
Bethune-Cookman comes into the 2019 season with a similar look on the mound as last year's MEAC Rookie of the Year Alexis Bermudez returns in the circle. However, the heart of the batting order will have a new look with All-America performer Ryan Jackson gone, having transferred to finish her collegiate career at the University of Arkansas.
Head Coach Laura Watten will be looking to replace almost 16 home runs per season in the form of Jackson, but ready to step up are a plethora of student-athletes. Brianna Sanders (second base) and Kailey Richard (catcher) return to the lineup, while defensive leader Cheyenne Smith will look to anchor the outfield. Destiny Enriquez, Victoria Guzman and Mariah Estrada all return to the pitching rotation, as all four pitchers from a season ago return with experience under their belt.
LIU (2-3)
Picked by the conference coaches to finish second in the league, Long Island University, winners of a record 14 Northeast Conference championships, is determined to make another run at the 2019 tournament title.
Led by head coach Roy Kortmann (25th season, 653 wins) and his experienced staff, the Blackbirds return six starters and 14 letterwinners as they build upon last year's NEC Tournament experience in which they lost to an undefeated Saint Francis team for the second time in the event. The LIU outfield will be one of the strongest parts of the team for the Blackbirds, with two returning All-NEC performers and the team's leadoff hitter all back to push the offense.
Sophomore Ryleigh Bermea was the NEC's breakout star in 2018, earning Rookie of the Year and First Team honors after hitting .327 with a team-high seven home runs and 36 runs batted in (3rd in NEC) while playing center field. Junior right fielder Patricia Griffin, an All-NEC Second Team selection, is the Blackbirds' leading returning hitter (.343, 6th in NEC) and ranked first in the league in hits with 59. Junior Katie Hinkle, who batted .294 with 10 stolen bases (6th in NEC) in her first season as a full-time starter in left field, led off every game in 2018. The Blackbirds have put together a tough non-conference schedule that features six tournaments over the first six weeks of the season, against top teams from all over the country.
Providence (3-2)
Providence softball opens 2019 with a fresh start as Jill Karwoski begins her first season as head coach of the Friars. Karwoski hired Bree Nasti as her assistant alongside pitching coach Bill Hillhouse to guide the pitching staff. The Friars return six of their nine starters from a year ago but will have to replace the production of Julianne Rurka and Brittney Veler. The duo posted two of the top three batting averages last season and combined for 49 RBI. Rurka earned All-Big East Second Team recognition last season after hitting .333 with a .477 slugging percentage. Emma Lee and Vanessa Portillo will look to build on their success last season. Lee posted a .318 average last season and scored a team-high 24 runs. Portillo started 42 of 45 games for the Friars and recorded a .252 batting average.
Providence will have to replace the efforts of Christina Ramirez who pitched a team-high 127.1 innings last season. Miranda Trinidad and Megan McCune will handle the workload in the circle. The duo combined to start 23 of Providence's 45 games during the 2018 season. Trinidad posted a team-best 3.36 ERA last season compared to McCune's 4.48 ERA.
The Friars were selected eighth in the 2019 BIG EAST Softball Preseason Coaches' Poll. Providence finished seventh in the BIG EAST standings in 2018 after posting a 6-14 conference record and 13-32 overall record.
Villanova
Villanova, picked to finish second in the BIG EAST Conference in the 2019 Preseason Coaches' Poll, are coming off a 27-24-2 season while finishing 10-8 in the conference. They fell to DePaul in the semifinals of the BIG EAST Tournament wrapping up Maria DiBernardi's historic coaching career at Villanova.
This will be head coach Bridget Orchard's first season at Villanova. She previously coached at Fordham where she finished with a career record of 624-378-1.
There will be some gaps to fill as the Wildcats lost some key contributors from the 2018 season. A few of them include 2x First Team All-BIG EAST recipient Brittany Husk and infielder Nikki Alden. Both players started in all 53 games in 2018 and finished hitting .366 and .388 respectively.
Angela Giampolo, Caroline Jones, Kendall Ohman, Julia DaCosta, and Lauren Hanna are some of the returning big bats that hope to carry the Cats throughout the season. The team also returns its top pitcher Anissa Amarillas who appeared in 38 games in 2018 finishing with an ERA of 3.52.
Joining the returners will also be incoming transfers Paige Rauch (Fordham) and Olivia LaQua (Colgate). They both hope to come in and help Villanova right away. Rauch was named A10 Rookie of the Year and was the first ever player in league history to earn First Team All-Conference as both as a position player and a pitcher.
Saint Joseph's
The Hawks begin the 2019 campaign with high hopes after finishing last season by winning nine of their last 12 games to finish at 24-25 and 11-12 in conference play.
Saint Joseph's will be led by junior shortstop Molly Kapala, who was selected to the 2018 Atlantic 10 All-Conference First Team. Junior catcher Sarah Ostaszewski earned All-Conference Second Team recognition as five Hawks garnered A-10 softball honors last season. Joining Kapala on the A-10 All-Academic Team were seniors Taryn Grober and Stacey Mayer, while sophomore Kirstin Cox was selected to the A-10 All-Rookie Team.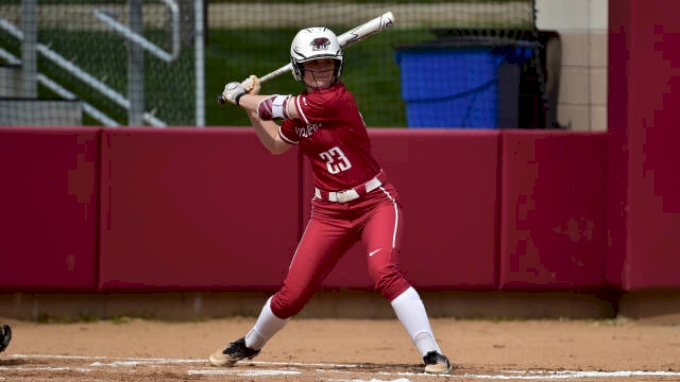 The first Saint Joseph's shortstop to garner A-10 All-Conference accolades, Kapala posted a stellar season in leading the team in batting average (.350), hits (56), runs (33) and doubles (12). Ranking among the top defensive players in the A-10, she currently ranks third in defensive assists (119) and fifth in double plays turned (nine).
An A-10 All-Rookie Team selection a season ago, Ostaszewski helped power the middle of the Hawks' lineup, while anchoring the battery behind the plate in 2018. Posting a career-best .315 batting average and leading Saint Joseph's in on-base percentage (.432), the starting catcher finished second on the squad in hits (46), runs (22), slugging percentage (.438), while defensively leading the A-10 in runners caught stealing during conference play with seven.
Making an immediate impact as a newcomer, Cox ranked second on the team in batting average (.330) and stolen bases (nine) this season.