2019 THE Spring Games
THE Spring Games Weekly Viewing Guide
THE Spring Games Weekly Viewing Guide
THE Spring Games takes place at the Legends Way Ballfields, and FloSoftball will live stream all games from Feb. 22 to March 30.
Mar 25, 2019
by Allie Martinez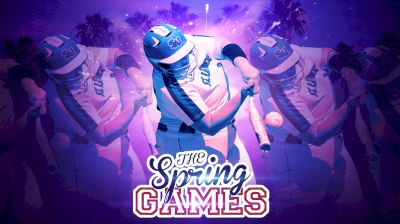 THE Spring Games is back. With almost 400 college softball teams participating, THE Spring Games is undoubtedly the largest college softball event in the world.
THE Spring Games has everything to offer with more than 2,000 games and over 380 teams from DI, DII, DIII, NAIA, and junior college levels participating in Clermont, Florida, from Feb. 22 to March 30.
---
How to Watch
On TV: Now Available on Roku and Apple TV 4
On The Go: Download the iOS app.
STREAMING: Yearly PRO access is to ALL FloSports sites. SIGN UP HERE.
---
Schedule
Monday, March 25
| | | | | | | |
| --- | --- | --- | --- | --- | --- | --- |
| 3/25/2019 | 9:30 AM | Hancock Recreational Complex | Field 1 | St. Olaf College* | College of New Rochelle* | NCAA Division III |
| 3/25/2019 | 9:30 AM | Hancock Recreational Complex | Field 2 | Lewis & Clark College* | Union College* | NCAA Division III |
| 3/25/2019 | 9:30 AM | Hancock Recreational Complex | Field 3 | Hamilton College* | Kalamazoo College* | NCAA Division III |
| 3/25/2019 | 11:45 AM | Hancock Recreational Complex | Field 1 | Thomas College* | St. Olaf College* | NCAA Division III |
| 3/25/2019 | 11:45 AM | Hancock Recreational Complex | Field 2 | Colby College* | Lewis & Clark College* | NCAA Division III |
| 3/25/2019 | 11:45 AM | Hancock Recreational Complex | Field 3 | Union College* | Hamilton College* | NCAA Division III |
| 3/25/2019 | 2:00 PM | Hancock Recreational Complex | Field 1 | College of New Rochelle* | Thomas College* | NCAA Division III |
| 3/25/2019 | 2:00 PM | Hancock Recreational Complex | Field 2 | Kalamazoo College* | Colby College* | NCAA Division III |
| 3/25/2019 | 9:30 AM | Legends Way Ballfields | Field 1 | St. Catherine University* | University of Wisconsin-Stout* | NCAA Division III |
| 3/25/2019 | 9:30 AM | Legends Way Ballfields | Field 2 | Oberlin College* | Elmhurst College* | NCAA Division III |
| 3/25/2019 | 11:45 AM | Legends Way Ballfields | Field 1 | University of Wisconsin-Stout* | Luther College* | NCAA Division III |
| 3/25/2019 | 11:45 AM | Legends Way Ballfields | Field 2 | Buffalo State College* | Oberlin College* | NCAA Division III |
| 3/25/2019 | 11:45 AM | Legends Way Ballfields | Field 3 | Franklin College* | University of Wisconsin-River Falls* | NCAA Division III |
| 3/25/2019 | 12:00 PM | Legends Way Ballfields | Field 4 | Elmhurst College* | St. Catherine University* | NCAA Division III |
| 3/25/2019 | 2:00 PM | Legends Way Ballfields | Field 1 | TBD (JUCO/JV) | University of Wisconsin-Stout JV* | NJCAA/JV |
| 3/25/2019 | 2:00 PM | Legends Way Ballfields | Field 2 | University of Wisconsin-River Falls* | Buffalo State College* | NCAA Division III |
| 3/25/2019 | 2:00 PM | Legends Way Ballfields | Field 3 | Luther College* | Franklin College* | NCAA Division III |
Tuesday, March 26
| | | | | | | |
| --- | --- | --- | --- | --- | --- | --- |
| 3/26/2019 | 9:30 AM | Legends Way Ballfields | Field 1 | University of St. Thomas* | Massachusetts Institute of Technology* | NCAA Division III |
| 3/26/2019 | 9:30 AM | Legends Way Ballfields | Field 2 | Kalamazoo College* | University of Wisconsin-River Falls* | NCAA Division III |
| 3/26/2019 | 9:30 AM | Legends Way Ballfields | Field 3 | College of New Rochelle* | University of Wisconsin - Whitewater* | NCAA Division III |
| 3/26/2019 | 9:45 AM | Legends Way Ballfields | Field 5 | Buffalo State College* | Middlebury College* | NCAA Division III |
| 3/26/2019 | 11:45 AM | Legends Way Ballfields | Field 1 | University of Wisconsin-River Falls* | University of St. Thomas* | NCAA Division III |
| 3/26/2019 | 11:45 AM | Legends Way Ballfields | Field 2 | Middlebury College* | Kalamazoo College* | NCAA Division III |
| 3/26/2019 | 11:45 AM | Legends Way Ballfields | Field 3 | University of Chicago* | Carleton College* | NCAA Division III |
| 3/26/2019 | 12:00 PM | Legends Way Ballfields | Field 4 | University of Wisconsin - Whitewater* | Massachusetts Institute of Technology* | NCAA Division III |
| 3/26/2019 | 12:00 PM | Legends Way Ballfields | Field 5 | Miami University-Hamilton* | Buffalo State College* | NCAA Division III |
| 3/26/2019 | 2:00 PM | Legends Way Ballfields | Field 1 | Thomas College* | Wellesley College* | NCAA Division III |
| 3/26/2019 | 2:00 PM | Legends Way Ballfields | Field 2 | St. Olaf College* | University of Wisconsin - Oshkosh* | NCAA Division III |
| 3/26/2019 | 2:00 PM | Legends Way Ballfields | Field 3 | Carleton College* | College of New Rochelle* | NCAA Division III |
| 3/26/2019 | 2:15 PM | Legends Way Ballfields | Field 4 | Oberlin College* | University of Chicago* | NCAA Division III |
| 3/26/2019 | 2:15 PM | Legends Way Ballfields | Field 5 | University of Wisconsin-Eau Claire* | Miami University-Hamilton* | NCAA Division III |
| 3/26/2019 | 4:15 PM | Legends Way Ballfields | Field 1 | Wellesley College* | Oberlin College* | NCAA Division III |
| 3/26/2019 | 4:15 PM | Legends Way Ballfields | Field 2 | University of Wisconsin - Oshkosh* | Thomas College* | NCAA Division III |
| 3/26/2019 | 4:30 PM | Legends Way Ballfields | Field 4 | University of Wisconsin-Eau Claire* | St. Olaf College* | NCAA Division III |
| 3/26/2019 | 4:30 PM | Legends Way Ballfields | Field 5 | University of St. Thomas JV* | Miami University-Hamilton JV* | NJCAA/JV |
Wednesday, March 27
| | | | | | | |
| --- | --- | --- | --- | --- | --- | --- |
| 3/27/2019 | 9:30 AM | Legends Way Ballfields | Field 1 | Elmhurst College* | University of Wisconsin-Eau Claire* | NCAA Division III |
| 3/27/2019 | 9:30 AM | Legends Way Ballfields | Field 2 | University of Wisconsin - Whitewater* | Middlebury College* | NCAA Division III |
| 3/27/2019 | 9:30 AM | Legends Way Ballfields | Field 3 | University of Wisconsin-Stout* | University of Chicago* | NCAA Division III |
| 3/27/2019 | 9:45 AM | Legends Way Ballfields | Field 4 | Union College* | Kalamazoo College* | NCAA Division III |
| 3/27/2019 | 9:45 AM | Legends Way Ballfields | Field 5 | Thomas College* | Lewis & Clark College* | NCAA Division III |
| 3/27/2019 | 11:45 AM | Legends Way Ballfields | Field 1 | Middlebury College* | Elmhurst College* | NCAA Division III |
| 3/27/2019 | 11:45 AM | Legends Way Ballfields | Field 2 | Franklin College* | University of Chicago* | NCAA Division III |
| 3/27/2019 | 11:45 AM | Legends Way Ballfields | Field 3 | Miami University-Hamilton* | University of Wisconsin-Stout* | NCAA Division III |
| 3/27/2019 | 12:00 PM | Legends Way Ballfields | Field 4 | Lewis & Clark College* | Kalamazoo College* | NCAA Division III |
| 3/27/2019 | 12:00 PM | Legends Way Ballfields | Field 5 | Luther College* | University of Wisconsin - Whitewater* | NCAA Division III |
| 3/27/2019 | 2:00 PM | Legends Way Ballfields | Field 1 | University of Wisconsin-Eau Claire* | St. Catherine University* | NCAA Division III |
| 3/27/2019 | 2:00 PM | Legends Way Ballfields | Field 2 | University of Wisconsin - Oshkosh* | Franklin College* | NCAA Division III |
| 3/27/2019 | 2:00 PM | Legends Way Ballfields | Field 3 | Union College* | Thomas College* | NCAA Division III |
| 3/27/2019 | 2:15 PM | Legends Way Ballfields | Field 4 | University of St. Thomas JV* | Miami University-Hamilton JV* | NJCAA/JV |
| 3/27/2019 | 2:15 PM | Legends Way Ballfields | Field 5 | Massachusetts Institute of Technology* | Luther College* | NCAA Division III |
| 3/27/2019 | 4:15 PM | Legends Way Ballfields | Field 1 | University of Wisconsin-Eau Claire JV* | Miami University-Hamilton JV* | NJCAA/JV |
| 3/27/2019 | 4:15 PM | Legends Way Ballfields | Field 2 | St. Catherine University* | University of Wisconsin - Oshkosh* | NCAA Division III |
| 3/27/2019 | 4:15 PM | Legends Way Ballfields | Field 3 | Carleton College* | Colby College* | NCAA Division III |
| 3/27/2019 | 4:30 PM | Legends Way Ballfields | Field 4 | Massachusetts Institute of Technology* | Miami University-Hamilton* | NCAA Division III |
Thursday, March 28
| | | | | | | |
| --- | --- | --- | --- | --- | --- | --- |
| 3/28/2019 | 9:30 AM | Legends Way Ballfields | Field 1 | University of Wisconsin-River Falls* | Oberlin College* | NCAA Division III |
| 3/28/2019 | 9:30 AM | Legends Way Ballfields | Field 2 | University of St. Thomas* | University of Wisconsin-Stout* | NCAA Division III |
| 3/28/2019 | 9:30 AM | Legends Way Ballfields | Field 3 | Luther College* | College of New Rochelle* | NCAA Division III |
| 3/28/2019 | 9:45 AM | Legends Way Ballfields | Field 4 | Colby College* | Union College* | NCAA Division III |
| 3/28/2019 | 11:45 AM | Legends Way Ballfields | Field 1 | St. Catherine University* | University of Wisconsin-River Falls* | NCAA Division III |
| 3/28/2019 | 11:45 AM | Legends Way Ballfields | Field 2 | Oberlin College* | University of St. Thomas* | NCAA Division III |
| 3/28/2019 | 11:45 AM | Legends Way Ballfields | Field 3 | University of Wisconsin - Whitewater* | Colby College* | NCAA Division III |
| 3/28/2019 | 12:00 PM | Legends Way Ballfields | Field 4 | University of Wisconsin-Stout* | Carleton College* | NCAA Division III |
| 3/28/2019 | 12:00 PM | Legends Way Ballfields | Field 5 | Union College* | Luther College* | NCAA Division III |
| 3/28/2019 | 2:00 PM | Legends Way Ballfields | Field 1 | College of New Rochelle* | St. Catherine University* | NCAA Division III |
| 3/28/2019 | 2:00 PM | Legends Way Ballfields | Field 2 | University of Wisconsin-Stout JV* | University of St. Thomas JV* | NJCAA/JV |
| 3/28/2019 | 2:15 PM | Legends Way Ballfields | Field 4 | Carleton College* | University of Wisconsin - Whitewater* | NCAA Division III |
Friday, March 29
| | | | | | | |
| --- | --- | --- | --- | --- | --- | --- |
| 3/29/2019 | 9:30 AM | Legends Way Ballfields | Field 1 | College of New Rochelle* | University of Wisconsin-Stout* | NCAA Division III |
| 3/29/2019 | 9:30 AM | Legends Way Ballfields | Field 2 | University of Wisconsin-River Falls* | Colby College* | NCAA Division III |
| 3/29/2019 | 9:30 AM | Legends Way Ballfields | Field 3 | University of Wisconsin-Eau Claire* | University of Chicago* | NCAA Division III |
| 3/29/2019 | 9:45 AM | Legends Way Ballfields | Field 4 | Miami University-Hamilton* | Oberlin College* | NCAA Division III |
| 3/29/2019 | 11:45 AM | Legends Way Ballfields | Field 1 | University of Wisconsin-Stout* | Miami University-Hamilton* | NCAA Division III |
| 3/29/2019 | 11:45 AM | Legends Way Ballfields | Field 2 | University of Chicago* | University of Wisconsin-River Falls* | NCAA Division III |
| 3/29/2019 | 11:45 AM | Legends Way Ballfields | Field 3 | University of Wisconsin - Oshkosh* | College of New Rochelle* | NCAA Division III |
| 3/29/2019 | 12:00 PM | Legends Way Ballfields | Field 4 | Oberlin College* | University of Wisconsin-Eau Claire* | NCAA Division III |
| 3/29/2019 | 2:00 PM | Legends Way Ballfields | Field 3 | Colby College* | University of Wisconsin - Oshkosh* | NCAA Division III |
| 3/29/2019 | 2:15 PM | Legends Way Ballfields | Field 4 | Miami University-Hamilton JV* | University of Wisconsin-Eau Claire JV* | NJCAA/JV |
Saturday, March 30
| | | | | | | |
| --- | --- | --- | --- | --- | --- | --- |
| 3/30/2019 | 9:30 AM | Legends Way Ballfields | Field 1 | University of Chicago* | University of Wisconsin - Oshkosh* | NCAA Division III |
| 3/30/2019 | 11:45 AM | Legends Way Ballfields | Field 1 | University of Wisconsin - Oshkosh* | University of Chicago* | NCAA Division III |
---
Join The Conversation On Social
Follow us on Twitter @FloSoftball
Follow us on Instagram @FloSoftball
Like us on Facebook