2019 16U PGF Premier Nationals
Rising Star: Why Brooke Burback Chose UAB
Rising Star: Why Brooke Burback Chose UAB
Brook Burback, one of the premier hitters in the 2020 class is blazing her own trail to UAB.
Feb 19, 2019
by Todd Grasley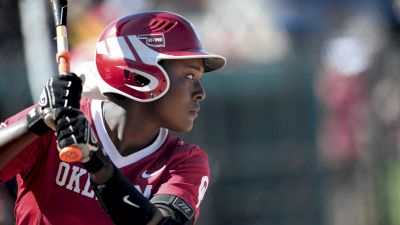 When athletes first join Jay Roberson's Birmingham Bolts, intimidation comes to mind. The Bolts are one of the premier softball clubs in the nation. Brooke Burback, a power hitter, from nearby Chelsea, Alabama, had the opposite reaction.
"I told her not to be nervous and that she was just as good as our other players," Roberson explained. She responded by saying, "Oh I'm not nervous." That's just her in a nutshell. She's super talented and super confident."
That confidence came early in Burback's life. Growing up in a house with three brothers, she had to stand her own. She was introduced to baseball first and wanted to play with the boys so badly, but when she went to a friend's softball tournament, she realized she loved softball even more.
"Some of my earliest memories in the sport would be hitting my first home run in all-stars and my first time catching a game behind home plate and seeing the field from a whole new perspective," she said.
Becoming A Blazer
For Burback, the recruiting process was both nerve-racking and exciting all at once. The visits were an opportunity for the youngster to showcase her skills and view the coaches as parents in the crowd.
"It was an amazing experience to go on visits and to meet coaches and talk about their programs and how I would fit into them," she said.
Burback had plenty of opportunities to go to a power five school, but it was the University of Alabama-Birmingham that beckoned her services. It's also a chance to stay close to home and play just thirty minutes up the road from where she currently competes at Chelsea High School.
"In the end, I chose UAB because of the home feeling atmosphere/community and because of the amazing staff," she said. "I am very excited to work with Coach Kolaitis! It's also a very big plus being close because my dad can come to every game like he usually does."
"UAB did a great job of selling her on their program," Roberson added. "Several SEC schools continue to try and flip her commitment, but she is sold on what Jimmy is going to build at UAB and I see her sticking to her commitment there.
Roberson believes she could easily play catcher or any of the corner infield or outfield spots at the next level, but her natural fit is behind the dish.
"She's a great athlete with a cannon arm," he said. "With that said I see her as too valuable as a catcher to move her to another position."
Focusing On The Here & Now
With her college decision behind her, Burback is now locked in on 2019. In her two seasons of high school softball, she's earned her position as starting catcher and clean up hitter and has smashed a total of 21 home runs in those two years. For her success, she has made all-county, all-area, and all-state.
"My coaches Heather Lee, and Rebecca Roper have done a wonderful job with my team, coaching us to state three years in a row so far," she said. "My goals for the 2019 season is to break my school's home run record and to make it back to state with my team."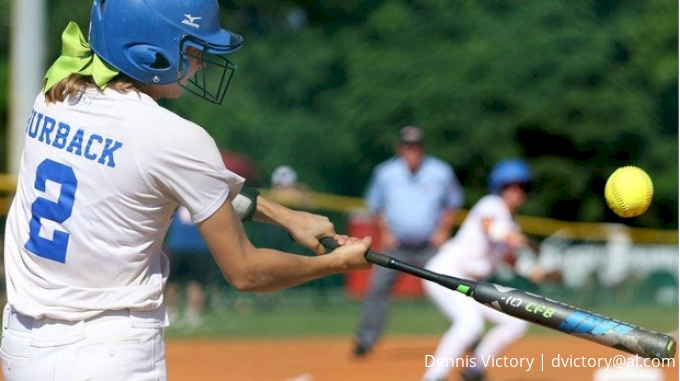 When she's not with her Hornet's teammates, she is the starting catcher for Roberson's Bolts. It's a team lined with the best high school players in the country at every position. Burback believes playing with Division I recruits make her a better player because they challenge each other every day.
"Our team is very strong up and down the lineup," she told us. "I have never been on a team that has this much talent and love for the sport. We all play our positions to the best of our abilities."
Burback also works closely with Coach Amanda Roberson on pitching calls and selections. It's the simplicities in their relationship which make the game fun.
"We both joke around and mess with each other, which I love," she said.
So what's the scouting report on Burback? Jay Roberson notes while everyone lists her at 6-foot she's closer to 5-foot-10. With the luxury of two catchers on his team including Auburn commit Aubrie Lisenby, he can also play her at third base. Regardless of where she's at on the diamond, she is one of the toughest kids he's ever had play for him.
"She plays with a bit of a mean streak," he said. "She brings a lot of toughness to our team that has really helped us. Brooke stepped right in and became an intimidator. She's just tough as nails mentally and physically."
Rapid Fire
What are your favorite pump up songs?
My favorite pump up songs would have to be old 80s hits including Rick Springfield. Tom Petty, Bruce Springsteen, etc.
What is the best advice you've ever received?
The best advice I ever received was from Coach Joey White telling me "Once you walk off the field that games over, focus on the next one."
What do you love most about softball?
The one thing I love the most about softball is the feeling it leaves in you, like when you hit a ball on the sweet spot of the bat, or you throw a runner out at 2nd base or making the last out to win the game.