By Chris Girandola
---
James Madison's Megan Good returns to the field after missing all of 2018 with a knee injury. The Dukes are primed to repeat as Colonial Athletic Conference champions and are on a mission to go farther than last year's regional run.
Yes, it might be full of cliches, but in this case, it made perfect sense. Midway through the third inning of James Madison's 9-1 win over No. 19 Oregon at the inaugural St. Pete/Clearwater Invitational last weekend, Dukes head coach Loren LaPorte breathed a sigh of relief knowing redshirt senior Megan Good was all good. In fact, Good, who missed all of 2018 as she recovered from a devastating knee injury, looked great, holding the Ducks to just one run in a complete game.
Quite impressive, considering Oregon had dominated its opposition leading up to the pre-season tournament, scoring 61 times in six wins to start the season.
"There's always going to be questions in the back of your head but you try to do the best you can to focus on staying positive and staying in the moment," said LaPorte, who served as an assistant coach for five years and was elevated to head coach in September of 2017.
While LaPorte made a commitment to herself, the team, the media, and the fans to focus on moving forward, it was admittedly emotional for the second-year coach watching Good back out in the circle.
"I'm not going to say I got teary-eyed but it was satisfying to see her out there and competing the same way she had (before her injury)," LaPorte said. "You have lots of discussions about how to approach it all and how to stay the course and stay positive. Once she got through the third inning, I knew she was back."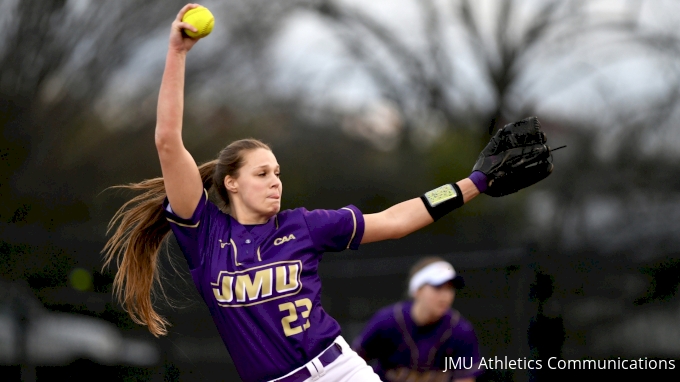 Good had been one of the most, if not the most, dominant pitchers in college two years ago, winning or being nominated for several awards following the 2017 NCAA softball season, including DI national player of the year with a stat line like this:
0.63 ERA
38-3 record
271 strikeouts
23 complete games
14 shutouts
Good's success trajectory was trending upwards as good as any elite athlete would want. Her ERA went from 1.05 as a freshman to 0.94 as a sophomore to 0.63 as a junior.
Then, she injured her left knee -- the one most important for right-handers in their approach to the plate -- inexplicably in the fall of 2017. Two weeks before the 2018 season, James Madison announced Good was done for the year (although she still would not specifically state the type of injury, she did confirm it was significant enough to necessitate a bone graft in the knee).
The Return
Fast forward (after months of rehabilitation) to the 2019 St. Pete/Clearwater Invitational, a tournament featuring No. 1 Florida State, No. 3 Oklahoma, No. 6 Tennessee and No. 7 LSU. Good balanced sheer anxiety and complete calm.
"There were a lot of emotions and thoughts going through my head but I focused as much as I could on keeping things as simple as possible, doing things the same way I would in practice, in the warm-ups in the bullpen and in the circle before each inning," said Good, who had accumulated more than 600 plate appearances in addition to more than 600 innings pitched in her first three seasons. Good went 2-1 in the circle for the Dukes, who entered the tournament with high expectations after being selected as the favorites to win the Colonial Athletic Association crown.
Good finished the contest against Oregon with a complete game and earned her first win in her first appearance since 2017. She scattered four hits over six innings and had eight strikeouts to cap the 100th win of her career.
"It was a great feeling to be out there again," said Good, one of three finalists for the 2017 USA Softball player of the year. "I was a little anxious but I got the butterflies out and now I can just move on. The past is the past and I am just focused on doing what I can now to help this team win."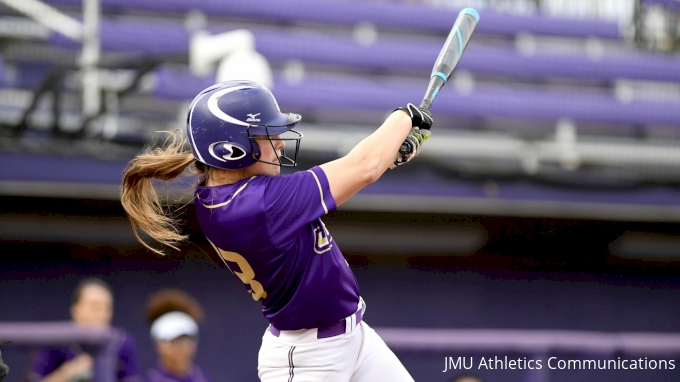 While Good and LaPorte are adamant about looking towards the future in regard to her injury, a setback well-documented and well-discussed throughout the softball community, they both recognize how much the team grew during her absence.
"When our coaching staff had discussions with them last year, we emphasized how important it would be for them to learn as much about the game as possible," said LaPorte, who guided the Dukes to a 43-14 overall record, including 19-2 in Colonial Athletic Association play. "Going into this year, we made sure everyone knew how important it was to compliment each other. Megan is a great player and a great pitcher but we talked about her understanding her role this year and how it is all about the team."
Team
LaPorte, who was honored as the 2018 Colonial Athletic Association Coach of the Year, helped JMU earn its seventh overall and sixth consecutive NCAA Regional appearance. Under her guidance, Odicci Alexander and Kate Gordon were named to the NFCA All-America Third Team.
Without Good pitching, Alexander became a dominant force, following her CAA rookie of the year in 2017 by posting a 25-8 record as a pitcher in addition to hitting .374 with 16 home runs and a team-high 56 RBIs, good enough to capture the CAA Player of the Year.
Additionally, sophomore Payton Buresch stepped up in Good's absence, going 18-5 in the circle with a 1.96 ERA that helped her win CAA rookie of the year.
"They got a whole year under their belts to work together and figure out their strengths and how they complement each other," said Good, who had 271 strikeouts and an 0.63 ERA two years ago. "I actually became a better player by watching them and learning the game from a whole different perspective. The whole team has already shown (in the St. Pete/Clearwater Invitational) how important of a role each person plays in our success."
Gordon, named CAA Player of the Week after the Invitational, exemplifies that role the most. The junior slugger, who hit .400 and knocked in 50 runs last season, led the Dukes at the plate during the Florida tournament, batting .471 and going 8-for-17, including a home run in four consecutive at-bats over two contests in Saturday's action that was highlighted by a single-game record of three home runs against No. 6 Tennessee.
Another piece to the puzzle is Kierstin Roadcap, who hit .294 with 32 runs scored and 49 RBIs last season.
But a return to the regionals and possibly beyond requires a healthy season from Good, who also plays first base and hit .383 with 12 home runs and 58 RBI two seasons ago.
"This collection of players reminds me a lot of the 2016 team," said LaPorte, who helped the Dukes finish with a school-record 50 wins and advance to their first-ever appearance in the Super Regionals. "Megan will be a huge part of our success, but this team has a lot of depth, offensively, defensively, in the circle. If we play to the best of our ability and we continue to play with a consistent effort like we did against Oregon and Tennessee, there's no telling how far we can go."