2020 Mary Nutter Collegiate Classic
How MSU's 'Smash Sisters' Mia Davidson & Fa Leilua Found Their Groove
How MSU's 'Smash Sisters' Mia Davidson & Fa Leilua Found Their Groove
Combining for 32 home runs this season, Mississippi State's 'Smash Sisters' Mia Davidson and Fa Leilua are the nations dynamic duo at the plate.
Mar 8, 2019
by Ken Castro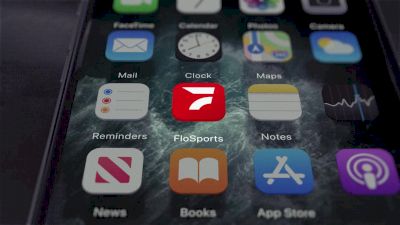 A long ball resurgence is in full flight at Mississippi State.
Mia Davidson and transfer Fa Leilua affectionately known as the 'Smash Sisters' have combined for 26 home runs and 69 RBIs through the early going, ranking the duo, among the best in the nation.
Garnering SEC Freshman of the Year accolades, Davidson crafted a stellar season where she produced an MSU single-season record of 19 home runs good for 11th overall among DI sluggers.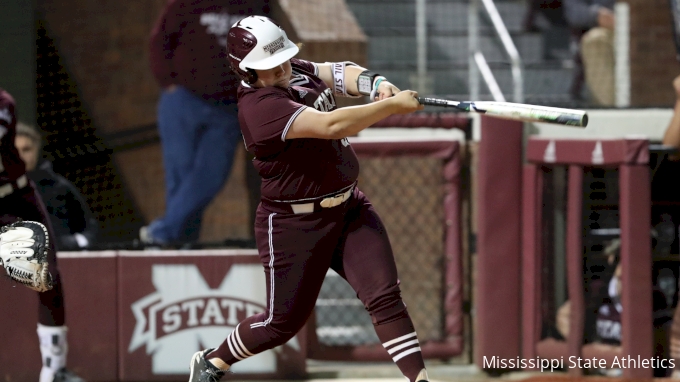 With Davidson's breakout year in the books, the Bulldogs added an intricate piece to the offensive picture in acquiring Leilua. "We knew we needed someone to protect Mia, and that was our plan all along. Bringing in Fa allowed Mia to continue her success from her freshman year," said Associate Head Coach Samantha Ricketts who concluded her career at Oklahoma as one of the top home run hitters. "They both love the game and play with a lot of passion and joy. They make everyone around them want to play up to that level."
"This team has given me a different type of energy that's allowed me to be myself," said Leilua, a Hawthorne, Calif. native who adeptly paced Arizona State University with a.368 batting average and six homers in her freshman year and slugged 13 home runs the following season before exiting the program in 2018.
"I'm having fun with this group and I'm blessed to be a part of a team like this and hitting behind Mia, especially getting to see the stud of a player she is. Every time she's up to bat she looks my way and winks, that's when I know things are okay. Having someone like Mia hit before me gives me a calm attitude for whomever I'm facing on the mound."
The duo has combined for three grand slams through the early portion of the season and MSU is 8-0 when Leilua homers.
Converse Personalities
"Mia is more serious at times, but gets just as hyped for a walk as she does a home run," said coach Ricketts. "Fa is probably more of the goofy one between the two. She's got a loud voice that carries and the team realizes that it's okay to be that loud passionate player, to be yourself. During her home run celebrations, we have a Samoan Haka going on and that's fun to watch."
"I'm the laid back one, I usually try and keep it as chill as possible. Mia's the one that often puts me in focus," said Leilua who ranks third in the conference in home runs (10) and RBIs (28), while ranking fifth in slugging percentage (.895).
Despite their converse personalities, Ricketts likes the dynamic of her sluggers and their singular approach to hitting. "Both of them are in tune with what works for them and what doesn't. They might need a little fine-tuning, and as a hitting coach, that's my job. One, to stay out of their way and two, to know what their keywords are and realize when Fa's going well this is what she's talking about; and if she hits a skid, then I can bring her back to that. They both do an excellent job of communicating with me about what they're seeing and what the like and don't like." said Ricketts.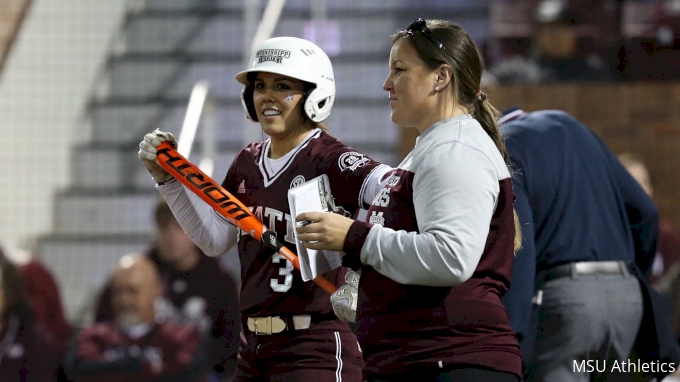 "Staying relaxed and having fun is the way I approach hitting," Leilua said.
"Trusting the process and my capabilities of what I can do. I usually just roll with it. I'm not the type of person who forces the situation. In the softball world, it's a game of failure-I've been doing this since I was ten years old and have no choice but to trust the things I've been training for my whole life."
"She's helped me calmed down at the plate and think about every at bat instead of going just going up there swinging. We really have a plan on what they are going to pitch me and that's helped, everyone," Davidson said who has collected 31 home runs in her burgeoning career, ranking her 32nd among all active NCAA student-athletes.
"I think maturity, staying relaxed and sticking to the plan that Coach Ricketts set for us, that's helped a lot in my development," said Davidson of her splendid start to her sophomore campaign. "It's been relaxing for me knowing that (Fa) has everyone's back and that she's coming out of the gate, swinging hard. Having her there is a relief. She really brings the energy to our entire lineup," said Davidson who owns big numbers across the board including a .537 batting average to go along with a.640 on-base and 1.241 slugging percentage.
Davidson, a current USA Softball Collegiate Player of the Year Watch List candidate doesn't see the need to get caught up in the numbers game, "I don't think about the home runs (records) I prefer to focus more on what's ahead rather than the past, and what's best for the team," she said.
"Fa and Mia are able to share with the younger girls, something that they see or what works for them. They are really extensions of the coaches. They understand so well, and they both do a really good job of teaching and not being solely focused on just one thing or themselves," said Ricketts.