2019 THE Spring Games
Heart Over Height, Julie Graf Makes Her Mark At St. Olaf
Heart Over Height, Julie Graf Makes Her Mark At St. Olaf
Heart Over Height, Julie Graf
Mar 18, 2019
by Stephen Kerr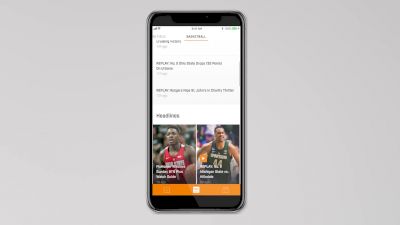 Even though she grew up in Sammamish, Washington, St. Olaf College righthander Julie Graf was an avid New York Yankees fan. It had more to do with her parents, Paul and Barb, being East Coast transplants and lifelong fans themselves than anything else (with all due respect to the major league team 30 minutes away).
Graf particularly admired watching Derek Jeter and outfielder Nick Swisher. She was impressed with Jeter's composure, work ethic, and his philosophy that you don't have to be the most talented player as long as you are the hardest worker.
Why Swisher?
"I remember going to a Yankees game with my family," said Graf, a junior pitcher and outfielder for the Oles. "He was in right field, and the fans were kind of harassing him, calling him a clown. He was eating it up, having the best time out there. That comes across when I play, too. More than anything, I want to get that win, but what's the point if you're not having fun, too?"
Those qualities have shaped the way Graf approaches life on and off the field. She first took up softball following a brief stint as a ballet and tap dancer, which, she says with a chuckle, "didn't go very well."
She's as brutally honest about her beginnings as a pitcher, but she never considered quitting.
"I was really, really bad when I first started," Graf recalled. "My dad signed me up for some local clinics, and I had a lot of fun. I was the fourth-string on my Little League team for a really long time. I slowly made my way up, and kept going."
Graf acknowledges her height (5-foot-4) doesn't make her a typical prototype pitcher. That sentiment seemed to be shared by a number of college coaches during the recruiting process, despite her success at Eastlake High, where she was a four-year letterwinner and all-conference selection during her senior year.
Heart Over Height
One of the first things St. Olaf pitching coach Shae Hoskins observed about Graf was her sound mechanics. Height and body type was not a concern.
"To me, it's about speed and mechanics," Hoskins said. "Julie uses every ounce of her body. At the end of the day, it's about how quickly you can make that wrist move, how quickly you can drive off that mound."
Graf is as locked in as any pitcher in the circle. Off the field, she takes good-natured kidding equally as well as she dishes it out. When the subject of Graf's short-lived experience as a dancer was brought to her attention, St. Olaf head coach Kayla Hatting quipped, "She's got no rhythm, so that's interesting."
What she does have, Hatting says, is a team-first mentality and attention to detail that borders on perfectionism.
"She's got to pitch a certain amount of each pitch correctly (while warming up) before she moves on," explained Hatting, who is in her third season as Oles head coach. "Some pitchers will just pitch because their body feels fine even after balls are breaking, and they'll move on. Julie's a little more particular in the manner that she has to get that ball to move correctly before she's going to move on to the next pitch."
Graf made an immediate impact as a freshman, posting a 22-5 record and a 0.73 ERA with one save in three appearances, 25 as a starter. She set single-season school records in ERA, strikeouts (272), wins, and complete games (21). She was one of two first-year players to be named an NFCA All-American and won both MIAC Pitcher of the Year and Rookie of the Year honors.
Last season, the Oles made their first appearance in the MIAC playoffs in five years. Graf was a contributor despite suffering a torn labrum in her left shoulder (ironically while batting). Since the injury was in her opposite shoulder, she played through it, going 15-13 with a 1.82 ERA and 261 strikeouts in 173 innings. She pitched a 1-0 no-hitter in the first round of the playoffs against Augsburg, striking out 15. The Oles were eventually eliminated with losses to top seed St. Thomas and No. 2 seed St. Benedict.
Graf had surgery last summer and has bounced back from the injury with remarkable resilience this season. In her first seven appearances, she's 3-3 with a 1.66 ERA, 15 walks and 68 strikeouts in 33.2 innings.
If Graf has a go-to pitch, Hoskins says, it would be her rise ball, and her ability to throw it anywhere in the count.
"She can put it anywhere in the zone," Hoskins explained. "She can start it really low at the ankle and make it break to the knee, or break from the knee to the bottom of the chin."
While Graf hesitates to label herself a strikeout pitcher, there's no denying it's her greatest weapon. She's on pace to once again break the school record this season. In 2018, she ranked third in strikeouts among NCAA Division III pitchers and fourth in strikeouts per seven innings (10.4). She recorded 11 double-digit strikeout games in both her freshman and sophomore seasons, including five in a row from April 23-30, 2017.
"I like to think of myself as a whatever-it-takes pitcher," Graf said. "If I have two strikeouts or 10, it doesn't matter to me, as long as our team can get the win."
Like most pitchers, Graf has a regular routine on game day. She takes her time getting warmed up, does spins with a 14-inch ball and listens to some DJ Khaled music to pump herself up. She hasn't developed any superstitions, such as having the same thing for breakfast.
"Whatever sounds good: eggs, pancakes, toast, muffins, whatever I feel like that day," she said.
Graf is as intense rooting for her team as she is when pitching, either between innings or once she's relieved from the game.
"She's the gal that's right up on the fence cheering for her team, and she's on the bench leading most of our cheers," Hatting said. "I think that's what keeps her mind on the game. Her mental preparation is being the loudest (cheerleader) on the bench."
What impresses Hoskins the most is Graf's eagerness to continue learning new ways to get batters out.
"In the two years I've been working with Julie, we've been able to add a new piece every season," Hoskins said. "It's exciting to know that every year, she has something new to bring to the table, as well as continue to keep up with what makes her really good. Every time hitters see her again, she has something new, so you never know what you're going to get."
Hatting believes Graf's potential has no ceiling.
"The sky's the limit for this kid," Hatting said. "She's that kid who's not going to leave until she gets her work done. A lot of people have doubted her (because of her size), and I think that fuels her fire. I don't think there's any question what she can do for this program in the next year and a half she has with us."