This weekend marks the opening of the Big Ten Softball Conference Schedule. Last season the conference sent five schools to the NCAA Tournament, as Michigan, Minnesota, Northwestern, Ohio State and Wisconsin all earned berths in the postseason championship.
Select games will be available to watch LIVE or on replay on FloSoftball.
Entering the weekend four conference teams are among the USA Today/NFCA Top 25. Indiana tops the list at No. 19, with No. 21 Wisconsin, No. 23 Minnesota and No. 25 Michigan rounding out the list - Northwestern, Illinois and Ohio State also received votes.
[polldaddy]=10271374
The conference also returns four NFCA All-Americans from 2018 - Michigan's Meghan Beaubien and Faith Canfield, Northwestern's Rachel Lewis and Ohio State's Lilli Piper.
No. 19 Indiana (25-6)
The Hoosiers are coming off a 3-2 weekend at the Hoosier Classic, closed out by a combined five home run showing in the final two games of the weekend on Sunday, defeating Saint Francis, 13-6, and Ohio, 6-4.
Freshman Juvia Davis and sophomore Annika Baez each went yard twice on the day while IU knocked a pair of grand slams against Saint Francis.
In the circle, IU is led by senior right-hander Tara Trainer who has posted a 1.36 ERA so far this season and junior right-hander Emily Goodin, who holds a 1.62 ERA - both are among the league's top-10 - Trainer's 149 strikeouts leads the conference.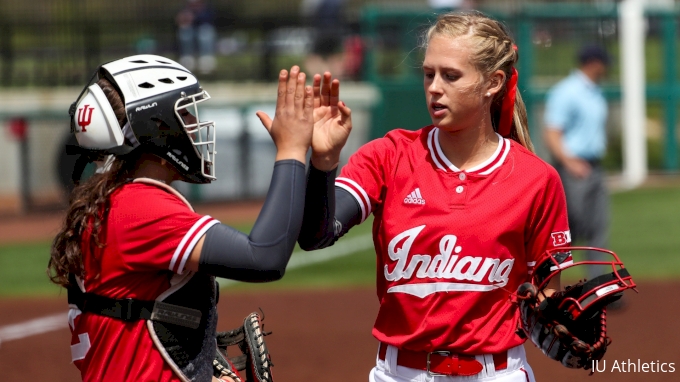 Despite holding a .264 batting average, the conference's second-worst, they have found success with their pitching and defense. The Hoosiers' 1.82 team ERA and .966 fielding percentage rank fifth in the league.
Gabbi Jenkins leads the Hoosier offense with a .337 average, while Katie Lacefield and Baez have each left the yard five times.
Indiana enters Big Ten play this weekend as the Hoosiers travel to Columbus, Ohio to face Ohio State.
No. 21 Minnesota (19-8)
The Gophers are led by junior right-hander Amber Fiser, who for the second time this season has been named the Big Ten Pitcher of the Week after her performance this past weekend.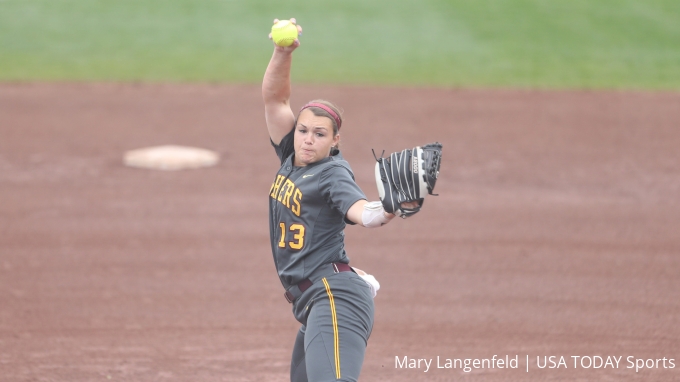 Fiser didn't allow a run the entire weekend at the USF Tournament, firing a complete game shutout on Friday against host, USF, followed with another complete game shutout against Wichita State on Saturday. She closed out the weekend with six shutout innings against USF. After the three wins this weekend, Fiser is 11-5 with a 1.21 ERA and 118 strikeouts. She is holding opposing batters to just a .163 batting average and has now pitched in five shutouts this season with eight complete games.
At the plate, junior MaKenna Partain paces the Gopher offense with a .364 average, 24 runs scored and eight doubles. Freshman Natalie DenHartog is tied for the lead league in home runs, clearing the outfield fence nine times to go along with her .318 average, which is second behind Partain on the Gopher stat-sheet.
The Gophers will face No. 7 Florida on Wednesday before opening Big Ten play at Maryland next weekend.
No. 23 Wisconsin (21-3)
The Badgers are coming off a week of rest before heading to Champaign to take on the Illini in their league openers this Friday night.
Junior Kayla Konwent was named Big Ten Player of the Week for efforts two weeks ago at the USF-Clearwater Parks and Recreation Showcase. The honor marked the second week in a row that a Badger has earned the accolade, with Caroline Hedgcock earning the honor the week before.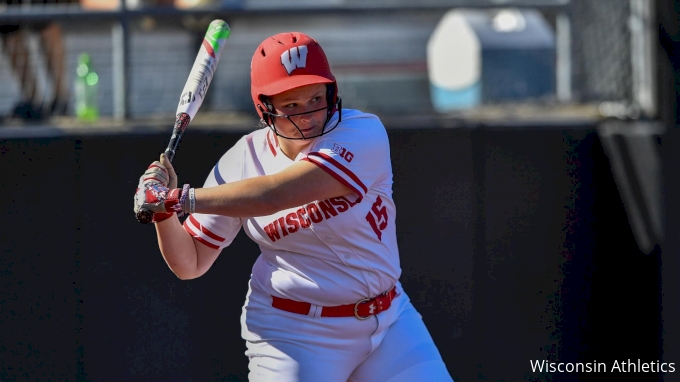 Wisconsin's offense has been one of the strongest in the conference, as the Badgers have posted a .303 batting average so far, the third-highest in the league. Konwent has been a standout leading the Big Ten with a .470 batting average. Her 31 hits, 26 RBI and seven home runs rank in the top-10 in the league in all three categories.
From the circle, the Badgers lead the league with a team ERA of 1.39, with three hurlers ranking in the top-10 in the conference. Freshman right-hander Maddie Schwartz leads the league with an ERA of 1.18, followed by junior right-hander Kaitlyn Menz and sophomore right-hander Haley Hestekin with ERAs of 1.30 and 1.68, respectively.
No. 25 Michigan (15-10)
Wolverine freshman Lexie Blair swept the Big Ten's Player and Freshman of the Week honors last week after batting .875 (7-for-8) and posting eight RBI to headline the Wolverines' offensive efforts in their series sweep over Kent State. Blair posted three hits apiece in both games of a Sunday doubleheader, including a single, double and grand slam.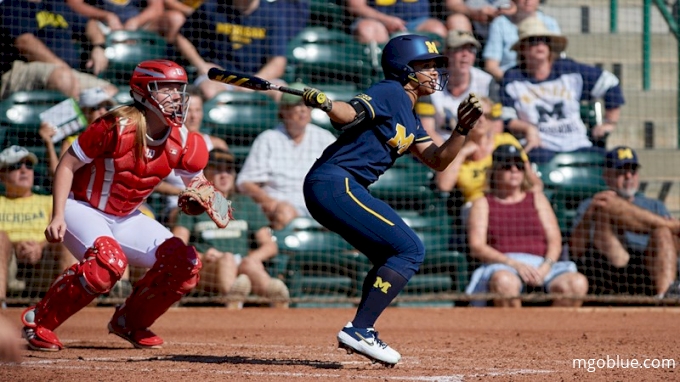 At the plate, senior Faith Canfield leads the Wolverine offense with a .378 average, while Blair leads with 20 RBIs. Meghan Beaubien is 8-3 from the circle with a 2.16 ERA to go along with the sophomore's eight complete games. Freshman Alex Storako's 2.07 ERA and 82 strikeouts are both tops on the Wolverine staff.
The Wolverines had a slow start last season with a 6-6 record out of the gate but ran off 17 consecutive wins from there - they have won six of their last eight games heading into conference play this season.
After hosting in-state foe Western Michigan this week, the Wolverines open conference play by welcoming Nebraska to Ann Arbor on Friday, March 22.
Northwestern (19-6)
Northwestern earned its first ranked win of the season last weekend with a 5-0 shutout at No. 19 Indiana. It was the eighth shutout of the season for the Wildcats, and while the win won't count towards either school's conference record, the 'Cats handed Indiana just their sixth loss of the season.
First-year pitcher Danielle Williams notched her fifth shutout of the season, striking out 10 Hoosiers and allowing just two hits with no walks. Williams, now 13-3, boasts a 1.24 ERA which ranks third in the league. She has struck out 113 - second in the conference - while only walking 12.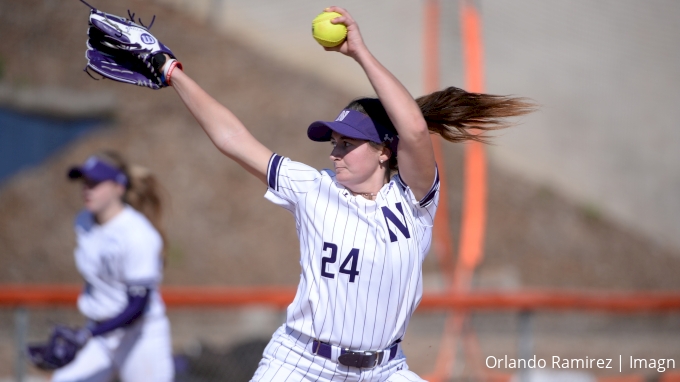 Freshman catcher Jordyn Rudd is at the heart of the Wildcat order with a team-high .342 batting average and 25 RBIs, Rudd already has a Big Ten Player of the Week award under her belt.
Northwestern opens up conference play with their home-opening series against Rutgers this weekend.
Illinois (16-5)
After opening the first five weeks of the season on the road, Illinois returns to Urbana for a seven-game homestand starting with the 2019 home opener on Tuesday against IUPUI, before facing off against Indiana State in a doubleheader on Wednesday.
The Illini finished off their non-conference tournament slate with a 4-1 record at the LMU Tournament this past weekend, outscoring their opponents, 30-17.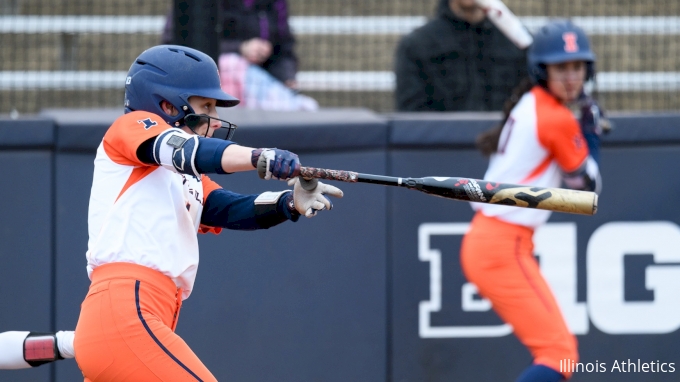 As a team, the Illini offense leads the Big Ten with a .329 team batting average paced by redshirt senior Annie Fleming's .405 average, which currently ranks fourth individually in the league with sophomore Bella Loya right on her heels with a .400 mark. Freshman Sydney Sickels leads the Illini in the circle with a 2.87 ERA in 68.1 innings and ranks third in the Big Ten with 11 wins and is fourth with two saves on the season. Keep an eye on senior Kiana Sherlund, named to the Top 50 Watch List for the 2019 USA Softball Collegiate Player of the Year at the beginning of the season.
The Illini host No. 23 Wisconsin for a three-game set starting on Friday.
Ohio State (15-9)
Ohio State enters league play having dropped a hard-fought, 4-3 extra-inning contest to Grand Canyon for their second-straight loss.
But the Buckeyes have won six of their last nine games, which includes a 7-inning, complete-game no-hitter from ace Morgan Ray. Ray is 7-4 on the season, with a 1.44 ERA to lead the Buckeye effort from the circle.
At the plate, they are led by Emily Clark, who is hitting at a .397 clip with six home runs and 23 RBIs.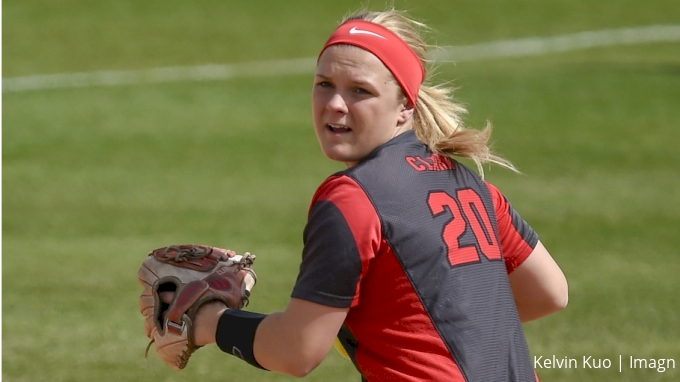 Ohio State opens its home slate and Big Ten action when it hosts Indiana for a three-game series at Buckeye Field starting Friday.
Michigan State (10-16)
After a long stretch of road games to open their 2019 campaign, Michigan State will play its first home game of the season Wednesday with a matchup against in-state foe Western Michigan.
After facing teams like Alabama, Auburn, and Memphis, the Spartans enter league play with a 10-16 record but are coming off a 3-1 showing in Ohio at the Dayton Invitational last weekend, having won four of their last five games.
Spartan ace Alli Walker picked up three victories in Ohio to improve her record to 7-4. Walker started all four games over the weekend posting a 1.24 ERA in 17 innings, striking out 13 and allowing 16 base hits.
At the plate, Charla Echols, Katie Quinlan, and Kaitlyn Eveland are at the top of the stat sheet, all hitting at a .340 clip or higher, with Echols leading the way with a .348 batting average. Eveland has cleared the fence four times and leads with a .470 slugging percentage.
Big Ten play begins for the Spartans on Friday with a three-game series against Penn State; the Friday evening start will be the first night game for MSU at Secchia Stadium.
Nebraska (10-13)
The Huskers are struggling heading into conference play, having dropped their last seven games.
Senior catcher Bri Cassidy leads the Nebraska offense with a .361 average, while junior Tristen Edwards is hitting at a .348 clip to go along with her 27 RBIs and league-leading nine home runs. Also topping the .300 mark is junior Bree Boruff with a .328 average.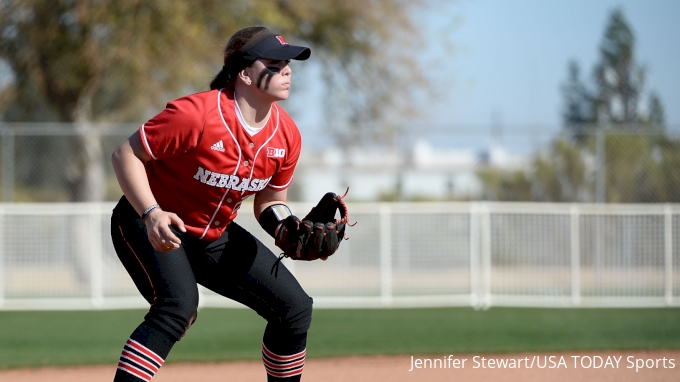 Regan Mergele has logged 46 innings from the circle for the Huskers. The senior right-hander has a 3.02 ERA and 1-5 record. Freshman Lindsey Walljasper leads the staff in victories with four, and along with Mergle has 40 strikeouts.
Nebraska will travel to Ann Arbor to face Michigan in their Big Ten opener on Friday.
Purdue (20-9)
After 29 games on the road, Purdue returns home to open Big Ten play against Iowa this weekend.
The Boilermakers notched their 20th win of the season after bouncing back from a 3-0 loss to North Dakota State with a dominating 7-0 victory against Seton Hall to conclude the USF-Michelle Smith Pediatric Cancer Spring Invitational.
Kasey Wilhoit paces the Purdue offense with a .397 average. The freshman ranks sixth in the league along with classmate Rachel Becker and senior Jenny Behan joining her in the top 15 of the conference hitting rolls. Becker is hitting at a .369 clip while Behan's average is sitting at .372.
Redshirt sophomore Sydney Bates is leading the Boilermakers in the circle, posting a 7-3 record with 57 strikeouts in 70 innings. Bates currently boasts a 3.09 ERA behind senior Kaitlynn Moody's 2.73 ERA. Moody is 5-4 on the season, with four complete games.
Maryland (16-11)
Maryland freshman Taylor Okada ranks second in the Big 10 in hitting with a .426 average, as the Terps head into their conference schedule riding a four-game win-streak after finishing this season's Maryland Invitational undefeated for the first time since 2012.
Senior Sydney Golden anchors the Terps staff from the circle, boasting a 9-4 record with five complete games and a save in 83.0 innings.
Along with Okada, senior Bailey Boyd, and sophomores Sammie Stefan and JoJo McRae are hitting above a .300 clip. Junior Anna Kufta paces the Terps in the power categories, leading the league with 31 RBIs to go along with her team-leading four home runs.
Maryland hosts Virginia on Tuesday for their final game before opening conference play hosting Minnesota on Friday.
Iowa (14-9)
Iowa will travel to Normal, Illinois to face Illinois State for a midweek matchup against the Redbirds before heading to West Lafayette, Indiana to face Purdue to open conference play.
Junior Allison Doocy was tabbed the Big Ten Pitcher of the Week following her performance at the Saluki Invitational. Doocy fired two complete games, striking out 19 and giving up only two runs in 18 innings of work. The Hawkeye's ace, Doocy currently has a 12-3 record and sits on a 1.20 ERA, ranking second in the Big Ten. She has 98 strikeouts in 99 innings pitched, while only waking 17.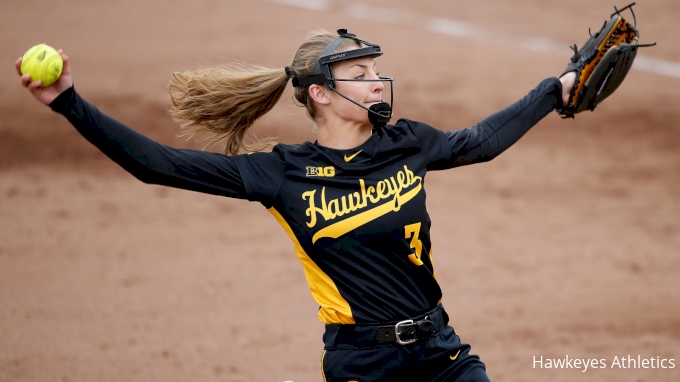 Offensively, the Hawkeyes are led by junior Donirae Mayhew, hitting at.348 clip with 23 hits, seven doubles and 13 RBIs. Senior Mallory Kilian ranks second at .324, and at the USF Series earlier this month the senior batted .438 with four doubles, a triple, and a home run, finishing the weekend with a 1.000 slugging percentage and 16 total bases.
Penn State (13-12)
Penn State had a bye week and will finally open its home season at Nittany Lion Softball Park and Beard Field after a 25-game road stand, hosting Robert Morris on Wednesday before traveling to East Lansing to take on Michigan State in their conference opener Friday.
The Nittany Lions have been on a tear, going 10-2 in their most recent trip down to Florida and were able to improve to 13-12 on the season thanks to their current 6-game winning streak.
From the plate, freshman Melina Livingston paces the Nittany Lion offense, hitting at a .362 pace, followed closely by senior Tori Dubois and fellow freshman Claire Swedberg, batting .333 and .326, respectively. Dubois leads the way with 13 RBIs and five doubles.
Freshman pitcher, Kylee Lingenfelter, who boasts a 1.69 ERA in her 41.1 innings of work, leads the staff with a 6-1 record.
Rutgers (15-11)
The Scarlet Knights have had eight multi-homer games so far this season, winning seven. Freshman Katie Wingert highlights the Rutgers offensive stat-sheet with eight home runs, tied for second most in the conference while hitting .321. Senior Jess Hughes paces the offense from the box hitting at a .410 clip, with five home runs and junior Anyssa Iliopoulos joins Hughes and Wingert hitting above .300, with a .347 average and five home runs.
From the circle freshman, Corah Price leads the staff with a 7-3 record, 2.91 ERA and 60 strikeouts. Price and senior Whitney Jones have split duty in the circle, with Jones posting a 7-7 record and 3.22 ERA.
The Scarlet Knights open Big Ten conference play on Friday at Northwestern.