When Georgia senior shortstop Alyssa DiCarlo was preparing for her first year as a high school softball player, she was both uber-confident and ultra naive.
"I really didn't think too much about whether I was good enough or not to make the team," said DiCarlo, who had an illustrious four-year career at Mountain Ridge High School in Glendale, Ariz. "I just was fairly confident I would make it. Honestly, I was super goofy and didn't really take the sport that seriously."
Yet, when Mountain Ridge coach Michelle Fantin (formerly Markham) broke the news to DiCarlo that there was a strong possibility DiCarlo would begin the season on junior varsity, the wake-up bell rang.
"Suddenly, in that one instance, my whole perspective changed," said DiCarlo, who had begun playing softball at the age of seven and had competed for nationally acclaimed Firecrackers.
DiCarlo worked harder than she ever had in tryouts, enough so to change her coach's mind. She made the team and went on to earn Co-Offensive Player of the Year and be named as The Arizona Republic Division I Honorable Mention as a freshman.
"It really was a huge moment for me," said DiCarlo, who went on to earn multiple honors throughout her high school career including MaxPreps Underclass All-American, First-Team All-West Valley Team selection, and the West Valley Player of the Year. "I knew I had to be coachable. I had to learn how to focus on details. I looked up to the seniors. They were working towards something, making the playoffs and competing for a state championship. They taught me a lot about the attention to detail."
At Georgia, she has built a reputation that far exceeds those early "goofy" days. She had a stellar junior campaign in which she was named one of 25 finalists for the 2018 USA Softball Player of the Year award after leading the SEC in home runs (21).
This season, DiCarlo, named to the 2019 Collegiate Player of the Year watch list in the preseason, has continued to showcase her growth and maturity as a person and a player. Tasked to lead the Lady Bulldogs as one of their captains, DiCarlo has been nothing short of spectacular in the first half of the season.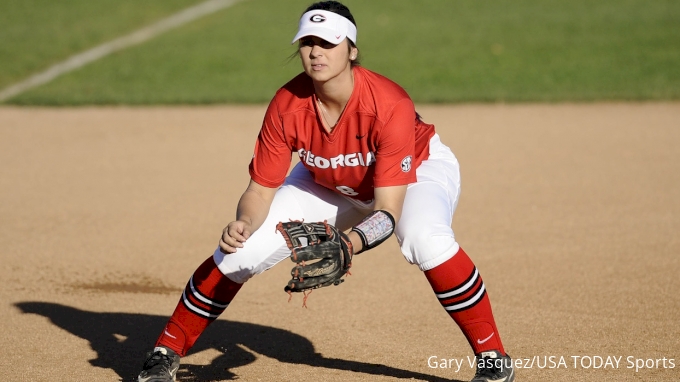 She broke the program's all-time home runs record earlier this season in a 6-0 win over Western Illinois. She hit two home runs in the contest, first tying then breaking the record of 58 previously held by Alisa Goler (2008-11).
DiCarlo, who leads the SEC in home runs with 18 entering Tuesday's competition, is on pace to break the SEC career and single-season home run records, and Georgia's all-time RBI record.
That's 5️⃣9️⃣ home runs and counting for senior Alyssa DiCarlo!

Congrats on becoming @UGASoftball's all-time HR leader. pic.twitter.com/VoMWy1dYKG

— Georgia Bulldogs (@UGAAthletics) March 12, 2019
"She has impacted our program in many ways since she stepped foot at Georgia," associate head coach Tony Baldwin said. "We have had a number of really good players go through this program so if you hold a record in just about anything then that is an accomplishment, certainly one as prestigious as home runs. Not only is she a great player but she is a great person and a great teammate. She's a really good leader and that is what you look for in players. I'm just thankful we get an opportunity to coach her and work with her and proud that she is a Bulldog."
Florida's Lauren Haeger (2012-15) has the league's career mark with 71 home runs, and former Georgia star Alex Hugo belted a single-season record 25 in 2014.
Georgia is 25-9 and ranked No. 13 in the nation entering Wednesday's game against Georgia Southern