2019 NPF Schedule
Cleveland Comets Announce Partnership With Team Mexico For 2019 NPF Season
Cleveland Comets Announce Partnership With Team Mexico For 2019 NPF Season
Comets announce a cooperative partnership with Team Mexico for 2019 NPF Season.
Mar 28, 2019
by Chez Sievers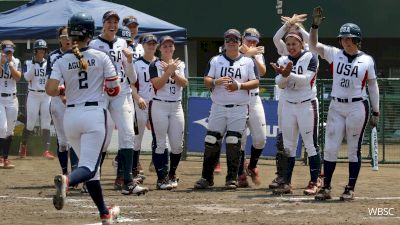 Unlock this video, live events, and more with a subscription!
Get Started
Already a subscriber? Log In
The Cleveland Comets announced a cooperative partnership with Team Mexico for the 2019 National Pro Fastpitch (NPF) season.
The partnership will add top international talent to Cleveland's roster, which currently includes multiple NPF leading performers. Players with Hispanic backgrounds will have the opportunity to earn a spot with Team Mexico, which will give fans the chance to see college, international and even former NPF players on the field.
"We are incredibly proud to announce our new partnership with Team Mexico" stated Stephen Dunn, General Manager of the Cleveland Comets. "Mexico is a power in the international softball world, and we believe their addition to our roster gives our franchise the immediate opportunity to compete for a championship."
Team Mexico earned the Silver Medal at the 23rd Central American Games in Cartagena, Colombia with a record of 7 wins and 1 loss, with their only loss coming in extra innings in the championship game. In 2018, Team Mexico finished in 6th place at the World Baseball Softball Confederation (WBSC) World Championship celebrated in Chiba, Japan with a record of 6 wins and 3 loses, losing to Australia 0x1 in nine innings for the chance to compete for the bronze medal. The team is currently ranked 5th in the WBSC world rankings.
Besides the Comets/Team Mexico partnership participation in the NPF, the team will participate in the USA International Cup of Softball between July 2-7 in Columbus, Georgia, the 18th Pan American Games August 3-11 in Lima, Peru and the WBSC Americas Olympic Qualifier between August 25-September 1 in Surrey, Vancouver, Canada.
"The Mexican National Softball Federation and it's sports government entities, The Mexican Olympic Committee (COM) and CONADE, are thrilled on the tremendous value that this Comets/Team Mexico partnership will bring us," stated Ing. Rolando Cruz Guerrero, President of Team Mexico. Our players' quality of playing the game at the highest level, commitment and work ethics are second to none, and it's our responsibility to find opportunities like this so our players can be challenged and prepare themselves to compete head to head with the world's finest programs. We know that National Pro Fastpitch will feature top-notch competition and we want to provide our athletes with the best opportunities to succeed in their quest of preparing and competing for a qualifying spot in the 2020 Olympic Games in Tokyo"
2018 was the inaugural season of competition for the Cleveland Comets. There was an international flavor immediately present with players rostered from China. The team went 10-38 in 2018, finishing in last place in the overall standings.
"Our mission remains the same, and that is to provide an exceptional fan experience, in combination with the world's most elite talent in the game of fastpitch to our fans. We believe today's announcement is another step forward in our endless pursuit to achieve this" said Dunn.
The Comets will open the 2019 season on June 6, when they take on the Chicago Bandits in Rosemont, IL at Parkway Bank Sports Complex. Cleveland's home opener will take place on June 12, against the Canadian Wild of Southern Illinois, at Sprenger Stadium in Avon, OH.
For more information about the Cleveland Comets or to purchase tickets to any home game during the 2019 season, please visit clevelandcomets.us or call the box office at 440-934-8239.
About the Cleveland Comets
The Cleveland Comets, headquartered in Cleveland, OH, became a new franchise in the National Pro Fastpitch (NPF) League in 2018. The Comets play out of Sprenger Stadium in Avon, OH as well as Akron's Firestone Stadium. For more information on the Cleveland Comets, contact General Manager Stephen Dunn -stevedunn@clevelandcomets.us.
About National Pro Fastpitch (NPF)
National Pro Fastpitch (NPF), an Official Development Partner of Major League Baseball since 2004, provides elite female athletes with an opportunity to pursue a professional career in fastpitch softball beyond their collegiate and amateur success. The NPF affiliate teams consist of the Aussie Peppers of Minnesota, Beijing Shougang Eagles, Canadian Wild of Southern Illinois, Chicago Bandits, Cleveland Comets, and USSSA Florida Pride. National Pro Fastpitch players hail from the United States, Australia, Canada and China among which are the most accomplished and talented athletes in the sport of women's softball.