Create a free account to unlock this article!
Get Started
Already a subscriber? Log In
Entering the 2019 campaign, Illinois coach Tyra Perry had an inkling where she might slot second-year player Bella Loya. Perry, in her fourth season with the Illini, sensed Loya had the type of demeanor usually exhibited by upperclassmen to handle the cleanup role in the batting order.
Throughout Loya's freshman season, despite bouncing around four positions in the field — catcher, first base, third base, and designated player — and several places in the order, the Mission Viejo, Calif. native led the team with 10 home runs.
Yet, Perry understood the dynamics to the 2019 version of the Illini could sway her decision.
"We have such an interesting team this year with about as many freshmen (8) as seniors (9) and I just wanted to be sure the team was ready for her to take it on," said Perry, who is in her fourth year with the Illini. "After five games, though, there was no denying she was ready for it."
Loya, hitting either fourth, fifth or sixth in the order over the course of five contests, notched seven RBIs on four home runs.
Perry wasted no further time in penciling in Loya at No. 4.
"It was clear and evident," Perry said. "She has a certain presence at the plate that not only helps our team in terms of producing runs but she helps those around her in the order with the type of confidence she exudes at the plate."
In fewer words than more, she not only sets the table; she often clears it.
Owning It
Case in point, her dominating performance at the Mardi Gras Invitational in which she earned the Big Ten Conference Player of the Week after the designated player/catcher registered a .667 average with a 10-for-15 showing at the plate that included three home runs, two doubles, eight RBIs, four runs, and 21 total bases. In doing so, Loya, who was named to the Mardi Gras Invitational All-Tournament Team, recorded a 1.400 slugging percentage, a .688 on-base percentage and a 1.000 fielding percentage.
"She has really matured as a hitter and a college athlete," Perry said. "We moved her around a lot last year in the field and in the order due in large part to certain injuries and just trying to figure out where she would fit. She's settled in at her natural position this year as a catcher and designated player and I believe that has allowed her to excel even more at the plate."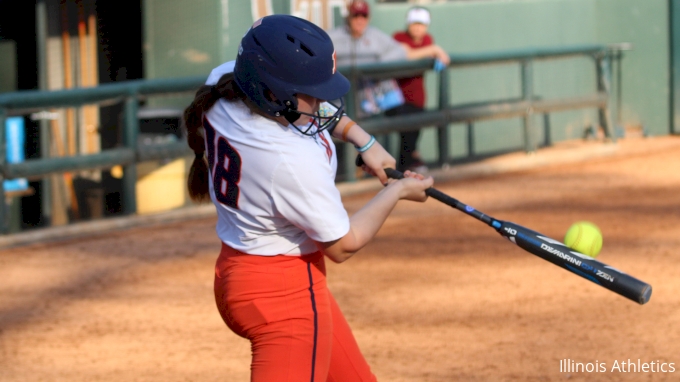 Loya, who made the Big Ten All-Freshman Team after batting .362, helped the Illini post a 3-1 record at the tournament hosted by South Alabama in Mobile, Ala. She went 4-for-4 with two singles, a double and a home run, as well as four RBI and two runs in a win over USA to begin the tournament, collected a pair of hits – including a double and a homer – to go along with an RBI and a run in the first win over Nicholls State on Saturday, before adding a hit and an RBI against Stephen F. Austin later in the day. She then wrapped up the tournament going 3-for-4 with a homer, two RBI and a run on Sunday against the Colonels.
"I've definitely become more mature at the plate," said Loya, who was one of the most prolific hitters out of California after having helped powerhouse Mission Viejo win three straight state titles. "As a freshman, you don't really understand how great the competition is in college until you face it on a daily basis. You learn how detailed the game is from the scouting reports to the attention to detail to the overall competitive nature of a conference. I've just been able to really understand the game a lot better than I ever had."
Loya has continued her torrid start and currently ranks first in the Big Ten in home runs (9) and RBI (28). She also is among the league leaders in batting average (.398), doubles (7), RBI (31), and runs (20).
The Process
"Every game she's working on the process to do what she needs to do to get better and to make things happen at the No. 4 spot," Perry said. "She sets a tone for us every day and she makes the hitters around her better."
Redshirt senior Annie Fleming, who missed the 2018 campaign due to an injury and has been hitting third in the order, is off to the best start of her career with a .416 batting average. Redshirt senior Carly Thomas, who made the Big Ten Conference First Team after finishing the 2018 season with a .363 batting average, has also begun the season with improved numbers hitting .393 including 14 doubles, which is on pace to smash her career high of 17 doubles last year.
"Bella fits with the process we have (at Illinois)," Perry said. "We want our power hitters to be aggressive, swing at hittable pitches and be on time with their swings. We expect them to put pressure on the pitchers, to drive the ball, to put the ball into the outfield and to produce runs."
As a team, Illinois (19-7, 1-1) sits at the top of the conference with a .332 team average and 170 runs and are tied for second in home runs (31). More than half of the usual starting lineup own batting averages that are .333 or better.
"This is a great team and we have so many great hitters around me that it makes my job a lot easier," Loya said. "I'm excited about the possibility of what we can achieve this season."