2019 THE Spring Games
What You Should Know About Augustana Softball
What You Should Know About Augustana Softball
A program rich with tradition, Gretta Melsted seeks to revive the program and attract players that are the right fit.
Apr 4, 2019
by Chez Sievers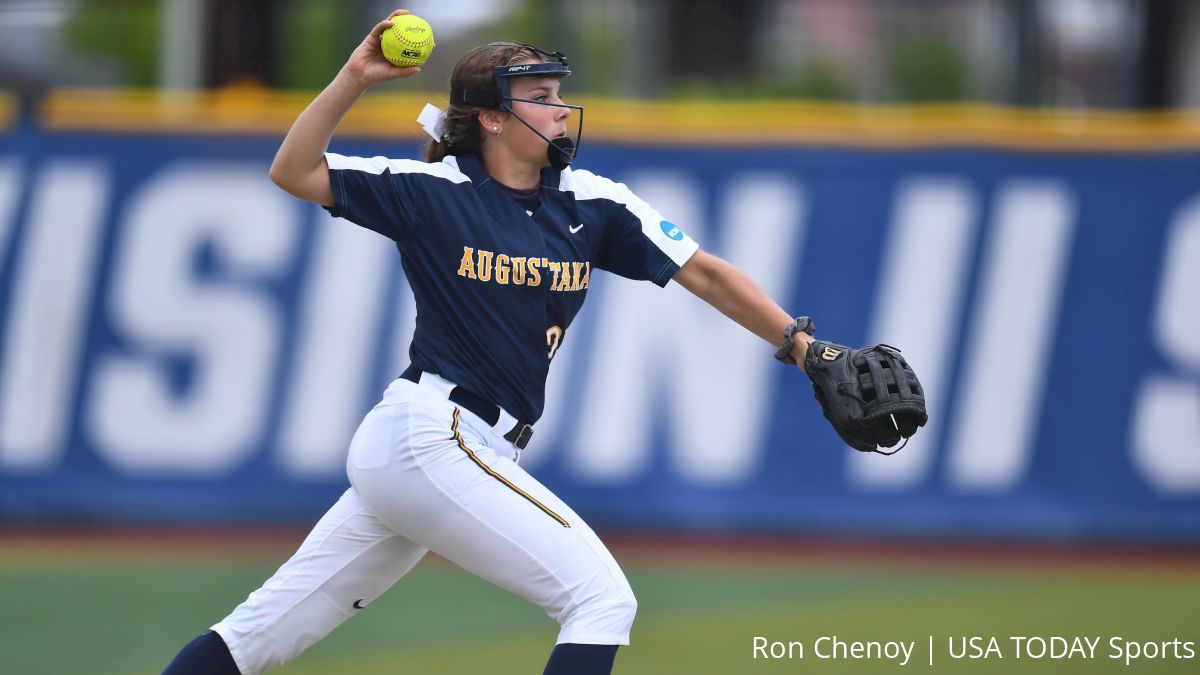 In 2018 the spring sports season in South Dakota endured its worst spell of weather for as far back as the local population could recall. The temperature averaged 26.1 degrees over the first nine days of April, almost breaking the record set in 1899 when the temperature averaged 28.4 degrees.
The softball program at Augustana University had to either cancel games on their schedule (7), reschedule on a different day than originally intended or play them at a different site because the weather was so bad -- the coldest April ever by 2.3 degrees. Of note was a bus ride to Minot, N.D., to play indoor games at 9 and 11 p.m.
Badge of Honor
Such is the life of softball in cold weather areas of the country.
At its best, springtime in South Dakota is quite dysfunctional when it comes to offering weather good enough for facilitating outdoor sports. At its worst, it's downright unbearable.
"We don't look at it as a disadvantage," said Augustana coach Gretta Melsted, who entered the 2019 campaign with a career record of 548-301(.646), including 467-205 (.694) in 12 seasons at Augustana. "We try to wear it as a badge of honor – that we're going to have the advantage in those situations because we handle these things better than other teams. Most of our kids are born and raised in this area and this is just what we're used to. Other people might question how we are able to deal with the weather, not knowing if you're going to play one day or not, not getting on the field outside until the end of March, the beginning of April on a consistent basis, but we embrace it and get tougher because of it."
Interestingly enough, Melsted emulated the late Tennessee basketball coach Pat Summitt, who won eight national titles and helped make it acceptable, admirable, even downright awesome to be a visibly tough woman in charge. Before switching over to coach softball on a full-time basis, Melsted — who excelled in basketball and softball at Carleton College (Northfield, Minn.) and holds the school record for runs in a season (36 in 1997) — incorporated a certain style similar to Summitt's demanding approach while coaching both basketball and softball at several different high schools.
Over the years while leading Augustana, her teams have matched the tough mindset and are known throughout Division II as one of the most difficult to play.
Despite the historically low temperatures during the 2018 campaign, Augustana managed to string together 17 consecutive wins in the middle of the season on its way to a 42-15 record that culminated in a loss to Minnesota State in the NCAA Division II Central Region 2 Semifinals.
This season, the No. 14 Lady Vikings have had another impressive start, compiling a 20-5 non-conference slate during the months of February and March.
"Don't get me wrong, South Dakota is not a softball hotbed but I learned early on that to be successful coaching any sport, you have to get the right players that fit your style and your program," said Melsted, who worked under seven head coaches before getting her first head coaching job in 2004 at Culver-Stockton.
Revival
Melsted is admittedly fortunate to have landed at a place where one of the best coaches of all time —Sandy Jerstad — held the reign for 27 seasons. Jerstad guided the Vikings program from its infancy to national prominence from 1977-2003, compiling a 1,011-359-2 record to become the winningest softball coach in NCAA Division II history. When she retired after the 2003 season, she ranked second all-time in wins among NCAA softball coaches, regardless of division.
"I was really lucky," said Melsted, who took over the program in 2007 after Jenny Hill guided the Vikings to a 91-60-1 overall record in three seasons. "This program has a lot of tradition. Sandy did a phenomenal job in building something special here. Understandably, there was already a winning culture here. I just had to revive it."
Part of reviving the magic was in finding student-athletes who "fit" the Melsted program as well as the Augustana academic standards.
"It's all about getting the right athlete, the right person for the program and the school," Melsted said. "We have a very high academic profile at Augustana. We have to bring in a lot of really bright kids."
Augustana's pre-health professional programs are considered one of the best in the nation with a 10-year cumulative acceptance rate to medical schools that are two times better than average. There are 12 players on the current roster who are either majoring or considering majoring in the pre-health program.
"It's about finding the right fit for the school then we find the right fit for the program," Melsted said. "That's been our success. If we find the kid who is going to be a fit for both things then they are going to thrive here. That's been our success. The magic of Augustana is that it's a great place for kids to compete in the highest level in Division II at a school with high academic standards. We pride ourselves on getting a unique student-athlete here. We try to go after kids who are top notch, academic kids, who are good softball players and who want to do well at both."
As far as the softball approach, Melsted traditionally has looked for players to hit the ball hard and far yet she has adapted over the past few years.
"My joke used to be we were never accused of being fast," Melsted said. "We have changed a little bit. We are more balanced now. We are very athletic. We get players on base and get players moving."
Augustana currently ranks ninth in Division II for triples with 11 and is in the top 40 for team batting average (.318). The team has 47 steals in 53 attempts with junior Kendall Cornick (11-for-12), freshman Mary Pardo (10-for-12), and sophomore Ashley Mickschl (9-for-11) leading the way.
Replays From THE Spring Games
Augustana vs Indiana University of Pennsylvania