2019 18U PGF Premier Nationals
How The NW Bullets Emerged As The Northwest's Premier Club
How The NW Bullets Emerged As The Northwest's Premier Club
How NW Bullets embraced the challenges and became one of the top softball programs in the country.
Apr 8, 2019
by Chez Sievers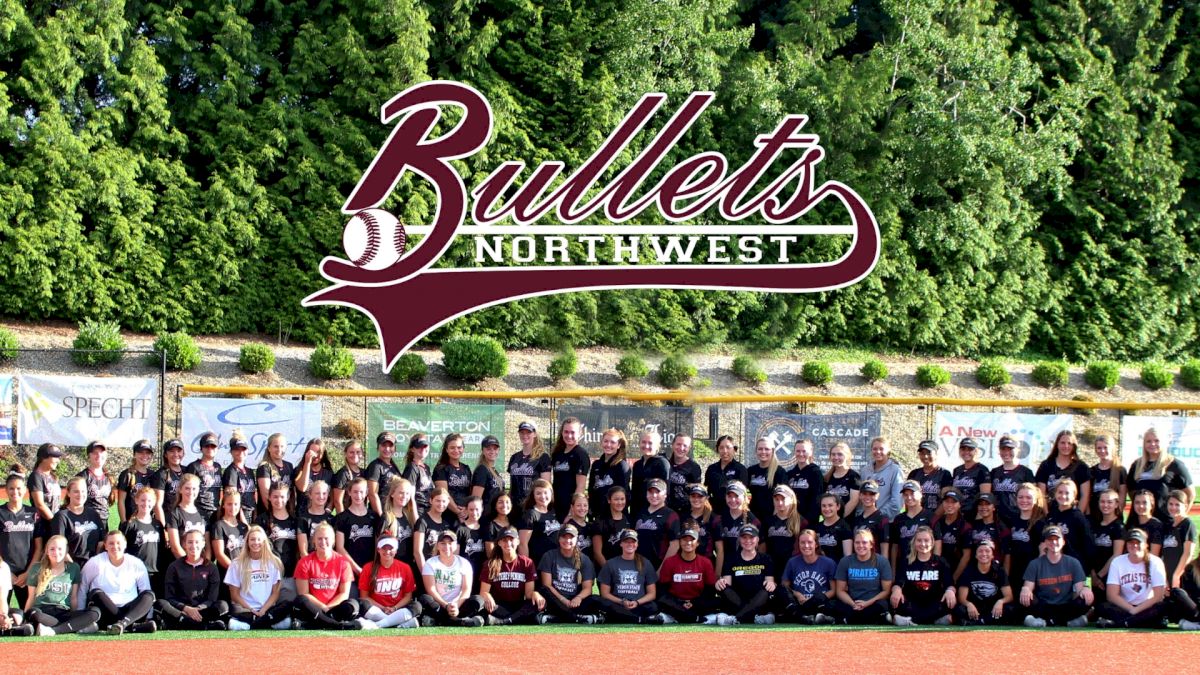 Unlock this article, live events, and more with a subscription!
Get Started
Already a subscriber? Log In
In 2005, Dennis Muir, Tony Campos, and Warren Hall started the Northwest Bullets. This team of coaches wanted to provide a program for players from the Northwest that would allow them to train and play on the national stage. Campos added, "The purpose of the team was to bring together the best athletes in the northwest, to develop their skills and prepare them to play on a national stage and be recruited by top programs."
The NW Bullets are based out of the Portland area. The athletes in our program come from Oregon, Washington, Idaho, primarily, but players have come as far as California and Nebraska, most of our players come from the greater northwestern US.
As a Club, some big wins have been:
2015 - Won the 2015 TCS National Championship,
2009 - Top 5 ASA Nationals in Oklahoma City
2009 - Top 5 finish at ASA Nationals in Oklahoma City the last year
2008 - Tied 17th in ASA Oklahoma Gold Nationals
Two top 10 finishes in PGF Nationals
4 Top 20 finishes at PGF Nationals
The 18G Campos team had a solid summer last year finishing 17th at PGF Premier Nationals and at IDT. Most of their players are returning this year and it looks like they are going to have a great year. During the Fall season, they went 5 -2 at the PGF Shootout, were co-winners of the PGF Ultimate Challenge and went 6-1 at the Surf City Early Thanksgiving Showcase against great teams.
"I think what makes our organization unique is that we've been able to keep the same coaching staff since it originated (Tony Campos, Dennis Muir, Warren Hall) which has been huge for this program," Campos said. "We're able to surround ourselves with former players and connections we have in the softball world that will consistently support the organization as a whole."
Turning The Corner
"The first time we qualified for ASA nationals we had never been there before and it was a big awakening for us as a coaching staff to play those powerhouse teams," Campos remembers. "We showed up with 11 kids and teams we played against teams with 22 kids on their roster. What we've done from that day on is put together a model of what we needed to compete on a national level."
Winning the 2015 TCS National Championship thrust the NW Bullets into the spotlight. After beating several well-known clubs, the Bullets soon earned the respect of programs across the country.
With most of their players committed to future universities, Bullets-Campos are focused on finishing high at PGF Nationals. "Our goal is to compete for the National Championship and really prepare the players to play at the next level by playing the best teams in the country and getting our athletes ready to make an immediate impact when they get there," Campos said. "This year we are very well rounded. We have speed, we have power and we have very good pitching. We are excited about our tools on all sides of the game."
Winning The Game Of Life
As much as softball is a passion for the players, softball is a passion for the coaches. "We don't do this for a living," Campos explained. "People respect our organization because we respect the game, the opposing teams, the officials and we expect our girls to respect it too."
"We are very proud of our players, not just for what they've done in the sport but for what they've done after their playing days, " Campos said. "The satisfaction we get from watching our girls become good leaders, good bosses, good moms. We have former players that have gone on to do many things, from ESPN Analysts to lawyers, nurses, and coaches."
The Bullets keep their club small to ensure that their players are groomed for success. Maximizing their time inside and outside, the fundamentals of the game are engrained indoors to much surprise. "Teams in other areas get more dirt time," Campos said. "But it forces us to focus on the fundamentals and game time preparation through situational softball practice at an intense level."
Tony Campos, Dennis Muir, and Warren Hall have been there since the beginning. They are still coaching the 18U and 16U Gold teams. "We've been fortunate to have several of our former players return after college or even during the summer to help coach our players and give back to the program," Campos stated. "We think we are the best program in the Northwest to take girls from the Northwest to face the best national competition and get them recruited."
| | |
| --- | --- |
| Brooke Nelson | P/UT | 2019, Washington |
| | Nelson came to the program two years ago and has grown into a terrific pitcher. She has also increased her ability to hit at the highest level and is a big contributor in the middle of the order. Nelson is a great leader in the organization, not just on the 18U team but with some of the younger players as well. Her pitching and offense really helped the Bullets at PGF Nationals last year and the Shootout this year. |
| Abby Wingo | OF | 2019, Seton Hall |
| | Wingo's been with the program since she was an eighth grader. She's grown to be a very good outfielder. She is also a very excellent teammate. She consistently put in the work year-round to now be able to really compete at the Division 1 level. The coaches are very proud of the work she has put in, how much she has grown and the player she's become. |
| Grace Gaither | SS | 2019, Oregon State |
| | Gaither joined the team as a freshman and committed to Oregon State as a freshman but had a season-ending injury a couple of years ago. She came back from that injury last year and she is getting stronger and stronger. You can't teach what Grace has on the field, she just has great instincts as a shortstop. She'll be hitting in the middle to the top of the line up this summer and given her skills she will be ready to make an immediate impact at Oregon State next season. |
| Skylar Padgett | IF/OF | 2019, North Dakota State |
| | Padgett came to the Bullets as a freshman. The unique thing about Padgett is that she can play middle infield, corner, and outfield. She also had a season-ending injury but she's back now and is expected to make big contributions for the team defensively. The coaches believe with time on the field she is going to be able to really add to their offense. |
| Jen Cummings | C/UT | 2020, Washington |
| | Cummings joined the team during the fall and she is already making an immediate impact as a catcher. One of her key strengths right now is being able to communicate with the pitchers. She's an offensive contributor and is going to hit in the middle of the lineup. The coaches are excited to see her progress and continue to grow as she gets to play against the best competition in the country this year. |
| Olivia Grey | P | 2019, Portland State |
| | Grey has been with the team for several years and she has a great story. She was very dominant as a young pitcher but as she grew up and started facing better competition, she had to learn what it took to compete at a higher level. She really committed to putting in the work she needed to mentally and physically which made a tremendous difference for her. Grey is now one of the top pitchers in the Northwest. |
| Alyssa Daniell | 1B | 2020, Stanford |
| | Daniell has been with the program the longest. She started with the Bullets as a 12U player. "In our history, we've only had a couple of girls that have jumped straight from 14U to the 18U Gold level which is just a huge jump and Alyssa is one of them." She is probably one of the best first basemen to ever play in the organization. Daniell is still growing offensively and we're and very excited for the contribution she will continue to make for our team this year and next. |