2022 Northern Lights Southern Nights
Northwestern Southpaw Danielle Williams Does It All
Northwestern Southpaw Danielle Williams Does It All
Northwestern freshman hurler, Danielle Williams is off to an epic start.
Apr 16, 2019
by Scott Schultz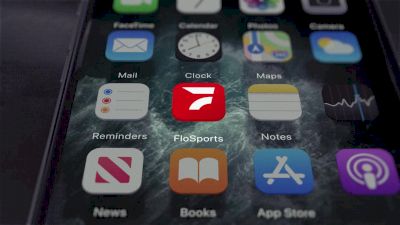 A four-time FloSoftball High School All-American during her years at Amador Valley High School, Northwestern first-year Danielle Williams made the move to Evanston from Pleasanton, California as the Prep2Prep Sports 2018 North Coast Section Player of the Year and first-team All-North Coast Section.
Williams led Amador to the NCS Division I title in 2018, pitching 28 scoreless innings and giving up just eight hits with six walks and 58 strikeouts across four games. In the series opener, she struck out 20 and was an error away from a perfect game.
A top-20 national prospect and one of the top pitchers in her class, Williams is a dual-threat - not only dominating from the circle, but also at the plate.
Adjusting to the early Spring weather in the Chicago area in lieu of the temperate California climate hasn't been an issue for Williams.
"I think just everything we have [equipment-wise] that allows us to be warmer has helped us a lot," said Williams. "It's cold here and definitely a different kind of cold than I'm used to, the rain here is COLD and not warm. But I like it, it's different."
In her Wildcat debut against Pacific Feb. 8, Williams recorded a one-hit shutout, striking out five and was one out away from pitching a no-hitter. She picked up another shutout win in the very next game, holding Louisville to two hits while fanning 13 batters in a 1-0 win.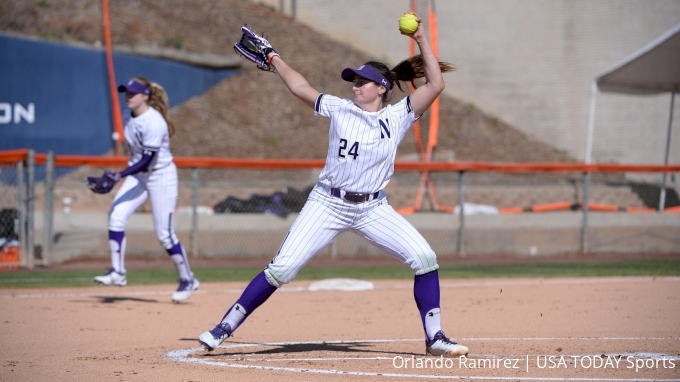 These results are no surprise to Northwestern head coach Kate Drohan.
"Danielle has excelled at every level she's played, there's no surprise there," said Drohan. "I am in awe of how hard she works and how unfazed she is by different challenges. Her poise around the game – and life in general – is outstanding."
This past weekend during the Wildcats' home series with Wisconsin, Williams earned her 20th win of the season while tossing her 18th complete game in the series opener. The rookie southpaw allowed just one run on four hits over 7.0 innings while striking out nine. A solo homer in the top of the second inning by Badger third baseman Jolie Fish snapped a run of 38 scoreless innings from the circle for Williams. At the plate, she also drove in the eventual game-winning run with an RBI single in the second inning.
Level Up
Confidence in both herself and her team has been key to Williams' early success.
"I think I was confident because of my team playing behind me," said Williams. "[They are] always supporting me, producing runs and then also on defense, that all helped me a lot."
After an early April weekend sweep of Nebraska, Williams was tabbed the Big Ten Pitcher/Freshman of the Week, marking her third consecutive league honor this season. Williams dominated the Husker offense, adding two wins to her record with a pair of complete game shutouts as she allowed just four combined hits in 14.0 scoreless innings while striking out 22.
Trophy case getting HUGE

Make it 3️⃣ straight @B1Gsoftball weekly honors for Danielle Williams. ???

?: https://t.co/IRK4nV3ulQ#B1GCats pic.twitter.com/c1LUzSBlIk

— Northwestern Softball (@NUSBcats) April 8, 2019
In the weekend's opener, she allowed three hits and struck out 10 in the Wildcats' 8-0 victory over the Huskers. She again helped her cause from the plate, going 1-for-2 with a double and drove in the go-ahead RBI in the top of the fourth inning.
Williams turned in another gem to close the series, surrendering just one hit and striking out 12 in during a 4-0 win in the weekend finale at Lincoln. A Husker single in the first inning would be the only hit allowed on the day for the home team as she held the Nebraska lineup hitless the rest of the game to mark her fourth one-hit shutout of the season.
Her first Big Ten Pitcher of the Week honor came back in the last week of March on the heels of another dominating weekend with Iowa serving as Williams' victim. She posted a 1.31 ERA, surrendering just three runs over 16 innings pitched during her three appearances.
? to ? Big Ten Weekly honors ?

Danielle Williams is the Big Ten Pitcher of the Week after tossing 2️⃣ complete game shutouts at Iowa.

?: https://t.co/2cUcSLN2af#B1GCats pic.twitter.com/zsL0CD1iYl

— Northwestern Softball (@NUSBcats) April 1, 2019
During the opener with the Hawkeyes, she struck out 15 batters in a one-hit shutout, tying for the most strikeouts in a single game for a Wildcat pitcher since Amy Letourneau fanned the same back in 2013 against Campbell. At one point, she sat down 14 consecutive Hawkeyes while carrying a no-hit bid into the sixth inning.
Danielle Williams escapes the jam with her SIXTH strikeout of the afternoon.

T6 | #B1GCats 4, Iowa 0 pic.twitter.com/Nl1jWm2nPC

— Northwestern Softball (@NUSBcats) March 31, 2019
With last weekend's sweep of the Badgers, the Wildcats improve to 33-7 on the year, marking their best record through 40 games with Drohan at the helm of the Northwestern bench. The wins also extend the Cats' winning streak to a season-high 11 straight wins, moving them to 12-0 in Big Ten play and perching them solely atop the conference standings.
Chemistry
Drohan gives ample credit to Williams and her classmates for the Wildcats' success.
"I think all of our freshmen have injected our team with great energy," said Drohan. "They love the game and they love competing."
Team chemistry is key when it comes to softball, and the Wildcats and Williams seem to have figured out the formula for success, which played a major role in Williams opting to call Evanston her new home field.
"I think just the family atmosphere with this team had a really big impact on me coming here," said Williams.
Williams, Drohan and the Wildcats will put their unbeaten Big Ten record and 11-game win streak on the line Friday afternoon, April 19, when they welcome Purdue for a three-game set with the Boilermakers. First pitch is scheduled for 4:00 p.m.