Bethune-Cookman Wins MEAC Championship & Earns An NCAA Bid
Bethune-Cookman Wins MEAC Championship & Earns An NCAA Bid
Bethune-Cookman wins back-to-back MEAC Championships and earns a bid to the NCAA tournament.
May 12, 2019
by Chez Sievers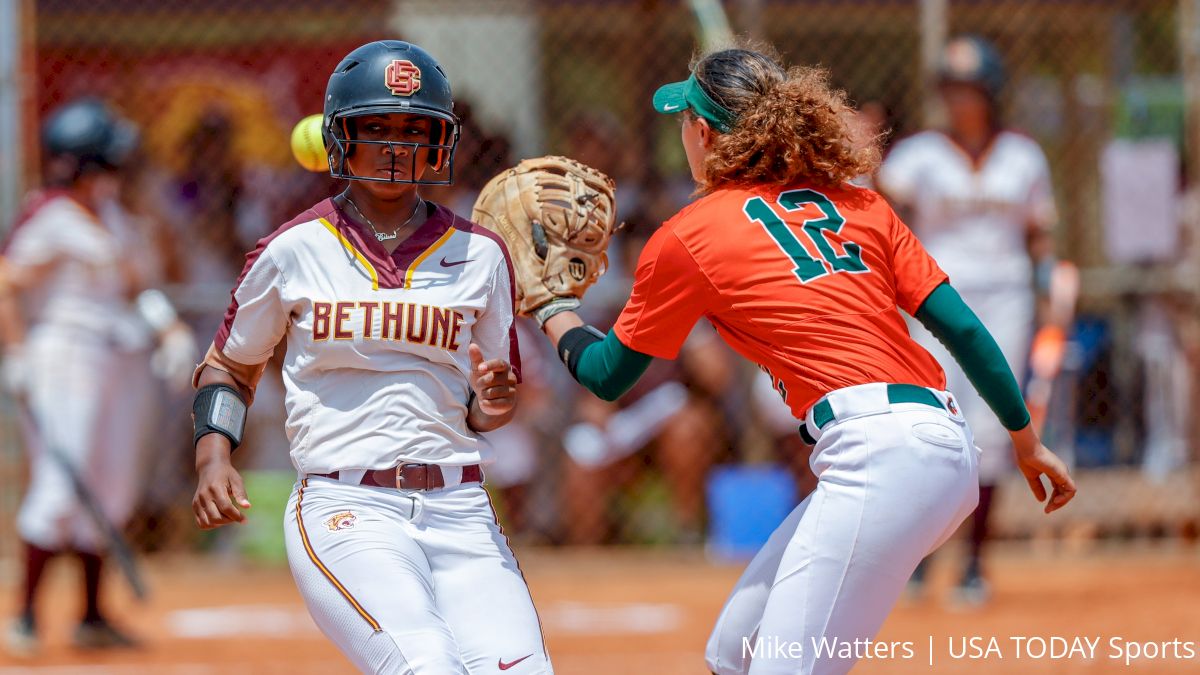 ORMOND BEACH, Fla. – Championship Saturday at the Mid-Eastern Athletic Conference Softball Tournament saw Bethune-Cookman go from one out away from suffering a no-hit loss in the first game to being one hit away from winning the championship via the run-rule.
Welcome to the 2019 softball season in a nutshell.
A young but resilient Wildcat squad that handled everything thrown at it during the regular season did it one more time Saturday, recovering from a 1-0 loss in the opening to defeating Florida A&M 11-5 for the program's 10th conference championship Saturday at Ormond Beach Sports Complex.
BCU (26-29) also clinched its 11th NCAA tournament berth – the famed 2005 Regional Championship earned an at-large bid – and will learn its destination Sunday at 9 p.m.
The repeat also gave Head Coach Laura Watten her seventh championship at BCU. This was BCU's first repeat since the 2010-12 teams won three in a row.
Sasha Killings, an outfielder converted into a catcher, was named Most Outstanding Player and joined by Alexis Bermudez and Cheyenne Smith on the All-Tournament Team. Killings hit .313 with five RBI in the five tournament games.
Florida A&M (24-29) kept the Wildcats scoreless for nine innings in taking the first game and then a 2-0 lead in the second game before BCU broke through with six runs in the third, capitalizing on three Rattler errors.
After Carrington Robinson tied it, Quianah Mitchell scored on Brianna Paysinger's single to give BCU a 3-2 lead. Paysinger would score on a three-base error, then Kaira Cabato and Kaiya Epps-Lee delivered RBI singles.
Cheyenne Smith had an RBI single in the fourth, then BCU expanded its lead with a four-run fifth.
Epps-Lee registered her second RBI of the game, Killings stole home, Epps-Lee scored on an error and Paysinger singled home Kayla Traylor to make it 11-4, putting BCU one hit away from ending the game early. However, the inning ended with two runners left in scoring position.
With the lead, Alexis Bermudez could give up a pair of leadoff home runs with no damage as she picked up the win in relief.
The first game was a masterful pitcher's duel that saw Bermudez give up just three hits and one unearned run – and still lose. FAMU's Kaiya Brown took a no-hitter into the seventh, only to have Brianna Sanders break it up with a two-out single.

NOTES: Smith and Paysinger each .hit 412 (7-17) while Sanders was .333 (5-15) … Bermudez' tournament stat line was a 2.34 ERA with 19 strikeouts … BCU and FAMU were playing on Championship Saturday for the sixth consecutive season … Watten is now 43-23 all-time vs. FAMU and 12-10 in the tournament … BCU is now 7-23 when opponents score first, with two of those wins coming against FAMU in the tournament.