2019 18U PGF Premier Nationals
Rising Star: 2020 Catcher Sara Kinch, A Student Of The Game
Rising Star: 2020 Catcher Sara Kinch, A Student Of The Game
Self-proclaimed late-bloomer Sara Kinch has become one of the elite 2020 catchers in the country.
May 15, 2019
by Stephen Kerr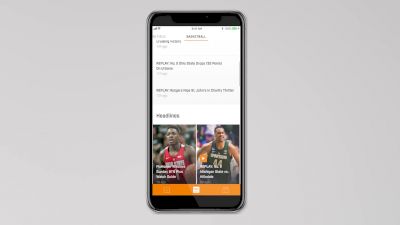 Unlock this article, live events, and more with a subscription!
Get Started
Already a subscriber? Log In
When chatting with Sara Kinch about the finer points of softball, it's easy to forget she is a junior catcher for the Great Oak (California) High Wolfpack, rather than a coach with years of experience.
On the eve of her team's third-round CIF Southern Section Division 1 tournament game against Santa Margarita, Kinch has just come home from a long day of school and practice. She's on her cell phone, but she's not talking about "Game of Thrones" or what the weather forecast is for tomorrow's game. She's discussing whether a hitter should be aggressive on the first pitch or wait until down in the count.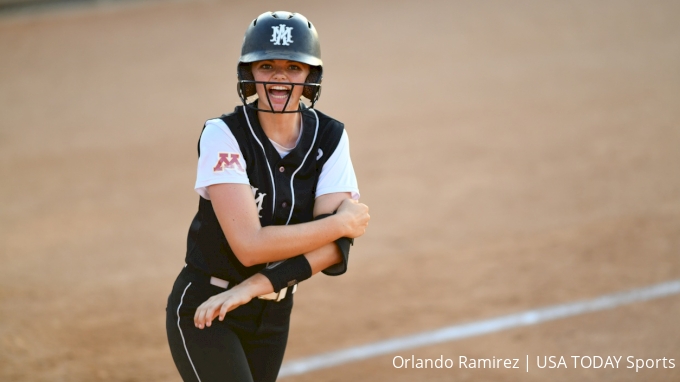 "I think it depends on the batter and how you handle it," said the six-foot Kinch, a right-handed hitter who also plays for the Athletics Mercado-Smith 18U gold travel team. "I believe you should be more aggressive and swing out of your shoes on the first two pitches. Once you have two strikes, you have to shorten up and try to make contact. But I (also) think it's ultimately up to you. If you're good hitting with two strikes and see pitches really well, take the strike."
After being told she sounds like a coach, Kinch chuckles as if she's heard that many times. She and her three sisters were all encouraged to play softball by their parents, Gary and Darla. Gary played baseball through high school, and Darla played high school softball. Kinch, who began playing rec ball at age eight, is happy to discuss the game with anyone willing to listen.
"A lot of my friends (talk) softball," Kinch said. "Even if we're with my parents' friends and they ask me about it, I could sit and talk about it, because it's fun and it's my passion. There's always a lot to talk about."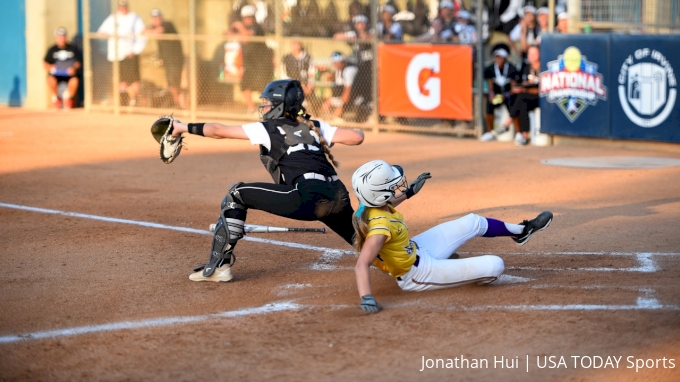 That keen intelligence is a big reason Kinch is one of the top-ranked catchers in the state. Going into the May 9 tournament game against Santa Margarita, Kinch is hitting .400 with five home runs and 14 RBI. During the fall with Mercado-Smith, she hit .412 with a homer and six RBI.
Her aggressive approach at the plate paid big dividends in a high school game against Murrieta Mesa last season. The Wolfpack loaded the bases against Mesa ace Autumn Pease in the first inning when Kinch came to the plate. She swung at the first pitch, a high curveball, and hammered it over the right-center field fence for a grand slam. The Wolfpack went on to win 10-0, and the game was called after six innings because of the 10-run rule.
It wouldn't be the only grand slam she would hit that season. In a second-round CIF tournament game against Orange Lutheran, the two teams were locked in a seesaw battle, with the Wolfpack trailing 5-4 in the sixth.
"I was up to bat, and it was bases loaded again," Kinch recalled. "I hit a grand slam to make us go up… I think we were winning 8-5. We got the next three outs and made it to the next round of CIF."
Getting Behind The Dish
It wasn't until she began playing 10U ball that Kinch decided she loved catching. The idea of being involved in every pitch was especially appealing.
"They didn't have a catcher on the team at the beginning of the season," Kinch said. "So I was like, "I'll do it; why not"? I like to try new things. I really liked catching, and I just stuck with it ever since. I really started working at it when I was about 12."
Kinch's coaches are as impressed with that work ethic as they are her offensive numbers and defensive skill behind the plate.
"Sara works her butt off," said Brian Pilon, an assistant coach with Mercado-Smith the past eight years. "She's always practicing, always trying to get better. She knows what she's doing behind the plate, and she communicates well with the pitchers."
Kinch understands the importance of developing trust with her staff. She can spot the telltale signs that a pitcher is wearing down or losing focus, sometimes even before the pitcher knows.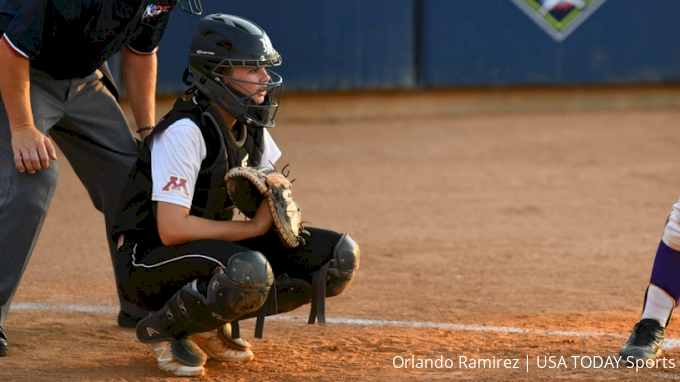 "I can see it in their face sometimes when they've maybe walked a batter going into an inning," Kinch explained. "I make sure I'm extra loud when I'm behind the plate, just to give them extra confidence and let them know I'm there for them, and I'm there to help them."
Last season, Kinch played on Mercado-Smith's 16U team, which finished second in the PGF Premier National Championships. After she was moved up to the 18U team this season, Pilon has noticed her comfort level has improved as the season progresses.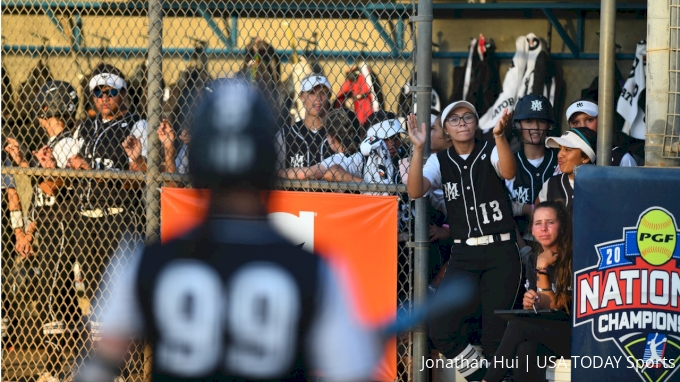 "Our team is a bit intimidating just by the talent (we have)," Pilon said. "Initially, she was a little quiet, trying to feel it out. But she is definitely becoming a more vocal leader, a very strong catcher."
A self-described late bloomer, Kinch was not on the recruiting radar of many Division I schools until her freshman year at Great Oak. But she was content to take her time. It wasn't until midway through her sophomore year that she committed to Minnesota. While the school is a long way from California, Kinch was drawn to the campus and its welcoming atmosphere. It also didn't hurt that most of her mom's side of the family lived in the state.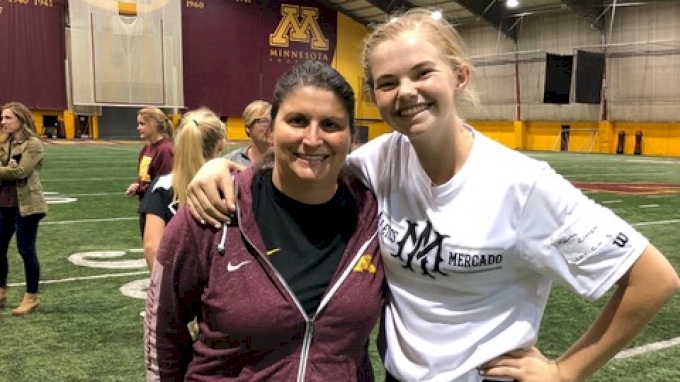 "Even if I was going to be far away from home, I really felt at home there," she said. "My mom's aunt lives 45 minutes from the school, so I also knew that I had family there."
Kinch was a Southern Section League 6 First-Team selection in 2018. Her intensity and commitment to improve earned her the team's Iron Wolf Award, given to the player who demonstrates hard work and maximum effort. She works with Athletics Mercado-Smith head coach Dave Mercado on hitting, while Jen Schroeder, a private catching instructor, addresses her defensive skills.
"I've been working on my hitting a lot," Kinch said. "Not just hitting home runs, but working on being consistent, having power and just being more confident in the batter's box. I also really want to work on my pop time from home to second, and try to make it as fast as I can."