By the end of Montana Fouts' junior year in high school, the emerging softball preps star already had an awe-dropping stat line, compiling a 111-14 record and 1,483 strikeouts in 797 innings pitching for East Carter High School in Grayson, Kentucky. Her ERA was 0.39 and 77 of her victories were shutouts.
At the plate, she hit 25 home runs, while batting .487.
Not only was the tall right-hander showcasing her dominance, but she was also developing into a "once in a lifetime" player, as Boyd County High coach Dave Wheeler described in The Daily Independent.
Yet, University of Alabama coach Patrick Murphy still needed confirmation that Fouts was the real deal.
"It's one thing to dominate against high school lineups," said Murphy, who has a 2012 National Championship and 11 Women's College World Series berths under his belt, among many other accomplishments. "It's another thing to do it against the best of the best. Instead of facing three good hitters, you're going to face eight or nine good hitters once you get to college."
During the summer following her junior year, Fouts validated the skill set that already included a 70-plus mph fastball by leading her travel-ball team to a title at the Premier Girls Fastpitch national championship.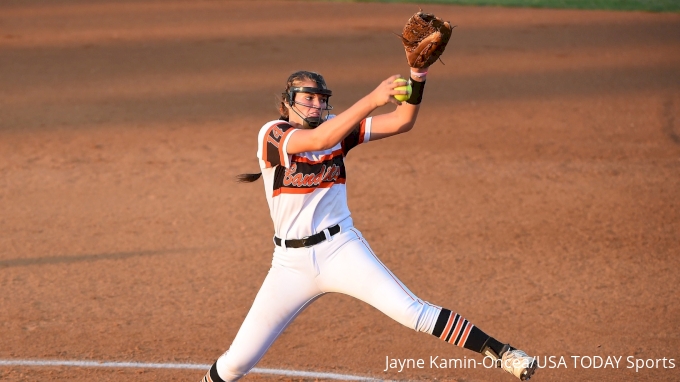 "She proved how capable she was at the tournament," said Murphy, who has compiled a winning record in all 20 seasons at Alabama. "The pitcher is the most difficult position to gauge for future success because of the quality of competition they face in high school. Once you get to college, you're facing quality hitters 1 through 9, not just 1 through 3. PGF features elite players like you're going to face in college. It's where you're able to separate yourself from the competition and prove you belong. She did just that."
Proof Is In The Pitching
Fast forward to the end of her first regular season in college and Fouts, who took home a whole slew of high school honors including the ALL-USA High School Player of the Year by USA Today and the MaxPreps National Softball Player of the Year, has done more than just prove she belongs.
She has been "a stabilizing force," according to Murphy, whose 52-7 Crimson Tide will host an NCAA regional as the No. 8 seed in Tuscaloosa beginning Friday. The other teams at the Tuscaloosa Regional will be Arizona State (33-18), Lipscomb (41-13-1) and Alabama State (24-23).
GAME NOTES: Eight-Seed Alabama Hosts NCAA Tuscaloosa Regional this Weekend at Rhoads Stadium

?: https://t.co/308j501ArJ#BamaSB | #RollTide pic.twitter.com/gPGBbXgzlF

— Alabama Softball (@AlabamaSB) May 16, 2019
The Alabama rookie hurler capped the 2019 regular season by throwing nine scoreless innings over a pair of appearances on the road against LSU that helped the Crimson Tide claim its sixth SEC regular-season championship. In doing so, Fouts was recognized with a program-record fourth SEC Freshman of the Week award, surpassing the previous record of three set by Kayla Braud (2010) and Charlotte Morgan (2007).
Shortly thereafter, Fouts, who had a team-leading five shutouts and five saves while compiling a 14-3 record with a conference-leading 1.00 ERA, was named the SEC Freshman of the Year, the ninth in Alabama history and the first since Alexis Osorio in 2015. She was joined by junior Sarah Cornell, who was named the SEC Pitcher of the Year after going 21-1 with a 2.17 ERA.
"It's been an amazing year," said Fouts, who had a team-leading 13 complete games in 18 starts. "My teammates have been great and have helped me adjust to the college game. (Catchers) Reagan (Dykes) and Bailey (Hemphill) have caught me the most, along with Caroline (Hardy), and they have helped me learn how to approach each inning and adjust to each batter the next time around. Basically, they, along with the other pitchers, have all helped me become a collegiate pitcher."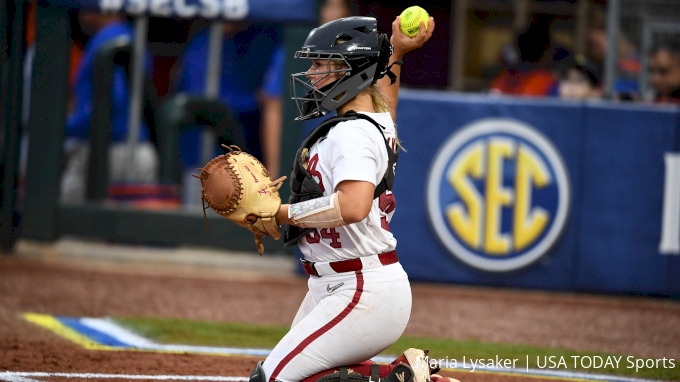 Fouts and Cornell claimed First Team All-SEC honors alongside junior Bailey Hemphill, who won second-team accolades last season. Fouts, who has 142 strikeouts over 126.1 innings, is one of 10 finalists for the Schutt Sports/NFCA Division-I Freshman of the Year.
"She's probably one of the hardest working players on our team, if not the hardest," said Murphy, who earned his fifth SEC Coach of the Year award. "Her teammates think a lot of her. Everyone on the team respects the heck out of her. A special quality about a pitcher is how she commands the circle and commands the moment and her teammates gravitate towards her because of the way she carries herself. It's hard to describe but it's a special quality that comes with the great ones and she has it."
Impact
Perhaps the best way Fouts has demonstrated the "it" factor was against ranked opponents this season, most specifically against Arizona, Georgia, Florida and two against Minnesota.
She made a good first impression early in the season during the Hillenbrand Invitational, earning complete-game wins against South Florida and No. 7 Arizona while allowing one earned run with 20 strikeouts and no walks.
Through her first two weeks, Fouts went 4-0 with a 0.26 ERA, 33 strikeouts and no walks in 27 innings. She began her rookie campaign with 15 straight wins, including 12 contests in which she started, highlighted by a pair of wins over No. 24 Minnesota, including a complete-game shutout in the first meeting (Feb. 22) with eight strikeouts.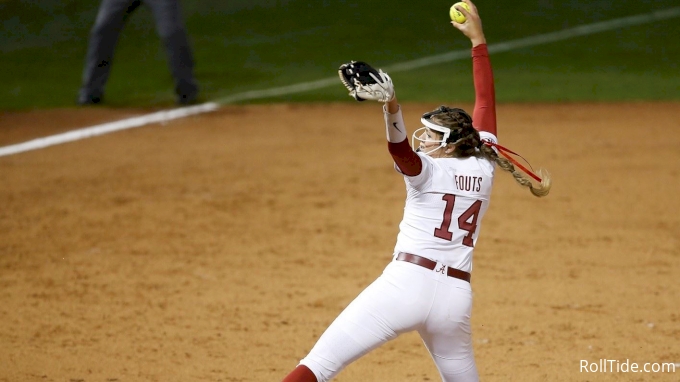 "You always hear about Michael Jordan, Mia Hamm, and Lisa Fernandez and how they elevated everybody's game around them and that's what the best athletes do," Murphy said. "I think (Fouts) has done that. We've always had a tradition with pitching where a pitcher on Friday might throw a two-hitter on Friday night, another one will follow it up on Saturday with a one-hitter, and then on Sunday, the starter will try and get a no-hitter. Montana has set the tone and has helped this pitching staff become one of the deepest we've ever had."
That's saying a lot, considering Alabama is a program that once featured Jackie Traina, who set school records in the 2012 World Series-winning campaign in wins (42) and strikeouts (361) while posting a 1.87 ERA, and Kelsi Dunne, who had a 29-5 record and a 1.42 ERA during the 2011 season pitching alongside Traina while striking out 331 batters in her senior year.
The 2019 Tide pitching staff also features junior right-hander Krystal Goodman, who enters the NCAA tournament just behind Fouts in the nation as the No. 9-ranked pitcher in ERA (1.10). The junior college transfer went 26-2 as a sophomore at Chipola College, posting a 0.46 ERA with 227 strikeouts over 181.1 innings pitched and 19 complete games while helping lead Chipola to a runner-up finish at the NJCAA Championship in 2018.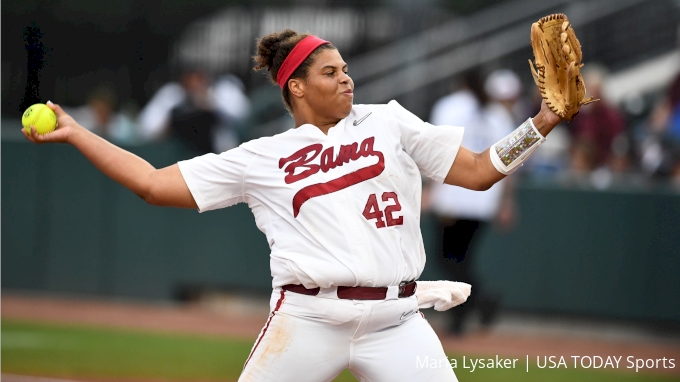 Additionally, Murphy can lean on senior right-hander Courtney Gettins, who has big game experience and will not shy away from the pressure. The native of New Zealand not only earned the 2016 NJCAA Division I National Pitcher of the Year during her time at Florida Southwestern College but she has competed in several international competitions with the New Zealand national team.
"We have a bunch of pitchers who won't be scared of the moment," Murphy said. "But having a pitcher like Montana gives us an edge we haven't had since Jackie was here."