Unlock this article, live events, and more with a subscription!
Get Started
Already a subscriber? Log In
Over the next couple of weeks, we will be recognizing the top sophomores from Junior Colleges across the country.
Last season, Chipola-alum pitcher Krystal Goodman was ranked No. 1 and went on to pitch for the University of Alabama who ended up winning the SEC regular season and was the No. 8 seed in the NCAA Division I tournament. Goodman holds a 1.10 ERA with 59 strikeouts in 76.1 innings pitched.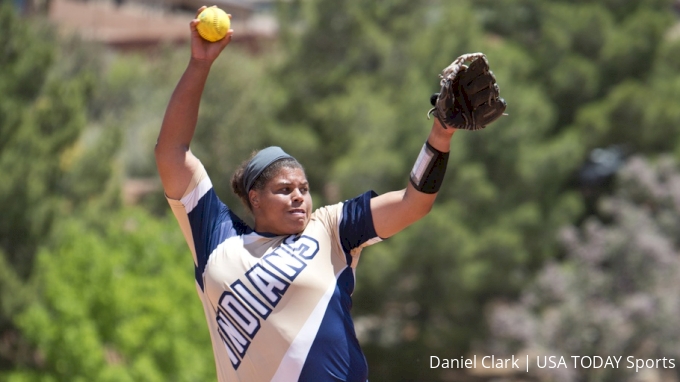 No. 2 ranked Molly Jacobsen finished off a stellar career at Des Moines Area went on to earn a starting spot for Ole Miss. Jacobsen currently holds a 1.97 ERA with 145.1 innings pitched leading the team with 142 strikeouts.
This season we celebrate the sophomore studs who will go on to make a huge impact at the next program.
70

Breanna Crown, P | Rock Valley



The NJCAA D3 National POY, Crown led the Golden Eagles to their fifth consecutive Natty as a freshman compiling an 18-3 record 1.94 ERA & 84Ks/10walks. So far she has Rock Valley sitting at #1 in the polls while sitting top 3 in the nation in wins and strikeouts and eyeing a sixth straight National Championship.

69

Payton Wildeman, OF | Crowder



The transfer from Southwest Baptist University & 2x State HS Champion, Wildeman has shined in her first season with the NJCAA 9th ranked Riders. Helping leader Crowder to the Region 16 crown, her .450 BA, 19 doubles, 9 triples, 9 home runs, and 54 RBI is a sure way to find a great home for the next two years.

68

Kylee Fahy, P/DP | Bakersfield

One of the top strikeout pitchers in the country, Fahy has carried the load for the Renegades the past 2 years & wouldn't have it any other way. She finished the regular season tops in all Cal JCs with 275 Ks and earning her second straight conference pitcher of year nod as well as all-State. During her two year career, she has notched close to 600 strikeouts while hitting a .345 average.

67

Gretchen Ebert, IF | College Central Florida (Florida Atlantic)



Ebert was recognized as a 1st team Mid-Florida Conference infielder, 2nd team All-State. Known as being one of the top defensive shortstops in the southeast, Ebert possesses a bit of power (6 HRs, 57 RBI) along with speed (15 SB, 60 runs scored) helped the 3rd-ranked Patriots punch their ticket to the NJCAA D1 National Tournament.

66

McKenzie Pierce, P/UT | Mt. Hood



Returning 1st team Southern Region all-star, Pierce is an all-around athlete for the 2019 NWAC South Champs. Pierce has a Northwest Athletic Conference-leading 31 wins on the mound and is hitting a .438 with 13 home runs and 49 RBI.

65

Kaitlin Scruggs, OF | Columbia State



A ridiculously raw and talented athlete, Scruggs led a very tough TCCAA region with a .488 batting average while finishing second in HR (13) and top 5 in RBI (49).

64

Tena Spoolstra, IF | Cerritos



2019 NFCA New Balance/Golden shoe award winner after leading Cal JUCOs in Stolen bases with 42. The 2019 NFCA all-American middle infielder led Cerritos with a .439 BA, 58 hits and over .500 OBP.

63

Dayna Hokanson, IF | Salt Lake (Southern Utah)



Named 1st team all SWAC conference after hitting a .405 for the Bruins, Hokanson is a big-time leader from the middle of the infield for not only a super young team but one of the best programs in the country who will get to finish their season once again at the D1 Championships in Utah.

62

Juliana Speranza, IF | Indian River State



The lefty-hitting Canadian went off this year in helping the Pioneers to a Southern Conference Championship and top 6 finish in the Fla state championships. The 1st team all-conference and all-state Speranza hit a .412 with 15 home runs with 78 RBI which put her top five nationally.

61

Heather Zumo, P | LSUE (Southeastern Louisiana)



Tabbed Preseason All-American for the NJCAA D2 top-ranked Bengals, Zumo has proved right leading the charge with a 17-2 record while averaging over 7 Ks per game as coach Andy Lee's squad looks to make yet another trip to the World Series.