2020 UCLA Softball
Did We Witness The Craziest Regionals In Softball History?
Did We Witness The Craziest Regionals In Softball History?
From pitching duels to walk-offs, we saw thrilling upsets in the 2019 NCAA Division I wild, wild, regionals.
May 20, 2019
by Scott Schultz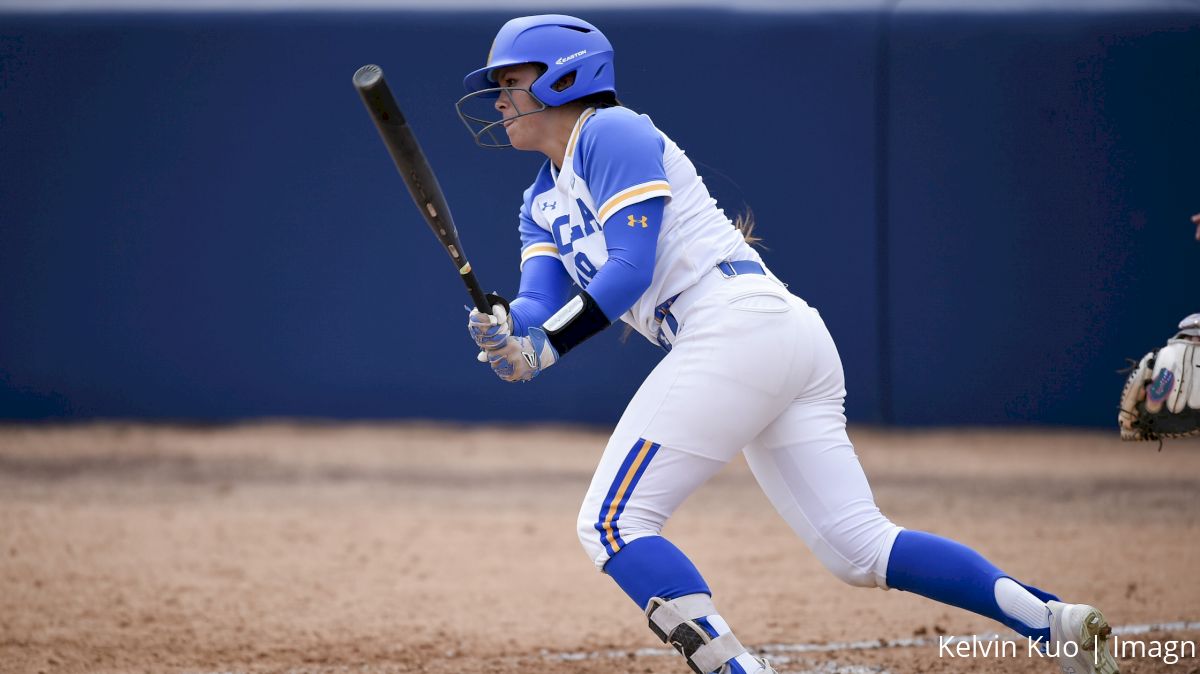 What a wild weekend of postseason play with eight regions going to game seven. We saw everything from pitching duels to walk-offs, and thrilling upsets in 2019. Here are some of the top moments from last weekend.
Bubba Bombs Too Much For Mizzou
UCLA junior Bubba Nickles extended her hitting streak to 21 games, tying a career high with two home runs, including a grand slam while driving in a personal-best five during the Bruins' 9-1, five-inning victory over Missouri on Saturday.
BRUINS WIN!!!! Nickles drives in a career-high five and produces her third, two-homer game of her career, while Garcia strikes out six in 4 1/3 scoreless innings.

No. 2 UCLA 9, Missouri 1 (5 innings). The Bruins will be in the Regional Championship tomorrow at 2 p.m.#GoBruins pic.twitter.com/qw3SHBS2HV

— UCLA Softball (@UCLASoftball) May 18, 2019
Nickels followed up with another five-RBI game, adding another home run to her stat column in Sunday's 13-1, five-inning victory, advancing the Bruins to their sixth-straight Super Regional.
Wisconsin Snaps OU Win Streak
After giving up a leadoff home run to the Sooners, the Wisconsin Badgers looked to the squeeze bunt to post the biggest upset in recent history, defeating the top-seeded Sooners, 2-1.
Make it 2️⃣ squeeze plays in a row and Wisconsin takes the lead on (1) Oklahoma!#NCAASoftball pic.twitter.com/gWdvpCyXYJ

— NCAA Softball (@NCAAsoftball) May 19, 2019
The Badgers broke through in the top of the sixth inning with sophomore Taylor Johnson opening the frame with a four-pitch walk. She was joined on the base paths by Lauren Foster on a hit-by-pitch and both runners advanced a base after a wild pitch - with just one out, the table was set for the go-ahead squeezes.
Junior Caroline Hedgcock dropped a perfect squeeze bunt to score Johnson, and with runners on the corners, freshman Jolie Fish did the same with another sacrifice bunt that scored Foster and gave Wisconsin a lead it would never relinquish.
Brandner Walk-Off Lifted Minnesota over Georgia
The Gophers trailed 1-0 heading to the bottom of the seventh against Georgia during Saturday's Minneapolis Regional action but rallied to a 2-1 win with a Hope Brandner walk-off home run in the eighth inning.
OH YES SHE DID! HOPE BRANDNER WALKS IT OFF FOR MINNESOTA!#NCAASoftball #SCtop10 | @GopherSoftball pic.twitter.com/jvgMtbG6qX

— NCAA Softball (@NCAAsoftball) May 18, 2019
Minnesota placed two runners on base in the bottom of the seventh with one out after Ali Lindner drew a walk and pinch hitter Taylor Chell was hit by a pitch. MaKenna Partain drove in Lindner for the tying run with a single up the middle to tie the game and send it to extras.
Gopher hurler Amber Fiser allowed a baserunner in the top of the eighth before sitting down Bulldog slugger Alyssa DiCarlo on three pitches to set the stage for Brander's eighth-inning heroics.
The game-winner was Brander's 19th of the season and she is one homer away from tying the single-season program record.
Gabbie Plain Says No-No To Mississippi State
The Washington Huskies advanced to Super Regionals in historic fashion, with Gabbie Plain notching the sixth postseason no-hitter in program history in an 8-0 win over Mississippi State in Saturday's action at the Seattle Regional.
Gabbie Plain and the Husky defense complete the no-hitter!#NCAASoftball // #MightyAreTheWomen

? >> @NCAAsoftball pic.twitter.com/4UpIJbryqF

— Washington Softball (@UWSoftball) May 20, 2019
Plain faced the minimum in the game for her fourth career no-hitter, striking out 10 with just one walk the only blemish on the day. Only three balls left the infield all day - all routine flyouts. It marks the third no-hitter Plain has thrown this season, and she now boasts a 0.66 ERA in postseason play. Read more on Gabbie Plain
Sooner Pitchers Are Next Level
OU's Juarez, Lopez, and Saile combine for a perfect game over UMBC; Juarez follows fanning 16 in No-No over Wisconsin
Three Oklahoma pitchers combined for a perfect game and 12 strikeouts - marking the first combined perfect effort in Sooner program history during a 12-0 victory over UMBC in the opening game of the Norman Regional.
Junior left-hander Giselle Juarez struck out the first five batters she faced and finished with six strikeouts in three innings of work. Junior right-hander Mariah Lopez replaced Juarez in the top of the fourth inning and struck out the side. Junior right-hander Shannon Saile closed out the game, pitching in the top of the fifth, and also struck out the side.
PERFECTION! @ggotgame45, @Mariahjordannn and @shannieflame split time in the circle for the first combined perfect game in program history! #ChampionshipMindset pic.twitter.com/NWWcStFUF9

— Oklahoma Softball (@OU_Softball) May 18, 2019
Just 16 hours later, Juarez once again delivered a no-hitter against Wisconsin, striking out 16 during a complete-game performance.
Her only blemishes Saturday were allowing two batters to reach first base – a hit-by-pitch in the second inning and a walk in the sixth.
NO-HITTER!

After combining on the perfect game yesterday, @ggotgame45 records her third no-hitter of the season while registering a season-high 16 strikeouts!#ChampionshipMindset pic.twitter.com/aBLLXRmbKc

— Oklahoma Softball (@OU_Softball) May 18, 2019
The Wisconsin Walk-Off
Trailing 4-0 going into the bottom of the seventh inning, Wisconsin rallied back for a thrilling walk-off win over Notre Dame Saturday night in the Norman Regional. Freshman Jolie Fish opened the inning with a walk and was followed by senior Kelly Welsh who knocked in UW's first run with a double to spark the comeback.
A fielding error two batters later allowed Welsh to score and Ally Miklesh to reach base to bring up the top of the lineup. Notre Dame walked Kayla Konwent, who had already tallied two doubles on the day, for two Badgers on base.
WALK OFF WISCONSIN!! WALK OFF WISCONSIN!! #NCAASoftball | @BadgerSoftball pic.twitter.com/WYVrNMg3K9

— NCAA Softball (@NCAAsoftball) May 19, 2019
Down to their last out, and facing elimination, senior Stephanie Lombardo stepped up to the plate with UW trailing by two and cleared the left-center field fence for the walk-off three-run dinger.
Florida State Goes On A Home Run Parade
Crushing six home runs, including four in a row in the top of the fifth inning, Florida State cruised to a 12-1 win in five innings over USF on Saturday in the Tallahassee Regional.
Remember when we got 4 home runs in a row??#ATM #DNAE #RoadToWCWS #MondayMotivation pic.twitter.com/fTfISSssi0

— FSU Softball (@FSU_Softball) May 20, 2019
Makinzy Herzog hit a grand slam in the third inning, Leslie Farris added a two-run HR in the fourth and Zoe Casas, Cali Harrod, Carsyn Gordon, and Sydney Sherrill all hit solo home runs in the fifth inning as the Seminoles now have 103 home runs on the season to lead the NCAA.
Line Drive Side Lines Swindle
While competing in the Arizona Regional, Auburn was in the fifth inning against Colorado State when Ashlee Swindle delivered a pitch that was hit right back to her face. She collapsed to the ground covering her face as the crowd fell silent. Swindle was carted off the field and taken to the hospital for further examination.
Thankfully, x-rays revealed that Swindle did not have any fractures but she did experience pain and swelling around her eye socket. We wish her the best and hope she has a speedy recovery.
Thank you everyone for all the texts and calls. I was blessed with great doctors. God is good❤️

— Ashlee Swindle (@AshleeNSwindle) May 18, 2019