Texas Lutheran Edges Out Eastern Connecticut State At Softball Championship
Texas Lutheran Edges Out Eastern Connecticut State At Softball Championship
Texas Lutheran holds on to beat Eastern Connecticut State to move on the NCAA DIII Semifinals.
May 25, 2019
by Chez Sievers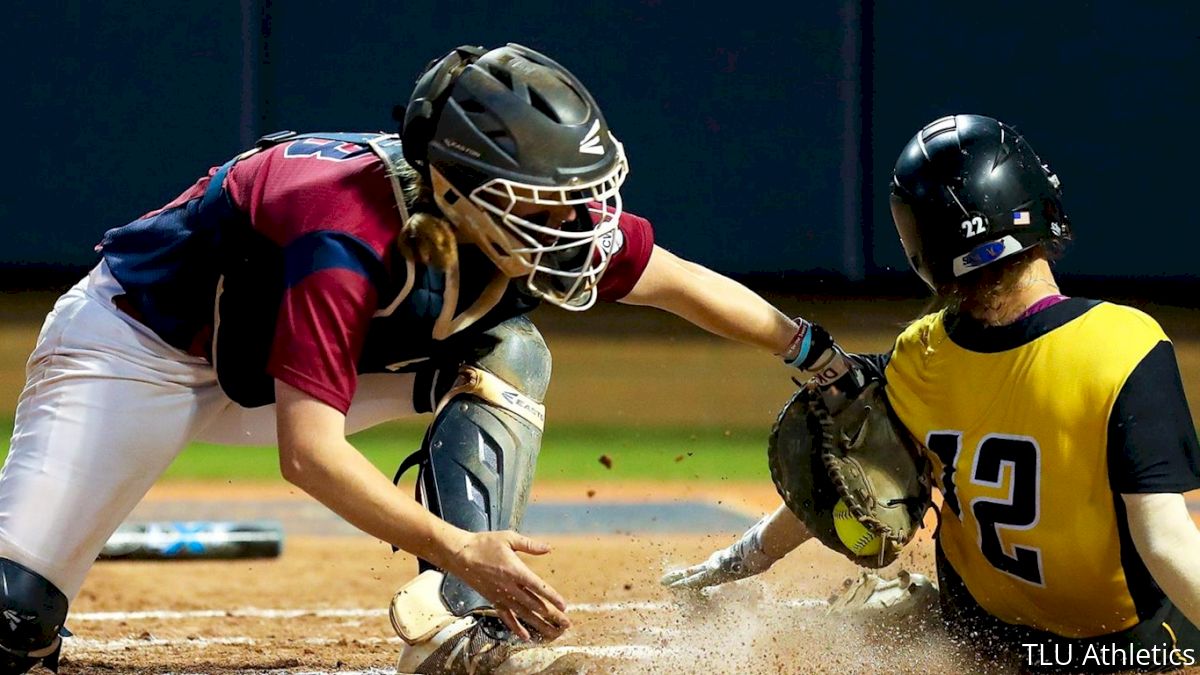 TYLER, Texas -- The Texas Lutheran Bulldogs are a perfect 2-0 after two games at the NCAA Division III Softball Championship Finals after hanging on to defeat Eastern Connecticut State 7-6 Friday night at SuddenLink Field.
In Friday's final game at the @NCAADIII championship, @TLUsoftball holds off @ecsuathletics, 7-6, to score a day off before facing @EphSports or @TrineSoftball 1 p.m. ET on Sunday at @Patriot_sb's Suddenlink Field. pic.twitter.com/QwYTfZZqee

— NFCA (@NFCAorg) May 25, 2019
TLU trailed 3-0 after one inning but scored six unanswered runs against ECSU. The Bulldogs put up three runs in the second and three more in the third. The Bulldogs added another run in the sixth.
And the Bulldogs would need every one of those runs, and every bit of that four-run lead entering the seventh.
The Warriors scored three runs in the seventh and made it interesting. The tying run made it to third with the three runs already across for Eastern Connecticut. The winning run stood at first.
But Kayla Oliveira, pitching in relief since the second inning, came through with her 10th strikeout of the game. The junior right-hander got a called third strike on the outside corner to send the Bulldogs to the "final four" of the NCAA DIII Softball Championship.
After a pair of elimination games on Saturday, TLU will be one of four teams still standing in the national championship double-elimination tournament. The Bulldogs are in their first appearance in the D3 softball finals.
The Bulldogs improved to 37-8 overall. The Warriors dropped to 35-12 overall.
ECSU will play an elimination game against Illinois Wesleyan at 3:30 p.m. Saturday.
The Bulldogs have a day off before playing the winner of Trine v. Williams at noon Sunday. Trine (Ind.) and Williams (Mass.) meet at 1 p.m. Saturday in an elimination game.
Emory (Ga.) and Illinois Wesleyan are alive on the other side of the bracket. Eastern Connecticut faces Illinois Wesleyan on Saturday. Emory, at 2-0 and also assured a national semifinal appearance, has the day off.
Against the Warriors on Saturday night, Oliveira (San Diego, Texas/San Diego) went six innings and struck out a season-high 10. She allowed three run (all in the seventh) and worked around six hits and five walks.
Oliveira improved to 17-3 with the victory.
Chassety Raiines (Spring/Klein Collins) went 2-for-2 with two RBI and a triple. She also walked once and scored twice.
Kassie Maddox (Midland/Greenwood) also had a 2-for-2 night. She tripled and doubled, scored twice, and drove in a pair.
Alyssa Cantu (Baytown/Sterling), Kelly Jurden (Brenham/Brenham), and Casey Martin(Pearland/Pearland) each also drove in a run.
Jurden stole her school and conference-record 57th base.