2019 Women's College World Series
UCLA Offense Overpowers Oklahoma In Game One Of Championship Series
UCLA Offense Overpowers Oklahoma In Game One Of Championship Series
UCLA was relentless on offense capturing game one of the WCWS Championship series.
Jun 4, 2019
by Michael Kinney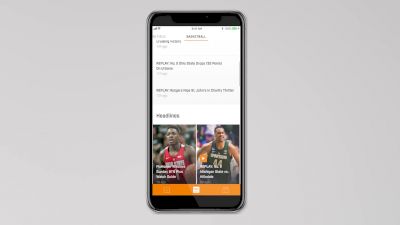 OKLAHOMA CITY – UCLA has a history of dominance on the softball field. The 2019 Bruins seem to have taken their game to an entirely different level in the opening game of the WCWS Championship series.
After the Bruins defeated No. 1 Oklahoma 16-3 in game one of the Women's College World Series championship, the players and coaches each equated the game to a boxing match. If that was the case, the Sooners were on the ropes early and often.
? #WCWS Highlights – Championship Series Game 1@UCLASoftball makes history in Game 1 of the Championship Series as the Bruins score the most runs in a championship series game, with a 16-3 rout of @OU_Softball. pic.twitter.com/C2hbDQuSUK

— NCAA Softball (@NCAAsoftball) June 4, 2019
"The thing I'm most proud of, every game I throw the lineup out and I say, 'Let's put ourselves in a position to let everybody play,'" UCLA coach Kelly Inouye-Perez. "The only way you do that is you have to throw enough punches and give yourself that ability to take your starters out, have the ability to let people play. That's not something you're thinking about at the World Series at all. You're here to win, to play."
UCLA took a 1-0 lead in the best of three series. Game two is set for 7:30 p.m. Saturday at USA Hall of Fame Stadium. A win will earn them the program's 12th championship while a loss will force a third and final contest Wednesday.
"I think the most important thing is knowing that tomorrow is a completely different game," UCLA's Kinsley Washington said. "This past game we just played has nothing to do with tomorrow's game. Just keeping that mindset strong."
Oklahoma is looking to extend the series. But they say they have to forget everything that took place in game one, which coach Patty Gasso called easily their worst outing of the season.
"I don't need to say a lot to this group," Gasso said. "They aren't discouraged. They're not crying in the locker room. They've been in this position many times within these upperclassmen's careers. Sometimes when their back is against the wall is when it brings out the best in them, so...They're not afraid. They're not scared to play tomorrow."
The Bruins jumped on Oklahoma ace Giselle Juarez from the very start when Aaliyah Jordan cranked out a solo homer in the top of the first inning.
That one is OUTTA HERE!!! ?#WCWS | @UCLASoftball pic.twitter.com/3ixY9xGm91

— NCAA Softball (@NCAAsoftball) June 3, 2019
"Huge, huge, huge. The goal always is to punch first," Inouye-Perez said. "That's the biggest part of it"
However, the lead did not last long. OU senior Shay Knighten came back in the second inning with a home run of her own. It was her ninth longball of the season.
Big. Play. Shay.#WCWS | @OU_Softball pic.twitter.com/I4NNxpyDcB

— NCAA Softball (@NCAAsoftball) June 4, 2019
The Bruins responded in the top of the third. With Kinsley Washington on second base, Kelli Godin laid down a bunt. Knighten got to ball and threw to Caleigh Clifton, who was covering first base. The ball got past Clifton and Washington was able to score.
Bubble Nickles then sent a single into left field. Falepolima Aviu charged the ball, but misplayed it, allowing another run score. The Bruins went up 3-1 and the Sooners had three errors in two innings.
"That was tough because I feel like for us that doesn't happen a lot, especially three in one inning," OU senior Caleigh Clifton said. "We can't be perfect all the time. We know that. This game is about failing. It just so happened to be in the same inning."
Oklahoma's Grace Lyon led off the bottom of the third with a triple. Player of the Year Rachel Garcia then walked Clifton, bringing Jocelyn Alo to the plate with two outs. The night before, the sophomore clubbed a 300 plus foot homer.
Against Garcia, Alo tried to rip another one out of the stadium, but it was caught on the right-field warning track.
With Oklahoma trailing 4-1, Juarez was taken out and Mariah Lopez took the mound to start the fifth inning.
The pitching change didn't slow down UCLA. With two runners on base, Taylor Pack lined an RBI single down the left field line to give the Bruins a four-run advantage.
In the sixth inning, the Bruins the hitting barrage continued when Brianna Tautalafua, Briana Perez and Garcia each blasted home runs in the inning.
Aaliyah Jordan ?
Briana Perez ?
Brianna Tautalafua ?
Rachel Garcia ?@UCLASoftball mashed 4️⃣ home runs in a dominant #WCWS Championship Series Game 1 victory ? pic.twitter.com/oOrRuLzcVw

— Pac-12 Network (@Pac12Network) June 4, 2019
Garcia was pulled in the bottom of the sixth with UCLA leading 11-1. She didn't strike out a single batter but still shut down an offense that leads the nation in homers.
Conversely, the Oklahoma pitchers had their worst day of the season. The Bruins didn't show any mercy and pounded out five more runs.
"I put Nicole Mendes out there as a sacrificial lamb for this team," Gasso said. "Maybe that wasn't fair. There's one young lady that can handle that, and that's Nicole Mendes. She gives her heart and soul. She would do that for the team. The last time she pitched, I don't even know when it was. But I needed to get those three off the field and let them just regroup as soon as possible. We might have embarrassed our Sooner Nation, but we're going to do everything we can to make them proud tomorrow."
By the time the game was over, both the Bruins and Sooners had set or tied a number of Women's College World Series Records.
UCLA's 16 runs ties a record for most runs in any WCWS game by a single team.
13 runs were the second-largest margin of victory in a WCWS game and the largest in a championship series game. It ties the largest margin of victory in UCLA WCWS history (2010 vs. Florida)
UCLA ties the single-team WCWS record for home runs in a game with four.
"For right now, this is about this team. This is about now," Inouye-Perez said. "They are playing UCLA softball. You heard them, they're committed to each other. We're going to get out here and understand we got a game to play tomorrow. I tell them that constantly. It's not about one game, two games, championships, World Series, this is about you get to play together and this may be your last opportunity. Let's enjoy and take advantage of it."
Since 2005, there have been only three teams who lost the opening game of the series come back to win the championship.
"I think it's something to be said that it's happened twice in post-season already this year," Mendes said. "We've learned from it. We know what it feels like to have our backs against the wall. This team is fighters. We're a team that fights together. Whenever we come out tomorrow, I know we're going to go down or up together."